LOGAN SQUARE — A popular South Side food truck is bringing its subs and sandwiches to Logan Square.
Entrepreneurs Craig Brown and Letasha Lewis — who are engaged to be married — run Big Mouth Steaks and Subs, which started as a food truck in October. After months of towing a mobile kitchen trailer bearing their red Hippo logo across the city, they decided to open a brick-and-mortar location at 2903 W. Diversey Ave.
The menu will feature the hearty food the duo has become known for, including cheese steaks, polish sausages, hot dogs and the Hungry Man — a jumbo sub piled high with meat and cheese.
"We're not classically trained, we're just old-fashioned cooks," Lewis said. "The food is really good and they're huge sandwiches. We couldn't call ourselves Big Mouth and not be a big mouth full of food."
Lewis, 45, is a nurse practitioner and Brown, 47, has a background as a private investigator. The two met in 2015 and quickly connected over their love of food and cooking.
It's been a busy year for Lewis, a nurse practitioner who also runs Frontier Healthcare Systems in Burnside, which recently began administering COVID-19 vaccines on the South Side.
Lewis was born in Chicago and grew up learning to fry and bake alongside her mother, the youngest of 16 children, who owned a grocery store and deli in Renova, Mississippi.
"When you have a big family like that, you gotta be a good cook," she said. "And you learn how to cook in large amounts."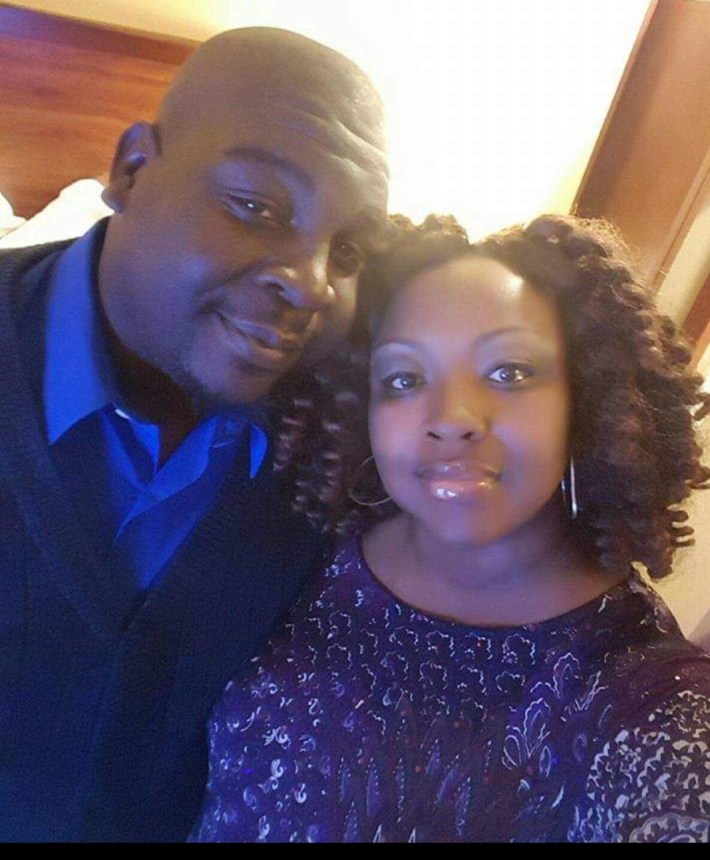 So, when she met Brown and saw that he could handle himself in the kitchen, she knew he was the man for her.
"When we met, to see that he can make a mean chili, and also do a mean soup and cook some soul food on top of that and get on the grill—I knew I had a winner," she said laughing.
The couple quickly became the go-to caterers for family gatherings and local events. Despite the pandemic, they rolled out their food truck in October and quickly won over locals.
Larry Wilkes said he first noticed the truck while he was getting gas on the corner of 59th and Halsted streets in Englewood. He decided to give it a try and soon became a regular, following the truck and eating there a couple times each week.
Despite the truck's success, the traveling and the small kitchen proved to be difficult.
"We realized that the food truck is heavy labor," Lewis said. "You build a restaurant every day and break it back down at night."
Brown agreed.
"We enjoy it, but we ain't no young chickens," Brown said. Still, he said he's grateful the truck helped get Big Mouth's name out there.
As business picked up the couple, who now live in suburban Willowbrook, began to think about opening a restaurant. They couldn't decide on a location until they got a tip about Logan Square from a contact, who praised the neighborhood's strong sense of community and support for local businesses. For Lewis, it sounded a lot like the small, tight-knit towns she remembered from growing up in the south.
Lewis said the decision to open another business during the pandemic wasn't easy. She plans to continue managing operations at the clinic, while Brown and his daughter Seirra will oversee the restaurant. Lewis will pitch in a few days each week.
"We believe that when things are for you, they fall into place," she said. "That doesn't mean you can't run into obstacles because we certainly have."
Both Lewis and Brown contracted COVID-19 in January and Lewis was hospitalized for two weeks. She's still recovering, which forced the couple to slow down and focus on making the launch a success.
Wilkes and other regulars who attended Big Mouth's soft opening in Logan Square last week are optimistic.
"The food is seasoned well, cooked with love I would say," said Wilkes, who is most partial to the cheesesteak sliders. "Letasha always asks about my children and Craig goes above and beyond, especially with the homeless. They'd come up with whatever little money they had and he still made sure they ate."
Howard Gordon, a Yorkville plumber, ordered the Hungry Man and was impressed.
"Two people can eat off that sub," he said. "I had to pause half-way through, I couldn't finish it."
Wilkes, meanwhile, says he plans to continue being a Big Mouth regular despite the drive up to Logan Square.
"I'm a loyal follower," he said. "I'm proud of them and happy for them."
Big Mouth opens Saturday at 10 a.m. Follow them on Facebook here.
Subscribe to Block Club Chicago. Every dime we make funds reporting from Chicago's neighborhoods.
Already subscribe? Click here to support Block Club with a tax-deductible donation. 
Listen to "It's All Good: A Block Club Chicago Podcast" here: