NORTH LAWNDALE —  A formerly vacant lot will soon become a community plaza that will host events, a mini-museum, a flower shop and a café.
Love Blooms Here Plaza at Central Park Avenue and Douglas Boulevard is being developed as a low-cost but high-impact gathering place for Lawndale residents. Members of the North Lawndale Community Coordinating Council are creating attractions at the plaza that will be housed in retrofitted 20-foot shipping containers.
Organizers are raising $25,000 with a GoFundMe to landscape the plaza and customize the shipping containers for the flower shop and café.
"So many people with their different ideas and their missions and the spirit of the community, we really have created love. So that's kind of why we say love blooms here, right here, wherever we put our shovel," said Annamaria Leon, co-chair of the GROWWS Committee that is a partner on the project.
The land is owned by Stone Temple Missionary Baptist Church, which is across the street from the plaza at 3622 W. Douglas Blvd. The partnership with the church makes it easier to run several projects at a very low cost since visitors can access basic amenities like bathrooms at Stone Temple.
The Lawndale Pop-Up Spot, a community mini-museum formerly based at Spaulding Memorial Garden, is currently at the plaza. The museum was designed to be mobile so the exhibits housed in the shipping box could easily be moved to help activate new locations when needed.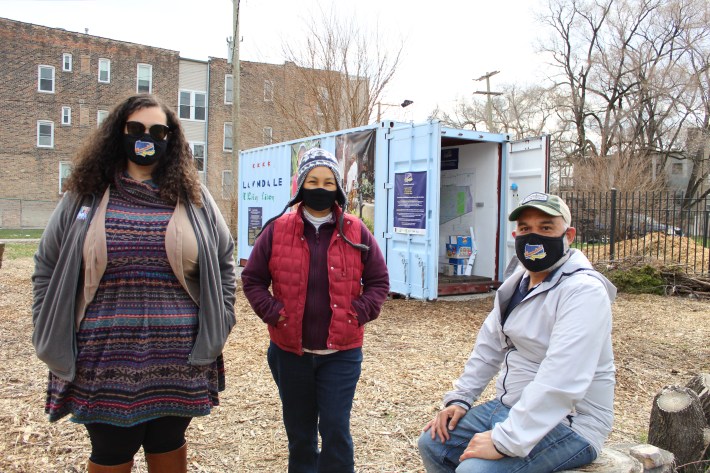 "It was time for us to try to go and pop-up somewhere else," said Chelsea Ridley, a cofounder of the Lawndale Pop-Up Spot and project director for Open Books. "So this is really exciting for us to really test on our model to see what we could do, where we can move."
The mini-museum is reopening its "Lawndale: A Living History" exhibit at the new location April 10. The exhibit will be open Mondays, Wednesdays and Saturdays through May 10. It is a portrait series and storytelling project that honors the wisdom of elders who have lived in North Lawndale for decades.
A monthlong spring exhibit on mobility justice will explore how transportation and cycling intersects with racial equity, said co-founder Jonathan Kelley.
In the summer, the Lawndale Pop-Up Spot will host a wellness exhibition series of events focused on healthy living.
"We'll have different wellness type events where we'll have social workers, mental health professionals come and talk. We'll have trauma therapists, we'll have yoga, we'll have nutrition workshops," Ridley said.
Another shipping box will be a flower shop selling fresh-cut bouquets run by Leon's social enterprise, Homan Grown. Flowers will be grown at a flower farm next to the plaza, and at Homan Grown's nursery at 3844 W. 16th St.
A third shipping box will be customized into a small coffee shop with an outdoor seating area on the plaza.
"There's something about having something warm in your hand, walking down the street. It has you feel like part of something. Like you're cared for," Leon said.
The plaza is along the Douglas Boulevard greenway at a walkable location just blocks from several schools, including Herzl School of Excellence and Lawndale Community Academy, and prominent churches like St. Agatha's Parish and Stone Temple. The outdoor café will give students, parishioners and local families an easily walkable "place to be, a reason to stay, a reason to patronize and hang out," Ridley said.
The group is actively seeking a local entrepreneur or a coffee roaster of color to join the plaza as a partner to run the café.
Organizers expect for the plaza to be completed by summer.
"Part of what Love Blooms Here is, is that our community is cared for. They feel like they matter. It matters that we have a museum that talks about them. It matters that we can grow flowers by the community for the community. It matters that they can come and get their own cup of coffee in their own neighborhood."
Pascal Sabino is a Report for America corps member covering Austin, North Lawndale and Garfield Park for Block Club Chicago.
Block Club Chicago's coronavirus coverage is free for all readers. Block Club is an independent, 501(c)(3), journalist-run newsroom.
Subscribe to Block Club Chicago. Every dime we make funds reporting from Chicago's neighborhoods.
Already subscribe? Click here to support Block Club with a tax-deductible donation.