NEAR WEST SIDE — Nebraska Franklin remembers how his best friend would feed the block when they were kids, how he'd slide his good pair of sneakers out the back door of his Altgeld Gardens apartment to the neighborhood kids wanting to look fresh.
Forty years later, that best friend, Michael "Chef Mike" Airhart, is still taking care of others.
Airhart has run Taste for the Homeless for the past eight years, giving free meals and clothes to people experiencing homelessness. The pandemic has turned his operation into a mobile one, taking his van every day from neighborhood to neighborhood — any place where he knows people are congregating — to cook up towering burgers, cauldrons of collard greens and more for people needing a good meal. You can donate to Taste for the Homeless online or through Cash App.
Supported by donations to his nonprofit of the same name and partnerships with community organizations, the native South Sider believes in only providing the best for the people he helps. Franklin is right by his side, helping to serve meals and give out other essential supplies.
"He's been relentless with this. He's at it every day, just diligent in doing whatever he can do to make the world a better, safer place especially now during the pandemic," Franklin said. "Helping is what he does."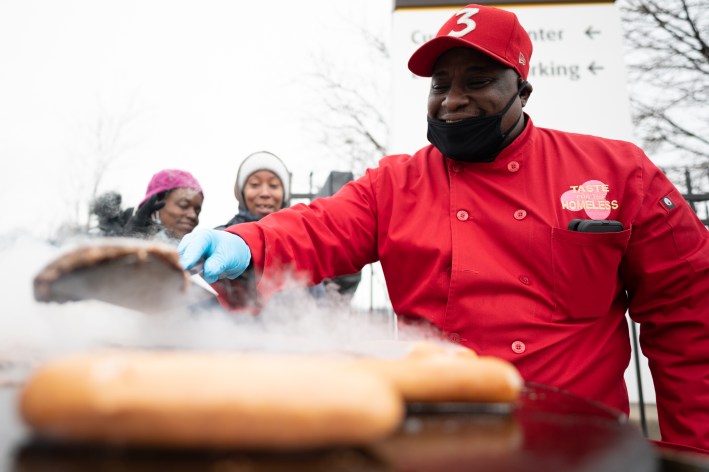 Even when Airhart was hustling on the block, every penny he earned went from his pocket to the local grocery store, where he'd fill grocery carts with packs of hot dogs and buns to bring back to the neighborhood.
"I was the worst drug dealer," chuckled Airhart. "All the other dudes would spend money on themselves and I'd just spend on feeding folks."
For Airhart, food isn't just sustenance. It is how he honors God, and God's children. It is purpose and love.
It's also a calling.
It was a random trip to the Taste of Chicago that sparked the inspiration for what would later become "Taste for the Homeless."
"The festival was about to end and we were near a pizza booth when a homeless man asked one of the workers for a slice of pizza from the tray he was about to throw away. The worker started cursing at him, threatened to call the police. I asked him if I could buy the slice for him, but he said no," recalled Airhart.
Before the man walked away, Airhart stopped him, promising him that if their paths ever crossed again, he'd never have to ask for anything else.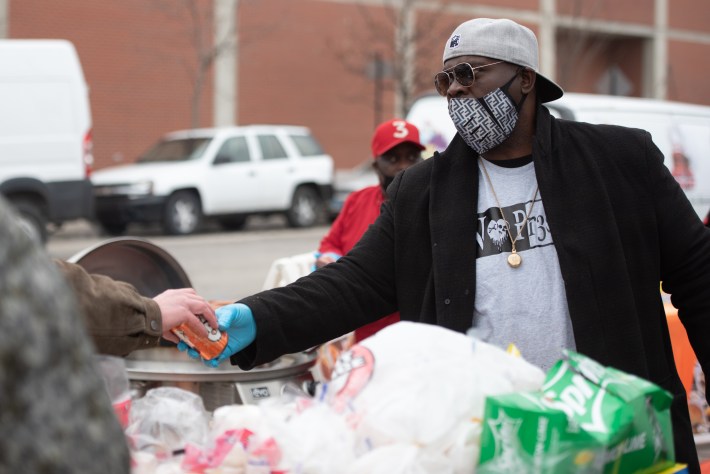 It would be 20 more years before he'd receive another divine message telling him he was ready to make his vision for "Taste for the Homeless" a reality. Airhart talked it over with his wife and quickly got to work, enlisting a friend to create a logo and filing all the required paperwork.
He made his first social media post with the logo and it went viral within a matter of hours, garnering over 100,000 shares.
"Everybody in the world contacted me like, 'Hey we want to be a part of this,'" said Airhart. "I set it up where 10 organizations could come out and put up a tent with the rules that it had to be your foundation or company or foodstand, and everyone on your team had to wear the organization's t-shirt to match your tent. And, everything you offer had to be 100 percent free."
Stepping out on faith again, Airhart logged onto Instagram and reached out to Chance The Rapper, sliding into his direct messages. The superstar immediately knew who he was, telling him he'd been following his work for years. That exchange led to Chance sending several of his staff to assist Airhart in finishing the setup for the foundation.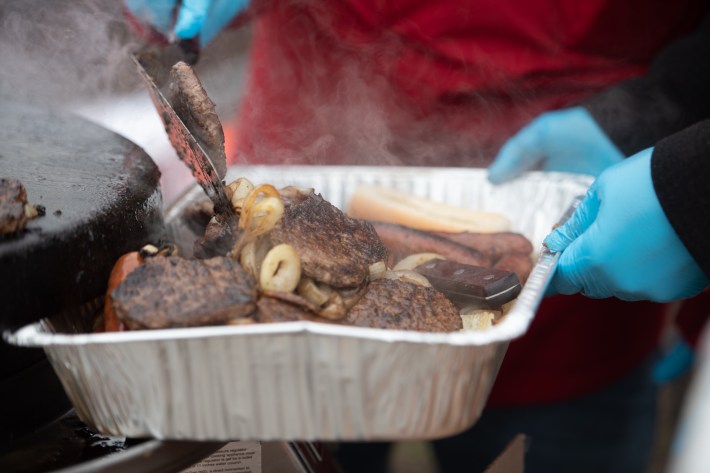 Eight years in and Airhart hasn't missed a day. Within minutes of setting up his grill on a chilly Wednesday afternoon, people began to gather, some coming from as far as Waukegan to take pictures and show love. In a normal day, Airhart estimates he feeds about 1,200 people.
Franklin helps with the set up, piling portable tables with an assortment of sandwich buns, sodas, chips and fixings as Airhart prepares the grill. Soon it's filled with a seemingly endless supply of hamburger patties, polishes and a mountain of sliced onions, all sprinkled with seasoning, all grilled to perfection.
"I like to talk to my food," joked Airhart, moving his spatula at warp speed as he flips every piece of meat on the grill.
Once he exhausts his supply, he picks up more food and heads north to Lawrence Avenue and Lake Shore Drive, then to Harrison Street and Kedzie Avenue — areas where unhoused residents are known to congregate.
If he's tired, you'll never know it. His energy is boundless, his laugh infectious. And once you meet him, it's as if you've known him a lifetime.
Before the pandemic, Airhart and his team would bus in folks to a location on the South or West side where they would enter a Taste of Chicago-style bazaar offering food and clothing. Now, they've been doing a series of pop-ups in locations all over the city and suburbs. Airhart said he's been seeing a lot of new faces in the crowd, folks who found their lives upended by COVID-19.
Faces like Marcus Cooper, who comes every day for whatever may be on the menu, which is always served with a little love and encouragement.
"He's a blessing. He likes to enlighten and touch the people, and in more than one way," Cooper said. "I know people he's given shoes to, other people he's helped. He's just a caring, sincere person."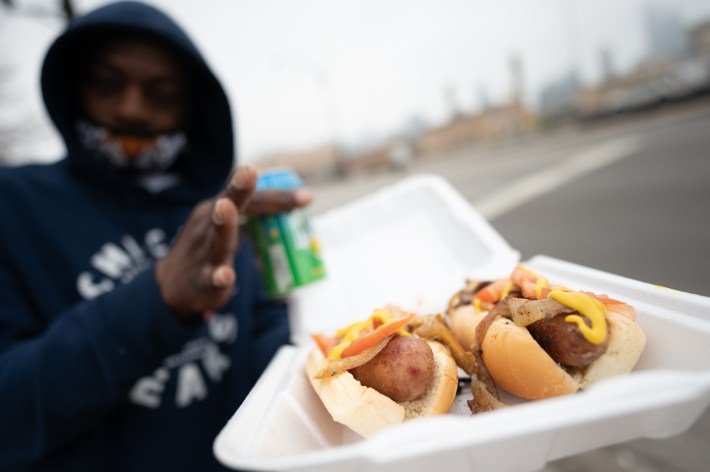 Airhart's currently exploring the idea of setting up a "Taste" in every major city, run by local organizations there. He intends for his work to live beyond him. He's gearing up for another event with Chance in early April.
It isn't about glory, or legacy. It's about ensuring that the people who live on the margins continue to be treated with dignity and love.
"It's so important. You go to a gas station and get turned away if you're a penny short. That feeling is unreal. You're not going to give me that milk over a penny?" Airhart said. "When I give people my card I tell them I'm like Willy Wonka, and that card is their golden ticket. Whatever they need, I'm going to be there for them."
You can donate to Taste for the Homeless online.
Listen to our "It's All Good" podcast featuring Chef Mike and Jamie Nesbitt Golden:
Subscribe to Block Club Chicago. Every dime we make funds reporting from Chicago's neighborhoods.
Already subscribe? Click here to support Block Club with a tax-deductible donation.