LOGAN SQUARE — Buffered bike lanes, sidewalk and street resurfacing and more curb space for outdoor dining are coming to the 35th Ward this year. 
At a Tuesday community meeting organized by Ald. Carlos Ramirez-Rosa's (35th) office, the alderman and representatives from the Department of Transportation and the Department of Water Management shared construction project updates and the winners of the 2021 participatory budgeting cycle.
Work will begin in April on street resurfacing, curb extensions and painting parking lines on Lawrence Avenue between Elston and Central Park avenues and on Irving Park Road between Kolmar and Ravenswood avenues, officials said.
Construction will begin in July on Diversey Parkway between Central Park and California avenues, which will get curb extensions and buffered bike lanes, said Nathan Roseberry, assistant chief highway engineer at CDOT.
Upgrades to the Milwaukee Avenue corridor from Belmont Avenue to Logan Boulevard are also slated to begin in July, pending final design approval and federal funding. Those upgrades are part of a yearslong process that will include major improvements to Logan Square's most confusing — and dangerous — intersection.
The project includes plaza upgrades for La Placita Plazas: one on Kedzie Avenue adjacent to the Logan Square Blue Line station and the other at the square surrounding the Illinois Centennial Monument. Roseberry said CDOT will "incorporate as many Latin elements as we can to the plaza," per the request from the ward office and residents. 
It's a "huge opportunity with our project to be able to not only rehabilitate the roadway, increase safety and operations but also provide new and [activated] space," Roseberry said of the plazas.
With the plazas comes a traffic redesign that was decided on after a series of public meetings. The plan is to reroute Kedzie Avenue north of Milwaukee Avenue to create the plaza adjacent to the Blue Line station, to reroute Milwaukee Avenue and convert the circle traffic into two-way traffic. 
The improved circle flow will have separated bike lanes, and the plaza will be able to house the Logan Square Farmers Market in spring and summer.
Milwaukee will also get raised crosswalks and longer curb extensions to allow more outdoor seating for restaurants.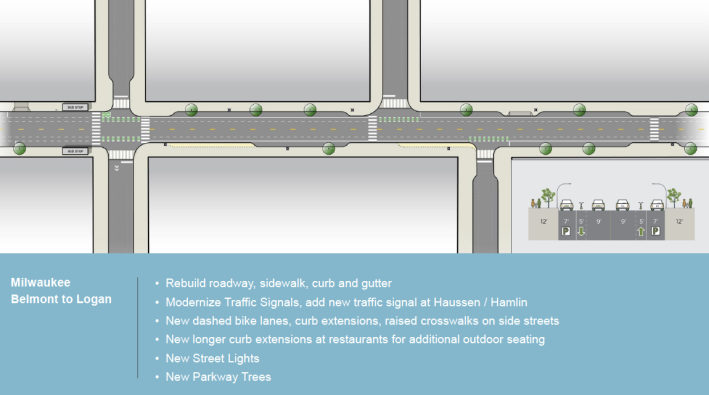 "We know outdoor seating is even more important these days with COVID, so we had an opportunity to work with the 35th Ward and have been able to find seven different locations where we are able to put in a little bit longer curb extension to provide that additional outdoor seating," Roseberry said.
The alderman's office also released how it will spend its $1.3 million from its 2021 participatory budgeting cycle. Ramirez-Rosa is among a group of aldermen who ask residents to vote on how the money should be spent to make the process more democratic.
The winning projects, which were chosen based on votes from more than 400 ward residents, include the repaving of deteriorated alleys, street resurfacing, sidewalk repairs and repairs near schools. Street lights will also be installed near the Avondale-Logandale School and Helge A. Haugan Elementary.
The alderman also shared updates on the 100-unit affordable housing complex in the former parking lot at 2602-38 N. Emmett St., which broke ground in September.
Ramirez-Rosa said construction has progressed at a record speed. He shared aerial photos of the development with all seven stories completed. The project is on schedule to be completed by January, and leasing is expected to begin in late 2021.
The complex will have 33 one-bedroom, 49 two-bedroom and 18 three-bedroom apartments and be affordable to Chicagoans earning at or below 60 percent of the city's area median income. A family of four who makes a combined household income of $54,600 or less would qualify, or a single person making $38,220 or less.
Ramirez-Rosa said workers are adding plumbing, electrical and heating and air conditioning on all floors. Windows will be installed later this month.
"It was an under-utilized parking lot and now it's going to be housing for our families," Ramirez-Rosa said. "It's truly an affordable option for our working families in our neighborhood." 
In addition to affordable apartments, the complex will include about 4,300 square feet of retail space facing Kedzie Avenue.
The 35th Ward will also see a series of sewer lining replacements and water pipe projects.
Subscribe to Block Club Chicago. Every dime we make funds reporting from Chicago's neighborhoods.
Already subscribe? Click here to support Block Club with a tax-deductible donation.