BRIGHTON PARK — Community advocates and officials are urging the city to expand its vaccination rollout plan to ensure more residents in hard-hit neighborhoods are prioritized.
Leaders from the Brighton Park Neighborhood Council and elected officials called on Mayor Lori Lightfoot and the Chicago Department of Public Health to revamp the recently announced Protect Chicago Plus plan so it will target 26 high-need neighborhoods for vaccinations.
The group, speaking at a Monday news conference, said city leaders need to better partner with community groups to reach vulnerable residents.
"We need no community left out," said Dr. Arturo Carrillo, director for health and violence prevention at Brighton Park Neighborhood Council. "We need every community that's been impacted by COVID to receive the care and vaccine as quickly as possibly to ensure that we don't continue to lose lives in areas of the city that have been hardest hit."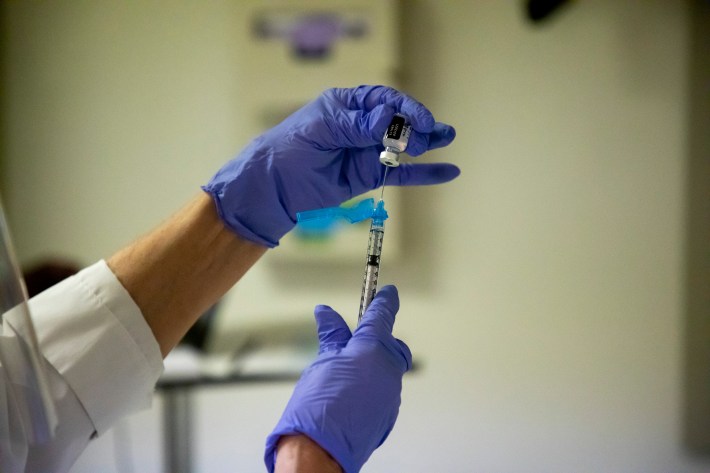 Under the city's plan, public health officials are targeting 15 "high-need communities" to ensure people in those areas have information about vaccines and are prioritized for vaccination appointments.
The priority list: West Englewood, New City, Gage Park, North Lawndale, South Lawndale, Chicago Lawn, Englewood, Roseland, Archer Heights, Washington Heights, Austin, Montclare, South Deering, Belmont Cragin and Humboldt Park. 
The city chose those community areas by analyzing which had the highest need based on a variety of factors, including how many essential workers live in the area; how many people live in multi-family households; the age, income level and insurance status of people living there; as well as how many COVID-19 cases and deaths have been reported.
The plan was launched after data showed a lag in coronavirus vaccinations among Black and Latino communities during Phase 1A of the vaccination campaign, which focused on health care workers.
RELATED: Black, Latino Chicagoans Dying Of Coronavirus More Than All Others, But They're Not The Ones Getting Vaccinated
Despite being in one the hardest-hit ZIP codes in the city and state, Brighton Park was left out of the city's priority list.
The 60632 ZIP code, which includes Brighton Park, had a positivity rate of 11.1 during the week ending Jan. 30, according to city data. The city's seven-day positivity rate was at 4.4 percent for the same time period.
The ZIP Code has had 11,926 confirmed cases of COVID-19, and 178 people have died. During the week ending Jan. 30, 177 confirmed cases and seven deaths were reported, according to city data.
Last week, Esperanza Health Centers partnered with the Brighton Park Neighborhood Council and Mansueto High School to open a vaccination site for the community in the school's gym. The effort looks to vaccinate up to 250 people daily.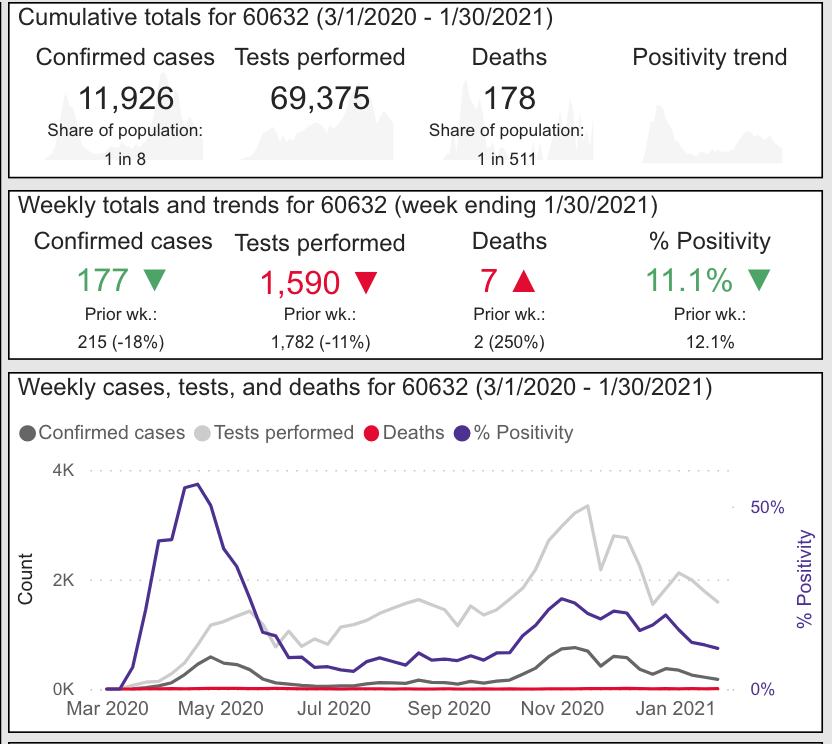 Besides Brighton Park and the 15 community areas identified by the city, the officials want these groups prioritized: Burnside, Fuller Park, Hermosa, West Pullman, Garfield Ridge, Lower West Side, West Elsdon, West Lawn, Brighton Park, Auburn Gresham and East Garfield Park.
Ald. Byron Sigcho-Lopez (25th), who represents Lower West Side, said while essential workers are on the front lines of the pandemic, they are on the "back of the lines when it comes to vaccinations."
"Every community that has been hit hard by this pandemic deserved to be prioritized," Sigcho-Lopez said.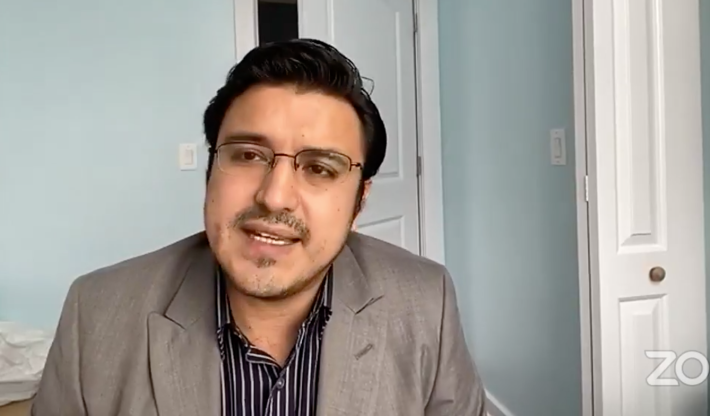 Health Department Commissioner Dr. Allison Arwady has routinely said the city does not receive anywhere near enough vaccine to match the demand.
Asked about that, Patrick Brosnan, executive director of the neighborhood council, agreed there aren't enough shots for everyone in the city or everyone in high-priority neighborhoods. With the federal government working to provide more vaccines, Brosnan said city officials must work with highly vulnerable community groups now to lay the foundation for when more doses are available.
"We also know this is about building the tracks for the train … to roll on," Brosnan said. "The plan has to include the communities of the highest need and Brighton Park is the highest leading the city right now."
State Reps. Theresa Mah, Aaron Ortiz and Edgar Gonzalez and Cook County Commissioner Alma Anaya echoed calls to prioritize more communities like Brighton Park.
In November, the coronavirus swept through Brighton Park resident Laura Guevara's home after her son, who works for FEDEX, contracted the virus.
Guevara said it was unfair Brighton Park was left off of the city's prioritized list of targeted neighborhoods.
"Our families are important just like others," she said. "We have waited over 10 months for this vaccine to arrive to our lives. Now, that they've found a vaccine against COVID-19, it's important that we all have the right to obtain it, especially communities with high rates like Brighton Park since the beginning to the pandemic."
City officials did not return a request for comment.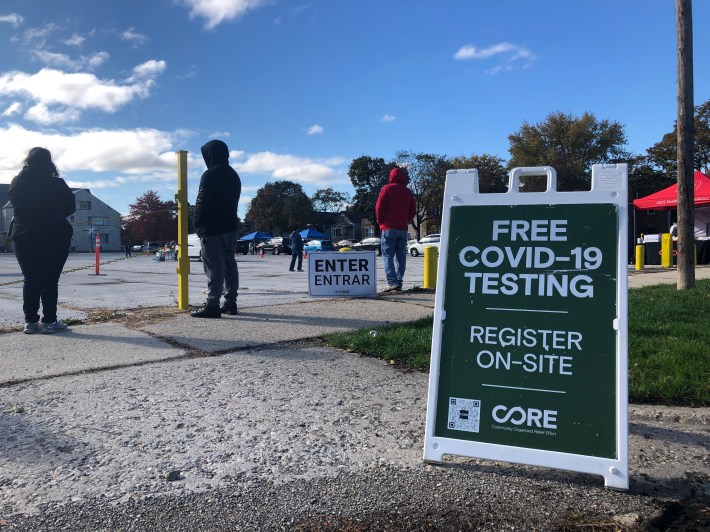 Block Club Chicago's coronavirus coverage is free for all readers. Block Club is an independent, 501(c)(3), journalist-run newsroom.
Subscribe to Block Club Chicago. Every dime we make funds reporting from Chicago's neighborhoods.
Already subscribe? Click here to support Block Club with a tax-deductible donation.