UPTOWN — Development firm Cedar Street is moving forward with the second stage of its massive Broadway project in Uptown, bringing two buildings and 180 units to what's currently a parking lot.
Cedar Street's plans received approval Thursday from the city's Plan Commission, paving the way for the prolific development firm to cap its 522-unit mega-project in the 5000 block of North Broadway.
The second-phase plans call for two buildings at the corner of Broadway and Winona Street that would be configured in an L-shape around the International Bank of Chicago, 5069 N. Broadway.
The two five-story buildings will have have Winona addresses and will connect via a fourth-story bridge, allowing tenants to access the amenities in each building, according to the development team.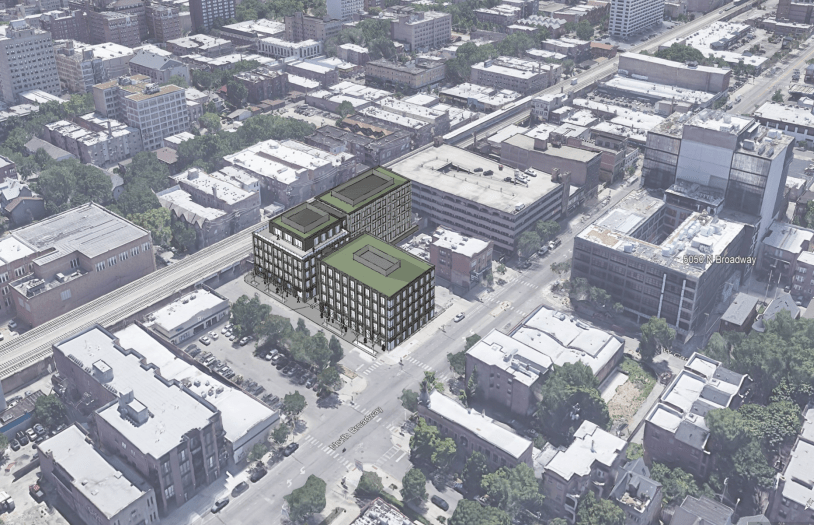 The apartment buildings are considered the second phase of the larger 5050 N. Broadway development.
The first portion of the project included the redevelopment of the former AON office building at 5050 N. Broadway into an apartment building with 342 units. The mid-century-style building, known as The Draper, debuted last year.
Cedar Street's project also incorporated the existing 600-car parking garage that served the office building. Tenants of the building can park in the structure, though some of that space will likely be saved for local businesses and theaters, project officials said.
The International Bank building is not affected by the development.
Plans for the entire project were approved in 2016. Cedar Street sought to amend those plans to allow for ground-floor residences in the new buildings on Winona.
The new buildings will use 1131 W. and 1135 W. Winona St. addresses.
Most mixed-use developments require first-floor commercial or lobby space to help a building activate the nearby street scape. The Draper is set to rent to a day care facility for its first-floor commercial space, for example.
But Cedar Street sought residential uses on the buildings' first floors because brick-and-mortal retail has been devastated by the pandemic.
A Cedar Street attorney said Thursday the move was "in response to market demands or lack thereof for retail in that location."
The first-floor residential use was granted Thursday, as was the project's site approval. It still requires the approval of the full City Council.
Maurice Cox, commissioner of the Department of Planning and Development, said the project will fit well at its location.
"It really tends to blend in nicely," Cox said.
A Block Club subscription is an excellent gift. Get a subscription now and you'll get a free tote bag — and you'll help us reach our goal of 15,000 subscribers by the beginning of 2021. We're almost there! Subscribe or buy a subscription as a gift here.



Already subscribe? Click here to support Block Club with a tax-deductible donation.