AUSTIN — It wasn't lost on Dr. Marina Del Ríos how significant it is she was the first person in Chicago to receive a coronavirus vaccine Tuesday at Loretto Hospital.
Black and Latino communities have been hit the hardest in terms of infection and death rates and in economic fallout. For a Latina physician to be vaccinated at a West Side hospital is a critical step to building trust within hard-hit communities and highlighting the need for better health care for those Chicagoans, Del Ríos said.
"The silver lining in the disaster that has been 2020 and this pandemic is that we're now having more open discussions about social justice and health justice," Del Ríos said after receiving the vaccine.
"I am really proud of the city of Chicago for having selected Loretto as the first place to immunize folks. I think it sends a really powerful message we're ready to now change the way we've treated minority communities. I hope that this is the beginning of a more inclusive process for improving the public health of the city."
Del Ríos, an emergency room physician at University of Illinois Hospital in Chicago, said knew she'd get emotional on the momentous day.
"It's the heaviness of what this year has represented," Del Ríos said. "It's really hard not to think about people that I know that I won't see again. You just have flashes of the situations that you've been in, patients that you've seen. You wish that this [vaccine] would have happened sooner."
Despite her sadness, Del Ríos said she was still "full of hope" and the occasion represents "light at the end of the tunnel."
"I think that this is amazing that we've gotten an effective, safe vaccine in such a short period of time," she said. "Doesn't say that we're out of the woods; we still have to wash our hands and wear our masks, keep physical distance.
"But there's an end to it. A month ago, we didn't have an end to this; we just had to keep on doing it. I'm hoping that when the vaccine becomes more available that people will volunteer and will be more than happy to step in and get themselves protected."
Del Ríos said so far she isn't feeling any pain at the injection site on her upper left arm.
"It actually hurts less than the flu vaccine," she said. "Tomorrow I expect I might have a sore arm, maybe a slight fever, some body aches. That's OK; I've experienced that with the flu vaccine."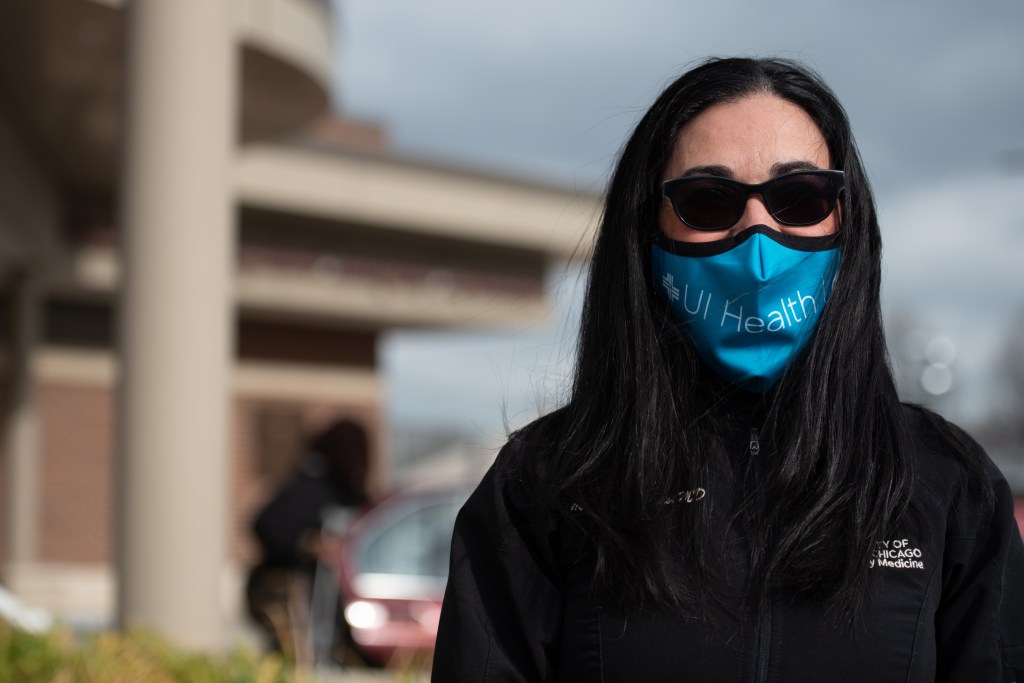 As the vaccine begins its rollout, medical and public health experts know they will have to combat skepticism to ensure Black and Latino communities are being inoculated. Loretto leaders have been among those pushing to ensure more Black and Latino residents are included in trials.
That wariness is rooted in generations of racist treatment. Del Ríos and José López, executive director of the Puerto Rican Cultural Center, cited the forced sterilization of roughly one-third of Puerto Rican mothers between the 1930s and 1970s as being at the root of distrust.
"Puerto Rico became, in many ways, an experiment station for birth control practices but really control of birthing practices in Puerto Rico," López said. "I think those are things that people have to take into account in terms of how we roll out these vaccines, and how welcoming people can be if they have a history of trauma with these experiences."
Del Ríos has been heavily involved in trying to provide critical information about the pandemic to Latino communities and understands why some people might hesitate to get vaccinated once they are more widely available to the public.
"There's a reason minority communities are hesitant, but I feel comfortable with the science," she said. "I feel comfortable this is the right thing to do."
A Block Club subscription is an excellent gift. Get a subscription now and you'll get a free tote bag — and you'll help us reach our goal of 15,000 subscribers by the beginning of 2021. We're almost there! Subscribe or buy a subscription as a gift here.


Block Club Chicago's coronavirus coverage is free for all readers. Block Club is an independent, 501(c)(3), journalist-run newsroom.
Already subscribe? Click here to support Block Club with a tax-deductible donation.