LOGAN SQUARE — Cheers erupted throughout Chicago's neighborhoods as word spread Saturday morning Democratic candidate Joe Biden had clinched the presidency.
The declaration came after Americans had waited four days for a result in the divisive election. Biden easily won Chicago and Illinois, Democratic strongholds, and was within range of the 270 electoral vote threshold. But it wasn't until he'd secured a strong enough lead over President Donald Trump in Pennsylvania that the election was called in Biden's favor.
Biden will be the country's 46th president and Kamala Harris will be the first woman, first Black person and first Asian American to serve as vice president.
As The Associated Press, The New York Times, CNN and other major organizations named Biden the projected winner, people leaned out their windows across Chicago to cheer and shout. Residents set off daytime fireworks, danced in the street, banged on pots and pans, and played music. Drivers honked their horns, and church bells rang out.
Patrick Clore and Caitie Eggl, of Logan Square, went to the neighborhood's famed monument with bottles of champagne to sit, drink and celebrate.
"Pure joy," Clore said of the news. Eggl added, "Joy and excitement."
Clore said the two had — like people throughout the country — closely watched for results this week. They're looking forward to not having to watch TV for the foreseeable future, he joked.
"The changes that our country was going through the past four years and the hate and vitriol that was coming out of the president's mouth; everything that's happened with the pandemic and social justice — we needed a change. A major one," Eggl said.
Families and friends gathered at the monument, taking in the sun and warm weather. Drivers going by honked and people cheered in response.
The crowd only grew as the day went on, with more and more people coming to play music, celebrate and hold up signs that said, "Honk for Biden!"
The large crowds seen on the North Side led to the CTA temporarily not making stops at Addison on the Red Line and at Belmont on the Red and Brown lines. Mayor Lori Lightfoot said the agency was "trying to clear out some of the trains and passengers," but she expected service to resume there "shortly" as of 3:45 p.m.
The CTA tweeted trains resumed making normal stops just before 4:30 p.m.
The city also raised the Wabash bridge as hundreds of people gathered along the river and near Trump Tower.
Police officers blocked traffic on Wacker Drive, but a steady stream of drivers traveled up and down Michigan Avenue with horns honking and happy passengers cheering.
Lakeview resident Erica Geiser, who made her way Downtown, said it was a nice change of pace to see so many people celebrate in 2020.
"I hope people remember what it feels like to do something and feel like you made a difference," she said. " … I hope people bring this into the midterms. And I hope people just have a great day."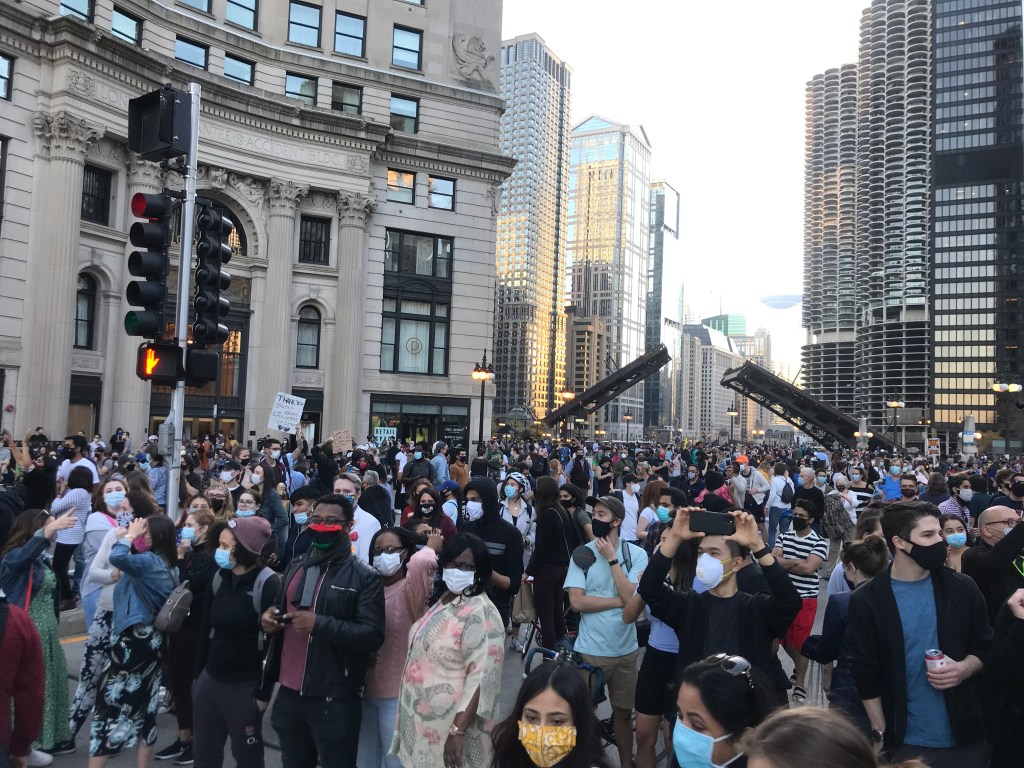 A block from Lightfoot's home in Logan Square, a little girl walked on the sidewalk chanting, "Trump goes in the dump. Trump goes in the dump."
Trump's been no beloved figure in Chicago. He's routinely criticized the city and its leaders — usually about the city's crime problems — and faced sharp criticism in return from Lightfoot, Gov. JB Pritzker and other officials.
Residents have long criticized the president, too. After Trump's election in 2016, it became a trend for people to go to his namesake tower Downtown and take a photo of them giving the finger to the building. The building has also been the site of protests throughout his term and during summer demonstrations protesting racial injustice and police violence.
Trump received just 16.15 percent of the vote in Chicago — a scant 172,402 votes compared to Biden's 877,852, according to unofficial election results.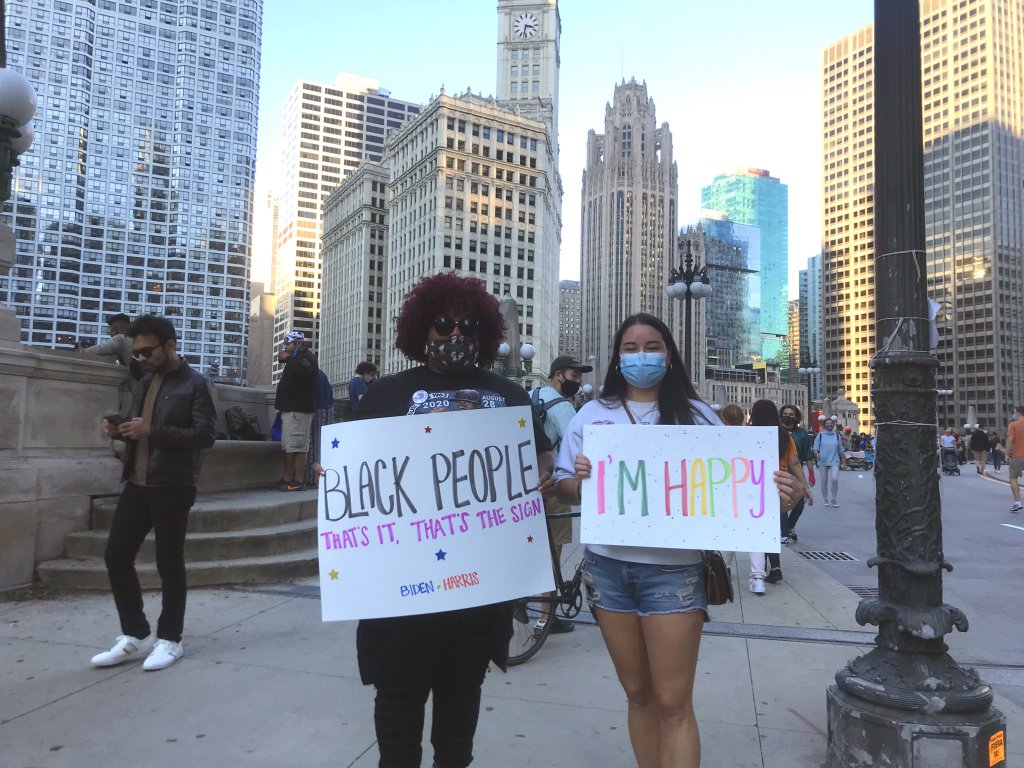 Lightfoot spoke to revelers on the street in Andersonville, thanking the voters who "made this happen."
"You know, people were skeptical whether or not we were going to be able to do this. People stood firm, you worked your asses off …," the mayor said as her voice was drowned out by cheers. "People did this so we could get this moment."
Lightfoot said Chicago needs resources from the federal government to stop coronavirus and evictions as a housing crisis looms.
"We should absolutely celebrate this victory. We should savor every minute of it. But the hard work starts tomorrow," she said. "As much as we love Joe Biden and Kamala Harris, they need to be true to the promises they made to us."
Not all Chicagoans were necessarily excited about Biden. Some voters told Block Club on Election Day they'd opted for Biden simply because they didn't like Trump and his politics, and they wished the Democrats had put up a different candidate.
Already Saturday, people were taking to social media to urge Chicagoans to keep pushing for change, to be wary of Biden's policies and promises and to not rest simply because Trump was out of the White House.
But for many, the news was a welcome rush of relief after four years filled with social unrest, growing political divides, a fumbled coronavirus response that's left 230,000 Americans dead, and racism and lies from the White House.
"You don't have to like the president," but you should respect the office, Clore said. "Biden has things I like, things I don't like. But even the past few days, he's displayed the voice of the president."
Looking around the monument, Clore said it felt good to see young children with American flags. He said he and Eggl were at the monument this summer when marches were held calling for an end to police brutality and the defunding of police.
"That was hard. And it's been a hard year," he said.
But tonight, Clore said, they'll celebrate. Holding up his bottle of champagne, he said the night "probably looks a lot like this."
What celebrations looked like across Chicago:
Block Club Chicago's election coverage is free for all readers. Block Club is an independent, 501(c)(3), journalist-run newsroom.
Subscribe to Block Club Chicago. Every dime we make funds reporting from Chicago's neighborhoods.
Already subscribe? Click here to support Block Club with a tax-deductible