GALEWOOD — For five days, Northwest Side neighbors tried desperately to rescue a cat stuck in a 50-foot tree.
Through storms and high winds, the cat clung to the tree — and no one could get up high enough to help.
Now, the orange tabby is recovering at an animal hospital, thanks to Galewood neighbors, cat rescuers from across the city and Fernandez Tree Service, a team of Chicago arborists who rescued the kitty before it was too late.
Neighbors noticed a cat pretty far up a tree at 1942 N. Neva Ave. on Oct. 14. They were unsure of how it got up there, and the cat appeared to be having trouble getting back down. 
"We think maybe a dog chased it up there," said Jessica Tapia, one of the neighbors who helped rescue the cat, which has since been dubbed Lullaby by rescuers.
Neighbors concerned for the animal reached out to elected officials, called 911 and took to social media to ask if anyone had a large ladder or truck with a cherry picker available to help bring down the cat. 
"We tried laser pointers and tried putting a basket with tuna up there with a pulley system to try to get it to jump into the basket," Tapia said. "A bunch of construction workers also came by with their pretty tall ladders, but the tree is dead so it wasn't super sturdy."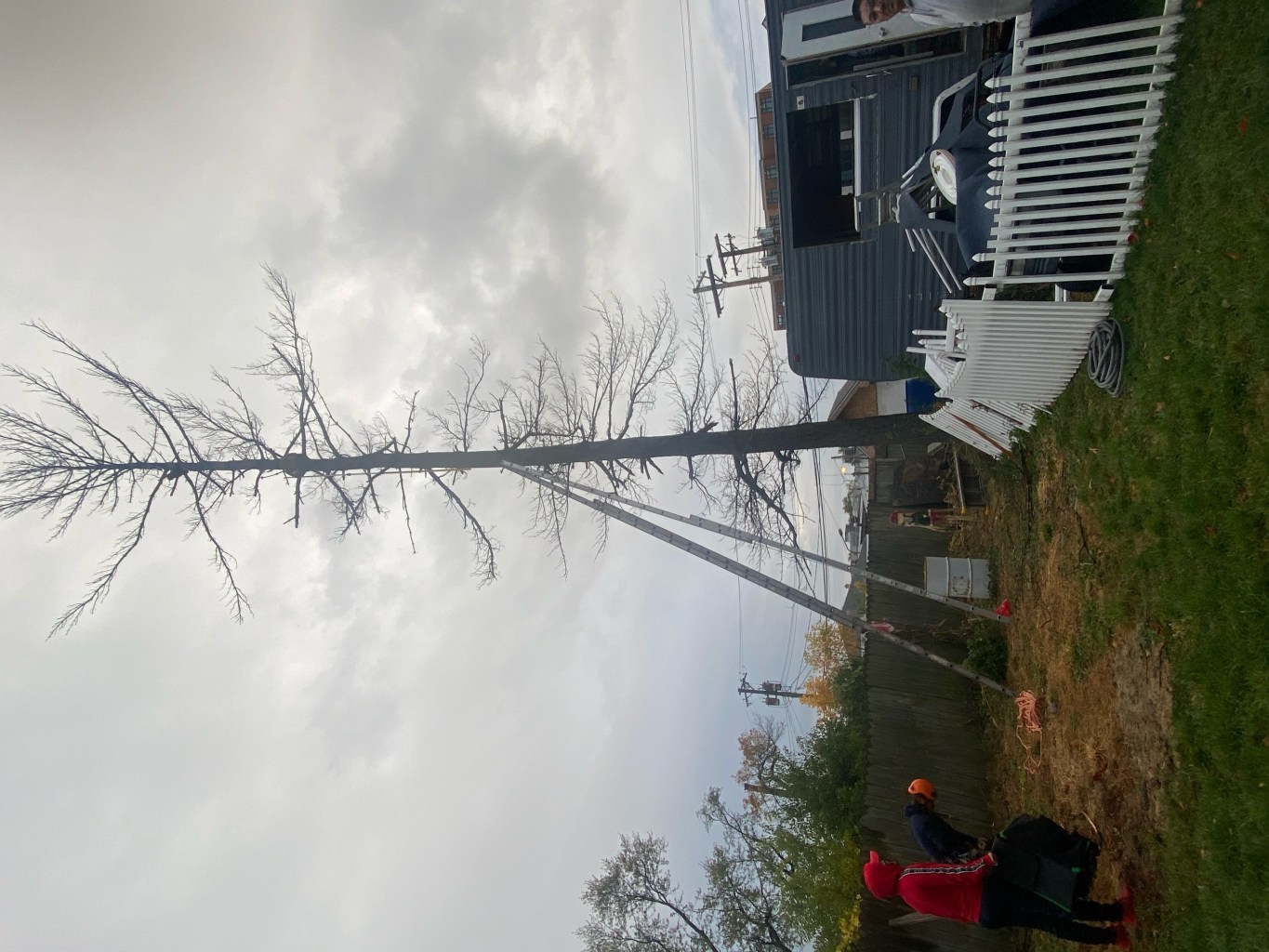 By Sunday, with temperatures dropping as it rained, Tapia reached out to Autumn Ganza, who runs Chicago cat rescue Castle Blackpaw. Ganza had used tree-trimming services in the past to rescue cats trapped in trees and offered to foot the bill for one to come by and help. 
"It's pouring rain with strong winds and the cat has had no food, no water, no shelter for days," Ganza said. "We all thought he was gonna fall off that tree and die."
Two tree-trimming services came by Sunday with ladders and tried to climb up the tree to save the cat, but like previous attempts, these also failed.
Desperate, neighbors reached out to the firehouse at 2323 N. Natchez Ave. When firefighters arrived on the scene Sunday they didn't have enough space to get their ladder truck where they needed it positioned, Tapia said. 
"They literally laughed about it, took a selfie and then left," Tapia said. "I mean, the Fire Department used to come out all the time to save cats. Who didn't grow up on that story? I was trying to explain the situation and he said it was just not worth it. He said it's a feral cat so it doesn't matter."
With the cat still stuck up the tree, someone decided to call Humberto Fernandez, owner of Fernandez Tree Service in Garfield Ridge on the South Side.
"I was at home watching football Sunday with my family when one of my customers called saying there's this cat stuck up a tree and he needed help," Fernandez said. "I said, 'Sure bro. No problem.'"
Fernandez got in his car and drove over to assess the situation and come up with a plan. The dead tree is next to a power line and it was already dark by the time he got to the scene Sunday, which made the situation extremely dangerous, Fernandez said.  
"I told Bill, the customer who called me, I'd be back," he said. "On my way home I called my foreman, Salvador Vega, and told him first thing in the morning we're going out to save a cat."
Early Monday, Vega was in the truck's cherry picker basket as it rose nearly 50 feet to get close enough for him to grab Lullaby. Once Vega was able to snatch it off the tree, Fernandez started lowering him and the animal to safety.
"Obviously, the cat was aggressive and was biting at him," Fernandez said. "And once the basket got to like 15 or 20 feet the cat decided to jump away and landed on someone's shoulder."
A neighbor broke the cat's fall but wasn't able to capture it. Instead, the cat jumped away and ran into an empty lot across the street.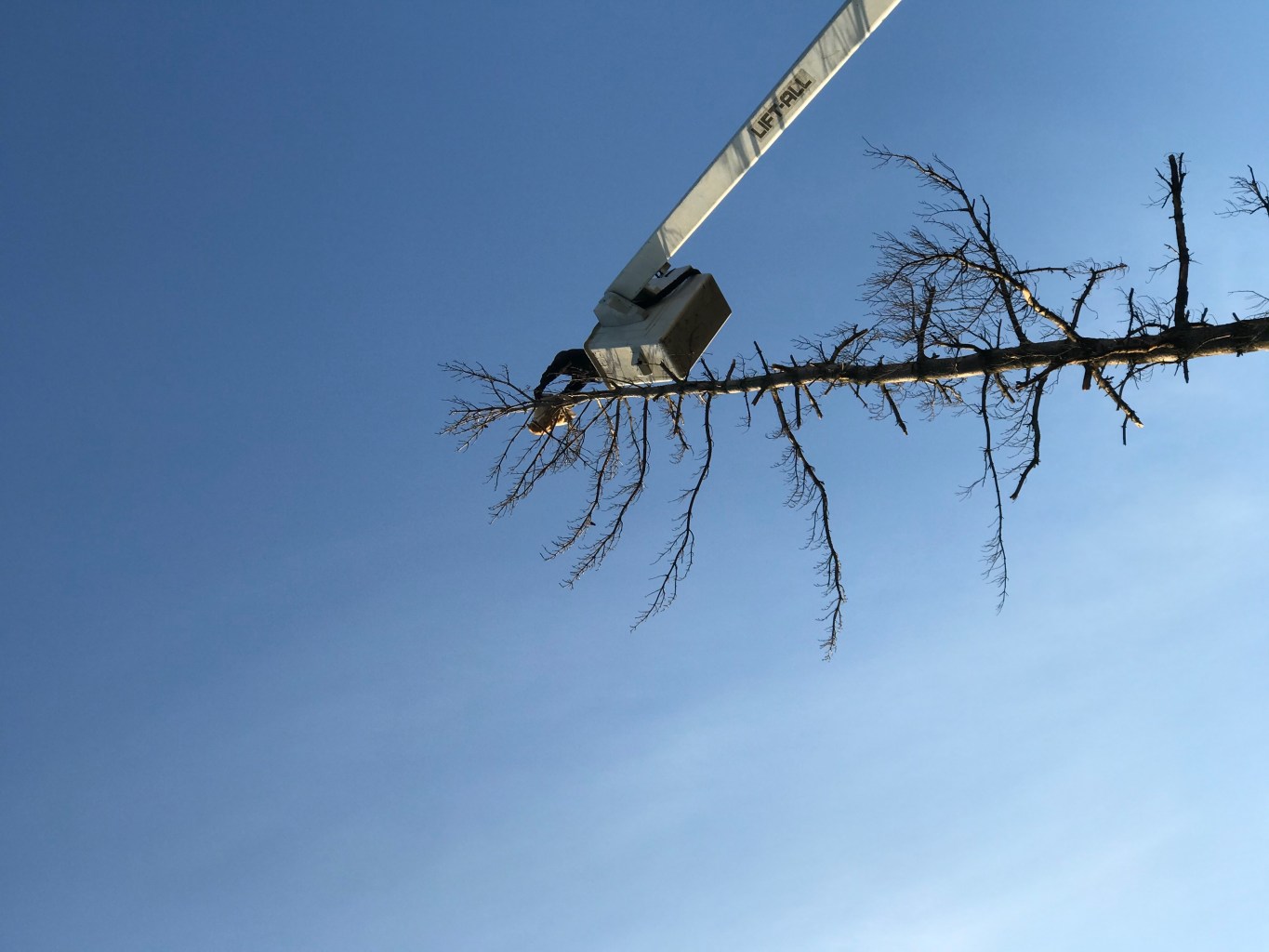 Tapia, her wife, Aimee Cabrera, and another woman named Gracie McEwen chased after the injured feline and were able to get it into a cat carrier and to a vet.
The cat had a collapsed lung and internal bruising but no broken bones. It also has kidney issues, which is likely due to being without food and water for five days, according to MedVet Chicago.  
The cat's ears were trimmed, which typically means the cat is part of a feral cat colony, Tapia said. The veterinary office is keeping the cat under observation and giving it oxygen and fluids as it recovers. They will scan the animal to see if it has a microchip from an owner.
Since helping save the cat, Fernandez has been getting calls from people thanking him for what he did. 
"Well, it was the Christian thing to do. I didn't do it for money and didn't want to get paid or anything," Fernandez said. "My goal was just to help out. I didn't think twice about it."
Neighbors were frustrated by the Fire Department's response to the situation, but spokesman Larry Merritt said crews didn't have the tools they needed to rescue the cat at the Natchez firehouse and the situation was unsafe.
The Fire Department does not have an established protocol for cats stuck in trees and these situations are handled on a case-by-case basis, Merritt said.
Lullaby has a lot of recovering to do, and Friends of Chicago Animal Care and Control will be covering his care. Donations towards his veterinary bills can be made at fcacc.org.
Subscribe to Block Club Chicago. Every dime we make funds reporting from Chicago's neighborhoods.
Already subscribe? Click here to support Block Club with a tax-deductible donation.