WEST TOWN — The owners of a bar in West Town are asking neighbors to endorse their petitions for speed bumps, which the bar owners hope will deter reckless driving and crime.
Declan and Candace Morgan, owners of the Irish Nobleman, 1367 W. Erie St., are collecting signatures in an attempt to add speed bumps to the 1300 and 1200 blocks of West Erie Street and the 500, 600 and 700 blocks of North Noble Street.
The cross section includes the 1st and 27th wards. Per city rules, the couple will need at least 65 percent of neighbors from both sides of a given block to sign on.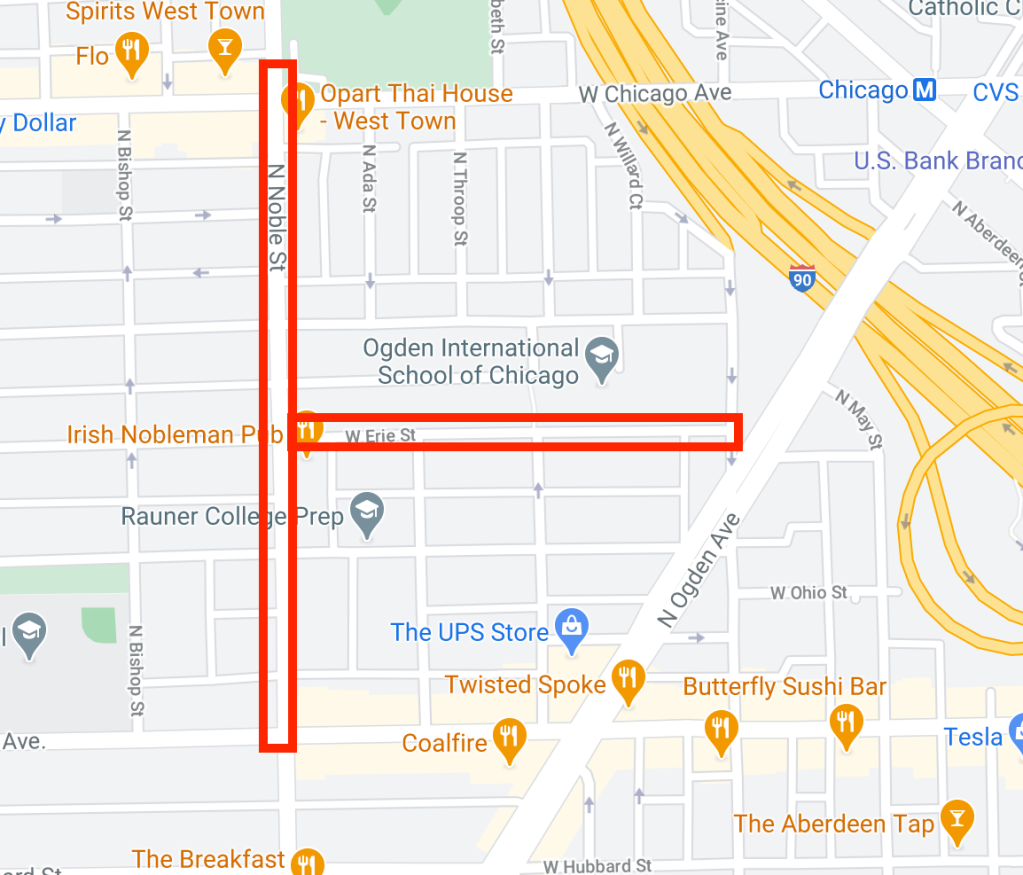 The Morgans, who have owned the Prohibition-era bar since 1999 and live across the street, say they've noticed an uptick in reckless driving and shootings — which could be remedied by slowing down traffic, they hope.
"They're just flying through, and they're not even stopping at the stop signs," Candace Morgan said. "I don't know what the solution is. But something can help. If we can do anything to help, we should."
Two recent shootings — which occurred near the intersection of Erie and Noble during Irish Nobleman's weekly trivia night — rattled the Morgans.
On Sept. 16, an off-duty police officer was sitting inside his car at a stop sign when someone in a car shot at him, the Sun-Times reported. A week later, a 17-year-old was shot in his foot by a person inside a car.
If drivers have committed a crime, they have "nothing slowing them down," making it harder for security cameras and police to investigate, Candace Morgan said.
"There were literally five bullet casings here," she said, referring to the more recent shooting. "And then they sped off. This stuff is happening more and more frequently. COVID's only further adding to the volatile situation in Chicago. All of these different factors are leading up to this perfect storm."
In addition to deterring crime, the Morgans hope the speed bumps will slow reckless drivers.
Whether tending their bar or looking out their window at home, the couple often watch drivers carelessly roll through stop signs on Noble Street.
For commuters who are in a rush, Noble Street is a quick cut-through connecting Grand and Chicago avenues — a route apps often suggest during rush hour, Declan Morgan said. Drivers rounding the corner often drive onto the sidewalks, hitting the flower planters and yellow barricades Morgan has installed.
"They come flying up there, doing 60, 70 miles per hour," Morgan said.
The Morgans' petition is similar to a Noble Square petition launched in August, which Bosworth Avenue neighbors hoped would lead to speed bumps to deter crime.
RELATED: Noble Square Resident Starts Petition For Speed Bumps After Robbery
Neighbors interested in signing the West Town petitions can do so at the bar. Call 312-374-3487 for more information.
Subscribe to Block Club Chicago. Every dime we make funds reporting from Chicago's neighborhoods.
Already subscribe? Click here to support Block Club with a tax-deductible donation.