SOUTH CHICAGO — Right as he's detailing his urban farming work, Gregory Bratton abruptly stops and says he'll need to continue the interview later.
Bratton is working with volunteers at one of the many South Side gardens he cares for, and he breaks up his interview answers to share knowledge and give directions to volunteers. His priorities lie with the garden.
"Make sure you put that in the story," Bratton said before hanging up the phone. "I'm a busy man."
He certainly is. The 68-year-old master gardener — 69 in a few weeks— works on 86 gardens across Chicago. More than 20 are on the Southeast Side.
There aren't many gardens throughout the city he hasn't worked with, he said. He's helped organizations start their gardens either as an assistant or by taking the lead.
Among the gardens Bratton's had a hand in starting and maintaining:
Even as cold weather nears, Bratton's farming work isn't slowing down. He's searching for volunteers to prep all these gardens for winter.
Bratton has been "instrumental in bringing fresh food to the South Side" for decades, said Robbin Carroll, I Grow Chicago's founder.
"He used to run events for healthy eating before it was even discussed to eat differently," Carroll said. "He's kind of a landmark for Englewood in what he's done."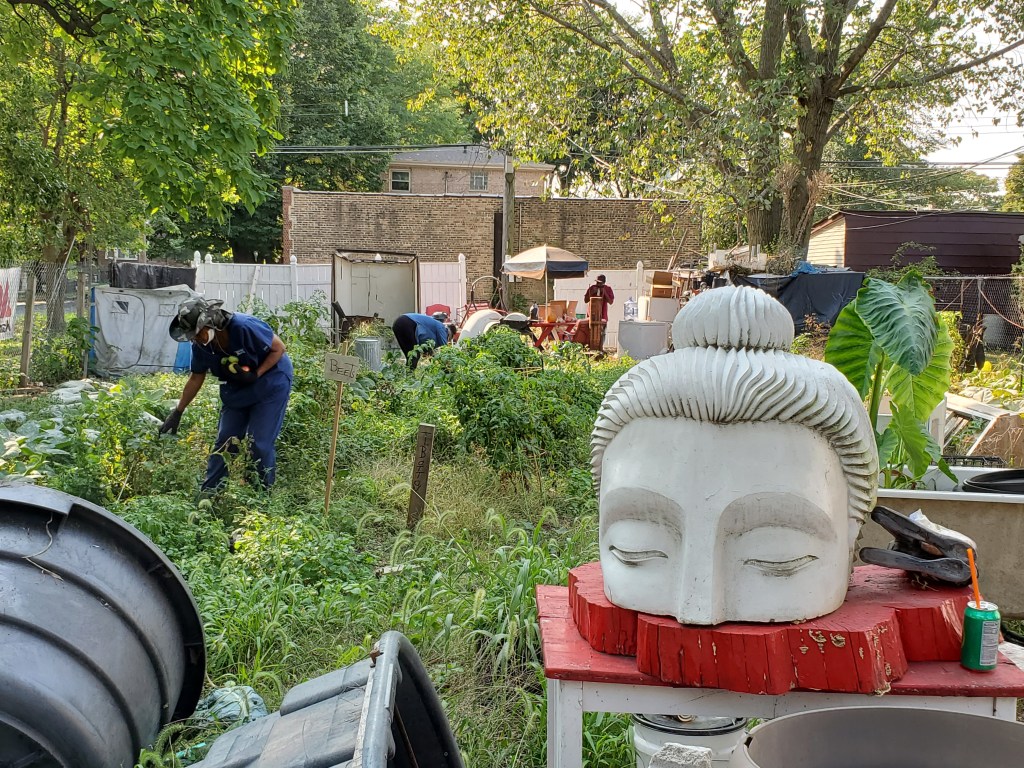 'If Gregory Could Marry A Plant, He Would'
Bratton has long known it's "sustainable to learn how to grow your own."
His mother was a sharecropper. She moved him and his 11 brothers to Chicago in the late '60s, when he was 17.
"I've been growing ever since," he said. He has spent the decades passing on appreciation for agriculture, gained from his mother, to those he works with.
Bratton and Caroll of I Grow Chicago met about a decade ago; Bratton spent two and a half years teaching Carroll how to farm in an urban setting. He also played a role in persuading her to start the Englewood nonprofit.
While they were out tending crops one day, Carroll mentioned she was interested in opening a community center for children on the North Side.
Bratton responded, "Why would you do that? Why wouldn't you open it here?"
Since the peace garden's foundation, Bratton's helped I Grow Chicago with "harvesting, planting — anything we need," Carroll said. He held a worm composting workshop in the spring and typically works weekday mornings tending to the garden.
"If Gregory could marry a plant, he would," Carroll said. "That's his life, that's what he loves to do. … If it deals with a plant in the dirt, he's the man."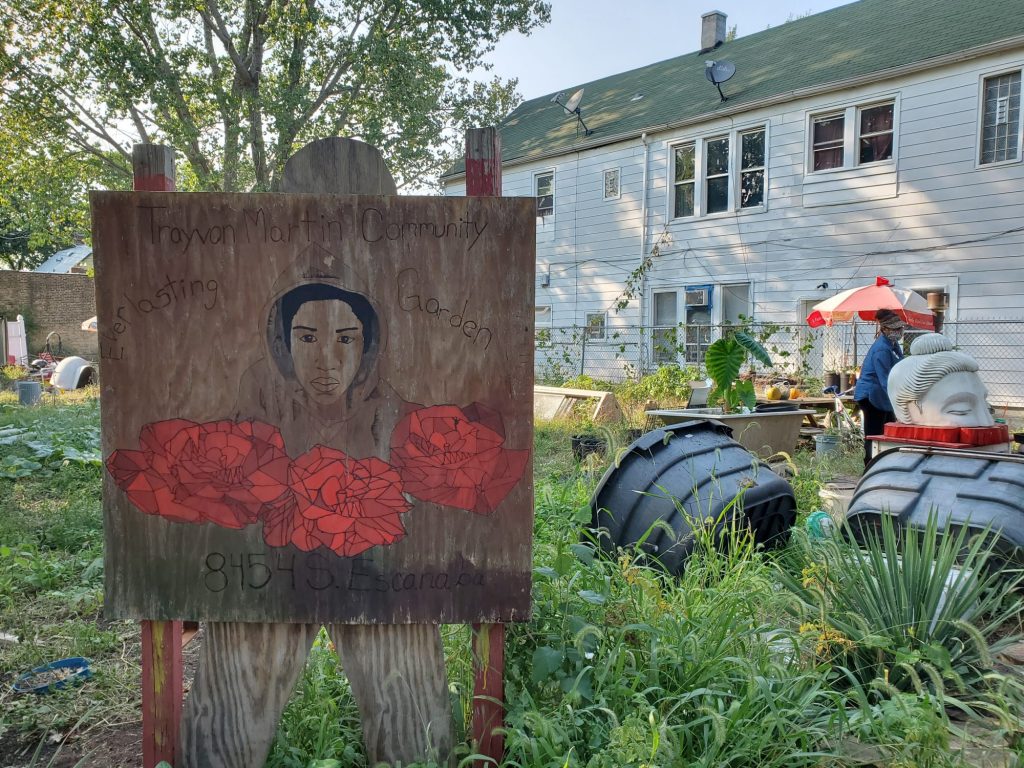 Volunteers at the Trayvon Martin memorial garden said Bratton has shown them the power of gardening to transform a community's health in all forms.
With a lack of access to grocery stores, neighborhoods like South Chicago, Englewood and others on the South Side are facing "food apartheid," said Marie Swain, a Chicago State University sociology student.
For poor residents looking to address this inequity, Swain said the most effective option is to take their nutrition into their own hands — literally.
Volunteering in community gardens costs nothing, and you earn healthy food in the process, Swain said.
"Right now, the way our food system works, it's rationed out," she said. "With these gardens — it's a community garden, so you come in and you get what you need."
Miriam Hogan has volunteered with Bratton for more than five years, tilling, planting, picking and organizing giveaways of the harvests. The exercise and social benefits are great, but the true value of community gardening lies in sharing the fruits of your labor, she said.
"Working with your hands, digging in the dirt, planting something and watching it grow is like nurturing your own child," Hogan said. "But at the end of the growth, everybody gets to eat. That's what I like — anybody that needs or wants anything that we grow are welcome to it."
One memorable volunteer was just an unknown high schooler when he gardened with Bratton. Laquan McDonald worked in the Escanaba Avenue garden that now bears his name the year before he was shot 16 times and murdered by Chicago Police officer Jason Van Dyke.
McDonald was participating in a summer community service project through the nearby Sullivan House Alternative High School, the school for at-risk teens and young adults, where he regularly received As and Bs, according to NBC News.
He was "a big boy who had problems, but he wasn't violent," Bratton said. "To be honest with you, he just needed someone to talk to."
Gardening gave McDonald that opportunity "to talk to people, to get involved in the community."
The personal connections gardening allows for are one of Bratton's main motivations — it's not as if he committed his life to volunteering in community gardens expecting a lavish lifestyle.
Bratton's primary focus is connecting with likeminded people and making sure they continue spreading the value of urban farming.
Bratton sees Swain and Hogan as part of the newer generation of urban farmers. Swain connected with Bratton through her professor, Pancho McFarland, who himself joined Chicago's urban farming scene because of Bratton.
"The only reward I want is for people such as Miriam and [Marie] — when I pass away, keep it going," Bratton said.
He is looking for volunteers to help build and fill 12 raised-bed garden boxes at the I Grow Peace Garden for next season.
Bratton is also looking for at least three volunteers to help build At the Well's hoop house. The inexpensive structure would allow greens, onions, tomatoes, sweet potatoes and other crops to grow in the off-season.
Other volunteers are needed to close down various gardens across the city for the winter. Those interested in volunteering can call Bratton at 773-738-8969 to find out where he is and what work needs to be done.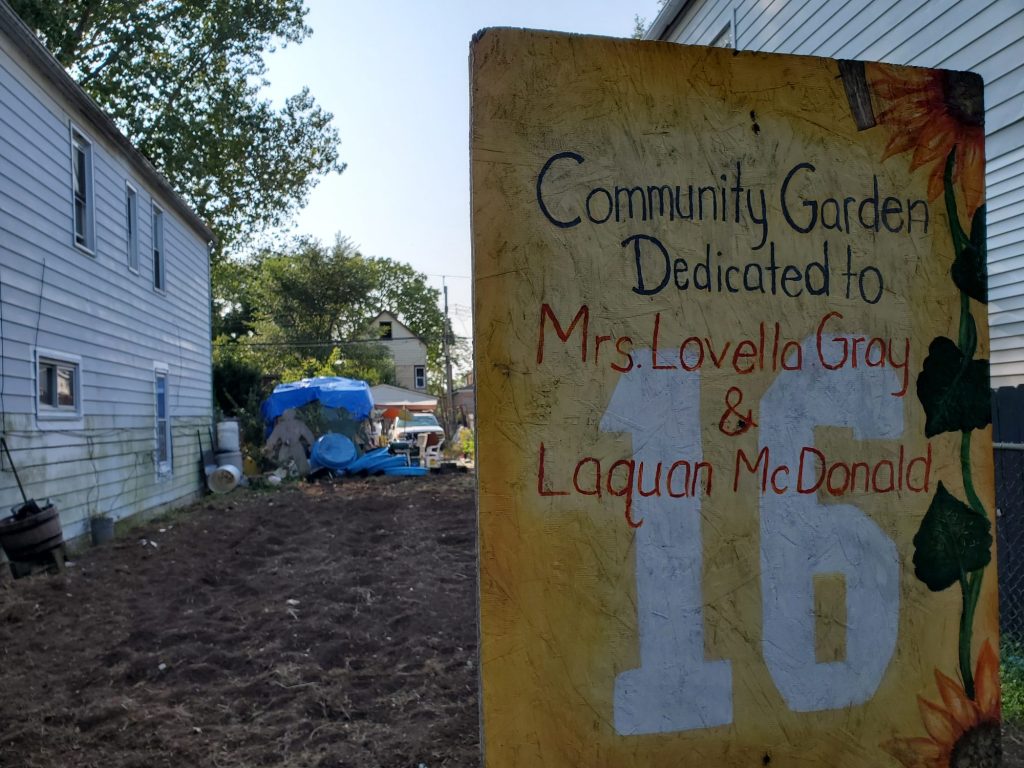 Subscribe to Block Club Chicago. Every dime we make funds reporting from Chicago's neighborhoods.
Already subscribe? Click here to support Block Club with a tax-deductible donation.