CHICAGO — As Chicago faced massive protests and civil unrest after police killed George Floyd in Minneapolis, Chicago Public Schools decided to temporarily suspend its meal distribution program for one day June 1.
The brief shutdown stopped the distribution of free meals and left many families on the South Side without food. Area grocery stores were looted during the unrest, too.
Almost immediately, mutual aid groups sprung up to fill the gaps with pop-up giveaways in school parking lots and volunteer-powered grocery delivery services.
Brittanee Rolle, a teacher at Butler College Prep in Pullman, said she immediately worried about how CPS' food suspension would affect her Black students.
"I love Black kids," she said. "… What I live for is to make sure that what they need is available to them."
Rolle and other organizers launched Feed the People, a pop-up distribution providing food, infant formula and feminine products every Friday in June at 103rd and Cottage Grove in Pullman. Over the duration, 1,000 people were helped, said Rolle, who lives in Hyde Park.
The group acquired supplies via cash donations and help from the Aurora Food Pantry, FroSkate, KXP campaigns and BP Masterminds. Organizers were also able to give away tacos thanks to La Cocinita.
Also in response to the brief CPS food shutdown, the People's Grab-N-Go popped-up every Monday at Burke Elementary School in Washington Park thanks to organizers Matt Muse, Jihad Kheperu, Dominique James and Trina Reynolds-Tyler. The school was one of CPS' meal distribution sites.
In the first two giveaways alone, they fed 800 families, providing them with milk, meat, eggs and other groceries, Muse said. The distribution continued through Aug. 31.
A crew of 30 volunteers also gave away baby formula, diapers, toilet paper and hand sanitizer thanks to individual donors and the Aurora Food Pantry, Brave Space Alliance, Dinkel's Bakery and Middle Brow Beer.
At the group's last giveaway just before school started, they provided 230 art bags and more than 250 books to young people, too.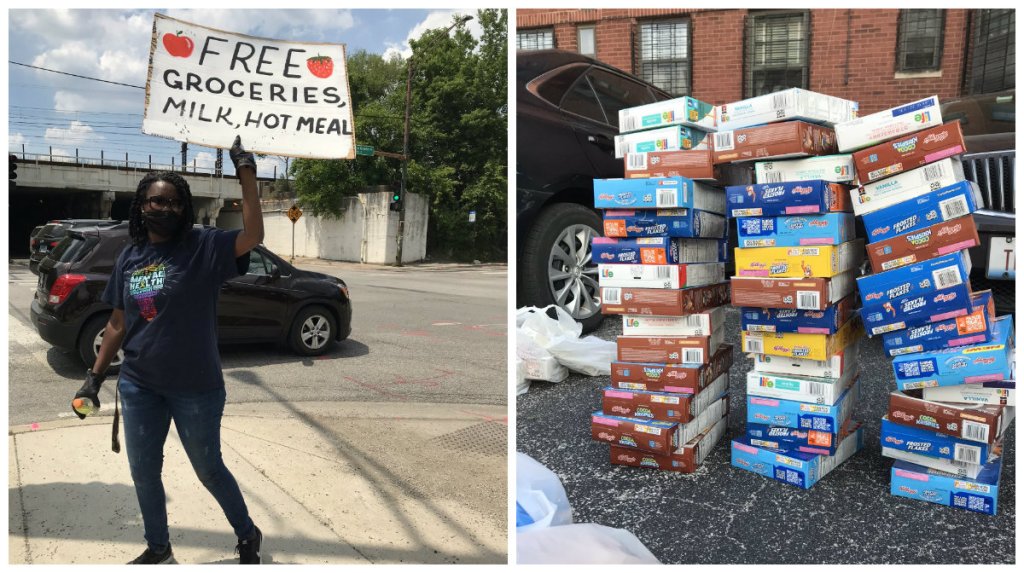 After volunteering at the People's Grab-N-Go, Femi Adigun — also known as rapper Femdot — was inspired to create Scholar Slide By, a grocery delivery service. Through the project, South and West siders can submit grocery lists online and volunteers shop for and deliver the items they need to their homes. It's all free with no questions asked.
The service is powered by donations and volunteers, who buy the food at an area Aldi.
So far, 389 families have been helped through the grocery service, Adigun said. They hope to continue the effort through the end of September.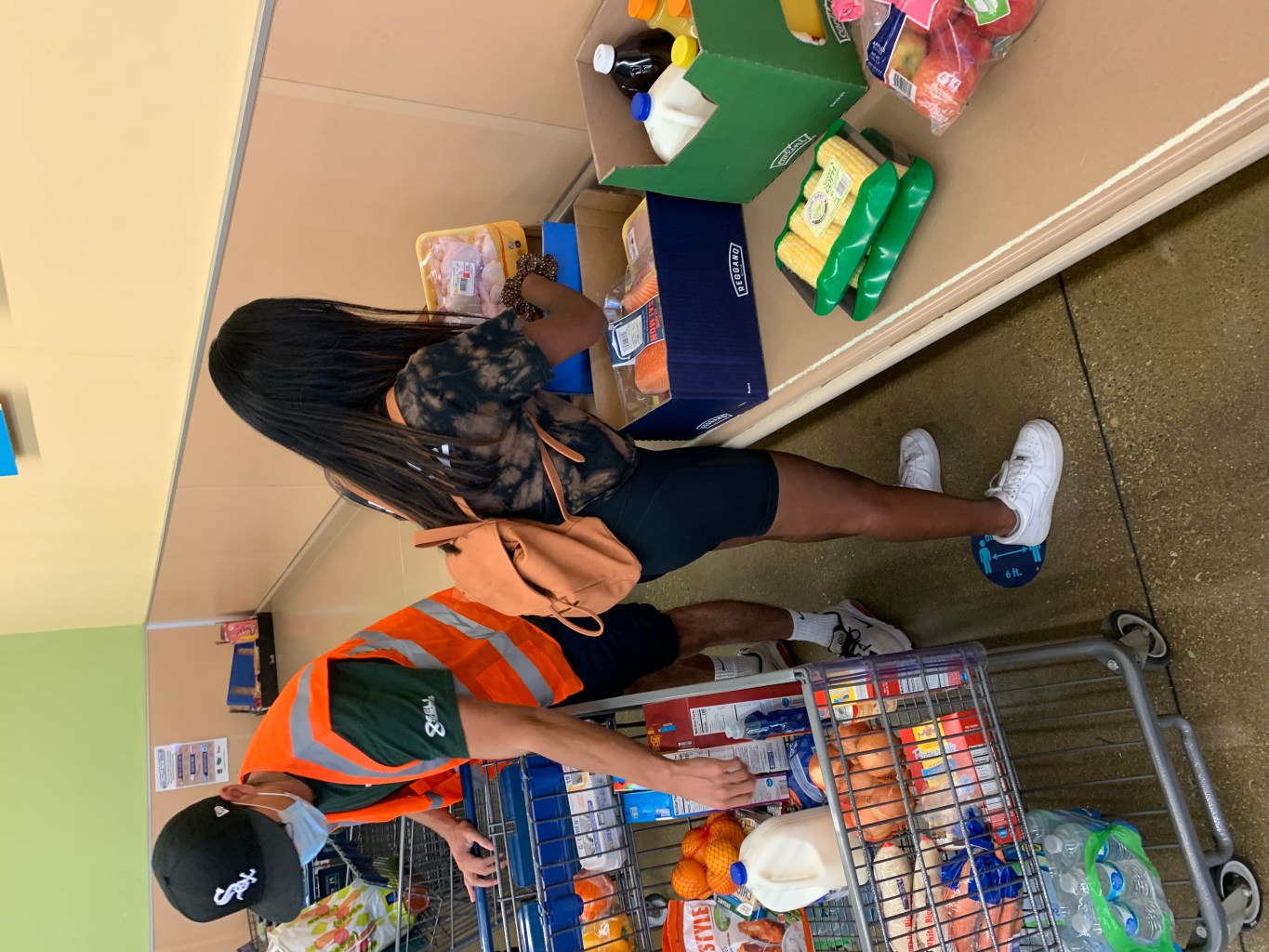 "It's just really important to be able to show people that people do care about them, and also be able to try to fill in some of these gaps in these disparities that we have in the city of Chicago," Adigun said.
"I think feeding people is just as important as anything else. I mean, you're building community, you know? You're able to help somebody eat." 
While the mutual aid efforts are a step in the right direction to meeting the needs of South Siders, the lack of resources in neighborhoods they serve are stark, Rolle said, and divestment breeds violence.
"There aren't enough grocery stores to stay open to sustain people's needs. It's because our communities are not well-funded … and instead they're overly policed," Rolle said.
Muse said the city's funding priorities show a lack of care for Black and Latino neighborhoods.
"If there was more care and if there were less food deserts, People's Grab- N-Go might not even exist," Muse said. "… This thing is a result of things that are happening wrong in Chicago, and the goal is to continue to bring awareness to that and do our part until there's no need for our part. 
"My hope is that time is sooner than later."
You can support Scholar Slide via Paypal at delacremescholars@gmail.com or by donating online.
Subscribe to Block Club Chicago. Every dime we make funds reporting from Chicago's neighborhoods.
Already subscribe? Click here to support Block Club with a tax-deductible donation.