NORTH LAWNDALE — Led by neighborhood teens, Chicago Police officers toured North Lawndale on Wednesday as part of a larger city initiative to build better relationships between police and communities.
Teens in My Block, My Hood, My City's Explorer's program led the tours, bringing recruits from the Chicago Police Training Academy to schools, gardens and their favorite shops to show them what Lawndale looks like to the people who live there.
The guides were eager to share some of Lawndale's history with their guests, taking officers to visit the Martin Luther King Jr. Legacy Apartments, which were built at the site where King lived during his campaign against redlining in the '60s. The neighborhood has undergone many transformations over time, and its layered history is visible in many buildings.
The tours are part of Mayor Lori Lightfoot's police reform plan to build community-immersion programs for new officers. The department's Neighborhood Policing Initiative has expanded to the 9th, 10th and 11th police districts.
RELATED: Chicago Police Reforms Coming Within 90 Days, Mayor Lightfoot Promises
Though some teens said they enjoyed interacting with officers outside the typical context of cops responding to crimes, they were not convinced more community policing would be helpful in their neighborhood.
Reporters were not allowed to document the tour, but Block Club spoke to teen tour guides after the event.
"Why we have to be policed? You can go into the suburbs, and it's really no police on the corners at all," said youth guide Jamarion Nance. "But if you come more in an urban area, it's police on every corner.
"You can be in a park and just be in a neighborhood and there'll be police just looking at you, waiting for something to happen."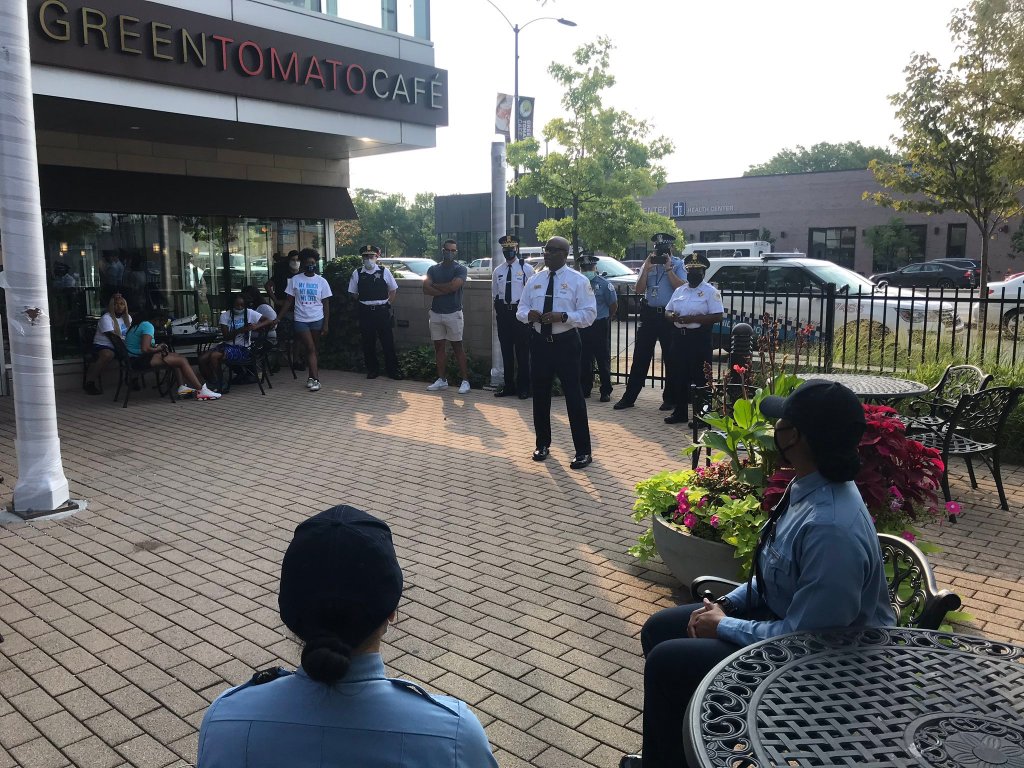 The teens said they were eager to pull the cops out of their silos to show Lawndale residents should be treated with dignity.
"We was just showing them our neighborhood and the history behind it because North Lawndale is not bad. People just feel it's bad because they see all the bad stuff in the news … the neighborhood overall is good," said Briana Hamilton.
The tours also created space for a humanizing experience with police, the teens said.
"Every cop is not bad, and they don't always have bad intentions," said Meya Garrett, one of the teen guides. "The police that we take around, we want them to get a good view of our neighborhood and see how it really is."
Nance said the tour showed that the guides and officers had more in common than they thought.
The shift toward community policing aims to ease tensions with residents by building trusted relationships, Chicago Police spokesman Luis Agostini said. Immersion experiences such as the tours will help officers "counter any predisposition that they may have had about a particular neighborhood in Chicago," he said.
Department leaders said they want to incorporate more community-based programming into officer training, enabling residents to teach officers about the communities they patrol. They hope that will will better equip officers to use community-based assets to address root causes of crime.
"We absolutely believe that there should be additional investment in those quality-of-life resources … but it shouldn't be an either/or. It's not a zero-sum game," Agostini said. "Public safety should be funded alongside education, alongside economic development and mental health services."
But cops don't necessarily make people in the communities feel any safer, the North Lawndale teens said.
But the overwhelming police presence in the area stokes some of the tension between cops and residents, the North Lawndale teens said, since cops are used to addressing issues that have little to do with policing.
"It makes us resent them more for what they try to do. It's like, you don't belong in this situation," Garrett said.
Nance said he understands how the violence on the West Side has led to an increased police presence in the area. But he's skeptical of the expanded community policing initiative, saying police don't seem to be key toward achieving public safety elsewhere.
There always seems to be police around, the teens said, except for when they are needed the most.
"When there's a shootout, the police are never there," Garrett said. "But they'll be there when there's somebody sitting on the porch minding their business."
Police officials said they hope the tours help them understand what the community needs from them.
"If law enforcement is going to get this right, we're going to have to interact more and more with young people in the community," Police Supt. David Brown said.
Pascal Sabino is a Report for America corps member covering Austin, North Lawndale and Garfield Park for Block Club Chicago.
Subscribe to Block Club Chicago. Every dime we make funds reporting from Chicago's neighborhoods.
Already subscribe? Click here to support Block Club with a tax-deductible donation.