CHICAGO — Despite weeks of warnings from public health officials and climbing coronavirus case numbers, people throughout the state and city continue having family gatherings and barbecues — and it's a "major source" of virus spread, officials said.
Dr. Allison Arwady, commissioner of the city's Department of Public Health, held a news conference Tuesday to discuss the rising case numbers across the state and to urge Chicagoans to "avoid unnecessary gatherings of any kind."
"Virtually the whole state is now at a point where we are seeing a level of new cases that is of concern," Arwady said. "We continue to hear about birthday parties and funerals. We hear about people playing basketball together … or soccer in the park."
While outbreaks at longterm care facilities were a major problem in the spring, "family settings" are the big issue for those trying to keep the virus under control recently, she said.
Earlier Tuesday, Gov. JB Pritzker announced he will bring back restrictions in Will and Kankakee counties due to virus increases there.
Restaurants and bars in Kankakee and Will counties can no longer offer indoor service and must seat all patrons outside, according to the Governor's Office. Bar service and dining must end at 11 p.m. and gatherings should be no more than 25 people or 25 percent of a room's capacity, whichever is less.
If the area's coronavirus outlook doesn't improve within 14 days, more stringent restrictions will be imposed.
The restrictions don't apply to Chicago, but Arwady warned the city is not trending in the right direction.
"Back at our peak in May, we were seeing, on average, more than 1,000 new cases of COVID every day in Chicago," she said. "As of today, we're adding 341 new cases each day in Chicago. … That's concerning. We want this number to get back under 200 cases per day."
Arwady spoke of the families her contact tracers work with and the tragedies the encounter on a daily basis.
Arwady told the story of a mother who made a COVID test appointment for her newborn baby — but by the time the Department of Public Health called to follow up, the mother had gotten the virus and died.
She urged anyone who believes the virus is some sort of hoax to think about the essential workers who are hearing these stories and wear a mask for them.
"… Put yourselves in the shoes of the people who are working so hard every day at the Chicago Department of Public Health calling and hearing these stories," she said.
Another problem posed by family parties: It makes the city and state coronavirus rules difficult to enforce.
"In private spaces, like households and social gatherings, the city of Chicago broadly can't regulate that activity," she said earlier this month. "And those are decisions that people are making on a regular basis.
"Recognize when you are out and not being careful, even among your trusted friends and family, you do run the risk of bringing COVID back into your home and into your friends group."
In North Carolina, a single family party led to 40 positive coronavirus cases last month, according to the Charlotte Observer.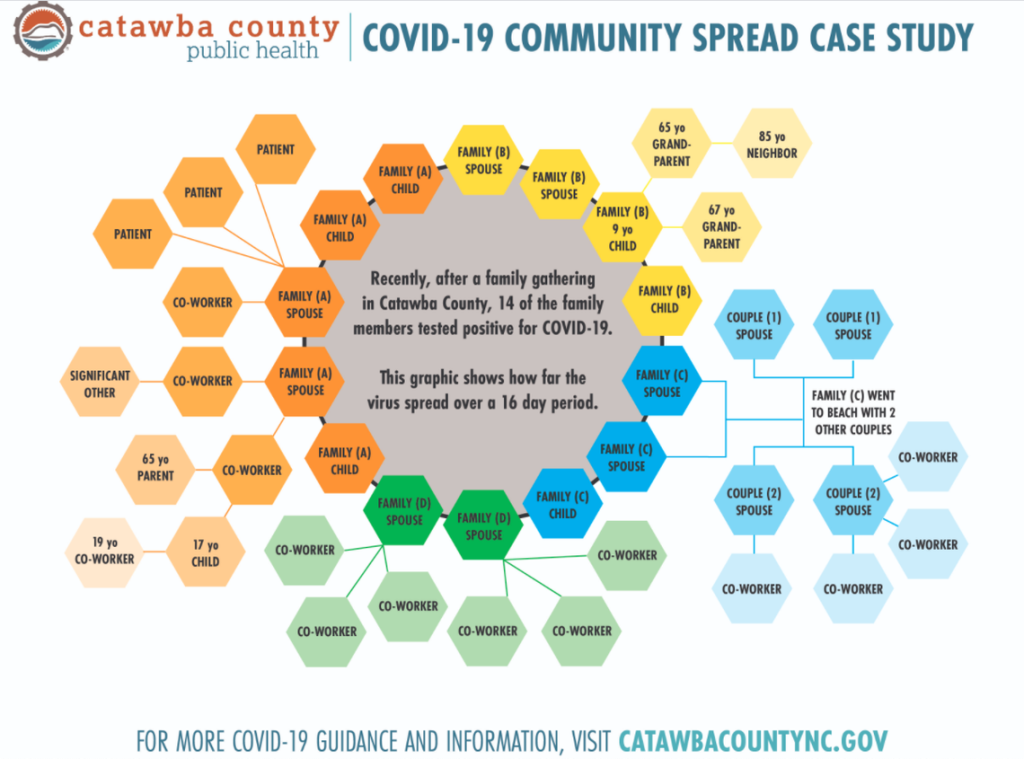 People who get tested should treat each test like it will come back positive and quarantine until they get the results, Arwady said.
"We really need to turn these numbers around in Chicago," she said.
"We can do this, we flattened the curve before. We can do it again."
Do you know someone who contracted COVID-19 from a family party or another event? Email us at newsroom [at] blockclubchi [dot] org.
Block Club Chicago's coronavirus coverage is free for all readers. Block Club is an independent, 501(c)(3), journalist-run newsroom.
Subscribe to Block Club Chicago. Every dime we make funds reporting from Chicago's neighborhoods.
Already subscribe? Click here to support Block Club with a tax-deductible donation.