CHATHAM — In a normal year, Tailorite Complete Clothing in East Chatham would be in the middle of its most profitable season.
Weddings, proms and galas keep business owner Veta Caldwell-Charles and her staff of 14 booked and busy during the spring. Fall brings homecoming dances, black-tie events and lots of wool sweaters.
But the coronavirus pandemic has canceled most events. The shop was broken into during looting in her area. Now, Caldwell-Charles isn't sure what to expect.
"This has been the worst year we've had in 35 years," said Caldwell-Charles, whose family has owned the shop at 8459 S. Cottage Grove Ave. for decades. "The pandemic has hit us pretty, pretty bad. If we don't make money in the times when we usually make money, that's a predictor of what's to come."
Businesses throughout the city have been forced to scale back, lay off workers or even close their doors permanently this year. To help businesses stay afloat, nonprofit My Block, My Hood, My City announced last week organizers are awarding 218 businesses grants of $700-$7,500.
The majority of grants are going toward small businesses on the South and West sides, and they can be used for recovery efforts such as restocking perishable inventory, repairing storefront damage and replacing damaged or stolen equipment.
Business owners also can use the money to provide personal protective equipment for workers or modify their spaces to ensure safe interactions with employees and customers to prevent the spread of coronavirus.
The funding comes from the organization's Small Business Relief Fund, which launched in July and raised more than $1 million in just one week to support struggling entrepreneurs.
RELATED: After Raising More than $1 Million, My Block, My Hood, My City Is Accepting Applications for Small Business Fund
The organization hopes to have distributed all the grants by mid-September, said founder Jahmal Cole. Tailorite Complete Clothing, a South Side mainstay that counts the White Sox and the University of Chicago among its clientele, received $3,000.
"At the heart of the work we do, we're just trying to do some good and provide relief for those that need it, doing whatever it takes to make a difference," Cole said. "And right now, we need small businesses in our neighborhoods to thrive more than ever. These grants will provide help to rebuild and reopen, block by block."
Businesses in Grand Boulevard Plaza that were looted in early June — while police officers were caught on video lounging in U.S. Rep Bobby Rush's office nearby — received grant help from the organization as well. Fitness Annex, Lang Capital Group, JJ's Fish & Chicken, City Nails and DF Wireless all received money to rebuild in the plaza, 5401 S. Wentworth Ave.
The destruction was severe in some cases. City Nails owner Thien Le previously told Block Club the salon lost more than $60,000 in equipment and inventory.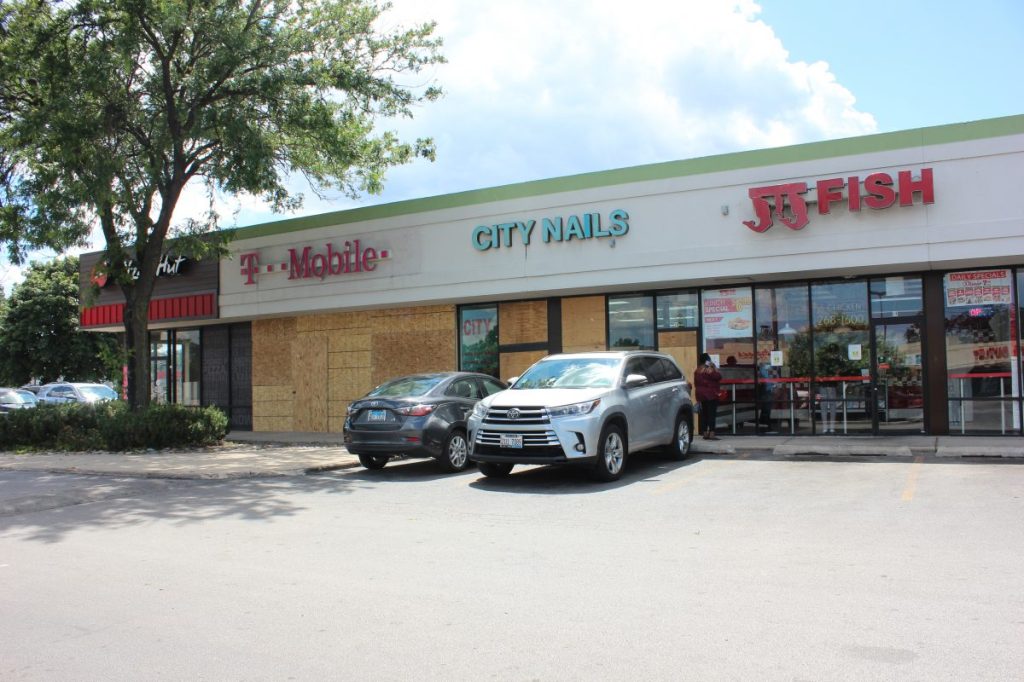 This is at least the second community-based effort to benefit the Fitness Annex, which nearly closed after the looting. The combination of the property destruction on the heels of months of closure during the pandemic nearly sunk Jamaal Burris' gym. Then two community members launched a GoFundMe to support Black-owned businesses affected by the looting and offered Burris a grant.
Other beneficiaries include dozens of beauty supply shops, barber shops and salons, jewelry stores and multiple restaurants, cafes and bakeries.
Helendora Samuels Picture Framing, one of the few Black-owned shops in Wicker Park, also received a grant.
The help was a lifeline for 2 Faced Apparel owner Mario Christen, who went from making $2,800 each month designing and printing T-shirts he sells nationwide to going months without a client or a sale.
The blow was so great Christen, who works out of his home in Jackson Park Highlands, was forced to lay off his four employees. Before being laid off from his sanitation job this year, he was using his paycheck to stay open.
"I'm still trying to maintain. I'm still in arrears," said Christen, who opened his shop eight years ago. "The grant will help me get out of that, with possibly rehiring my staff, and getting some much-needed materials."
Christen and Caldwell-Charles are hopeful that their businesses will make it through the pandemic. In the meantime, they will continue to lean on the village that has rallied around them.
"Our community has been excellent," Caldwell-Charles said. "They support us, and you just don't walk away from that type of commitment."
Donate to My Block, My Hood, My City's small business relief fund here.
Subscribe to Block Club Chicago. Every dime we make funds reporting from Chicago's neighborhoods.
Already subscribe? Click here to support Block Club with a tax-deductible donation.