UPTOWN — An Uptown mansion designed by noted architect George Maher returned to the market last week, the third Maher home currently listed for sale on Hutchinson Street.
Located in the Hutchinson Street Historic District in Buena Park, the 12,000-square-foot mansion at 817 W. Hutchinson St. joins two others — 839 W. Hutchinson St. and 750 W. Hutchinson St. — by the same architect that have been searching for new owners during recent months. 
Buyers will have to have deep pockets: The three homes are the priciest properties for sale in the greater Uptown area at $2.6 million for 817 W. Hutchinson St., $2.89 million for 839 W. Hutchinson St. and $3.995 million for 750 W. Hutchinson St.
Designed to insulate their wealthy builders from the world while maintaining direct access to the lakefront and Chicago's central business district, the mansions on Hutchinson Street offer the unique combination of being large and private while being located within the densely-populated Buena Park neighborhood.
And with chatter about wealthy residents leaving cities altogether and flocking to suburban — or much further out — locales, these particular homes represent the best of both worlds, said Compass agent Brad Lippitz.  
"Whether you're working from home or learning remotely, there's three floors and a basement, so there's room for everyone to be where they need to be," said Lippitz, who's representing the owners of the five-bedroom, seven-bath mansion at 839 W. Hutchinson St. "It's like having your own compound. Rather than moving to Lake Forest or Michigan, you can get the country lifestyle in the middle of the city."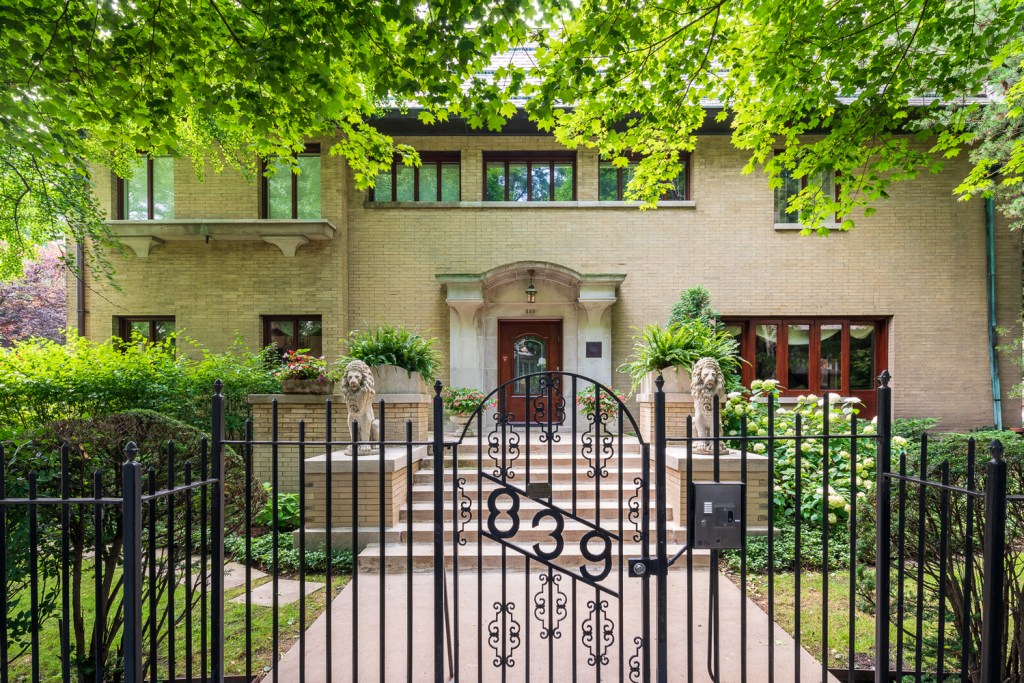 The idea of living a "country lifestyle" in the heart of the city might not be that much of a stretch as each of the Maher mansions in Buena Park are situated on multiple city lots with sprawling lawns and gardens.
"It's like having a private park," said Sophia Worden, Berkshire Hathaway Home Services listing agent, of the spacious footprint of 750 W. Hutchinson St., which spans six city lots. "The grounds were designed by landscape architect Jens Jensen and are completely intact — in fact, we still have the plans."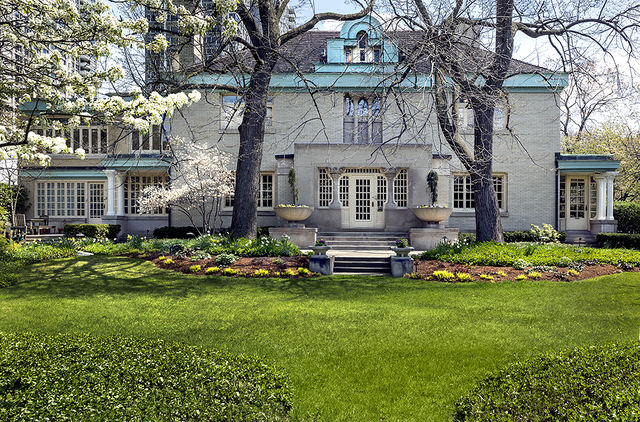 The three mansions, all built in the early years of the 20th century, are indicative of Maher's grand take on the "Prairie School" style, an architectural movement made world-famous by Frank Lloyd Wright. Maher and Wright worked alongside one another early in their careers. 
Set on lushly landscaped grounds and filled with ornamental stained-glass windows and other handcrafted finishes, the homes are like living in a work of art, said Preservation Chicago President Ward Miller.

"These homes are individually sited and designed for specific clients and locations, which is different from other homes where a developer may be building an entire block," Ward said. "But there really is a responsibility that comes with [buying one of these homes] to be a good steward and maintain it and care for it. Some people find it to be a burden, but I find it to be refreshing to live in a true work of art."
The six-bedroom at 817 W. Hutchinson St. is listed as a short sale while the asking price on the 10,000-square-foot 839 W. Hutchinson St. has come down by $1.6 million since it first entered the market in January 2019. 
"There used to be an old saying that a person's home is their castle," Miller said. "And that's a phrase that's truly relevant in this day in age." 
Subscribe to Block Club Chicago. Every dime we make funds reporting from Chicago's neighborhoods.
Already subscribe? Click here to support Block Club with a tax-deductible donation.