CHATHAM — More than 1,000 people carrying signs from Chicago's 77 community areas marched through Chatham Sunday morning, demanding an end to police brutality and racial inequity before providing free meals to people in need.
Organized by South Side nonprofit My Block My Hood My City, the Chatham Peace Walk kicked off at 10 a.m. on 79th Street and ended at 7801 S. State St. for the food giveaway.
After grocery stores and pharmacies closed in the wake of the coronavirus pandemic and after vandalism and looting his the city hard last weekend, Chatham felt "like dang near a food desert," said Jahmal Cole, founder of My Block, My Hood, My City.
So Cole decided to something about it, rallying a number of neighborhood partners, including Good Kids Mad City, the Greater Chatham Initiative, the Social Consult, D.O.P.E. youth, Color of Change, Project I Am, Girls Like Me, and Providence Bank, to organize the march and food giveaway.
More than 40 volunteers provided about 1,500 fresh meals and pantry staples to families in need, said Cynthia Alfaro, chief operating officer of My Block My Hood My City, which helps young people from underresourced areas access amenities not typically available to them and mobilizes to help communities in need.
"We're a mighty small team of six, so we rely on our volunteers," she said. "Everyone who showed up today was a problem solver for us…that's the human spirit."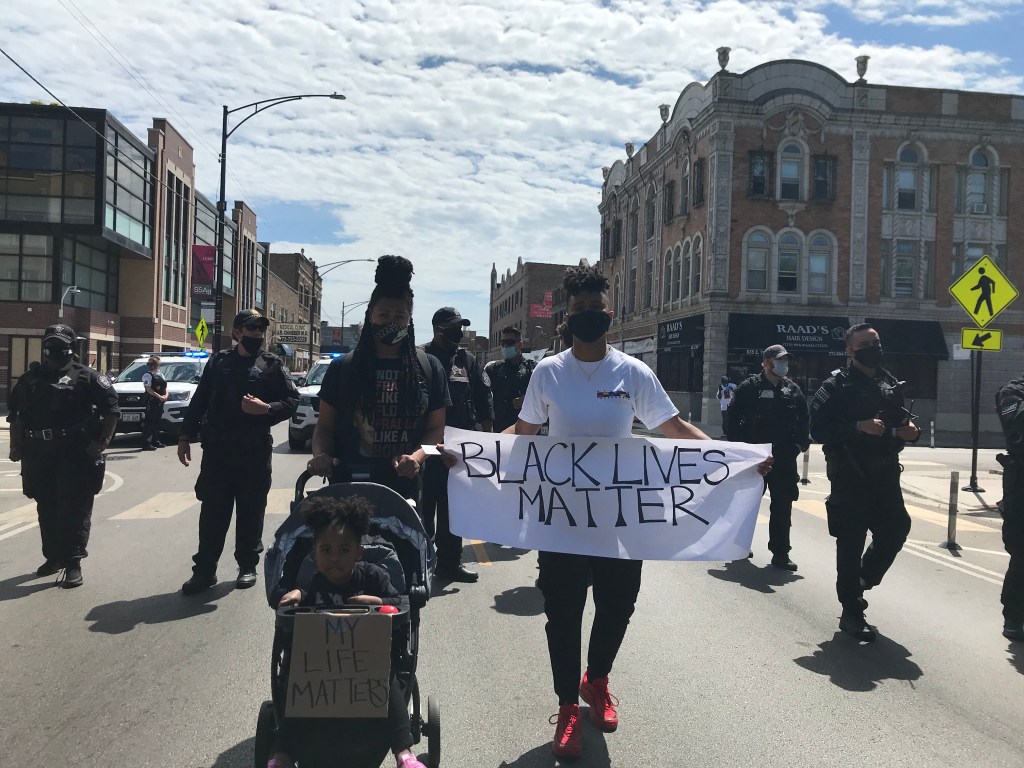 As the crowd gathered and Tupac Shakur's "Changes" played over the loud speakers, Nitchka Gravely said she is one of the many people who have been pulled over by the police and feared for her life.
"We just want to live, we just want to love, and we just want to be able to go about our lives freely — not be afraid when our young Black boys go out, when our husbands go out," she said. "We are portrayed as these people who don't deserve the right to live and move freely through the world."
Before marching down 79th Street, rapper Rhymefest rallied the crowd, addressing his comments to Mayor Lori Lightfoot.
"Our police don't need reform, reform was going into place when LaQuan McDonald got killed," he said. "… We don't need reform, we need restructuring, we need an overhaul."
Ald. Roderick Sawyer (6th) said the crowd marched on Sunday in part to support "true investment in our neighborhoods."
"So that we don't have to worry about going downtown, we can eat in our own neighborhoods, we can shop in our own neighborhoods…this is what we're fighting for," he said.
As the crowd moved down the street, families watched nearby, a fire truck played music and shop owners took pictures from their storefronts.
Michael Parnell played "Lean On Me" from a portable speaker and danced with friends participating in the peace walk.  Parnell, 27, grew up in Chatham.
"I'm feeling hopeful because I am seeing a lot of people unite, and if anything can get this done, it's us uniting," he said.
Tony Duarte stood alone at the food giveaway, holding a sign showing solidarity between the Mexican and Black communities. He posed for photographs with many in attendance.
"I see us together," Duarte said. "That's Chicago."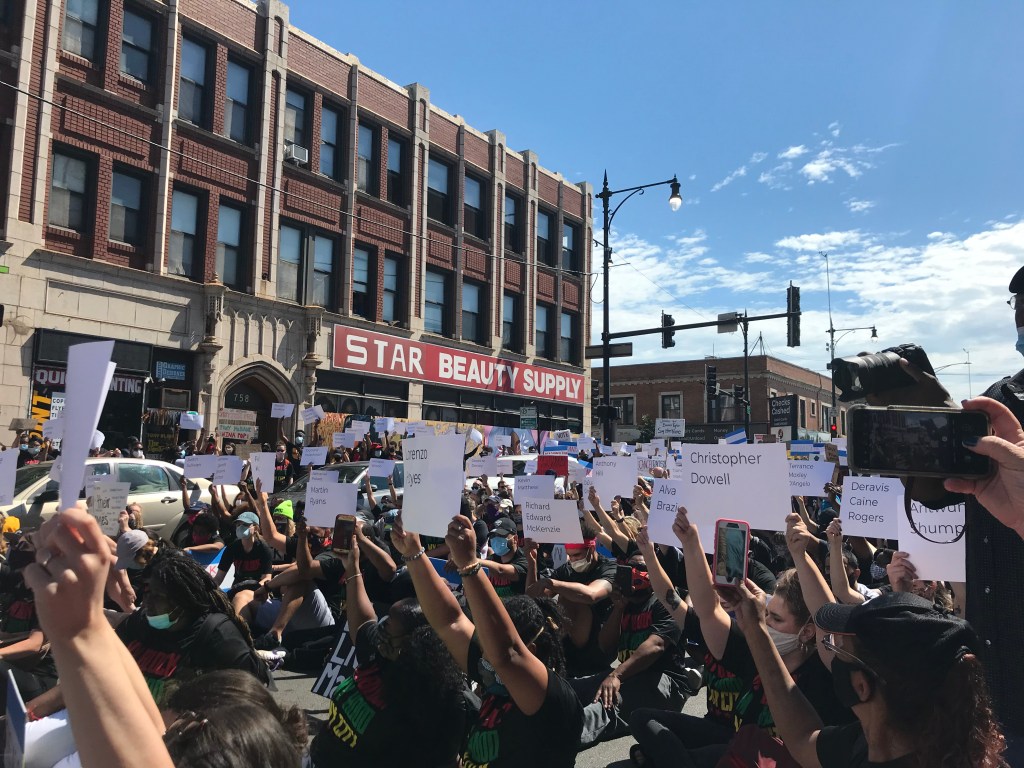 Sareen Equality, and her mother, Dr. Niama Malachi, both helped organize the event through D.O.P.E. and the Social Consult.
Equality said she wants Chicago to stop policing its South and West side neighborhoods so heavily and for Chicago to stop viewing Black youth as "rioters and looters."
Malachi said the day was "beautiful," but she hopes it inspires real change. She wants the city to follow the federal consent decree imposed on the Chicago Police Department.
"We've reviewed the consent decree and the consent decree has not been fully implemented," she said. "We want…to make sure all of those things are done expeditiously."
Peaceful protests have been staged in neighborhoods all across Chicago in demanding justice after the police killing of George Floyd in Minneapolis May 25. A protest that began in Union Park and ended near Cabrini Green Saturday drew a crowd of 30,000 people.
Cole, who has received widespread praise in recent months from Chicago Mayor Lori Lightfoot, Gov. JB Pritzker and former President Barack Obama for his work on the ground, told the crowd he's received 50,000 emails in recent days from people asking how they can get involved in demanding change.
Change starts with asking yourself a simple, 15-word question, Cole said.
"What is something simple I can do to have a positive impact on my block?"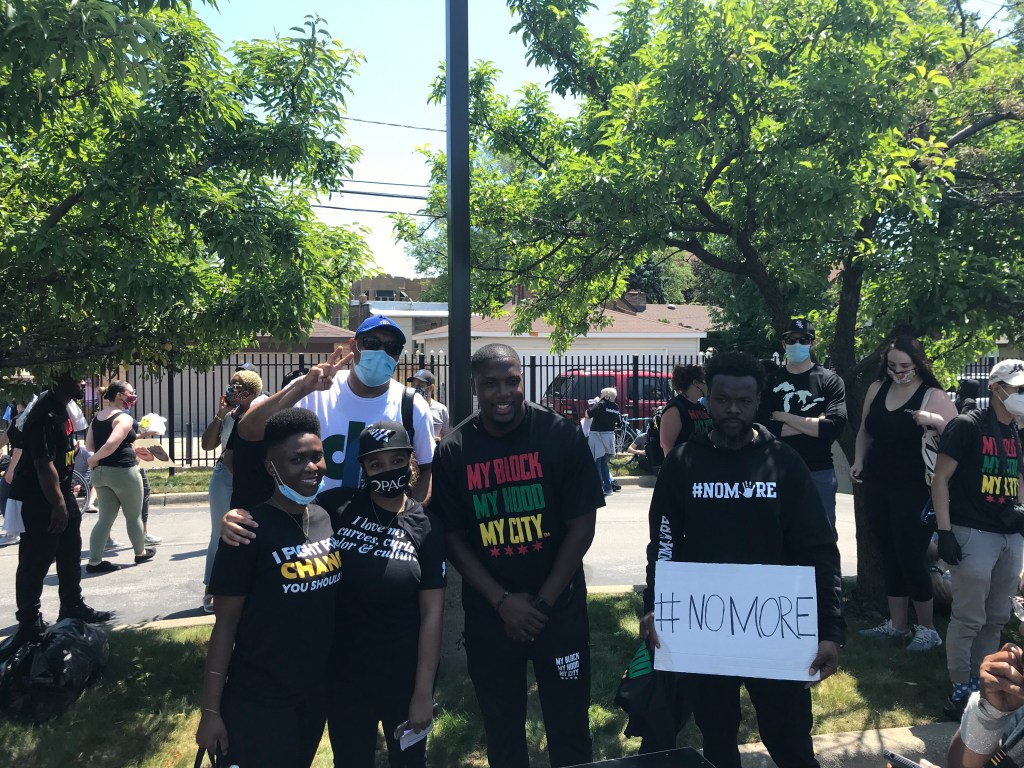 Subscribe to Block Club Chicago. Every dime we make funds reporting from Chicago's neighborhoods.
Already subscribe? Click here to support Block Club with a tax-deductible donation.