LINCOLN PARK — Amid widespread break-ins throughout the city, a small CBD and wellness store in Lincoln Park was burglarized not once, but twice over the weekend.
But the owner said he empathizes with the looters who ransacked his business.
Innovative Wellness, 1552 W. Fullerton Ave., was first struck about 4 a.m. Saturday, according to Dr. Rahul Khare, CEO of the store and the Innovate Express Care clinic across the street.
Khare said the store's security system alerted him that it had been broken into. He arrived 15 minutes later to find a cement cinderblock that had been thrown through the back window. Nothing was taken.
That break-in happened during a long day of protests, looting and vandalism in Chicago and other city's across the country in the wake of the murder of George Floyd by a Minneapolis police officer.
Khare said he called the police, but it took them about an hour to arrive because they were so busy that morning. He said they looked "tired and emotionally drained" from their shift.
They boarded up the window and neighbors helped Khare clean up the mess.
Then the store was robbed the next day.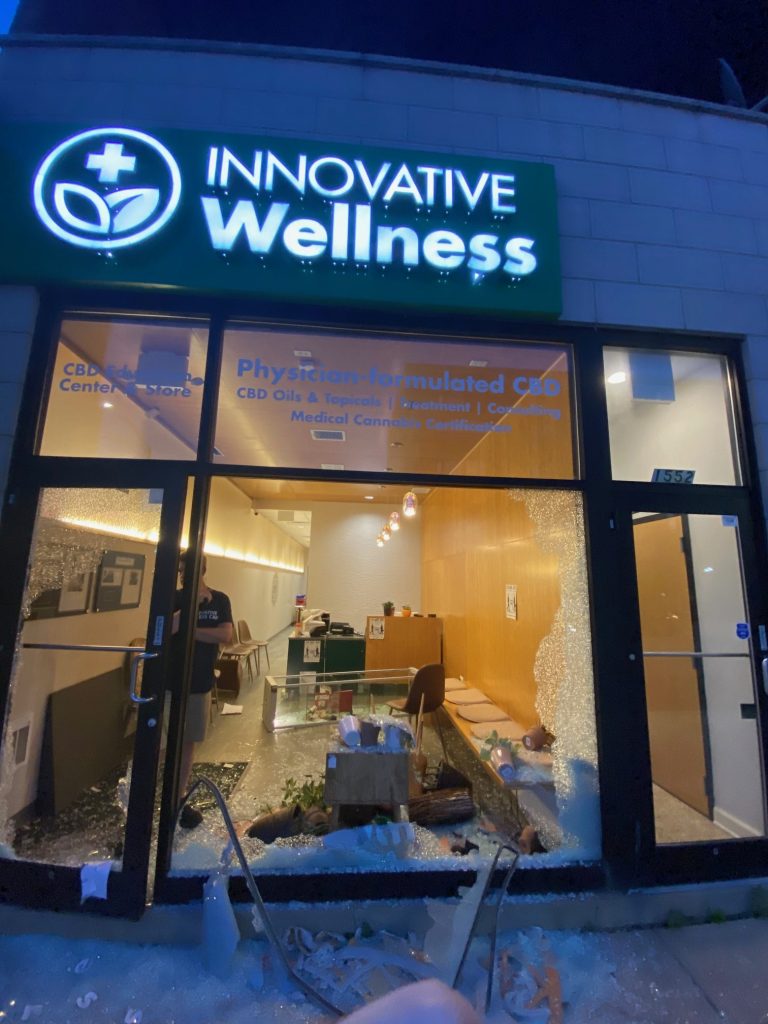 Around 8:30 p.m. Sunday, a group of 12 people smashed into the front window of Innovative Wellness and made off with six computers, cash and "a significant amount" of CBD that the store was still counting — all within four minutes, Khare said. The looting was captured on the store's security camera.
"It seemed like a planned strategic attack, and they totaled this place within minutes," Khare said. "It was total chaos and everything was destroyed.
But Khare was smiling Monday morning as he and his team finished cleaning up the store. Incense was burning and the storefront's windows had already been boarded up. Khare said he plans to replace them them with inspirational messages and artwork.
"First I was angry and sad, but I feel like the people who did this must have suffered more than I can even imagine to be doing this," Khare said.
Khare pointed to recent events — the COVID-19 pandemic and its disproportionate toll on Black and Brown people, massive unemployment and the murder of George Floyd — as root causes leading to the looting and vandalism of the past few days.
"People are really angry right now, and I can empathize with them so much," Khare said.
Khare said he "didn't care" whether the looters were caught.
"I just want more people to understand why this is happening so we can repair the situation," Khare said. "We don't promote violence and destruction, but we get people's anger and are fully supportive of that."
Jake Wittich is a Report for America corps member covering Lakeview, Boystown and Lincoln Park for Block Club Chicago.
Subscribe to Block Club Chicago. Every dime we make funds reporting from Chicago's neighborhoods.
Already subscribe? Click here to support Block Club with a tax-deductible donation.