LINCOLN PARK — An explosion rocked a controversial metal shredding plant on the banks of the Chicago River's North Branch Monday morning, sending a plume of smoke into the air and hazardous material response teams to the scene.
No one was hurt in the 9:10 a.m. blast at the General Iron scrap plant at 1909 N. Clifton Ave., officials said.
Chicago Fire Department spokesperson Larry Merritt confirmed the explosion took place on the shredder's conveyor system. Upon arrival, he said, firefighters tested the air quality and found "no apparent immediate health risk." The Chicago Department of Public Health performed further testing and evaluation, Merritt said. 
"Should any environmental violation be determined, the city will issue citations immediately," he said. "Work at the site has stopped as a result of the incident and will not resume until the city has determined the cause of the explosion. The health and safety of Chicago's residents remain a top priority, and we will continue to provide more information as details are gathered."
Witnesses on the scene and blocks away reported two loud blasts in succession. Although there were initial reports of an ensuing fire, a spokesman for the company denied that.
What caused the blast wasn't immediately clear, although the company spokesman raised the idea of "sabotage."
"Shredding operations have ceased for the present time," General Iron spokesman Randall Samborn said in a statement. "We are thoroughly investigating all possible causes, including potential sabotage. We are fully cooperating with city officials."
He declined to elaborate on the sabotage suggestion, saying, "We have no further information to provide at this time and we're not going to speculate. Suffice to say what happened this morning was not normal. We will conduct a thorough investigation that looks at all possibilities."
The blast happened within the metal shredding process, he said
Ald. Brian Hopkins (2nd) described it as "major explosion and fire" that led to a "sudden increase" in pollution readings. Pollution from the plant has long been protested by Lincoln Park neighbors. General Iron is already slated to leave the neighborhood for the Far South Side's East Side neighborhood. Hopkins said he want it shut down now.
"Permanent and immediate closure of this hazardous facility is no longer a discussion point, it must happen NOW, by executive order," Hopkins tweeted.
Ald. Michele Smith (43rd) said she spoke with Mayor Lori Lightfoot's staff and will receive details on what happened later in the day.
Albert Muniz, an employee of General Iron, told a Block Club reporter the explosions were simultaneous."It felt like we were getting bombed," Muniz said.
An employee of General Iron who asked not to be named told a Block Club reporter on the scene he heard two explosions, back to back.
"We might be unemployed now," he said.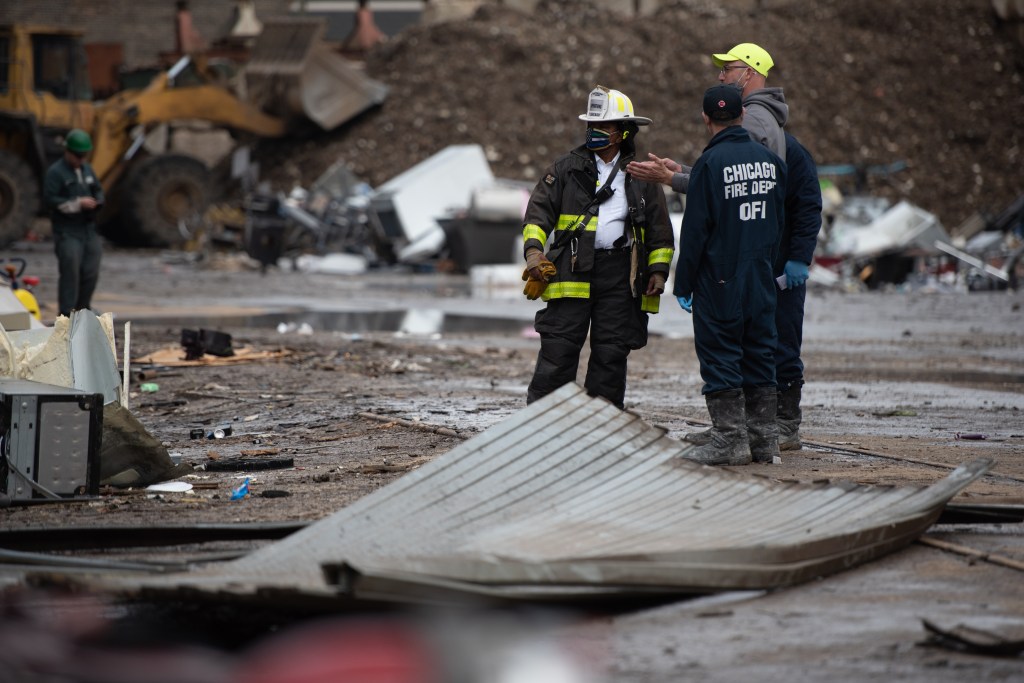 In Lincoln Park, it felt like an "earthquake" inside the home of Jillian Dixon. The shaking feeling was followed by two "loud booms," she said.
"It shook our whole place, the whole building shook," she said. "We could see some smoke coming up immediately."
Dixon quickly saw two to three fire trucks, a "handful" of police cars and ambulance arrive on the scene.
From across the river in Bucktown, workers at Local Foods, 1427 W. Willow St., heard and saw what appeared to be a fiery explosion, said Jamie Phelps Proctor.
"We all heard the loud explosion from inside the Local Food store. It shook the building and the windows," he said. "We could see smoke starting to rise across the river. We went outside and saw the gray smoke rising from one of the buildings. … The smoke kept rising and started to smell. There were lots of sirens audible within less than a minute of the explosion."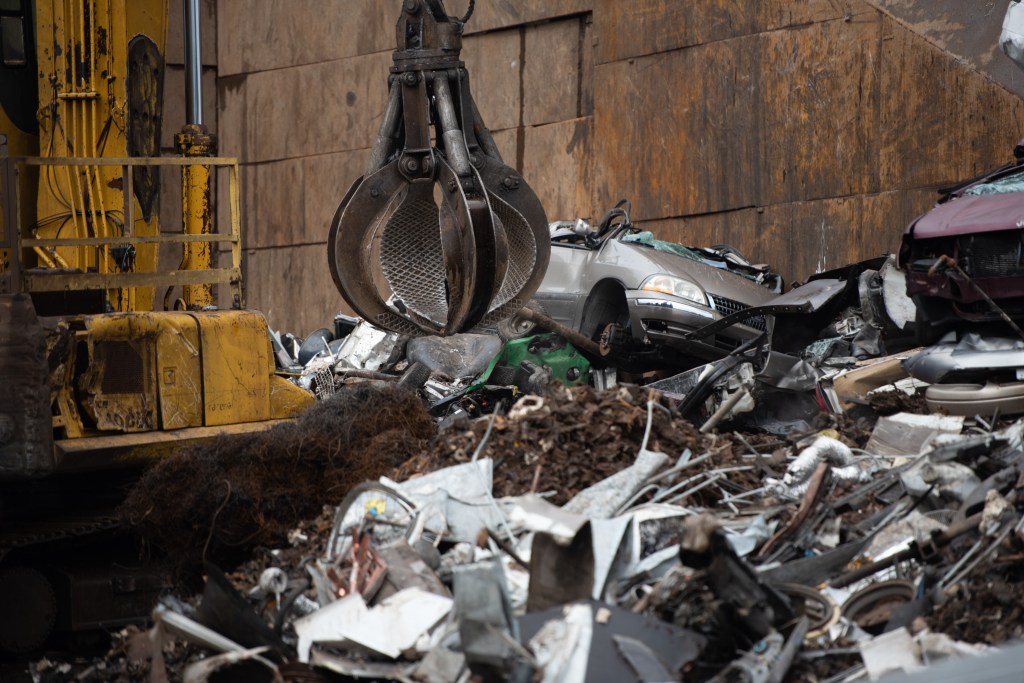 Iain Whitaker, another neighbor, said he also witnessed an "explosion" that "shook the houses" nearby.
"I ran out to investigate and it appears that one of the buildings at the site collapsed due to the incident," he said. "This is just another reason General Iron needs to be closed down immediately. They are not only poisoning the air we breathe but putting the neighborhood in danger."
By 9:30 a.m. the smoke dissipated, Phelps Proctor said.
Dixon, in Lincoln Park, hoped the incident would propel Lightfoot to shut down the metal shredder during the coronavirus pandemic — a move neighbors have been pleading the mayor to consider for months.
"This is just another example of why it's important to get it shut down," she said. "It feels like an egregious use of resources right now, to send out emergency personnel … [increase their] exposure."  
Gov. JB Pritzker said at an unrelated news conference Monday that the Illinois Environmental Protection Agency also is looking into the explosion.
"We're actually, as you can imagine, paying very close attention, want to make sure people are kept safe," Pritzker said.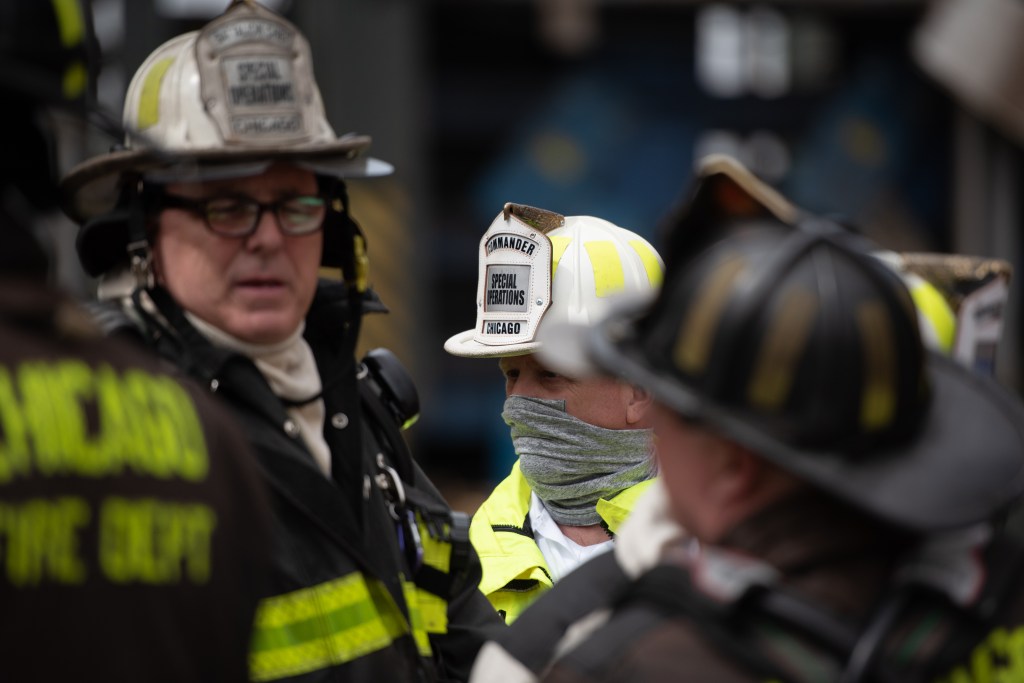 General Iron plans to relocate to 11600 S. Burley Ave. by the end of the year. The Illinois Environmental Protection Agency must first issue an "air pollution control construction permit," which neighbors protested in a public meeting last week. 
Last fall, General Iron promised Lightfoot and Hopkins to leave the North Side. 
That agreement followed a 2015 fire, a 2016 city-ordered shutdown, a 2017 harassment lawsuit and a 2018 citation for excessive air emissions. 
Lincoln Park neighbors have long complained about the health risks associated with fluff, a substance that routinely coats the neighborhood's sidewalks, roads, porches and playgrounds. 
The Environmental Protection Agency defines fluff as "fugitive dust." 
An air quality monitoring device is currently being used by Hopkins and neighbors to monitor the PM2.5 in the air near General Iron. You can see the ratings here.