BRONZEVILLE — Pastor Sandra Gillespsie was in trouble.
For the first time in 14 years, the food pantry she'd run from the kitchen of Chosen Tabernacle Church was in danger of closing, soon to be another casualty of the coronavirus pandemic. Most of her volunteers — retirees from the area and older church members — had to stop coming in for their own safety.
The timing couldn't have been worse. Since the state's stay at home order, the need for food had only grown. New, unfamiliar faces stood in line among the regulars, many visiting a food pantry for the first time. Its closure would end a critical resource for more than 200 families living in the area.
But then, the pastor got a lifeline.
As she was preparing to shut down, her husband, Walter Gillespie, had a chance meeting with Franklin Cosey-Gay, executive director of the Chicago Center for Youth Violence Prevention. The center is a program born from University of Chicago's School of Social Service Administration.
One aim of the program is to partner with underserved communities, providing technical training and support for schools and agencies within them.
Normally, the Chicago Center team — most of them young adults from the community — collect resident data for the Bronzeville Community Action Council, which focuses on providing resources to the neighborhood's schools. With everything shutting down, and the food pantry in need of capable hands, Cosey-Gay dispatched his team to the modest parish at 43rd Street and Champlain Avenue.
Deborah Gorman-Smith, dean of the University of Chicago's School of Social Service Administration, was able to use funding from the Centers for Disease Control and Prevention to keep the team on the payroll as they keep Bronzeville families fed.
"This huge onslaught of young people from the University of Chicago just showed up, and they have just been phenomenal," said Gillespie, whose church is one of more than 100 organizations distributing food with help from the Greater Chicago Food Depository.
"They come in and they flit and and they run … . They are committed to giving back and pouring into the community."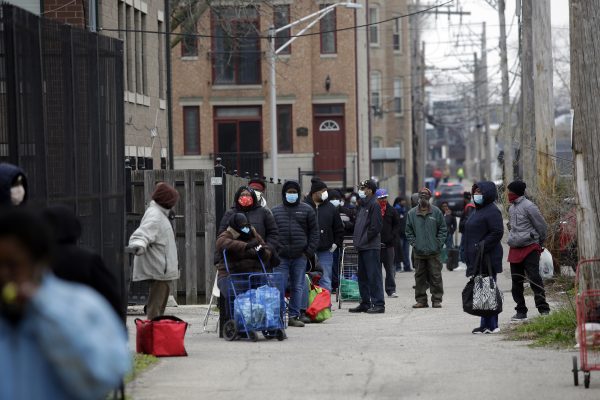 Friendships between the young cohorts and older church staff have blossomed as well, with conversations turning into impromptu history lessons about Bronzeville's rich legacy.
"It's really a reflection of the collaborative work already happening in Bronzeville," Cosey-Gay said.
Helping the Gillespies keep the Chosen Tabernacle food pantry open still falls under the larger community plan, one that takes a multi-pronged approach to help families on the margins.
"Family engagement is not enough. You have to address being responsible to the traumas families and youth have experienced. You have to provide opportunities for economic development through workforce development," Cosey-Gay said. "What's been unique about this approach is that it's a comprehensive, coordinated one across multiple sectors.
"But it wasn't until the consistent work through the Gillespies' leadership, having an opportunity to volunteer at the food pantry that we recognized food insecurity is a part of that."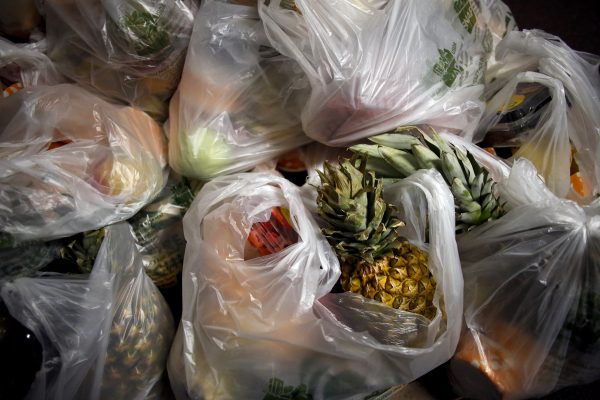 Treating these families with the respect and care they need also is critical, Gillespie said.
"Jesus said, 'The poor you will have with you always,' but nowhere does it say they have to be hungry," Gillespie said. "And so my goal is to feed them. And when they come in, we're going to give them some dignity. We're going to make them feel like they count."
Other changes in the wake of the pandemic haven't been as pleasant. Gone are the days when clients could shop pantry offerings supermarket-style. Now volunteers pack two bags of perishable and non-perishables staples, along with juice, cereal and cookies. They place them on three wooden platforms stationed outside of the church, several yards from a line filled with clients who stand 6 feet apart from one another.
The Greater Chicago Food Depository has been fortunate to receive an influx of donations from individuals and corporations, but the economic fallout from this pandemic may last for months, perhaps years, said spokesman Greg Trotter.
The skyrocketing need for food assistance has driven up operating costs by millions of dollars. Trotter said it's more critical for the organization that community members donate rather than organize their own food drives.
"The support has been strong and we're grateful, but we're concerned about donor fatigue," Trotter said. "What happens several months from now, when there's still a need?"
For more information on how to help, or to find a pantry near you, visit the Greater Chicago Food Depository's website.
Block Club Chicago's coronavirus coverage is free for all readers. Block Club is an independent, 501(c)(3), journalist-run newsroom.
Subscribe to Block Club Chicago. Every dime we make funds reporting from Chicago's neighborhoods.
Already subscribe? Click here to support Block Club with a tax-deductible donation.