EDGEWATER — A popular Chicago burger-and-poutine spot has teamed with famous Milwaukee bakery Honeypie Cafe on a new restaurant in Edgewater — which is having no trouble finding a foothold despite the pandemic.
Beard & Belly is the new two-in-one restaurant that pairs the team behind the Long Room's kitchen service with Honeypie Cafe, a popular Milwaukee bakery and restaurant. It opened Friday at 6155-57 N. Broadway,
Beard & Belly was the name of the pop-up kitchen at Lakeview bar The Long Room, where chefs Kyle Schrage and Jim Torres cultivated a following for their upscale takes on hamburgers and poutine with hand-cut fries. The duo began operating out of the bar in 2015, and decided to branch out on their own after about three years, said Andrew Barbera, a veteran Chicago bartender and a partner in Beard & Belly.
That led the group to Edgewater, where they now occupy two North Broadway storefronts that used to house the Pumping Company bar and Holzkopf's Meat Market. Both businesses were damaged and eventually closed after a 2016 fire.
The group also recruited Honeypie Cafe's Valeri Lucks to establish a Chicago location of her always-packed Milwaukee brunch spot and cafe. Time Out previously ranked Honeypie's banana cream pie as the fourth best pie in America.
"It's always been our dream to bring her pies to Chicago," Barbera said of Lucks. "When we decided to open our own establishment, we looked for a place to make it work."
Together, the group has opened a combination upscale American comfort food bar and grill with an accompanying pie shop. And because both operations had a built-in following, Beard & Belly has got off to a good start, despite not being able to fully open. (The business operates under the Beard & Belly name, while retaining Honeypie's branding.)
After launching its take-out only service Friday, Beard & Belly sold out of food for three consecutive days. As of Sunday afternoon, only a few pies remained.
"We're blown away," he said. "The outpouring of support has been amazing."
The partners have been working towards opening the restaurant for two years, and were planning for a late March launch. But the coronavirus outbreak in Chicago, and Gov. JB Pritzker's stay at home order on March 20, put everything up in the air.
"We were finally reaching the finish line, and had to put everything on pause," Barbera said. "We had no idea what the right thing to do was."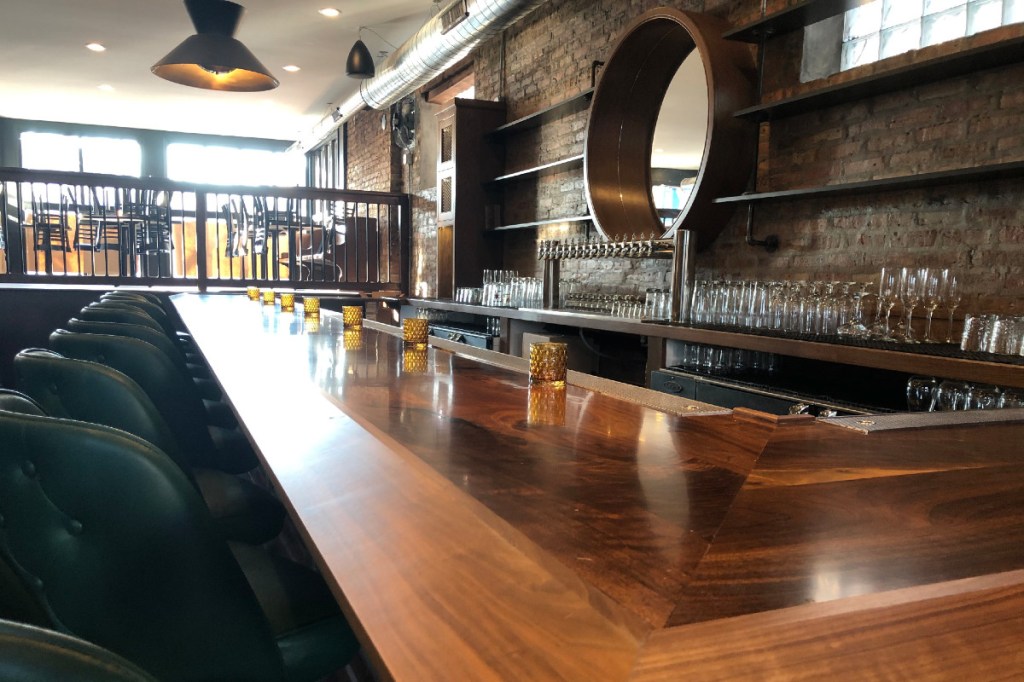 The group decided to move forward with a pared-down menu and take-out service. Beard & Belly's menu includes grilled cheese, poutine served with short rib and its burger, served with two griddle-fried patties, cheese, pickles and special sauce. Honeypie's offerings include apple pie, key lime and cherry pie.
Eventually, Beard & Belly will be able to open its large dining room, where it can offer its full menu along with cocktails and beer. Until then, the team are glad to have their dream business up-and-running, and providing a service during a trying time.
"It's a bummer to see the [beer] taps sitting there and knowing they won't be used for some time," Barbera said. "We decided to go ahead and open. It might be a positive within a lot of negatives."
Beard & Belly is currently open from 4 p.m. to 9 p.m. Thursday-Sunday. Orders for take-out can be placed by clicking here.
Block Club Chicago's coronavirus coverage is free for all readers. Block Club is an independent, 501(c)(3), journalist-run newsroom.
Subscribe to Block Club Chicago. Every dime we make funds reporting from Chicago's neighborhoods.
Already subscribe? Click here to support Block Club with a tax-deductible donation.