LITTLE VILLAGE — After a detainee at the Cook County Jail died from coronavirus, prison reform groups are causing a ruckus to demand a mass release of inmates housed at the jail.
Activists traveled in a caravan, bringing their fight to the doorstep of Cook County Jail, the Chicago Juvenile Detention Center and U.S. Immigration and Customs Enforcement headquarters Downtown. One of the biggest coronavirus clusters in the country is at Cook County Jail, and the groups fear more detainees will die if drastic changes aren't made.
At least 387 detainees and jail staffers have tested positive for the virus, according to the sheriff's office. The first two cases at the jail were identified just two weeks ago.
As of 5 p.m. Tuesday, 272 detainees and 115 jail workers have tested positive. Of those 272 detainees, 34 have been moved to a recovery facility and 17 are being hospitalized, a sheriff's spokesperson said.
In addition to the Cook County Jail detainee who died Sunday, two inmates at Stateville prison in suburban Crest Hill have died from coronavirus. Someone has also tested positive for coronavirus at the juvenile detention center.
With messages of solidarity painted on their car doors and windows, activists shouted from windows, hoping detainees inside could hear them.
At the jail, the cars circled in front of the maximum security facility in a makeshift picket line. At ICE headquarters, they honked continuously.
"We hope our action lets them and their families know that they are not forgotten. People across Cook County are fighting for their health and freedom," said Monica Crosby of Mom's United Against Violence and Incarceration. "Our elected officials knew what was coming and failed to act, putting the lives of thousands of people at risk unnecessarily."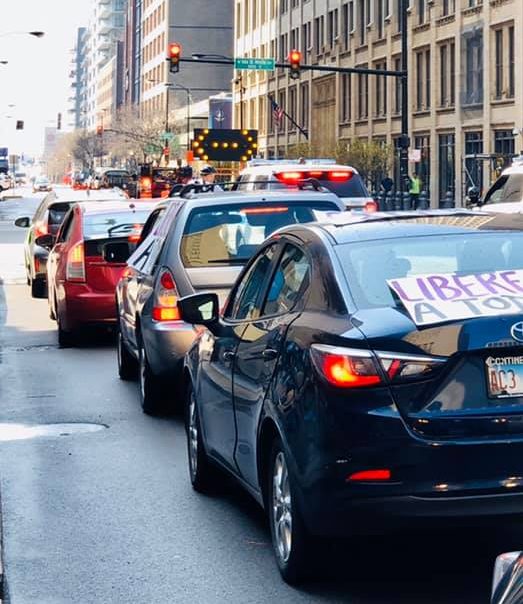 Organizers with Southsiders Organized for Unity and Liberation was part of the effort.
"It's absolutely out of control right now that there are young people in this building , and that we have to come out here and do all this," one activist at the juvenile detention center. "White supremacy does not sleep… but fortunately neither do we."
The solidarity caravan comes after groups coordinated call drives to elected officials sounding the alarm on the extreme risk detainees face of catching coronavirus because of crowded conditions and a lack of sanitation. The Chicago Community Bond Fund penned an open letter to the state's attorney, sheriff and chief judge cosigned by over 100 law groups, civil rights organizations, justice reform advocates and former Cook County Jail warden Dr. Nneka Jones Tapia calling for broad release of detainees.
Cook County Sheriff Tom Dart's Office has worked with the courts, State's Attorney Kim Foxx's Office and the Public Defender's Office to expedite bond hearings and hasten the release of eligible detainees.
The jail also transitioned the majority of detainees to single cells to prevent transmission, Dart previously said. A barracks facility was also reopened to isolate detainees who have tested positive for coronavirus.
But Civil rights groups say too few detainees have been released to have any meaningful impact.
"The pace of release has been too slow to effectively mitigate the spread of this disease," said Sharlyn Grace, executive director of the Chicago Community Bond Fund.
The situation at the jail has become a rallying cry for attorneys nationwide, who are sharing emergency motions with each other to get their clients freed.
Dart said over 70 percent of detainees are not eligible for release because they are accused of violent crimes. But the activists argued that many detainees accused of violent crime would walk free if they could afford bail.
Detainee Jeffrey Pendleton died from coronavirus after his motion for release was denied by the a judge. Pendleton was previously deemed safe for release on bond by a judge, but he couldn't come up with the $5,000 to post bail. 
Organizations including the Civil Rights Corps, the MacArthur Justice Center and civil rights law firm Loevy & Loevy also filed an emergency class-action lawsuit against Dart on behalf of detainees at the jail. The lawsuit seeks the immediate release of all detainees vulnerable to complications related to coronavirus, and anybody behind bars simply because they can't afford bail, given the deadly risk of them remaining incarcerated.
On Tuesday the groups argued their case at an emergency hearing where they presented testimony from detainees living at the jail, which is now one of the largest clusters of COVID-19 cases in the country, according to the New York Times.
Pascal Sabino is a Report for America corps member covering Austin, North Lawndale and Garfield Park for Block Club Chicago.
Block Club Chicago's coronavirus coverage is free for all readers. Block Club is an independent, 501(c)(3), journalist-run newsroom.
Subscribe to Block Club Chicago. Every dime we make funds reporting from Chicago's neighborhoods.
Already subscribe? Click here to support Block Club with a tax-deductible donation.