PILSEN — In recent years, Pilsen has been a neighborhood of choice for summer festivals, from Mole de Mayo and Michelada Fest to Lowrider Fest and the Pilsen Food Truck Social.
But people who actually live in the neighborhood are a bit overwhelmed by all of the summertime fun, so Ald. Byron Sigcho-Lopez (25th) said he's scaling back the number of festivals he'll approve in Pilsen.
Since taking office last May, Sigcho-Lopez said he's received a number of complaints from residents and businesses about too many festivals in the neighborhood— there were 26 last year alone. The street closures, loud music and crowded sidewalks end up impacting people almost every weekend of the summer.
"It creates a nuisance for some businesses and residents who feel they are not part of it," Sigcho-Lopez said. "We are going to be limiting … and regulating more carefully the number of festivals."
The alderman said he's revising the vetting process for festivals to ensure each has a direct connection and gives back to the neighborhood.
As part of the application process, festival organizers will be required to gather signatures of support from residents and businesses in Pilsen, Sigcho-Lopez said.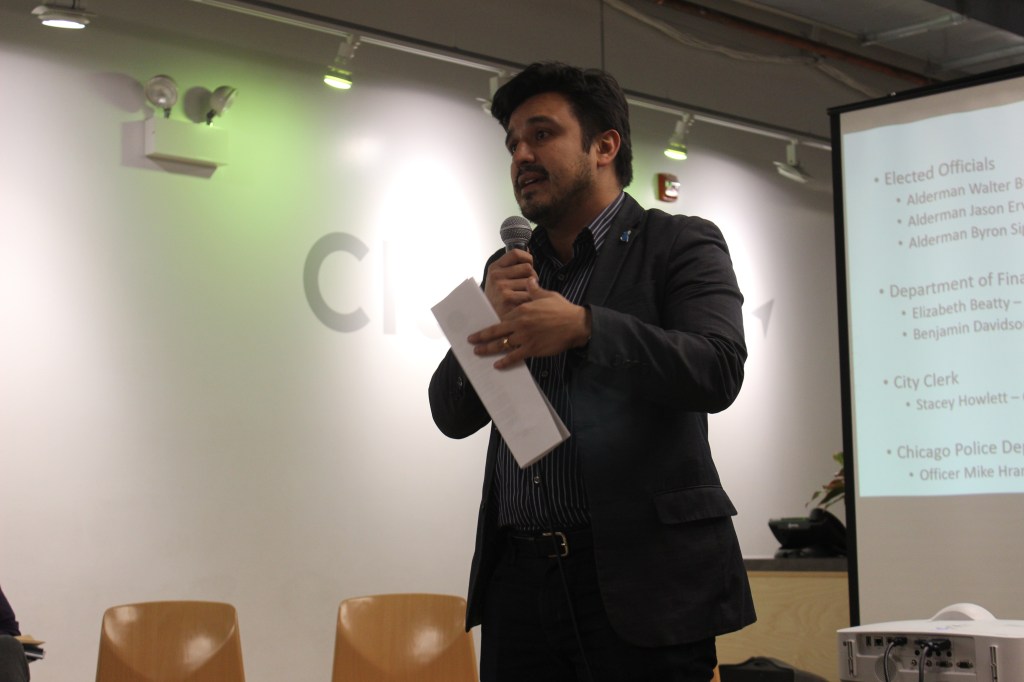 The number of signatures required will be determined by the alderman's Arts and Culture Committee on a case-by-case basis depending on the residential and commercial density around the site of the planned festival.
"Festival organizers and promoters have a responsibility to give back to the community, especially if they are generating profit and revenue," Sigcho-Lopez said. "We are going to insist that … some revenue gives back to the community, especially to deal with the tough issues that we have."
Organizers will be required to give between 20 and 25 percent of festival proceeds to help fund youth initiatives in Pilsen.
The changes, he said, are part of a larger initiative aimed at addressing violence in the neighborhood.
RELATED: After Murders In Pilsen And Chinatown, Community Groups Unite For 'Holistic' Plan To Stop The Violence
Committees within Sigcho-Lopez's office will determine how funds are allocated for local youth initiatives focused on arts, culture, music, sports and other activities, he said.
Aside from neighbor complaints, the growing number of festivals has also "overextended" the capacity of Near West (12th) District police. The alderman is working with the district to ensure the festival's safety plans are vetted and security firms hired are able to handle the festivities.
"Safety is a number one thing in the summertime," Sigcho-Lopez said. "We cannot have 26-plus festivals and overextend our capacity and potentially make matters worse in these critical times." 
"We want some festivals that bring back to the community and that's another opportunity that we think can help us with funding of safety initiatives," he added.
Sigcho-Lopez said he expects pushback from fest organizers, but residents and business owners are his priority.
Pilsen Fest director Esmirna Garcia welcomed the revisions to festival applications as "a good thing."
With the changes in the neighborhood, Garcia, whose organization focuses on working with local makers, artists and entrepreneurs, said some folks want to "take advantage" without understanding the rich culture and history of the neighborhood. 
Garcia, who also runs Pilsen Community Market and various events throughout the year, said Pilsen Fest is a platform for local Latinx musicians and artists in Pilsen.
Because of their commitment to the community and giving back to local institutions like Rudy Lozano Library's chess club and Monarcas, a Benito Juarez program that supports undocumented youth, Garcia isn't worried.
But Sigcho-Lopez said there will most certainly not be 26 come next summer.
Organizers of Fiesta del Sol, one of the longest-running festivals in the neighborhood, could not be reached for comment ahead of publication.
Other festivals hosted in the neighborhood last year included Mole de Mayo, Michelada Fest, Tacos y Tamale Fest, Slow & Low Chicago Lowrider Fest and the Pilsen Food Truck Social.
Do stories like this matter to you? Subscribe to Block Club Chicago. Every dime we make funds reporting from Chicago's neighborhoods.
Already subscribe? You can make a tax-deductible donation to support our nonprofit newsroom here.