CHICAGO — Chicago remains America's most corrupt city, and Illinois the third-most corrupt state, according to a new report from the University of Illinois at Chicago.
The report, co-authored by UIC professor and former Ald. Dick Simpson, is based on an analysis of the public corruption statistics published by the U.S. Department of Justice.
In 2018, there were 13 public corruption convictions in the Northern District of Illinois, which includes all of Chicago and the northern third of Illinois — a five-year low, despite renewed attention on public corruption during the past 18 months.
The rest of the state had five public corruption convictions that year for a state total of 18, according to Simpson's findings based on the most recent DOJ data available.
The DOJ's data used contains statistics from 1976 through the end of 2018.
During that time period, Chicago had a total of 1,750 public corruption convictions. For comparison, Los Angeles has seen 1,547 cases, while the New York City borough of Manhattan saw 1,360.
To get a fuller picture of public and political corruption in Chicago and Illinois, Simpson and his colleagues examined reports from the Cook County state's attorney and from inspectors general at the state and local levels. The researchers also studied news stories.
"Our study shows that Chicago remains the most corrupt city in the United States with 1,750 total public corruption convictions from 1976 through 2018," Simpson said. "This number is even more troubling when compared to the second-place city, Los Angeles, which has had 200 fewer convictions in that time period," Simpson said.
Illinois remains the third-most corrupt state, based on the formula that compares the number of each area's corruption convictions with its population, according to the report issued by Simpson and his students.
While federal convictions for public corruption tapered "slightly" in 2018, since then there has been an increase in news reports about investigations launched during that year.
For example, on Nov. 29, 2018, federal agents raided City Hall offices of City Council Finance Committee Chairman Ald. Ed Burke (14th).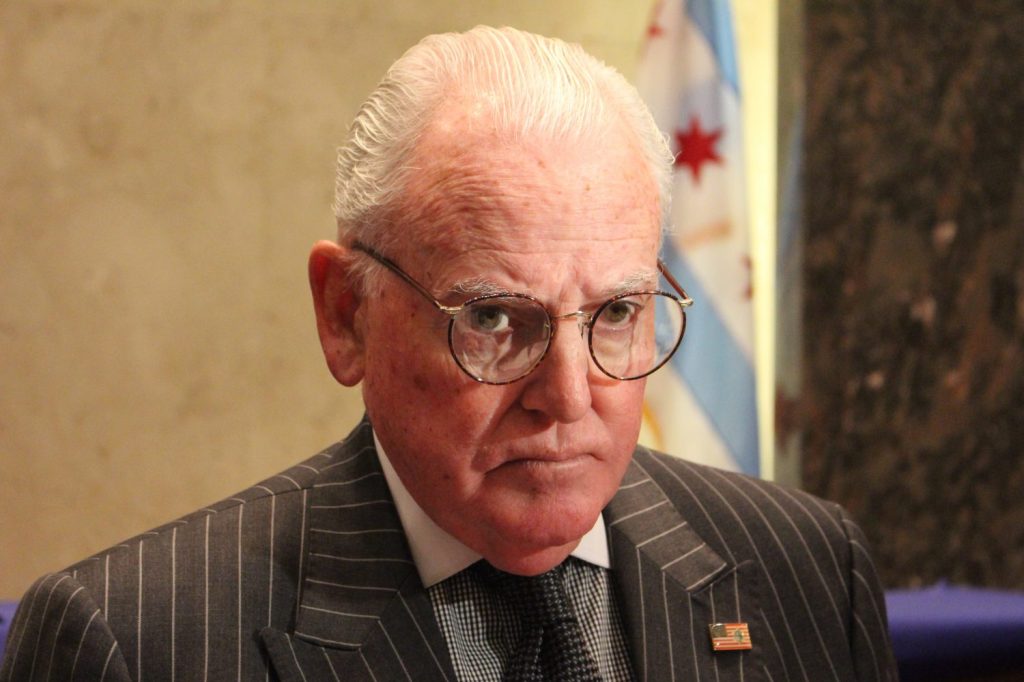 A month later, news organizations revealed that Ald. Danny Solis (25th), was under investigation and was cooperating with federal prosecutors by secretly recording conversations with Burke during 2018 and 2017.
In addition to these investigations, a number of corruption-related scandals unfolded in 2018.
For example, Chicago police officer Jason Van Dyke was convicted of second-degree murder and 16 counts of aggravated battery for killing Laquan McDonald.
RELATED: Inside The Jason Van Dyke Jury Room: How It Went, And Why They Convicted
In March of 2018, Alaina Hampton, a former staffer for Illinois House Speaker Michael Madigan, filed a federal lawsuit accusing the Democratic Party of Illinois and Friends of Michael J. Madigan of retaliation.
Hampton claimed she was forced to quit after harassment from her direct supervisor, Kevin Quinn.
Also in March, Ald. Willie Cochran (20th), who was indicted in 2016, attempted to get the charges against him dismissed.
RELATED: Ald. Willie Cochran Pleads Guilty, Becomes 30th Alderman Convicted Of Corruption Since 1973
In May of 2018, Chicago police officers Xavier Elizondo and David Salgado were indicted for submitting false affidavits to judges to illegally obtain search warrants.
In addition to these headline-grabbing scandals, the UIC report cites several federal investigations from 2018.
For example, in May of 2018, James Hernandez, an elevator foreman at the University of Illinois at Chicago, was indicted for receiving bribes of more than $200,000 from the owner of Smart Elevators Co. for steering UIC's elevator repair work to the company.
According to the DOJ data, on a per capita basis, Illinois ranked as the third-most corrupt state.
The District of Columbia was No. 1, while Louisiana was No. 2. The states of New York, California, Texas and Florida each had more total corruption convictions than Illinois, but their populations are larger, placing them lower in the ranking.
The UIC report includes examples of corruption investigations throughout Illinois.
For example, in June of 2018, Anne Aroste, a claims specialist for the U.S. Social Security administration in Aurora, Ill., was indicted for identity theft and defrauding the government of at least $680,000.
The report didn't promise much for the future, either.
The Burke and Solis investigations, coupled with fallout from investigations into State Sen. Martin Sandoval and Teamster boss John Coli, "strongly suggest" more public corruption convictions in 2020 and 2021.
Read the full report here.
Do stories like this matter to you? Subscribe to Block Club Chicago. Every dime we make funds reporting from Chicago's neighborhoods.
Already subscribe? You can make a tax-deductible donation to support our nonprofit newsroom here.