HYDE PARK — The second phase of the Harper Court development project, which will bring a 17-story tower with office and laboratory space to Hyde Park, is expected to break ground in mid-to-late 2020.
Some minor changes to previous plans were announced at a community meeting held by Ald. Sophia King (4th) Wednesday, alongside proposals that have yet to be finalized.
Maryland-based developer Wexford Science and Technology will own the new structure, to be built over an existing building at 5235 S. Harper Court. The company also developed the University Technology Park at the Illinois Institute of Technology.
The University of Chicago will be a tenant, occupying about 20 percent of the new building with one floor of office space and one floor of lab space.
Wexford is pursuing research and educational institutions to fill the rest of the building, but tenants have not been finalized finalized, said Angie Marks, associate vice president of commercial real estate operations for the University of Chicago.
In late 2017, the university announced the U.S. Army Research Laboratory would operate a regional headquarters for technology development out of the project.
The Army is still "a potential tenant" but "has not signed on" to occupy space, King said.
A community engagement fund, supported by a fee assessed to tenants, will generate $140,000 annually. That money will pay for partnerships with local schools, like student internships and a program director to oversee youth participation in STEM fields.
"We also want a space where our youth can call home," King said. "In the building, they can obviously interact with the professionals who are there, but they'll also have their own space."
STEM programming at Harper Court "would open many doors" for Hyde Park's youth, Harold Washington College freshman Marshall Callery said.
Callery is pursuing an acting career, but said he maintains interest in the sciences. He said he would have enjoyed the opportunity to participate in something similar to the plans for Harper Court as a high-schooler.
"You can always build on top of that — you can add more programming," Callery said. "I think it's a really good idea."
The fund will also subsidize 5,000 square feet of office space, which will be made available to local businesses at a 20 percent discount. Wexford is contributing $300,000 to open the community fund.
The finished project will stand 17 stories and 241 feet tall, which one resident worried would block the sun from reaching nearby homes.
For reference, the nearby City Hyde Park development stands about 170 feet tall, and the existing Harper Court structure is about 150 feet.
Initial plans for the second phase, drafted in 2010, called for a 26-story condominium tower. The height has already been drastically lowered to address community feedback, King said.
King and the developers are discussing ways to make the surrounding area more pedestrian-friendly. One option would be to close East Harper Court — in front of the Jolly Pumpkin and Native Foods — to car traffic and "activate" the space for pedestrians, King said.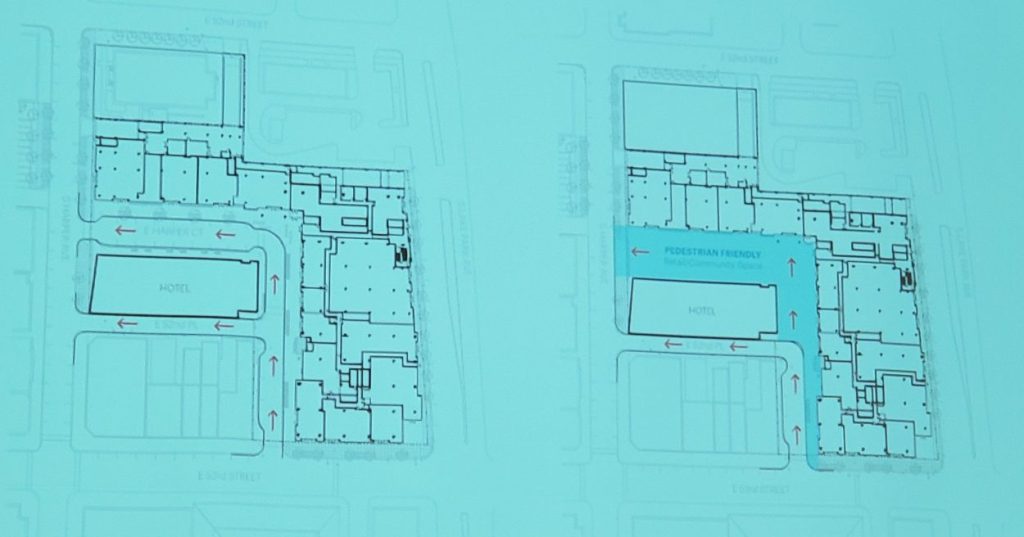 Groundbreaking is planned for late summer or early fall of 2020, according to Wexford attorney Langdon Neal. He said the developers are finalizing construction logistics and would like to hold another meeting once a plan is in place.
The former home of Park 52, 5201 S. Harper Ave., will be demolished and used as a staging area for the project's construction, according to Marks. The site's future after that is undetermined.
The lab space Harper Court will provide is crucial, as a "massive undermet need" for it in Chicago is driving research and development companies out of the city, attendee Shawn Ursini said.
The McKinley Park resident doesn't live nearby, but sees the project as "a small part of [the] equation" in improving the citywide economy.
"Research and development companies are leaving because there's nowhere for them to grow here," Ursini said. "This is potential for us to not only retain some jobs, but also the revenue that's associated with them."
The Harper Court development is "a good thing all around," King said. In a period of consistent population loss in the city, "to not only retain jobs, but to increase density in our community — it's a great thing."
Do stories like this matter to you? Subscribe to Block Club Chicago. Every dime we make funds reporting from Chicago's neighborhoods.
Already subscribe? Click here to support Block Club with a tax-deductible donation.
Our goal is to reach 10,000 subscribers by the beginning of 2020. With just a few weeks left in the year, we're pretty close to that goal. Can you help us get across the finish line? Subscribe here or buy a subscription as a gift here.