HUMBOLDT PARK — Soon Humboldt Park neighbors will be able to follow the yellow brick road just like Dorothy and Toto near where creator L. Frank Baum dreamed up the classic American fairytale.
Late last week, nonprofit developer Bickerdike Redevelopment Corporation began building an actual yellow brick road at Humboldt Boulevard and Wabansia Avenue to honor Baum, who wrote "The Wonderful Wizard of Oz" while living at 1667 N. Humboldt Blvd. in 1899.
Bickerdike recently finished rehabbing nine units of affordable housing on the corner. One of the units sits on the site of Baum's former home, which was razed years ago, said Bickerdike CEO Joy Aruguete.
Aruguete said one of her staffers came up with the idea of "doing something big" to honor Baum in conjunction with their affordable housing project.
The city "had a little commemorative sign there, but we wanted to link the idea to the need for affordable housing," Aruguete said.
Aruguete expects the yellow brick road to be complete by early this week. It'll span about 70 linear feet, she said.
Since construction began, delighted neighbors have stopped by to ask about the yellow bricks. The reaction on social media has been overwhelmingly positive.
Also in an effort to honor Baum, Bickerdike is commissioning a 5-foot-tall, 11-foot-long Oz-themed mural by Chicago artist Hector Duarte on the rounded wall that sits on the corner. The mural could either be done soon or not until the spring, depending on the weather, Aruguete said.
Both the yellow brick road and the mural cost about $65,000 in total, Aruguete said. She said different project partners chipped in to make the art projects a reality.
"It wasn't an [affordable housing] project expense. … We put in some of our money, the architect put in a little money, the general contractor put in money and we had some foundation support," she said.
Baum was born in 1856 in Chittenango, New York. He worked as a newspaper reporter for many of the ensuing years, first landing in South Dakota and then in Chicago in 1891, according to Gapers Block.
According to the Tribune, Baum was 44 when he wrote "The Wonderful Wizard of Oz," one of the most well-known children's stories in American history. He went on to write more than a dozen sequels.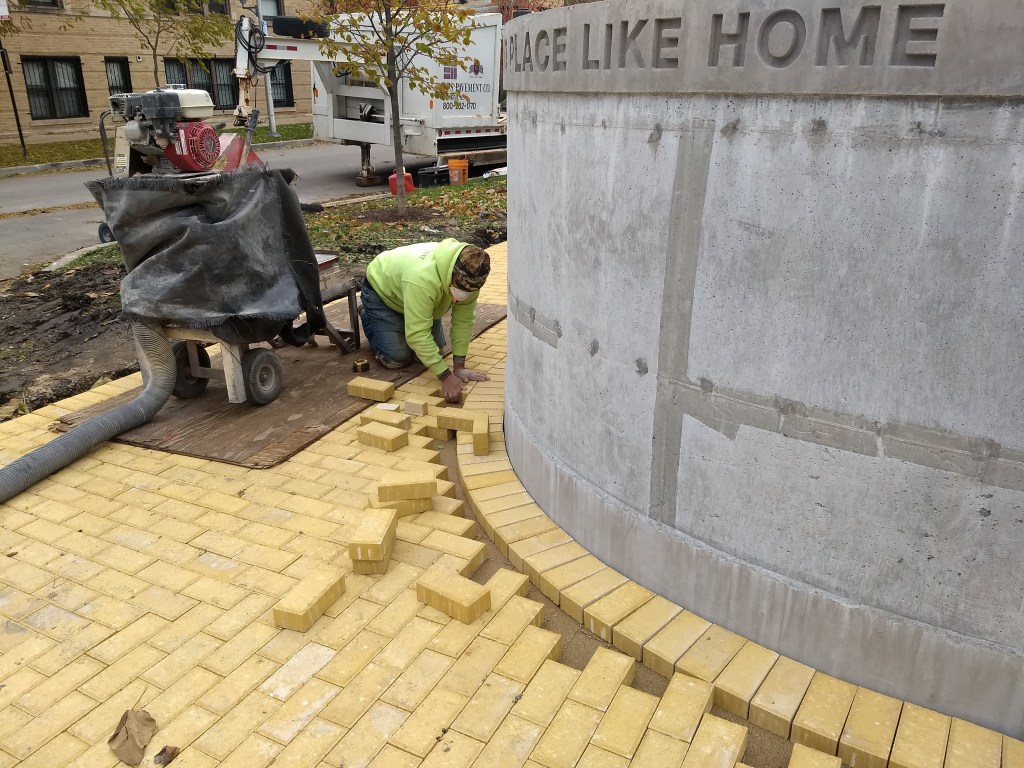 Aruguete said not many people know Baum wrote the classic while living in Humboldt Park. She noted he was inspired by his time playing with kids in the neighborhood's sprawling namesake park.
Aruguete said Baum's message in "The Wizard of Oz" — "There's no place like home" — is an important one in gentrifying Humboldt Park and Logan Square, neighborhoods that are continuing to lose affordable housing stock.
"Having a place to call home is really key. That connection was so beautiful. It's such a nice opportunity to make that connection," she said.
The nine units of affordable housing at Humboldt and Wabansia is part of a much larger Bickerdike project born 30 years ago.
Under the West Town Housing Preservation project, Bickerdike has rehabbed 318 units in the area. All of the units were originally built in 1983 and 1988, respectively.
Do stories like this matter to you? Subscribe to Block Club Chicago. Every dime we make funds reporting from Chicago's neighborhoods.
Block Club Chicago is also participating in NewsMatch 2019, allowing all donations to our 501(c)(3) newsroom to be matched dollar for dollar through Dec. 31. You can donate here.