RAVENSWOOD — The area's 15th Dollop Coffee officially opened Thursday in Ravenswood with a corner shop that features expanded breakfast options and the promise of a walk-up window in the spring.
The business that started in Uptown continues to expand, often replacing other independent coffee shops that close down. On Thursday morning, the new Dollop opened at 1636 W. Montrose Ave., the site of the former Maiden Voyage Cafe.
Dan Weiss, CEO of Dollop Coffee, said customers can still expect a "regular old Dollop" location, but with some added amenities.  

The new location will offer an elevated food program, specifically focusing on breakfast. Patrons can expect a full breakfast menu with eggs, bacon, breakfast burritos, smoothies and breakfast bowls.
"It's something I've always wanted to do," he said.
The new spot is a middle ground between a straight café and the Dollop Diner location at 5060 N. Clark St., he said. Customers will have a menu that will rotate specialty items.
Due to its close proximity to the Dollop Diner, Weiss said he expects to piggyback menu items from the Diner location to the Ravenswood location.
He's also excited about a walk-up window where guests can order straight from an outdoor patio. But that window is unlikely to open until the spring when the colder months subside.
The community built around coffee shops is an important part of the business to him, Weiss noted. He hopes to be an active part of the community.
Since the location is adjacent to Ravenswood Elementary, 4332 N. Paulina St., Weiss is offering free coffee to teachers Thursday and Friday.
All Dollop locations had already been offering 50 percent off during the Chicago Teachers Union strike.
"We love our teachers and what they are standing up for, so the least we can do is add a little happiness and simplicity to the rest of their week," he said.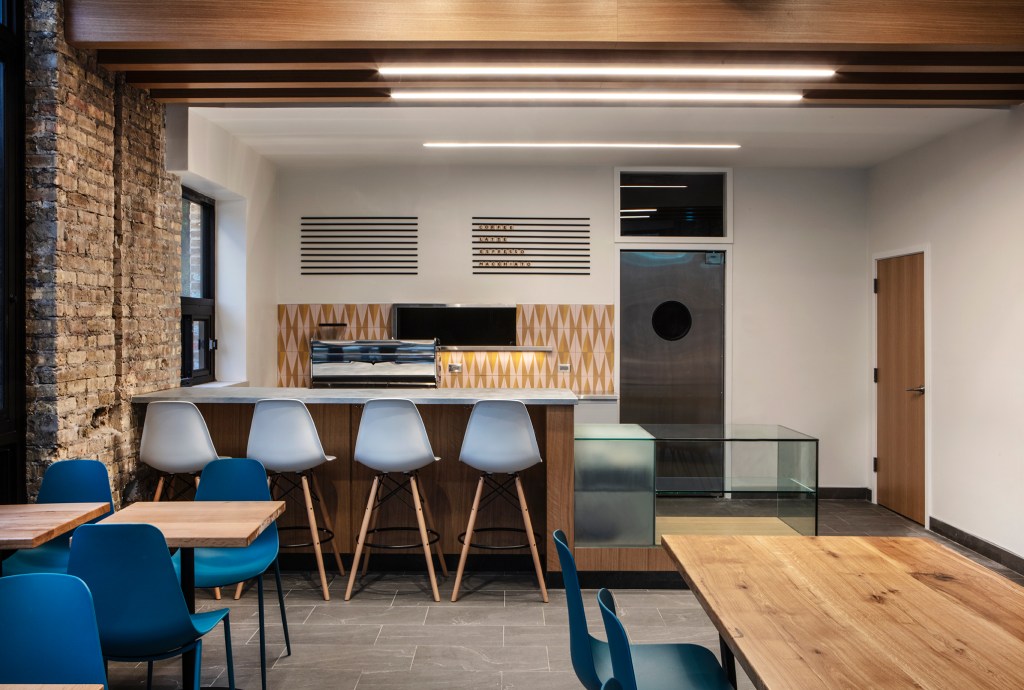 The success and expansion of the brand has come with a lot of luck, said Weiss, a Rogers Park native who grew up around coffee shops

When Weiss bought the first Dollop shop from a friend in 2011, he had no concrete plans for the existing business.

"I imagined nothing," he said. "I kind of just fell in love with coffee."
Shortly after acquiring it, Weiss said he noticed a "huge need for coffee shops on the ground floor of vertical living communities." He expanded to Streeterville and from there the brand just took off.
Today, nearly every high-rise community has an adjacent coffee shop on the ground floor, so Weiss said he is lucky to have expanded ahead of the trend.
Before dropping out to pursue business endeavors, Weiss attended Columbia College where he studied marketing and music. From a young age, Weiss became involved in the underground hip-hop scene in Chicago.
Weiss continues to make music under the stage name Verbal Kent with Mello Music Group.

Ald. Andre Vasquez (40th), who also performed in the same underground hip-hop circles, has known Weiss for years.
"Dan was always someone who took his art seriously," he said. "I remember how he was very focused on not just the art, but the business side of it. I knew him from him putting together, not just albums, but also when he owned a cell phone repair store."
Today, Weiss says the future of Dollop is strong and he has no plans to stop expanding.

"I never want to limit ourselves to a certain number of locations," he said. "But we also don't want to oversaturate the Chicago market. You won't ever see us every four blocks."

Weiss said the secret to finding a good location is understanding the needs of the neighborhood. And that's why no two Dollop locations are the same. Some offer differing food and drink items and the décor varies by location.  
"The Ravenswood area on Montrose is super vibrant with a really strong community," he said. "It's not a coffee desert, but there isn't necessarily a strong specialty coffee presence."
He said the secret to his success has been avoiding the urge to inject his own personal preferences into the menu.

"Who cares what Dan wants to drink?" he said. "I try to think about the needs of the neighborhood for each location."
Going forward, Weiss hopes to get more of their specialty roasts into Chicago grocery stores and markets.

"We aren't about trying to introduce people to new-wave coffee," he said. "But our roasts are out of control good."
Check out the new menu below: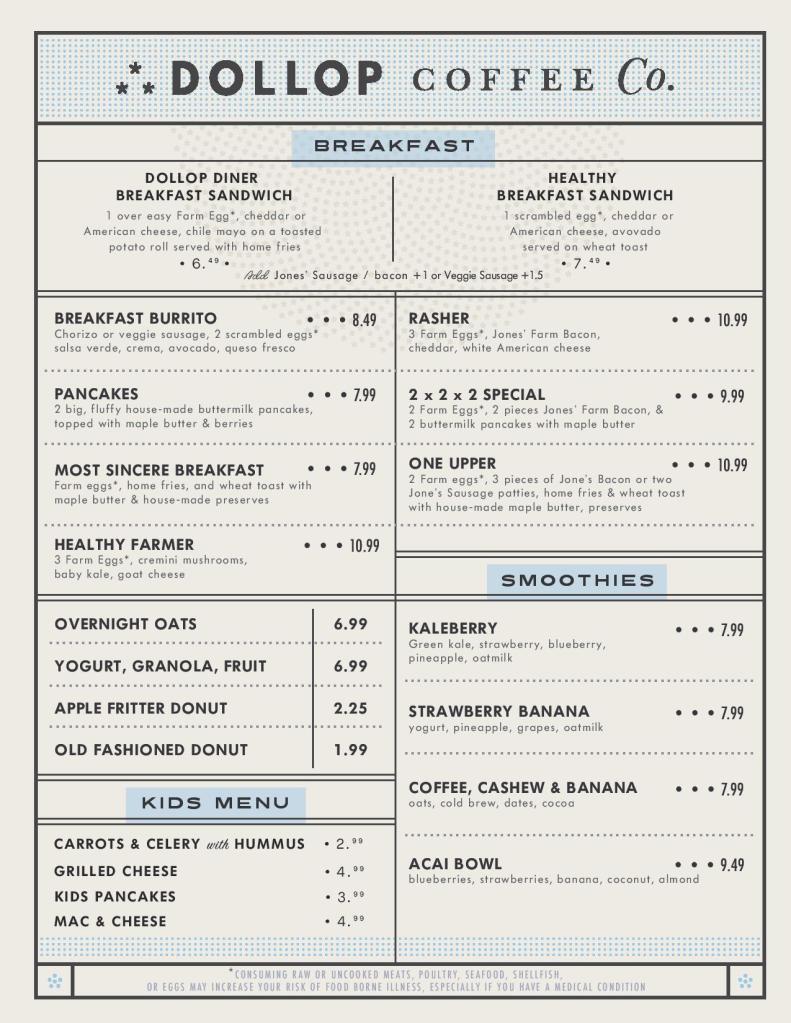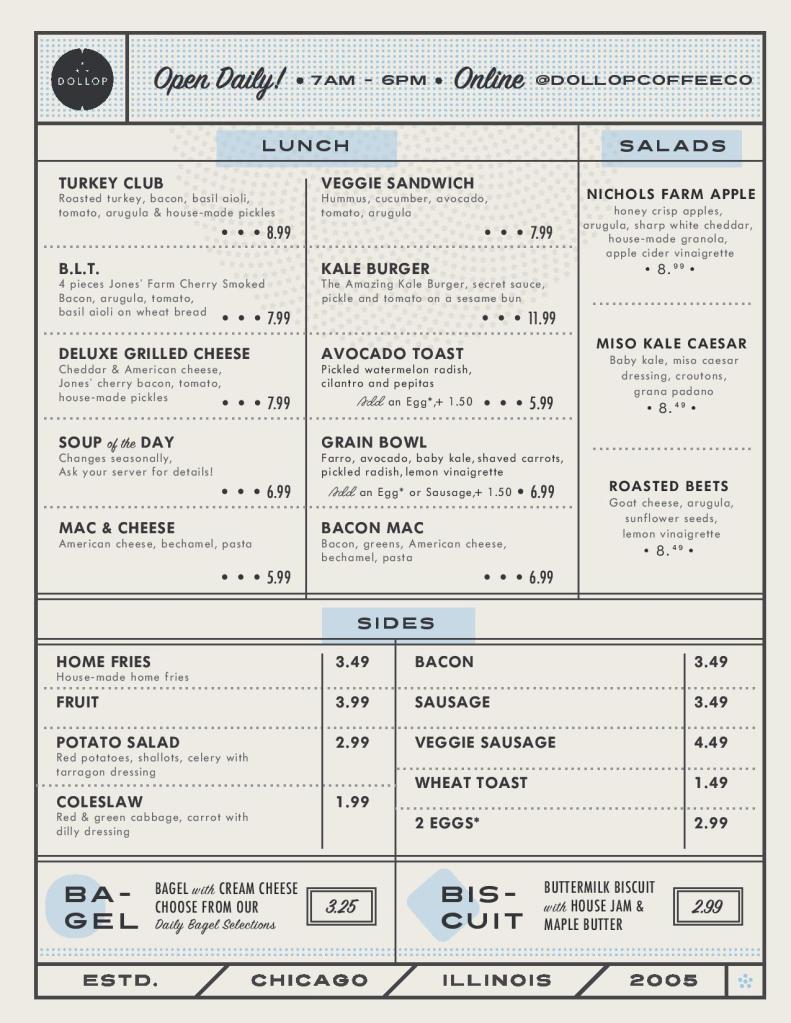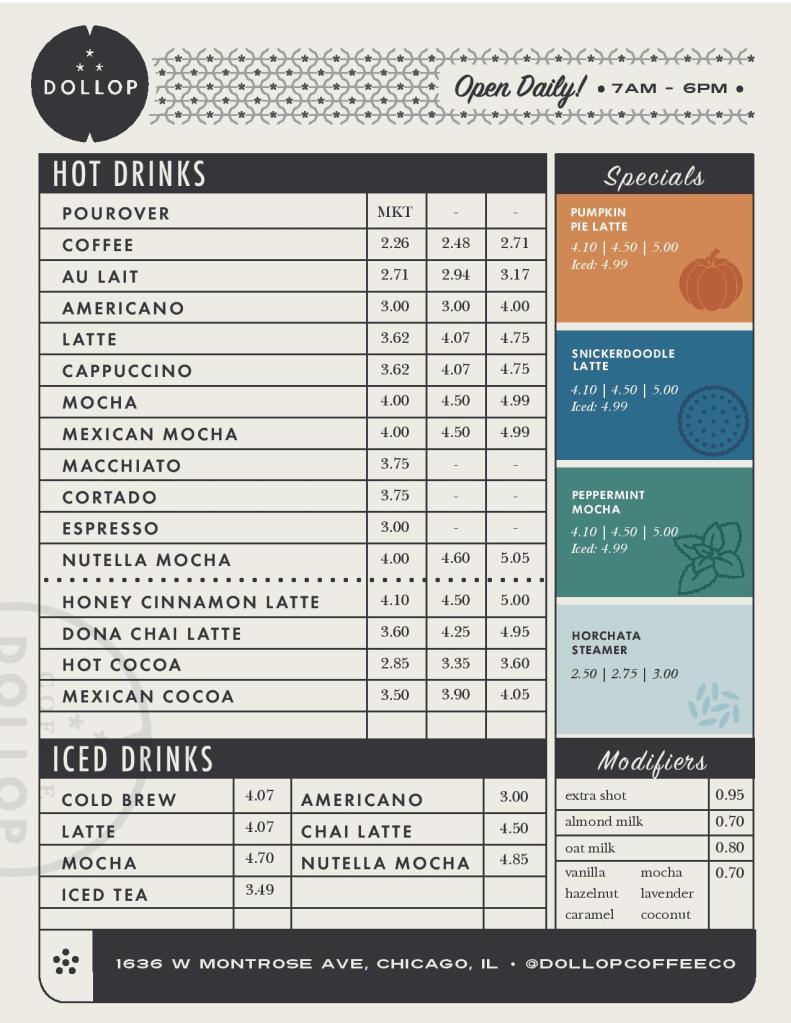 Do stories like this matter to you? Subscribe to Block Club Chicago. Every dime we make funds reporting from Chicago's neighborhoods.