PILSEN — Weeks after a right-wing group accused a Pilsen pastor of training migrants in Central America to break into the U.S., a man shouted racial slurs, gave the Nazi salute and shattered the door of her church Tuesday afternoon, the church's pastor said.
Pastor Emma Lozano said members of United Lincoln Methodist Church are on high alert after the encounters. She believes the church is being targeted because it provides sanctuary to refugees and undocumented immigrants who are appealing deportation orders.
"We are being targeted. I'm personally [being] targeted. My family is in jeopardy. My church is in jeopardy because of what we stand for," Lozano told Block Club Chicago. 
At 1:28 p.m. Tuesday, a man attempted to enter a church in Pilsen, said Kellie Bartoli, a spokeswoman for Chicago Police Department. Lozano confirmed her church, at 2009 W. 22nd Place, was the one targeted.
When someone who informed the man the church was closed, the man began kicking the glass door of the church until it shattered, Bartoli said. He then fled the scene.
The white man is about 30-35 years old, approximately 6-foot, 5-inches tall and 180 pounds with short brown hair, police said. He was walking with a medium-size white dog at the time of the incident.
Lozano, who was holding a staff meeting at the time, rushed outside with staff to confront the man. He initially ran away before returning to the church to yell racial slurs and repeatedly give the Nazi salute, Lozano said. He also called the church staff derogatory names.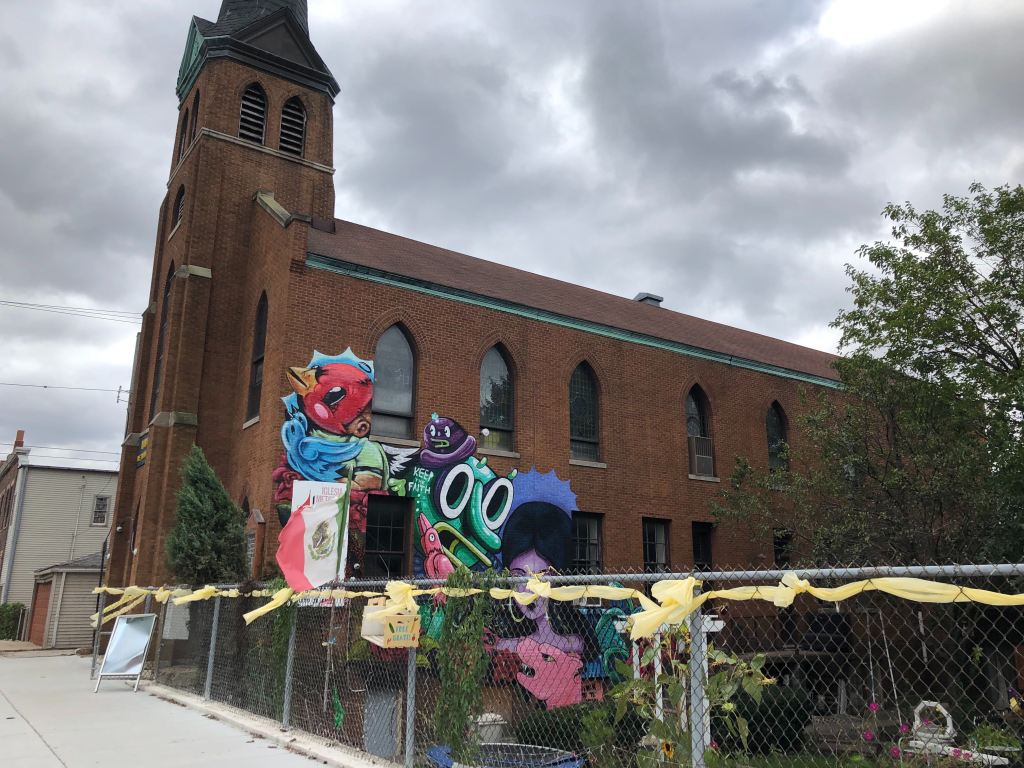 The pastor believes the September confrontation with self-described supporters of President Donald Trump and Tuesday's event are directly related to a conspiracy theory being reported by right-wing media personalities like Glenn Beck, Sean Hannity, Laura Ingraham.  
Those reports — debunked by Newsweek in April—allege Lozano and the Chicago-based Centro Sin Fronteras is being funded by George Soros to help caravans from Central America enter the United States. 
But Lozano said her organization has no affiliation with the transnational organization Pueblo Sin Fronteras. 
RELATED: Trump Supporters From California Show Up In Pilsen To Accuse Pastor Of 'Training Illegal Aliens' — But They Went To The Wrong Place, She Says
In the past, the network of United Methodist churches in Chicago, including Lozano's church, have provided sanctuary to immigrant mothers Elvira Arellano and Francisca Lino. 
Since the September encounter with right-wing group Frontline America, Lozano said church staff keeps the building locked to protect its members. Now, the pastor is asking city leaders for help.
"We were a victim of domestic terrorism," Lozano said. "We are in danger…We need authority, the mayor and city officials to step up and take action."
Lozano said not enough was being done to hold white supremacists spreading misinformation and endangering lives accountable.
Lozano urged the Pilsen neighborhood to come together and unite to "protect our community in an intelligent way" from the anti-immigrant rhetoric that has emboldened white supremacists to commit hate crimes and intimidate minority communities.
"We are in a situation where we have to defend ourselves. Now we have…guards that we have to pay," Lozano said through tears. "Because I'm not going to allow them to make us become another South Carolina or El Paseo."
Ald. Byron Sigcho-Lopez (25th) denounced the man's actions Wednesday, calling the incident at the place of worship, where people are seeking refuge and guidance, "unacceptable" and "disgusting."
"White supremacists [are] coming to intimidate, to harass people in the community whose only 'crime' is to be advocating for the immigrant community when today more than ever [we] needs advocates," the alderman said.
Sigcho-Lopez said he reached out to the 12th District Police Cmdr. Stephen Chung and Mayor Lori Lightfoot following Tuesday's incident.
"We also need public institutions like CPD to be responsive to our community when this happens…This isn't something we are going to tolerate in our communities," he said.
The Lincoln United Methodist Church has previously been targeted because of its immigration work. In recent years, swastikas and anti-immigrant messages have been scrawled on church property.
Do stories like this matter to you? Subscribe to Block Club Chicago. Every dime we make funds reporting from Chicago's neighborhoods.