HYDE PARK — Cleaning supplies company Dinobi Detergent won Thursday's South Side Pitch competition, which brought together six upstart businesses from across the neighborhood.
Sylvia and Augustine Emuwa received $5,000, which Sylvia said they'll use to diversify their line of products and improve their website, a major concern since they're a web-focused business.
They also received a one-year membership to the Polsky Exchange, a co-working space and startup community run by the University of Chicago at 1452 E. 53rd St.
A sense of mutual support from the South Side businesses was on display at the contest, as numerous other contestants congratulated the Emuwas and smiled as Augustine hollered with joy when the winner was announced.
"The energy in the room was really good," Sylvia Emuwa said. "It's supposed to be set up like Shark Tank, but I didn't feel like [the judges] were saying, 'Oh, I hate your idea.' … It's been a pretty positive and energetic experience."
This event featured six finalists, after only five were selected in past years.
Since the competition was so strong this year, it made sense to go for six to mark the event's sixth anniversary, said Beth Kregor, director of the Institute for Justice Clinic on Entrepreneurship, which put the event together.
Wash On Wheels, a waterless, mobile car wash service headed by Joshua Williams and Pattilyn Beals, came in second place. They received $4,000 and a year-long membership to the Polsky Exchange.
It was Beals' first-ever pitch, and she said the experience was "exciting, intimidating and I was very nervous." With their prizes, the duo will expand their marketing and make improvements to their app.
"We would still be able to [expand our business] if we didn't win today, but of course it's always better to win," Beals said.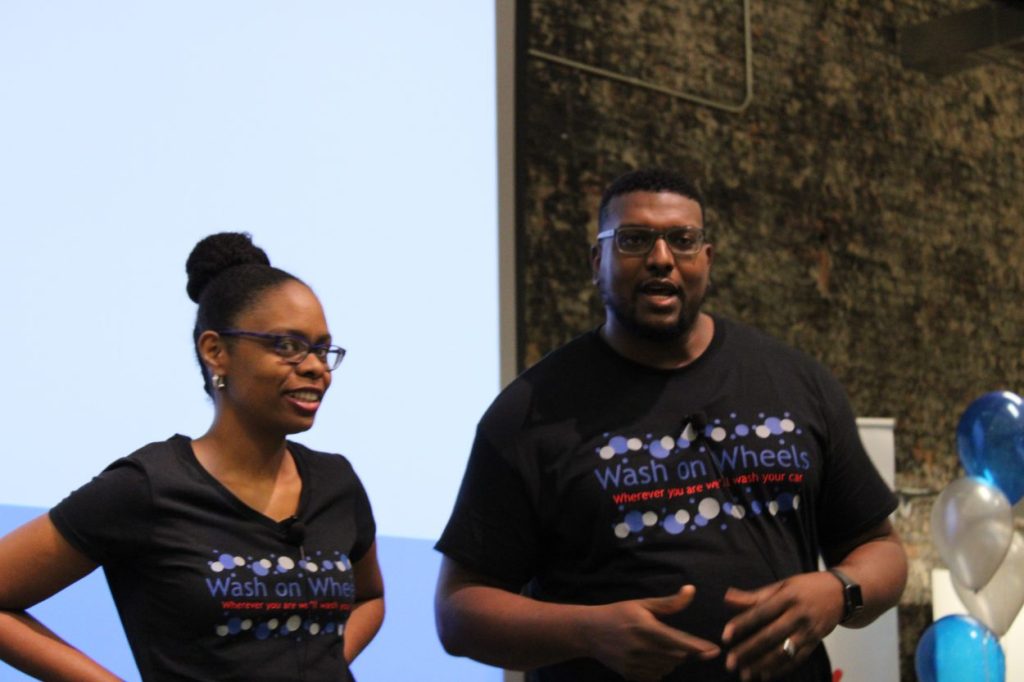 Strength Together, run by Glenbard East High School senior Emmanuel Thompson and Kenwood Academy sophomore Judai Smith, came in third.
The pair received $2,000 to continue developing their app, which allows students to text an A.I. in times of distress if they are too uncomfortable or unable to reach out to a trained professional.
"A big thing when I look outside my window and I walk down the street, I'm seeing a lot of people who are struggling," Thompson said. "My goal is, through Strength Together, to help people early."
The other finalists were the Chicago Birthworks Collective, a group of full-service doulas led by Tayo and Toni Mbande; Truckies, an app for truck drivers to find safe places to park and rest headed by Kristina Covarrubias; and Coffee Pops, a portable ball of instant coffee cased in honey invented by Sharletta Hanks.
The competition is intended to "lift up entrepreneurship on the South Side" and inspire budding businesspeople in the audience to take that first step, Kregor said.
"Innovators all around the city are solving all sorts of problems," Kregor said. "We wanted to shine a light on those positive, inspirational stories and make sure people know how important it is to make room for entrepreneurs in every corner of the city."