CHICAGO — Most renters living around the proposed Obama Presidential Center are at risk of being priced out of their neighborhoods, according to a new study from the University of Illinois at Chicago.
The new report released Thursday found "clear evidence" of rising rents in new and renovated apartments around the proposed Obama Center that most of the area's current residents can't afford. The study examined a two-mile radius around the Obama Center site.
About 69 percent of the area's residents are renters, according to the study, Of those renters, about 70 percent are considered low-income under U.S. Department of Housing and Urban Development standards.
The cost of purchasing a home in the area has also risen since 2016 at a rate faster than the city as a whole over that same time period.
The South Shore neighborhood in particular has been hit hard by displacement, according to the study, with an eviction rate of 9 percent, or 1,800 evictions, since 2016, the highest of any neighborhood in the city.
And based on expiring federal subsidy contracts, the area has the potential to lose 500 subsidized units by 2023.
The Obama Center is not yet a done deal as it undergoes a federal review process. But the effects of speculation from it and other proposals in the area are already being felt, said Janet Smith, author of the study and co-director of the Voorhees Center For Neighborhood And Community Improvement at UIC.
The study's release comes after Alds. Leslie Hairston (5th) and Jeanette Taylor (20th) introduced a community benefits agreement (CBA) ordinance to City Council on July 24.
The ordinance would require 30 percent of new or rehabbed developments to be set aside for affordable housing; buildings for sale to first be offered to their tenants; quarterly city studies on displacement; the establishment of a community trust fund and a property tax freeze.
The Obama Foundation has promised to monitor displacement in the area and take action against it, but the only way to ensure that is to "put it in writing when we pass the CBA ordinance," Taylor said.
"In the black and brown community, our trust has always been betrayed," Taylor said. "That's why we want it in writing. How many times have they promised us something in our community, and then it's not happened and we have no way to hold them accountable?"
Taylor said she's pushing her fellow aldermen and Mayor Lori Lightfoot to pass the ordinance by October.
There's a "tradition in City Council" where other members will support legislation as long as the local alderman are behind it, said Alex Goldenberg, executive director of Southside Together Organizing for Power. 
"So far, that's what we have seen," Goldenberg said. "At this point, what we really need is the mayor to support it to ensure that it's passed."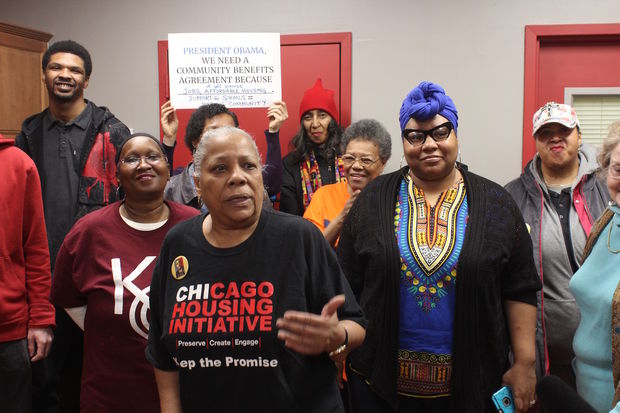 Smith first met with the coalition who drafted the CBA last fall, as the group sought data that could help them draft strategies to combat displacement, Smith told Block Club.
Ahead of the Obama Center's arrival, the study suggests the preservation and construction of affordable housing to offset its findings.
There are approximately 214 acres of vacant land currently zoned for residential development in the study area, which "presents opportunities for new mixed-income and affordable housing," according to a press release.
The proposed next steps are "broader than the CBA ordinance's specific policies, but generally aligns with what they're trying to achieve," Smith said.
A proposed golf course expansion, commercial redevelopment and University of Chicago campus construction represent just a few major projects in the works in the area, so the study's findings are not exclusively tied to the Obama Center plans.
The study doesn't claim to show causation, "it's just showing correlation" with those plans, Smith said.
"There's just a lot of things going on along the south lakefront," she said. "It's a lot more complex than one simple project."
Do stories like this matter to you? Subscribe to Block Club Chicago. Every dime we make funds reporting from Chicago's neighborhoods.