WEST TOWN — Worried about missing the Hattie B's pop-up in Wicker Park next month?
Have no fear — another Nashville hot chicken restaurant is coming to West Town, and it'll be here to stay.
This fall, Joe Fontana will open the fourth Fry the Coop restaurant at 1529 W. Chicago Ave. This will be Fontana's second Chicago Fry the Coop. The other locations are in Oak Lawn and Elmhurst.
Fontana, who lives in Westmont, said he's excited to bring Nashville hot chicken to the neighborhood. And the restaurant will be hard to miss; it's located in a two-flat recently painted by Chicago street artist and muralist Nick "Sick" Fisher.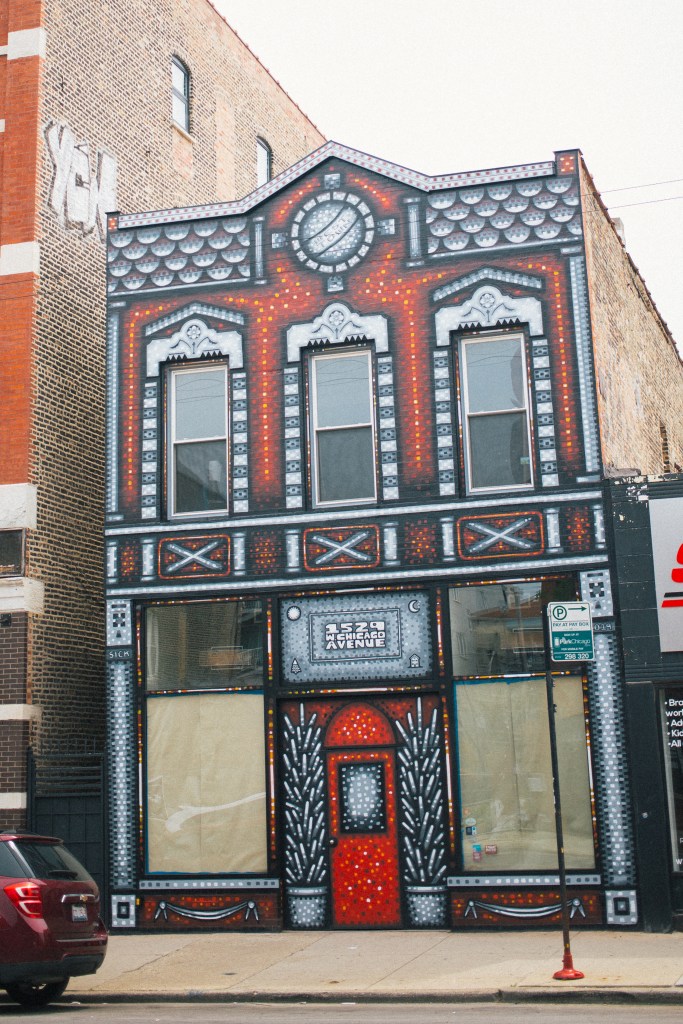 With his signature dots-and-dashes style, Fisher infused nods to Chicago's architectural history in the mural.
"Chicago is one of the towns in America that has a really crazy interesting history, a long history, and architecture is part of that," Fisher said.
With the mural, Fontana said he's glad to be part of a mission to "paint all of West Town."
"Some towns and some neighborhoods are just so stagnant, and have no vision for the future," he said. "I just get the sense that everybody in West Town is working to make it better every day."
Fontana anticipates an Oct. 1 "soft opening" of the West Town restaurant. Hours of operation will begin with 4-9 p.m. dinner service Wednesday-Sunday.
Fry the Coop will be hiring about 30 people. Interested applicants can learn more online at frythecoop.com.
Though he's never lived in West Town himself, Fontana is very familiar with the neighborhood.
His grandmother grew up at the corner of Erie Street and Ashland Avenue. She graduated from Williams H. Wells Community Academy High School, 936 N. Ashland Ave., in 1958.
She also ran errands at the old Goldblatt's Department Store at 1625 W. Chicago Ave.
"West Town is amazing. It's such a cool neighborhood," Fontana said. "It's so close to the city, but separated from the city by the highway. People who live here are very prideful, [many] have lived here a long time."
Fontana grew up in a western suburbs of Chicago, but it was in his grandmother's kitchen where he learned how to cook.
The daughter of Italian immigrants from Sicily, Fontana's grandmother knew how to make the perfect meatball.
"My grandma used to tell me stories over and over again, of her mom sending her to Goldblatt's to grab this or that," Fontana said. "Now we're opening up two blocks away."
After graduating from the University of Illinois at Chicago, Fontana moved to southern California, where he opened a meatball restaurant.
Then came a fateful day in San Diego when Fontana took a bite of a Nashville-style fried chicken sandwich.
"I couldn't stop thinking about it," he said. "I went home, Googled it, obsessed over it. … One thing led to another, and we moved back to Chicago and opened the restaurant."
Fontana opened the first Fry the Coop in Oak Lawn in November of 2017. A year later, he opened a Fry the Coop in Elmhurst. A third Fry the Coop, with a lunch-counter style, came to The Loop, next.
What, exactly, makes Nashville style hot chicken so special?
"The main thing is that when the chicken gets out of fryer, it's dipped into seasoned animal fat," Fontana said. "We use beef fat."
RELATED: Nashville's Hattie B's Hot Chicken Will 'Pop Up' In Wicker Park Next Month
The fat gives the chicken its signature reddish color, Fontana said. Then comes the dry rub, a combination of cayenne pepper, paprika, garlic, onion and brown sugar.
"Something about that combo is this addicting flavor, where you go home, lie in bed, and you're thinking about it still," he said. "Depending on how hot you want chicken, we have different dry rubs. Mild, med, hot, crazy and 'little insanity.' Each one of those is a different spice blend we came up with."
It's not just Chicagoans who find Fontana's take on the Nashville classic delicious. The team behind Hattie B's recently invited Fontana and his partners to Nashville for a visit.
The Hattie B's team is visiting Chicago for a heavily anticipated Sept. 22 pop-up at Dove's Luncheonette in Wicker Park.
Do stories like this matter to you? Subscribe to Block Club Chicago. Every dime we make funds reporting from Chicago's neighborhoods.