WICKER PARK — In the past week, rainbow flags hanging from windows at the Wicker Park Lutheran Church have been stolen and vandalized in what the Rev. Jason S. Glombicki called a pair of hate crimes.
The church's response?
Planting 300 more rainbow flags in support of LGBTQ pride on Sunday.
"Love continues to permeate our world, even in the midst of hate and fear," Glombicki said. "Our faith in Jesus teaches us that all people are loved and we should treat them as such."
The public is invited to this weekend's 10 a.m. Sunday service to help Glombicki and his congregants stake 300 small rainbow flags in the front garden of the church, 1500 N. Hoyne Ave.
This weekend's service will also make a point to celebrate:
Glombicki, who is in his early 30s, said it's easy in 2019 to see companies come out with Pride-themed clothing, slogans and shampoo bottles and think, "this has been normalized."
But it's not, he said.
"[We think] we've hit the point where you can be fully who God created you to be," he said. "But then moments like this remind us that what we preach every week is … something that desperately needs to be amplified and heard and lived out."
In the meantime, Chicago Police are investigating the incidents as potential hate crimes through the Chicago Commission on Human Relations. A detective will stop by on Wednesday to review security footage from the church, Glombicki said.
The first incident happened sometime between June 16 and June 18, when a set of rainbow flags were torn from the building at 1500 N. Hoyne Ave.
Days later, at about 3:15 a.m. June 23, two replacement flags — one rainbow flag, a symbol of LGBTQ pride, and one pink, blue and white transgender awareness flag — were vandalized with spray paint.
Over the rainbow flag, a vandal wrote, "We love kids." Over the transgender awareness flag, the vandal drew a large "X."
Security camera footage depicts a person jumping the church fence and spray painting the flags with black spray paint.
The Wicker Park Lutheran Church's congregation is comprised mainly of 20- and 30-year-old members, many of whom are raising young children, Glombicki said.
The pastor estimated the church has about a half-dozen adult members who are part of the LGBTQ community.
While Wicker Park as a whole may feel like a welcoming neighborhood, not everyone shares the church's stance on LGBTQ issues, Glombicki said.
"It could be one person in in all of Wicker Park that wanted to make this statement," he said. "Not everybody is of one mind for a variety of different reasons. Even if people aren't speaking up about their differing opinions, I think that it still is definitely pervasive."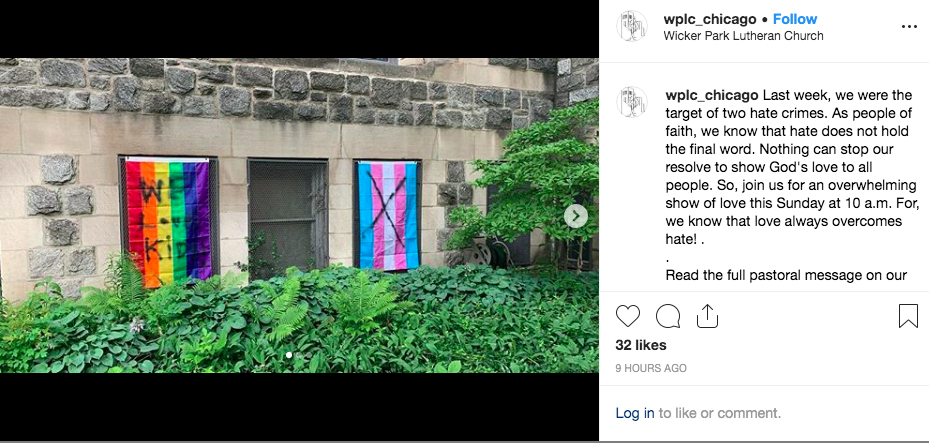 "As people of faith, we know that hate does not hold the final word," the church wrote in a Tuesday Instagram post. "Nothing can stop our resolve to show God's love to all people."
Do stories like this matter to you? Subscribe to Block Club Chicago. Every dime we make funds reporting from Chicago's neighborhoods