LINCOLN SQUARE — Move over March Madness, there's a new tourney in town.
For the past month, over the course of four rounds, 16 transit agencies from across the U.S. have been battling it out in the inaugural Transit Bracket Challenge, hosted by the American Planning Association's Transportation Planning Division.
The field has been whittled down to the final two contestants, and look who's still on a roll: None other than the CTA.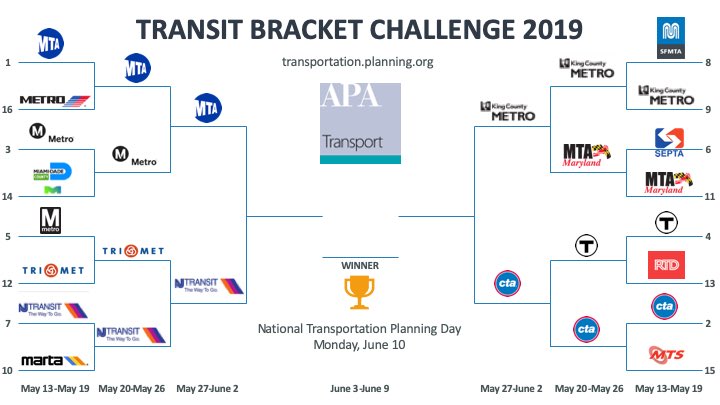 After trouncing opponents from San Diego (the MTS), Boston (MBTA) and Seattle (tourney darling King County Metro), CTA is just one victory away from claiming the title.
Standing in its way: seventh-seeded NJ Transit, which reached the championship round by pulling off a shocking bracket-busting upset over New York's top-seeded and heavily favored MTA. (In non-transit terms, that's like Loyola beating Duke.)
The winner will be crowned on Monday, which non-coincidentally has been designated National Transportation Planning Day.
To beat New Jersey, all the CTA needs is to amass more online votes, which is how agencies have been advancing in the competition. What, you thought maybe buses were drag racing or fare-card swipe time was being calculated?
Voting is open through 9 p.m. Sunday (click here); membership in the planning association is not required to participate.
The bracket challenge was the brainchild of Ben Dodson, a North Carolina-based transit professional who runs social media for the planning association on a volunteer basis.
His modest goal was to generate a little bit of interest in transportation planning, which he achieved and then some.
"It's blown our expectations out of the water," Dodson said.
In the bracket's first round, 10,000 votes were cast, a number that increased exponentially as the tournament progressed: 40,000 votes were cast in the second round and nearly 120,000 in the third (or Final Four, in March Madness lingo).
Followers of the planning association's social media platforms have doubled, as well, according to Dodson.
"The actual transit agencies have engaged with us," he said, citing King County and CTA among the competitors who've been particularly good sports.
"We really tapped into a whole community," said Dodson. "There's been a lot of banter."
Philly's SEPTA taunted Baltimore's MTA Maryland with a little lighthearted "cheese steaks are better than crab cakes" trash talking. King County rallied the entire West Coast in its failed bid to unseat CTA.
Even though the 2019 outcome is still up in the air, Dodson is already thinking about 2020.
A one-man selection committee, he built the bracket solely by choosing agencies with the highest reported ridership in metro areas with the greatest population. In the future, he would like to include smaller agencies.
Some also questioned his decision to exclude international transit systems.
"It wouldn't be fair to America," Dodson said, explaining that public transportation is far more ingrained in cultures outside the United States.
Oh, and maybe next year he'll order some sort of championship trophy. For this year's winner, "I think we have a certificate," he said.
Let's bring that piece of paper home, Chicago.
Do stories like this matter to you? Subscribe to Block Club Chicago. Every dime we make funds reporting from Chicago's neighborhoods.