WICKER PARK — Late last month, longtime Wicker Parkers were stunned and saddened by the death of David Horn, a bouncer and bass player who was a beloved part of the ever-changing neighborhood.
Horn, 45, died unexpectedly on April 23. He is survived by several family members who live in the south Chicago suburbs, including his mother and two half-siblings.
His uncle, Robert Horn, now lives in Elgin. But during the 1980s and early 1990s, he raised his nephew in his Rogers Park home. A cause of death has yet to be determined, Robert Horn said, but the family is choosing to celebrate a life lived as opposed to dwelling and speculating on the manner of Horn's death.
"All I know is that he's gone, and that's the bottom line," Robert Horn said.
A celebration of life will take place at 3 p.m. Sunday at Martyrs', 3855 N. Lincoln Ave., and all who knew David are invited, Robert Horn said.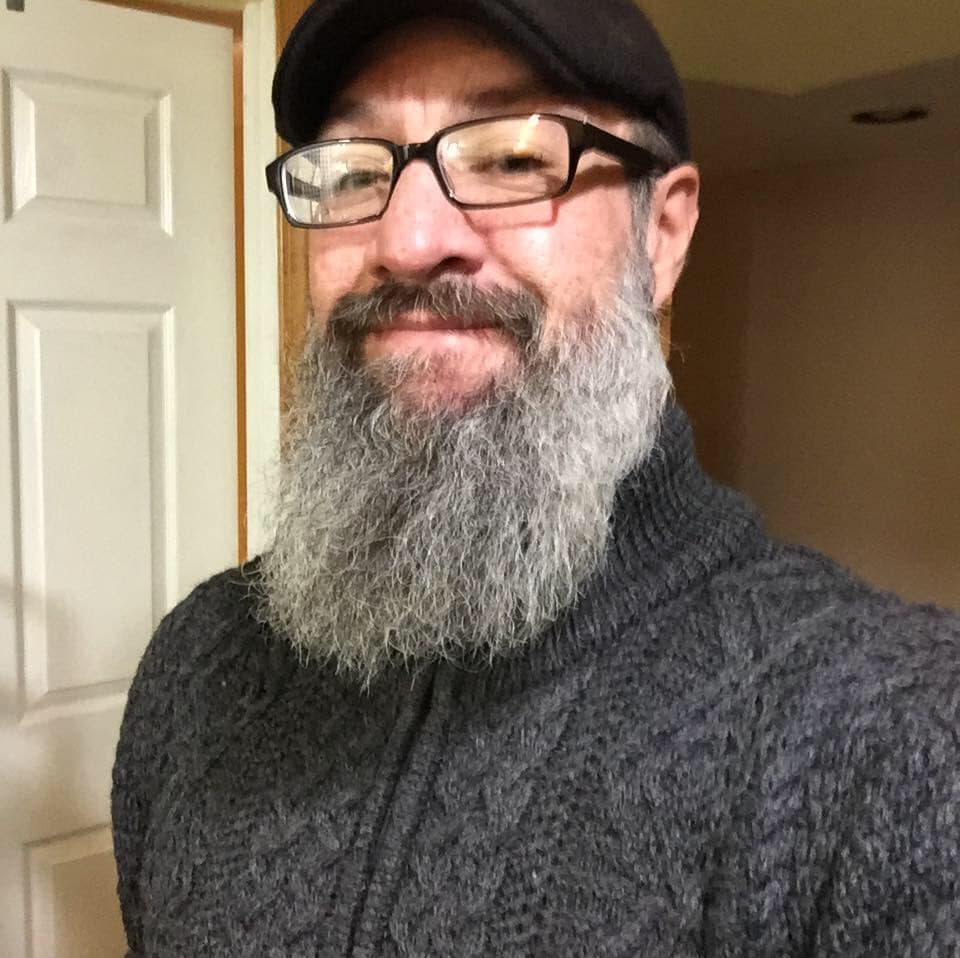 Those who cannot attend, but wish to help the family with costs related to memorial services, can donate to a GoFundMe.
In interviews with Block Club Chicago, friends and family shared their memories of Horn from across a vast span of 45 years. The latter two decades of Horn's life was spent in Wicker Park, where Horn was known as a "fixture" in the neighborhood, longtime friend MacKenzie Stonis said.
"He was as Chicago as the Bears," she said.
Horn cemented himself into the fabric of Wicker Park at a time when artists and outcasts were finding a home in the Northwest Side neighborhood. Shortly after he moved to the area, his cousin and adoptive brother, Sasha Horn, followed him.
A metal head, Horn loved Shiner. But his favorite musician was Perry Farrell of Jane's Addiction, his cousin said.
From the 1990s, Horn rented apartments and worked all over the West Town area, from Sweet Alice, a Ukrainian Village bar that closed in 2005, to Estelle's Cafe and Lounge, a bar that still thrives near the Damen CTA Blue Line.
A "phenomenal" bass player, Horn played in several bands with Sasha Horn, a drummer, who now plays and tours professionally with heavy metal band Exhorder.
"Dave was… The best way I've been able to sum it up to people, is to say I am who I am today because of him," Sasha Horn said.
In the days since Horn's death, friends from various periods of his life have written long, emotional messages on his Facebook wall. Sasha and Robert Horn said the family is overwhelmed by the "outpouring" of love and concern.
"It's humbling," Robert Horn said. "I wish David was here to see it all and hear it all. In many ways he was so lonely in his little world, and yet he touched a lot of people."
Finding a home in Chicago
David Horn's father, also named David Horn, died in a car accident when young David was only 9. During middle school, he left the south Chicago suburbs to live with his father's brother, Robert Horn — a musician and graphic designer who lived in Rogers Park.
When he moved into his uncle's house, Horn was only a few years older than his cousin, Sasha Horn. The two bonded over a shared love of music. David's late father was a musician, as was his uncle, Sasha's father.
Though they were cousins, they acted like brothers, Sasha said. David always had his back — literally.
When Sasha was in elementary school, David learned that his younger cousin had a bully at school.
"Dave must have been 12 or 13, and he ran outside and started beating him up," Sasha Horn said. "He was a very dedicated friend and family member. The most loving and gentle person. It wasn't from an evil place. He just … He could kick someone's ass."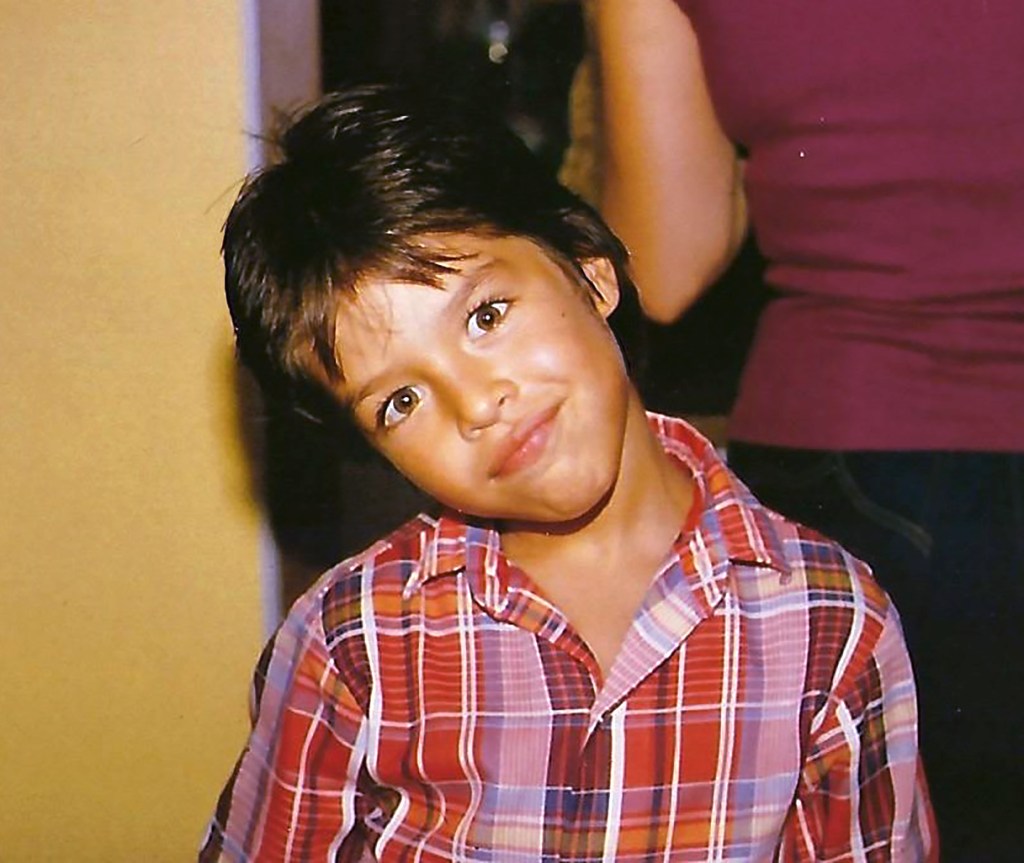 A talented artist, David Horn's uncle often hired him to create illustrations for work projects in his studio, which was on the 28th floor of a downtown high-rise. Like many teenagers, David struggled to see a place for himself in the world, his uncle said.
"He would hole himself up in a room and draw intensively, cocooning himself," Robert Horn said. "I said, 'David, you've got to embrace the world. There's so much to do.'"
"There's not one thing to do in this city!" David Horn replied.
His uncle looked out the window.
"Oh, really?"
David eventually dropped out of high school and moved out of his uncle's house. Despite all of his demons, David wore his heart on his sleeve, Robert and Sasha Horn said. He loved music and he loved people.
The cousins shared a memorable night in 1991 when they saw Jane's Addiction play at the Aragon Ballroom. The two had scrambled their way to the ground level, in front of the stage.
During the show, Perry Farrell climbed up the sides of the stage, as if he was trying to crawl his way up to the opera boxes.
"And Dave yelled, 'Perry Farrell is God!'" Sasha Horn said. "He got me into heavy metal, and that's who I am now."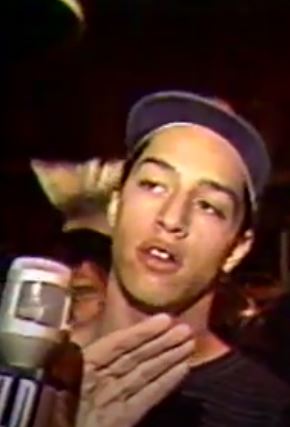 Before he found his way to Wicker Park, he hung out with other self-described "punks" in the Lakeview area around Belmont and Clark. He was part of a group that called itself the "Punkin' Donuts," named for the now-demolished Dunkin' Donuts at the corner.
"He embraced the city, which at that time had a lively culture on Belmont," Robert Horn said. "He was one of those street punks. … That was part of his life, that was what got him (to Wicker Park)."
Because his nephew had dropped out of high school, Robert worried what would come of David's life.
"It was an awkward family situation," Horn said. "He was basically on his own. He was a rebel. He basically put himself on the streets. He really didn't have any rules. Somehow through all that, he transformed."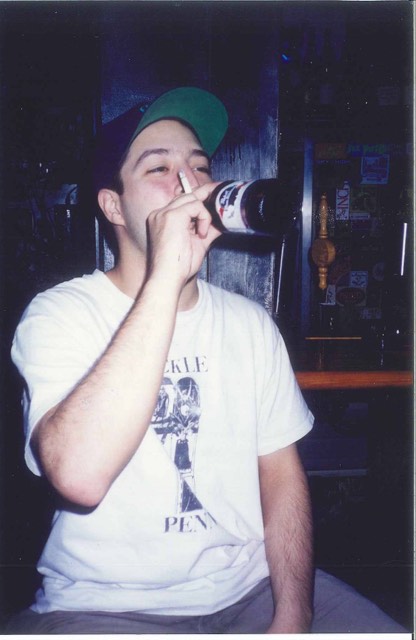 He eventually made his way to Wicker Park. Shortly after, his cousin followed. They became neighborhood "mainstays," spending their nights off work grabbing drinks at Inner Town Pub or watching shows at places like Double Door, which closed in 2017, Empty Bottle and Subterranean.
On a few occasions, they even found themselves on stage.
Sasha Horn said he felt that Wicker Park gave his cousin a true home and purpose in Chicago.
"It was a f-cking artist's wasteland," Horn said. "It was a beautiful post-apocalyptic scene of artists doing whatever the hell they wanted to."

Wicker Park's "protector"
When he eventually moved to Wicker Park and began working in the bar scene, Horn's uncle said he felt a sigh of relief.
"It fit like a glove," he said. "He was a perfect fit for that scene. He worked in bars (and was) highly trusted and respected. Always a hard worker. That was Dave — compassion, honesty."
Standing at a little over 5-and-a-half-feet tall, Horn wasn't the biggest guy in the world. But as a bouncer he had a knack for diffusing tense situations, and he didn't take offense to being spit in the face.
"But if someone spit in the face of his friend or family member," Sasha Horn said, "Then you would have hell to pay."
Cynthia Riegler lived in Chicago from 1991 to 1998, and during that time, she met Horn while he was working at Estelle's. They eventually worked and hung out together at a Ukrainian Village bar named Sweet Alice.
He had a reputation among women in the neighborhood as the guy who would walk them home at night, no questions asked.
"I always felt like everyone in Chicago knew him," she said. "Anyone he cared about became his brother or sister. He watched out for his friends."
Stonis met David in the early 2000s during their shifts slinging beers at the Randolph Street Festival. She said they bonded over the "irony of drunk guys named Chad" wanting to high-five them, and tell them how cool they were.
After finishing up work that night, the duo wandered back to Wicker Park. Horn let Stonis ride his bicycle to a "grimy bar," Stonis said, where they drank cheap beers.
"David was so good at making strangers into friends, I was a little jealous," Stonis said. "And the fact that I was allowed to ride his custom-built fixie at some absurd hour of the morning was pretty thrilling."
Angelena Coon, who met Horn back in the 1990s when she was working at punk bar Exit, said she will always remember what a "kind, wonderful soul" Horn possessed.
"Even times when he was not doing so well, depressed, hunting for jobs, single, he always had a smile for me and a hug," she said.
Stonis agreed.
"I can imagine him as a grizzled old man yelling at kids to get their scooters off his lawn — just before handing them candy and sitting them all down in a circle to tell them about how cool Wicker Park was back in the day," Stonis said.
Riegler, who now lives in Florida, said she was not sure if Horn every really knew how much he was loved by the people whose lives he touched.
"Our little 'family' from way back then is now scattered all over the country. His death is touching people in Oregon, California, Arizona, Texas, Tennessee, New York and Florida … and of course, Chicago," Riegler said. "How do you sum up a human in just a few sentences? Losing David is a huge loss for his family, friends and the neighborhood."
During the past few days, that sentiment has permeated many of the comments and posts on Horn's Facebook page.
For Robert and Sasha Horn, David's passing is a reminder of how influential their adoptive son and brother was in the lives of other people.
The irony of the timing of Horn's death, his uncle said, was that he had finally decided to "live on the grid."
Last year he took a job at Home Depot, and in January of this year was offered full time employment. For the first time in his life, he was filling out forms for benefits and health insurance.
Horn's greatest impact on the world may have been his time in the bar scene, his uncle said.
"Looking at all the tributes on Facebook, this profession was (about) being a friend, and a protector to so many," Robert Horn said. "The more I read about him, the more I want to emulate that. I want to become a better person because of him."
For more information on Horn's memorial, click here. To donate to his family's GoFundMe, click here.