CHATHAM — For years, Victor Love dreamed of renovating the restaurant that bore his mother's name.
The mirrored walls, vinyl booths and floral wallpaper were evidence of a place frozen in time, from a bygone era in which Jheri curls and stonewashed jeans were hallmarks of a certain kind of cool. Love wanted the look of the restaurant to not only reflect Josephine "Mother" Wade's style, but to tell the story of a place deftly woven into the fabric of the city's history.
If Chatham is the heart of the South Side, Josephine's Cooking, 436 E. 79th St., is the blood and the beat keeping it alive.
And finally after a few rough years, it got the makeover it deserves thanks to Food Network show "Restaurant: Impossible."
Josephine's originally opened more than three decades ago as Captain Hard Times, named for a Mexican restaurant Mother Wade would visit annually in Acapulco. It became known not only for its food, but also as a gathering place for notable figures in the African American community. Photos of everyone from Harold Washington to Barack Obama line the walls.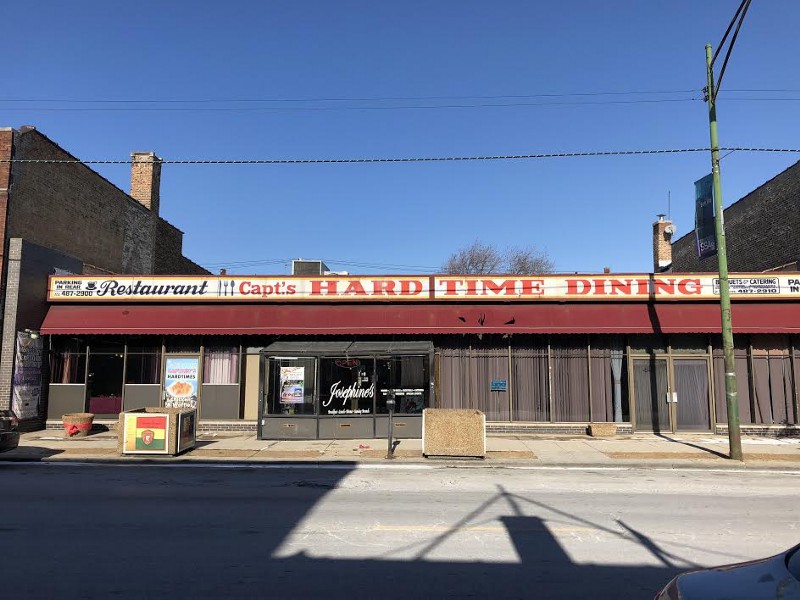 Over the years, Josephine's Cooking went through some tough times. In 2015, the restaurant nearly closed due to a lack of business and last summer, a break-in cost the already-struggling restaurant up to $50,000.
But the community kept stepping up to help — and last week the long-wanted makeover became a reality.
Love said Mother Wade was worried about the transformation of her beloved restaurant — but she's happy with the results.
"It took a lot for her to just hand over control and trust people she didn't know," he said.
Love isn't allowed to go into too much detail about the overhaul just yet, since the "Restaurant: Impossible" episode doesn't air for another eight weeks, but already the changes have been noticed by neighbors and his phone is ringing off the hook with people wanting to come see it.

"It's been a blessing to see how the community continuously comes and puts its arm around my mother when she's not at her best," said Love.
One of those low points came in May of last year, when thieves broke in, stealing copper wiring and damaging kitchen equipment, which forced the restaurant to close for several days. Love estimates that they lost $30-50,000 in revenue that week.

Still, the community rallied around them. Members from the Greater Chatham Initiative came and boarded up the windows, My Block, My Hood, My City launched a fundraiser, the Chatham Business Association helped secure the needed contracts and Toolbox is designing outdoor furniture to use for their patio space this summer.
Love also credited Ald. Rod Sawyer (6th) for lending his support. The two men have known each other for 35 years, meeting when they were teenagers.
"His father helped us get our liquor license in 1985," said Love, referring to late mayor Eugene Sawyer.

Love joined the family business in 2008, when it was Captain Hard Times' Diner. He hated the name, eventually persuading his mother to allow him to use hers instead.
"She had built a brand and a reputation with that name, but I wanted to use her name so that people would remember it," Love said. "I wanted to honor her legacy."

A large part of that legacy is Mother Wade's commitment to Chatham. For decades, she has fed, clothed and hired young men and women from the neighborhood. That dedication rubbed off on Love, who recently opened his home to a homeless teen. Keeping the community spirit alive is vital to the restaurant's success.

Adapting to change is also vital. With the new look comes a revamped menu. Traditional soul food is now served on weekends as new fare takes center stage Tuesday through Friday. Patrons can try the jerk mac 'n cheese, the blackened catfish or salmon over cheesy grits, a loaded Southern baked potato, or Mama's Burger, a sandwich smothered in mushroom sauce with "some fancy cheese I can't pronounce," joked Love. Vegan options are also in the works.
Don't worry: the chicken and waffles are still on the menu.
And then there's Jo's Community Cookbook, where fans of the restaurant can submit their favorite family recipes to be included. Proceeds from the book would support programs for marginalized youth. Love hopes to start the project this summer so the book can be ready by Christmas.

Though Love said that his mother has contemplated closing the restaurant a few times over the last several years, she's afraid it would "create a desert in the community."

"Regardless of what they think of 79th Street, over this way is considered 'Mother J's Way.' This is holy ground," said Love. "They may do a little something but they know not to get out of hand because they know they have to deal with my mother. My mother loves these boys, and they love her."