ENGLEWOOD — Job seekers will be able to meet with dozens of employers on the spot at a job fair in Englewood on Thursday.
The Englewood Job and Resource Fair, from 12:30 p.m-3:30 p.m. Thursday at the Ogden Park Fieldhouse, 6500 S. Racine Ave., will bring together 33 companies and organizations looking to hire people from the community.
Employers include: Advance Auto Parts, Allegiant Staffing, Aryzta, Au Bon Pain, Building Services of America, Chase, Chicago Pit Stop BBQ, Chicago Public Schools, the City of Chicago's Department of Aviation, Cook County DuPage Transportation, Elite Staffing, Food 4 Less, Gate Gourmet, Help at Home, Imagine Englewood If, Koch Foods, Metro Staff, Inc., Midway Hotel Center, Oak Street Health, Primary Staffing, Protein Bar, RB Transportation, Reggio's Pizza, Roscoe Company, SG360 Printing, SOS Security, St. Bernard Hospital, UPS and the U.S. Census Bureau.

There will also be a youth summer job fair for teens and young adults ages 14-21 at Ogden Park at the same time Thursday.
Applicants are encouraged to dress professionally, bring a lot of resumes and be prepared to network.
"Several companies are planning to do on-site interviews with candidates, so we're going to have a separate interview room available," said Roger Engelmann, executive director of Bright Community Services, an organization that provides employment services and case management to Englewood residents.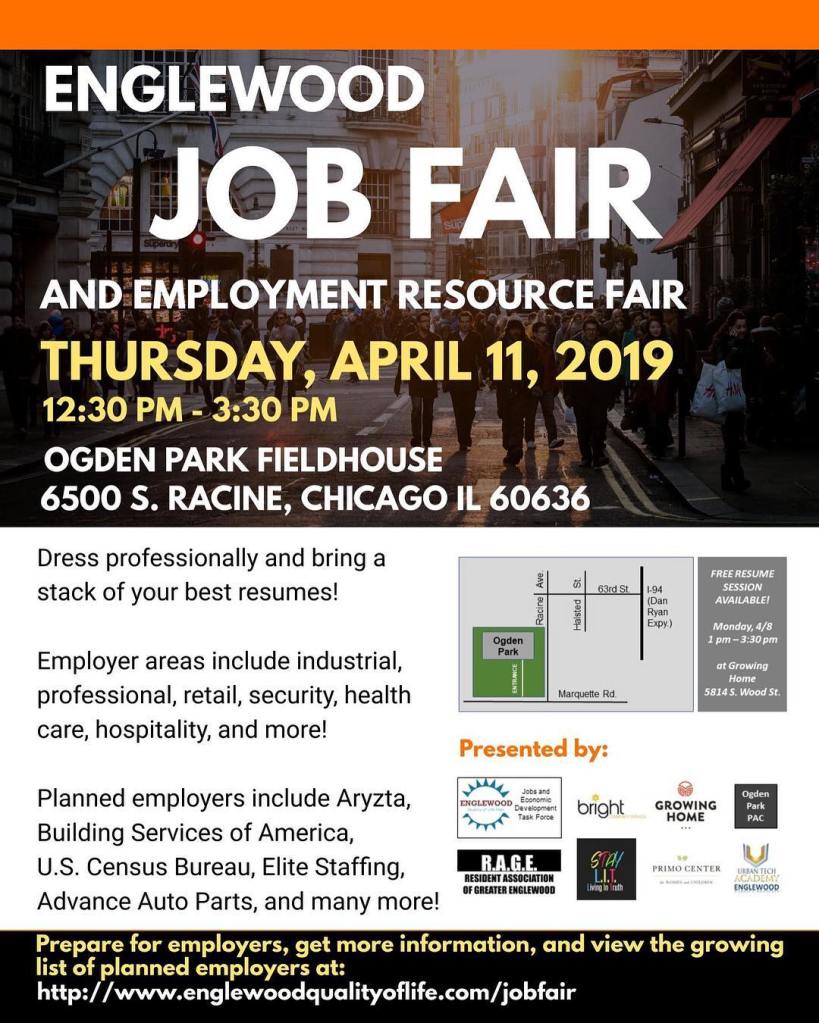 There will be 24 groups that specialize in employment resources on site as well, divided into three categories: training and placement, colleges, and entrepreneurship.
The Chicago Urban League and Growing Home, an organization that offers urban farming training, and colleges that include Kennedy-King College, Malcolm X College and the University of Illinois at Chicago will be on hand to field questions about their programs.
And for budding entrepreneurs, the Greater Englewood Development Corporation and SCORE — a mentorship program for entrepreneurs — will be at the job fair to offer advice and resources.
"We wanted to get accessible employers and boutique/ professional employers," Engelmann said. "We have everything from industrial to professional."
For more information about the job fair, visit englewoodqualityoflife.com