GREATER GRAND CROSSING — It's not easy being green.
A composting company trying to expand its efforts in the city is now locked in a legal battle with the City of Chicago, which touts its sustainability efforts but says the company is not following the rules.
The city's Department of Public Health slapped a cease-and-desist order on Nature's Little Recyclers, a composting operation with the kind of track record that had earned owners Ed and Dale Hubbard the trust of a long list of clients, including the event organizers of the Chicago Marathon.

The Hubbards received the cease-and-desist Feb. 28, to take effect March 4, for their site at 6902 S. Anthony Ave., and have complied. In summer 2018, the health department also shut down Nature's Little Recyclers composting sites at 401 N. Springfield Ave. and 4528 W. Congress Parkway for lack of proper permits.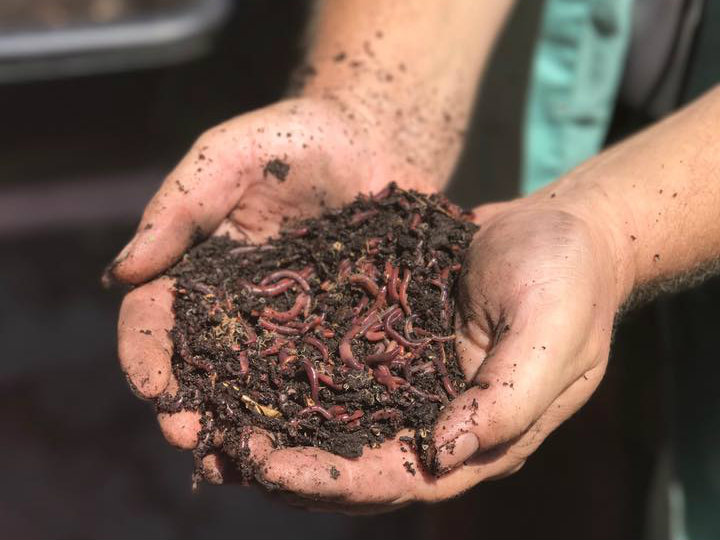 "The Chicago Department of Public Health is supportive and encouraging of composting when done the right way. CDPH is also committed to holding bad actors accountable," Anel Ruiz, spokesperson for the Department of Public Health, said in a statement to Block Club Chicago.
Complaints related to the Anthony Avenue site prompted inspections, where the lack of a permit was noted, along with odors and "conditions that provide rat harborage," Ruiz said.
"None of these operations met the criteria for garden composting or an on-site organic waste composting operation…. Further, these sites are not properly zoned for commercial composting," said Ruiz.
Ed Hubbard, who founded Nature's Little Recyclers in 2012 and runs the business with his son Dale, maintains he was caught completely unaware by the city's actions.
He knew he lacked the proper permit or zoning — that's pretty much always been the case for Nature's Little Recyclers because Chicago's city code hasn't caught up with the pace of urban agriculture innovation, said lawyer Amy Hermalik, associate director of the Institute for Justice Clinic on Entrepreneurship at the University of Chicago, which provides free legal assistance to low-income and small business entrepreneurs.
Nature's Little Recyclers specializes in vermicomposting, which uses worms to break down waste and convert it into nutrient-rich organic fertilizer for soil. (In effect, the worms eat garbage and excrete compost gold.)
In its earliest start-up days, the company occupied a few hundred square feet at The Plant, a sustainable food production and business incubator in Back of the Yards, but quickly outgrew that space.
The past few years, the company has partnered with churches and nonprofits in a mutually beneficial arrangement that works something like this: The organizations have land they'd like to convert into an urban farm or community garden, but the land isn't suitable for agriculture. Nature's Little Recyclers brings in its worms, takes on waste to feed them and the resulting compost is used to improve the site's soil.
The city was aware of those projects, according to Hubbard.
In fact, he noted, the city's Sustain Chicago website and its "Zero Waste" initiative highlight a number of companies that rely on Nature's Little Recyclers to process the compostable waste they collect from their customers, including Healthy Soil Compost and The Urban Canopy.
Another client is the Bank of America Chicago Marathon, one of the city's premier international showcases.
The event's website name-checks Nature's Little Recyclers multiple times on its "sustainability" page:
"This year's organic waste, which includes Gatorade and course water cups, banana peels, apple cores and other compostable materials, will be delivered to Nature's Little Recyclers, a local commercial worm farm, for composting. After the worms have broken down the organic materials, the resulting nutrient rich compost will be donated to our community partner, the Chicago Park District, to enrich the soil in their community gardens." [Block Club Chicago]

"We really thought we were in good," Hubbard said of the firm's wink-and-a-handshake relationship with the city.
"This has been a really rapid change," he said.
Indeed, the recycling company's Anthony Avenue site, which lies in the shadow of the Chicago Skyway, is where the marathon waste — 10 tons of it — was being composted for the Park District.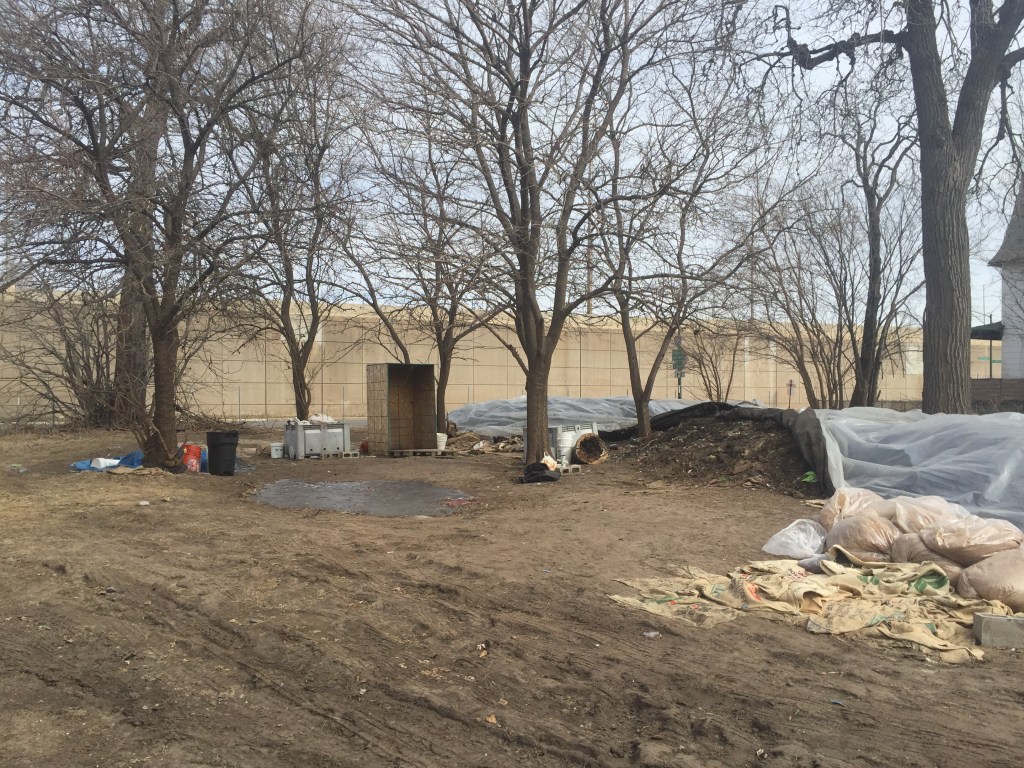 The trouble began when the Hubbards outright purchased a trio of vacant, debris-filled lots from a private seller in 2018, a departure from their prior collaborations. Their intent was to compost on-site, as they had formerly done with partners, and prep the land for prospective urban agriculture use.
Ed Hubbard admits they dropped the ball on community outreach, particularly in terms of giving neighbors a heads up that tarp-covered mounds would soon be appearing on the properties.
People began calling police, reporting dead bodies being dumped.
"Yes, that brought some scrutiny. We made a few missteps," Hubbard said.
"I think they underestimated the value of [previously] having churches behind them," said Hermalik.
Hermalik has taken on the Hubbard's case, arguing that while Nature's Little Recylclers technically broke the law, the law has not been evenly applied.
It's not uncommon for small businesses, particularly those in areas with overly broad guidelines, to operate in gray zones, she said.
The city will unofficially imply there's wiggle room, saying it only enforces certain ordinances against "bad operators," but that leaves businesses subject to shifting political winds or personal whims, Hermalik said.
"They [the city] have an incredible amount of power to do as they please," Hubbard said.
Large companies can afford to pay fines or use connections to pull strings on their behalf, options not available to small entrepreneurs and low-income owners, Hermalik added.
The primary issue for Nature's Little Recyclers is that Chicago's municipal code in regards to composting, allows for either "incidental" micro-scale operations — e.g., members of a community garden can compost on site — or massive industrial outfits (along the lines of, say, Waste Management).
There's no middle ground for a small commercial operator like Nature's Little Recyclers, which has been deemed a Class III recycler, a category that permits composting on top of collecting, sorting and processing materials such as scrap metal, glass, rubber, textiles, paper, etc.
Class III facilities are limited to heavy industrial zones, the precise opposite of the urban agriculture movement in which Nature's Little Recyclers participates.
"We've looked at manufacturing sites. Every one we've been to has been contaminated," not exactly a selling point for creating soil, Hubbard said.

With Hermalik's assistance, the Hubbards are challenging the city's citation, awaiting a court date.
In the short-term, their aim is to salvage material from the Anthony Avenue site. In the long-term, their goal is to generate support for another amendment to the city's composting regulations — one that would grant temporary permits to mid-sized operators, essentially legalizing the types of soil improvement arrangements the Hubbards had been running.
"This is a real problem that needs a real solution," said Hermalik.
"It's important that we make space for small [composters] instead of only large industrial companies," she said. "Large industrial won't look anything like Nature's Little Recyclers. It's a loss to the urban green agricultural movement."
Despite the setback, Hubbard remains committed to vermicomposting in Chicago.
"I wouldn't fight if I didn't believe in it," he said.
The company has created jobs, he said, and its worms are tackling a segment of the waste stream that accounts for 20 percent of America's landfill tonnage.
"It's a really elegant solution to a lot of problems," Hubbard said of vermicomposting. "It will transform our city…. One of the hopes is that the city will see the value."
Do stories like this matter to you? Subscribe to Block Club Chicago. Every dime we make funds reporting from Chicago's neighborhoods.