DOWNTOWN — Lori Lightfoot and Toni Preckwinkle are headed into a runoff election with one destined to become Chicago's first black woman mayor.
Lightfoot led the vote throughout Tuesday night with Preckwinkle and Bill Daley vying for second place. Daley, the son and brother of former Chicago mayors, fell behind and conceded Tuesday night, setting the stage for a faceoff between Lightfoot and Preckwinkle come April 2.
The other 11 candidates who featured in the race to replace retiring Mayor Rahm Emanuel trailed behind.
The matchup will prove historic as the inevitable winner of the runoff election will become Chicago's first black woman mayor. If elected, Lightfoot would also be the city's first openly gay mayor.
Both candidates have painted themselves as progressives who were challenging the "Chicago Machine."
Lightfoot, former president of the Chicago Police Board, said during a Tuesday speech that she and her supporters had showed the city what "change looks like." The hardships she's faced have prepared her to lead the city with compassion and integrity, she said.
"We need to continue to have this very important dialogue about this city's future, about the narrative of who we are going to be to break from the past and have a vision of the future that includes all of us in every neighborhood," Lightfoot said.
"This election was going to be about whether or not we were resigned to the status quo or if we were resolved to fight for what's right," Lightfoot said. "It's about whether we will accept only investing in the Downtown while neighborhoods cry out for attention and resources or whether we're committed to making all neighborhoods safe."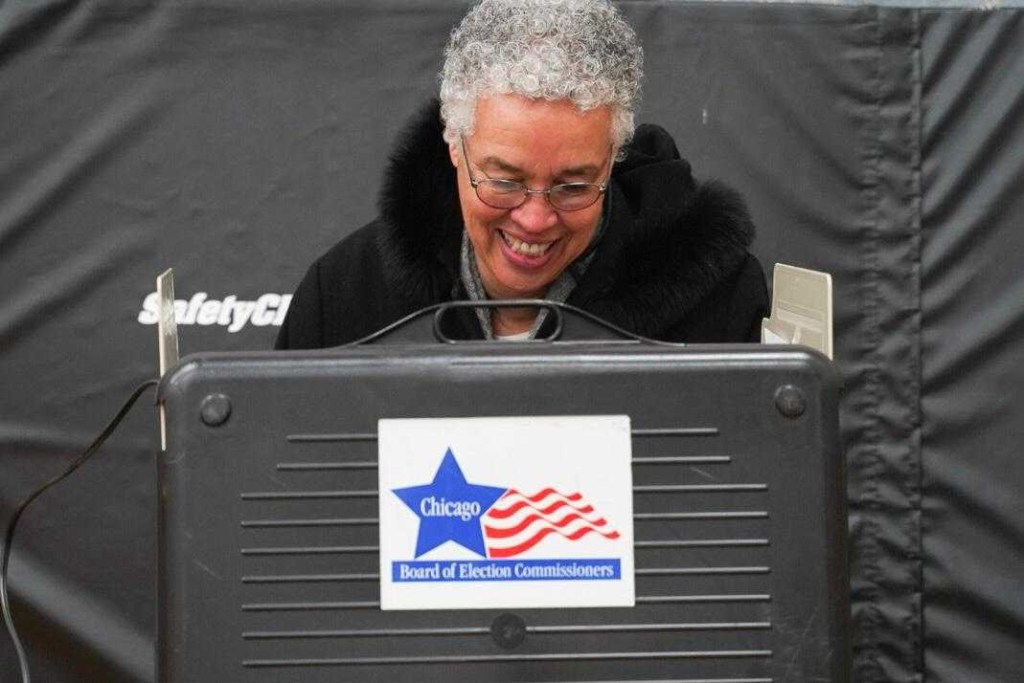 Preckwinkle touted her record as a former alderman and as the current president of the Cook County Board during a speech, saying she's fought that powers-that-be in Chicago. She wants to provide a better future for her grandkids and all children in the city, she said.
"I want to make sure they have access to a great education and real opportunities afterwards, that they're safe and happy, that they're thinking about their futures and not worried about their present," Preckwinkle said during a speech. "As your mayor, I can do something to make that hope a reality for all our children. Because this race isn't about me — it's about all of us. It's about our shared vision for our city."
Preckwinkle was considered a frontrunner throughout the election but Lightfoot struggled to gain traction at times.
At Lightfoot's party, supporter Thaddeus Walls, of Bronzeville, said he'd never felt a low in Lightfoot's campaign despite projections she might not make the runoff election.
"Going to different churches on the South Side with Lori [Lightfoot], you see that she's always the same person and she brings the same heart to church folks as she does to lawyers or policy wonks — she's real and voters saw that," Walls said as other supporters hugged, sipped beer and posed for photos with signs.
The hotly contested mayoral race marked only the fourth time in the last 100 years there's been an open race for mayor in Chicago. The only other times Chicago has had an open mayoral race in recent history were in 1943, 1947 and 2011, when Emanuel avoided a runoff and won outright in Round One.
And no mayoral race has ever been as packed as this one, which featured 14 candidates on Election Day.
"Chicago has never had an election like this," said Election Board Chairwoman Marisel Hernandez this week.
RELATED: Chicago Election Day 2019 Live Blog: Everything You Need To Know — And All The Weird Stuff In Between
The race quickly became crowded after Emanuel announced in early September he wouldn't run for re-election. Emanuel's retirement meant Chicagoans had a rare opportunity to bring new blood to City Hall.
Despite that, voter turnout was at a near-record low. Officials said they were concerned voters hadn't come out because they decided to wait to vote until the April runoff election.
In general, City Hall could look much different this spring.
Ald. Joe Moore is out in the 49th ward and Maria Hadden is in. Also out: Ald. Joe Moreno and Ald. John Arena. Moreno was defeated by Daniel La Spata and Arena by Jim Gardiner.
And then there are the runoffs. Runoffs are expected in the 5th, 15th, 16th, 20th, 21st, 25th, 30th, 31st, 33rd, 39th, 40th, 43rd, 46th and 47th wards.