LOGAN SQUARE — Saying he wasn't making any money, the owner of German beer hall The Radler recently announced his bar would be closing Feb. 24. Then, something unexpected happened: Customers flocked to the bar — in droves.
"It's been crazy. We've been doing double what we typically do. We went from doing $15,000 – $20,000 during the week to doing $35,000 during the week," owner Adam Hebert said.
Hebert was planning to close the bar at 2375 N. Milwaukee Ave. for good Sunday. But with business booming, he's now planning to keep the bar open for as long as that continues, starting Wednesday.
That could mean another two weeks of business or another two years of business — it all depends on whether they continue to make enough money to pay their bills, the bar owner said.
Hebert said while he's not out of the woods yet financially, he wants to see where this momentum takes him, and whether this could lead to a more stable financial future for the bar.
"We were minutes from declaring bankruptcy, but because we made a public announcement we've been so busy that I've made three months worth of bank payments and two months worth of rent payments. I'm still behind on payments to both parties, but it bought us [time] to keep going," Hebert said.
Hebert is making one big change: He's dedicating the back room, with frontage on Fullerton Avenue, to the German stump game sometimes referred to as Hammerschlagen or, simply, Stump.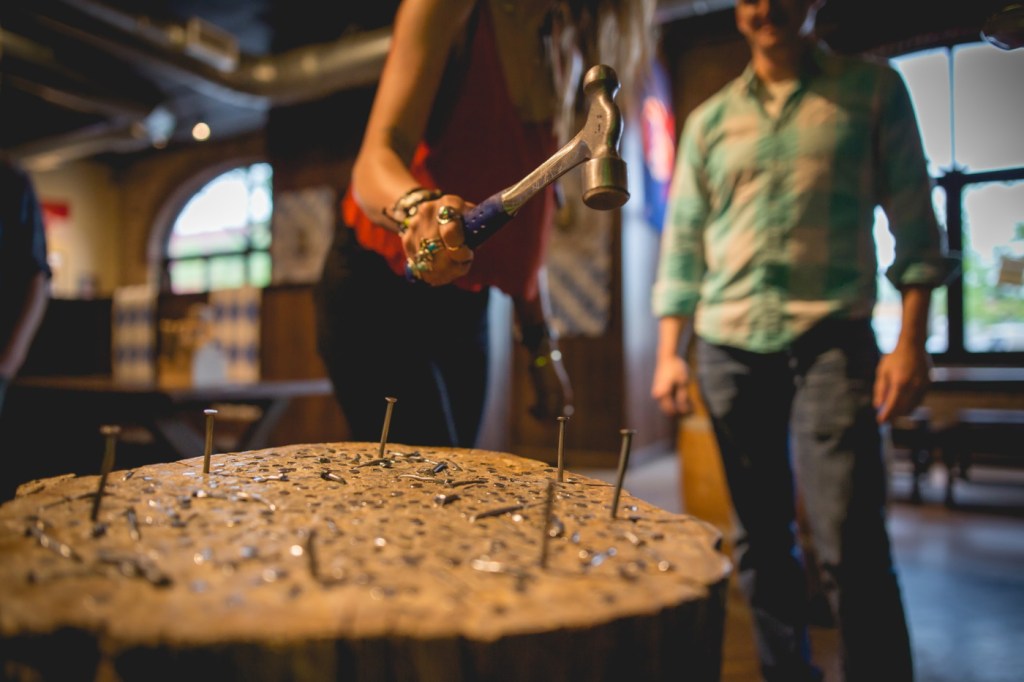 The game allows players to compete against each other by hammering each others' nails into a stump. The person whose nail is left standing is the winner.
Hebert said the game is not so much about brute strength as it is about strategy.
"It's not that the strongest person always wins. You might be really good at hitting, but if everybody else goes for you, you're done," he said.
For the last two years or so, the game was played in The Radler's main dining area. But now, with renewed confidence, Hebert is giving the game its own dedicated area, called Stump Club. He plans to have six logs, up from the three he offered before. Because it's not easily accessible from The Radler, and there's no formal bar back there, the Stump Room is only offering canned beers from a cooler right now.
Hebert tested the concept on Saturday and was pleased with the results.
"It was packed back there on Saturday," he said.
When The Radler opened in 2013, it was one of the first bars to join the now-booming Milwaukee Avenue bar and restaurant strip.
At first, it was a fine dining spot, serving German favorites like knockwurst, sauerkraut, spaetzle and black forest cake, as well as German beer. But that didn't work out, so Hebert switched gears. He took the German sausages off plates, put them into buns and lowered the prices.
Earlier this month, when news of The Radler's imminent closure surfaced, Hebert told Block Club that no amount of money could save the bar — except a full win of the lottery.
Asked about his comment, Hebert said the outpouring of support is "kind of like winning the lottery — but getting paid one week at a time."
He said the last two weeks have been two of the most fun he's had in a while.
"There's something to be said about that feeling of, 'We're just here to have fun now. We're here to have fun until the end.' So I kind of want to keep looking at that way."

Do stories like this matter to you? Subscribe to Block Club Chicago. Every dime we make funds reporting from Chicago's neighborhoods.