EDGEWATER — Candidates at a crowded aldermanic town hall agreed Wednesday night that rebuilding trust between communities and law enforcement is crucial to reform the Chicago police system and decrease police brutality and corruption.
The forum, held at Unity Lutheran Church, 1212 W. Balmoral Ave. in Edgewater, focused on democratizing police accountability and featured aldermanic candidates from the 40th, 46th, 47th, 48th, 49th and 50th wards. The wards cover Rogers Park, West Ridge, Edgewater, Andersonville, Uptown, North Center, Lincoln Square and Ravenswood.
The 13 contenders present were 40th ward candidates Dianne Daleiden, Maggie O'Keefe, Ugo Okere and Andre Vasquez; 46th ward incumbent James Cappleman and candidates Angela Clay, Marianne Lalonde and Jon-Robert McDowell; 47th ward candidates Angie Maloney and Matt Martin; 48th ward incumbent Harry Osterman and candidate David Earl Williams III, and 50th ward candidate Andrew Rowlas. Bill Morton, 49th ward candidate and Michael Negron of the 47th ward candidate were scheduled to attend but did not show up.
Moderator David Stovall, professor of African-American Studies; Criminology, Law & Justice at the University of Illinois at Chicago, started out the forum by expressing the timeliness of police accountability, referring to the Jason Van Dyke sentencing earlier this month and the acquittal of three police officers charged with covering up the Laquan McDonald shooting.
"The people who are victimized by what police are trained to do are rarely provided justice in those instances," Stovall told the audience. "Remember, Jason Van Dyke was convicted of shooting Laquan McDonald too many times, not for shooting him."
The discussion centered around a Civilian Police Accountability Council (CPAC) ordinance, which the City Council rejected last year but has received majority of aldermanic candidate support, according to the Chicago Alliance Against Racist and Political Repression, which championed the ordinance introduced by Ald. Carlos Ramirez-Rosa (35th).
Ald. James Cappleman (46th) — who was booed twice from the audience during the hourlong forum — and Ald. Harry Osterman (48th) said they do not support CPAC but all other speakers were in favor of the ordinance. Under the proposed ordinance, elected community members can appoint or terminate the superintendent, have the authority to train officers and remain independent of Chicago Police Internal Affairs. Osterman is in favor of Grassroots Alliance for Police Accountability (GAPA), which he introduced and got support from former police board president and Police Accountability Task Force leader Lori Lightfoot, now running for mayor.
Transparency and Accountability
Many candidates argued that the CPAC is part of the solution to police oversight but should be balanced out with other changes. 40th ward candidate O'Keefe, a small business owner, said negotiating police contracts so that taxpayers do not pay for police misconduct and holding them accountable would be progress.
"We are looking at another decade, if not more, of payouts to families for reparations," O'Keefe said.
Vasquez, another 40th ward candidate, said he also supports CPAC as half of the solution that can help break the corruption of the police system and fix discrimination toward black and brown people. As someone who has been racially profiled and arrested, he said he understands the reality that many African Americans and Latinos live in.
"As a kid, when I was a hip hop artist, I could not hang out at the Taste of Chicago or Navy Pier; you would be kicked out," said Vasquez, a marketing manager, civilian facilitator for CAPS and a Chicago DSA member. "We have seen too many black and brown lives being killed, arrested and put into a system we can't come out of."
Pro CPAC candidates, including Lalonde of the 46th ward, said they hope it will decrease wrongful murders of black and brown people and be part of a checks and balances system that will elect officials who will do the job right.
Candidate Clay of the same ward said the only way she sees this happening is with accurate representation on the council.
"It would reduce wrongful deaths if we make sure that African American men and women were actually elected on that board," said Clay, a 25-year Uptown resident. "If we don't have anyone that looks like us and knows the struggles of what it means to be a person of color in this city and country … we have to make sure we put those people in power."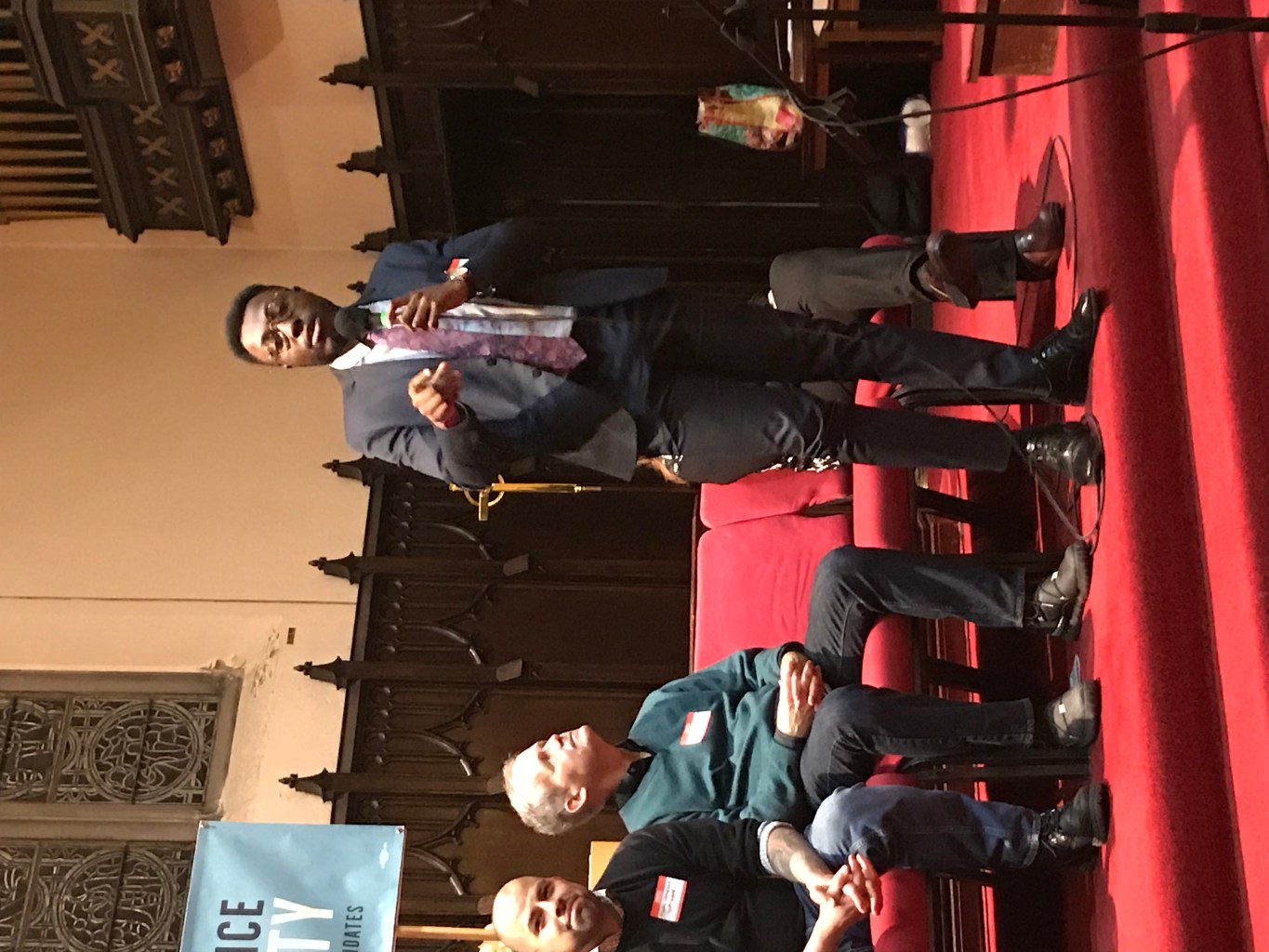 Okere, also a DSA member, said having an elected police accountability system would break the tradition of police officers getting off easy for wrongful killings. Like Clay, he stands up for black and brown communities and said the CPAC can break the cycle of institutional policing that has historically given little to no consequence to Chicago police officers.
"What an elected board does, is say, the moment you kill black and brown people in the street, you get locked away for the rest of your life," Okere said. "Putting that lever of force and pressure onto police officers will show them, no you can't get away with this, that the community will hold you accountable."
Rebuilding Trust With Police Officers
It's old news that some Chicagoans do not feel safe around police officers, especially in the city's most violent neighborhoods. Candidates agreed that strengthening trust and humanizing police officers can improve community relations and safety within wards, adding that the accountability system can contribute.
Ald. Osterman said police need to have longterm relationships with their community and act as guiding voices to give local input. He said creating trust takes a long time but is done with local events, community partnerships and in schools.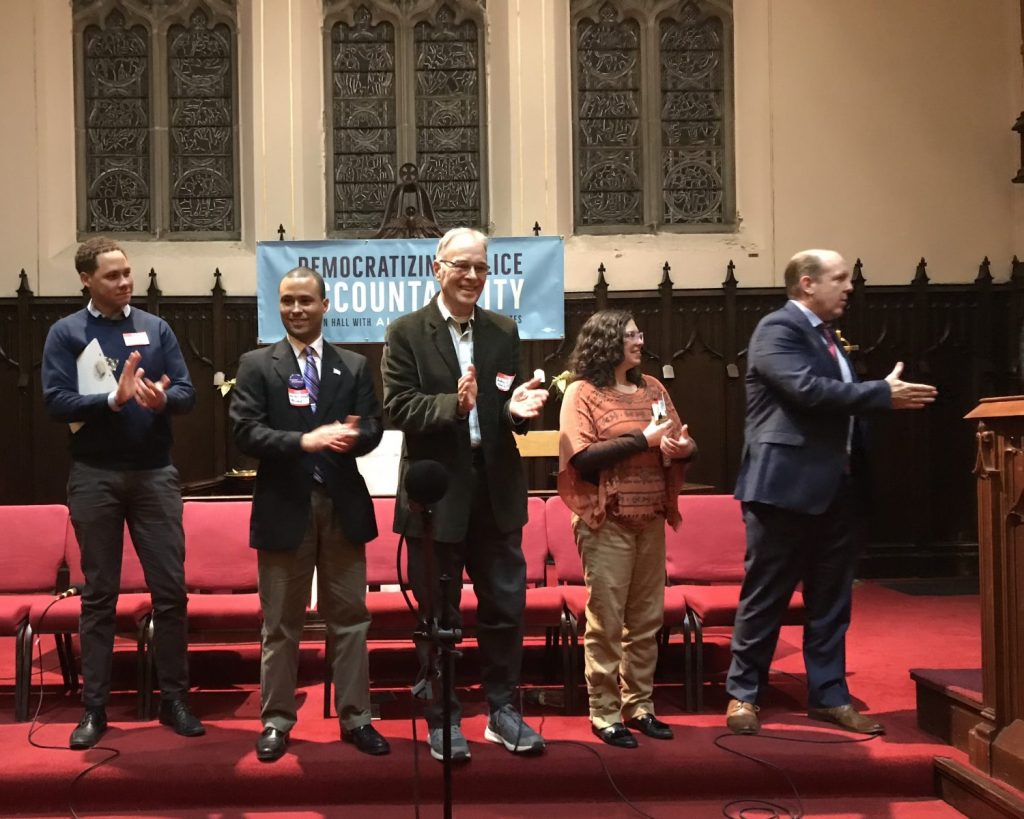 "The kids on the street need to have a comfort level and look up to the police officers and be willing to trust them," Osterman said.
50th ward candidate Rowlas said in addition to trust, communication with police for immigrant residents — especially if they do not speak English — is essential to making them feel safe and part of the community.
Jacques Rivera was wrongfully convicted by the police department and spent 23 years in prison before being released in 2012 after a key witness recanted his testimony. Rivera, who lives in the 49th ward in Rogers Park, is now a spiritual and motivational speaker at Northwestern University. He asked the candidates if a CPAC will reduce police corruption. Respondents all answered hopefully, relaying the same points about transparency and accountability.
He later said he was unconvinced about the answers he received. Ultimately, he said, the responsibility lies on City Council to do their job well and eliminate corruption so people like him are not wrongfully convicted and eaten up by the criminal justice system.
"It's going to take some time for me to trust them again," Rivera said. "I don't trust the Chicago police."
What's next for CPAC?
Collaboration and communication in creating an effective ordinance all of City Council can get behind, as well as electing "courageous alderman" will see the bill on the floor, Lalonde said on the future of the ordinance getting passed.
Many stressed the opportunity for new, diverse City Council members and a new mayor to get ordinances like CPAC running again.
"There is no greater time than now to get the ordinance passed — it is right now," Clay said.
Vasquez noted it would take 27 votes to get the ordinance passed and compared it to the Police Academy vote, which received 39 "yes" votes and 2 "no" votes.
The town hall was presented by the Chicago Alliance Against Racist and Political Repression, Anakbayan, Chicago DSA, Black Lives Matter Chicago, the Chicago Committee for Human Rights in the Philippines (CCHRP), Chicago Boricua Resistance, and Showing Up for Racial Justice (SURJ).