HUMBOLDT PARK — With Humboldt Park "on the cusp of major changes," Ald. Roberto Maldonado (26th) is taking legislative steps he says will preserve the neighborhood's rich Puerto Rican culture while also spurring economic growth.
However, little is known about the second part of Maldonado's two-step plan — and it's causing some tension in the neighborhood.
This fall the Humboldt Park alderman brought a resolution to City Council in which he called for the extension and renaming of the neighborhood's most culturally rich corridor: The commercial strip of Division Street between Western and California avenues known as "Paseo Boricua."
The legislation, which was adopted the same day it was introduced on Oct. 31, essentially adds about one mile to Paseo Boricua — all under a new name.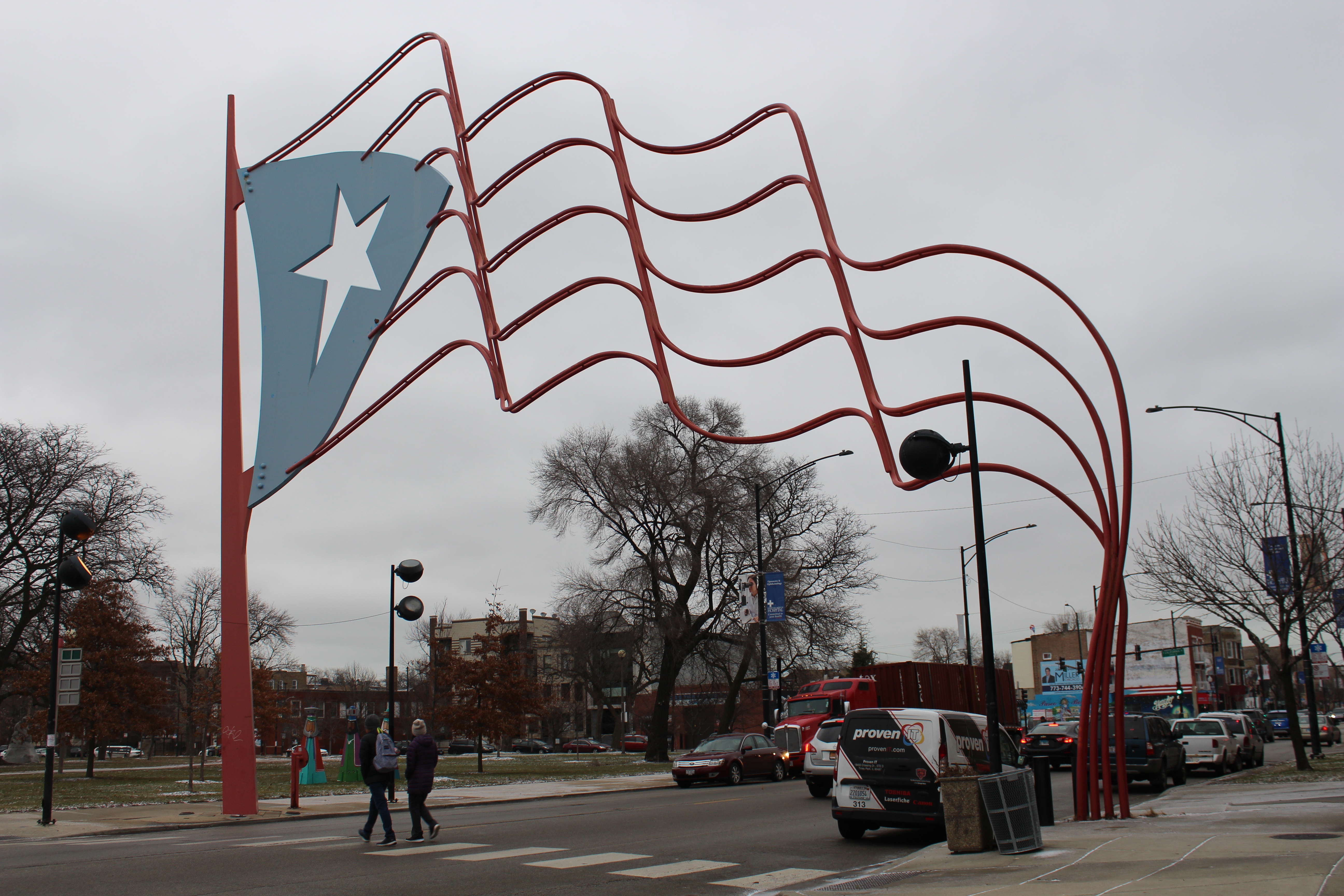 Division Street from Western to Grand avenues will now come to be known as "Puerto Rico Town," according to the new resolution. 
"Paseo Boricua truly exemplifies the Puerto Rican heritage and is well known as the city's destination of choice for Puerto Rican food and rich cultural traditions," the resolution reads. "Paseo Boricua along Division Street, between Western and Grand Avenues, shall also be forever known, and locally, nationally, and internationally officially recognized as the City of Chicago's 'Puerto Rico Town.'"
The second part of Maldonado's plan is to eventually convert the entire stretch into a "special purpose district," but it's unclear exactly what that would entail.
The resolution makes no mention of creating new taxes like a Special Service Area, or SSA, which levies a special tax on property owners for communal services like snow removal.
Instead, it provides a vague description of what the district could do.
The district would "constitute a 'cultural sanctuary'" and "allow for a process to involve the community in the prioritization and allocation of investments in existing and new businesses, art and culture that both preserves the community's unique identity and create jobs and a strong economy," according to the resolution.
Maldonado's chief of staff, Kathleen Oskandy, said the alderman was unavailable for an interview Wednesday. Oskandy didn't immediately answer further questions.
City officials didn't return messages Wednesday either.
According to Jose Lopez, executive director of the Puerto Rican Cultural Center, the "special purpose district" will function like a historic district. He said it will bring outside financial investment to the community that isn't otherwise available.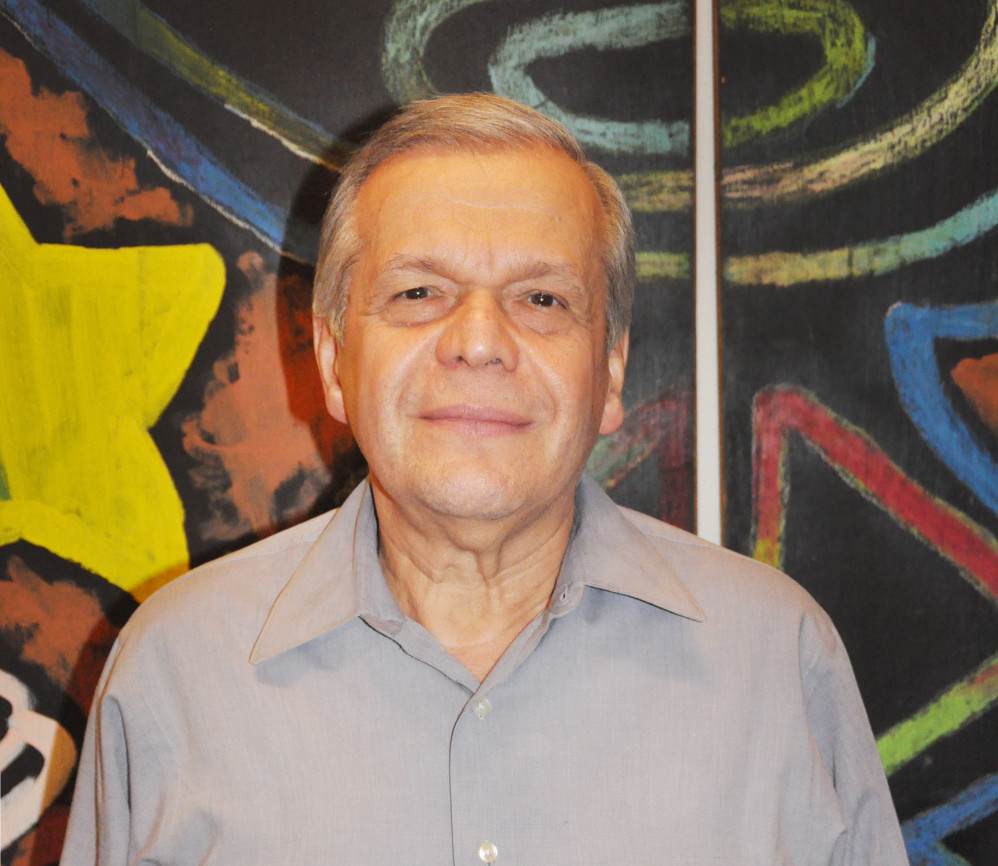 "We're not talking about a special district that raises taxes. We're talking about reframing the way people think about gentrification," Lopez said.
Lopez, long considered the neighborhood's unofficial community leader, said the resolution was crafted by community leaders at a neighborhood housing summit held in June. The summit brought together more than 300 developers and housing advocates from organizations like LUCHA, Bickerdike Redevlopment Corp. and Hispanic Housing Development Corp., to name a few.
"It's not [Maldonado's] resolution. It's the community's resolution," Lopez said.
Paseo Boricua, as it has been known, is home to the highest concentration of Puerto Rican restaurants and businesses in the city. It's also where the neighborhood's annual Puerto Rican Parade is held.
But compared to other pockets of the gentrifying neighborhood, some locals say the stretch has become stagnant in recent years.
In the resolution, Maldonado said he's hoping to "create a balance between preserving community character and affordability and future economic growth" at a time when "the cultural integrity of the community is being heavily challenged by the process of gentrification."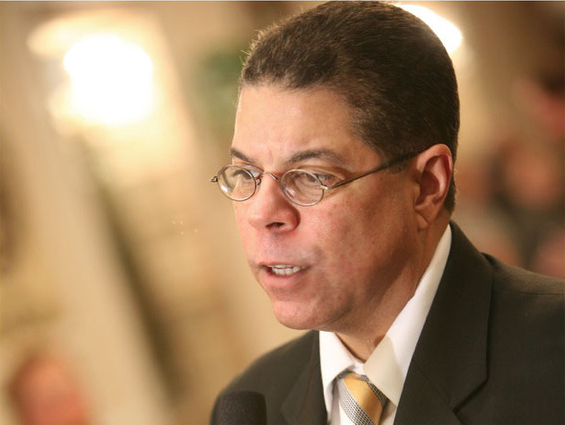 Maldonado's plan is drawing criticism from some neighbors including Kurt Gippert and his wife, Maria Paula Cabrera.
The couple recently launched an online petition, gaining more than 350 signatures as of Wednesday, in which they slam Maldonado for the resolution, saying it will surely lead to a property tax increase, though it is unclear if that will actually happen.
Referencing TV host John Oliver's definition of special districts, the couple argues Maldonado's district will "eliminate community oversight" and allow for "almost anything" to be built there. 
They also take issue with the fact that the district cuts through the neighborhood's namesake park.
"We do not think that any revitalization attempt of the 2400W-2800W stretch of Division known as the Paseo Boricua should come at the cost to the community of establishing a Special District corridor cutting a half mile through our beloved Humboldt Park, and another half mile through our neighborhood to Grand Ave.," the couple wrote.
"None of us should have to give up our property rights, our right for self-determination, our identity or our right to have our voices heard or to have a say in what occurs in our neighborhood."
Lopez, however, called the couple's petition "a whole bunch of baloney." There is also no evidence that the resolution would lead to any limitations on homeowners or impact the park itself in any way.
"They've politicized this by saying it was a Maldonado resolution. What a stupid idea," he said, adding later that it was crafted democratically.
Lopez said these were ideas he and other community leaders had been talking about for years. 
"First and foremost for me, [the resolution is meant to] acknowledge that there is a place in Chicago whose history was shaped by the Puerto Rican presence. And that it's recognized," Lopez said.
Yet Cabrera, one of the authors of the petition, said she's not convinced taxpayers won't be burdened.
"The fact that we have been excluded from this process, it's hard to take anybody's word," she said.
Community leaders will soon begin putting up "Puerto Rico Town" banners and signs along Division Street, according to Lopez.
Lopez said the "Puerto Rico Town" name won't replace the Paseo Boricua moniker — instead, it will formalize it. He said the stretch between California and Western avenues was informally dubbed Paseo Boricua, which loosely translates to Puerto Rican walkway, the same day the iconic steel flags went up in 1995.
Asked why the cultural corridor was extended, Lopez said Puerto Rican influence doesn't stop at California Avenue.
"It really should be extended to Pulaski [Road] because, historically, the Puerto Rican community extended from Noble [Street] and Division [Street] all the way to Pulaski," he said. "This is how huge the Puerto Rican community was."
"We want to do something that extends the area beyond the flags so we have a place that people can see. We need to recognize [the culture], encourage it and develop it further."
Do stories like this matter to you? Subscribe to Block Club Chicago. Every dime we make funds reporting from Chicago's neighborhoods.