CHICAGO — A ballot question asking if Illinois should repeal its ban on rent control got more than 50 percent "yes" votes in the three wards it was asked Tuesday.

Early results from the Chicago Board of Election Commissioners show with 96.77 percent of the vote counted in the 35th ward, 71.59 percent of 12,081 voters said they were in favor of lifting the ban.
In the 46th ward, with 97.50 percent of the vote counted, 70.62 percent of 20,720 voters also said they were in favor of lifting the ban.
And in the 49th ward, with 100 percent of the vote counted, 66 percent of 16,643 voters said they were in favor of lifting the ban.
The wards that voted on Tuesday include all or parts of Rogers Park, Uptown, Albany Park, Irving Park, Avondale, Logan Square and Lakeview neighborhoods.
The rent control question is a "non-binding referendum," which means the results won't directly overturn the Rent Control Preemption Act that went into effect back in 1997 thanks to the lobbying of realtors. But it does show city and state officials during election season what Chicago voters in those wards think about introducing rent control into Illinois.
Lillian Osborne, field director for Ald. Carlos Rosa (35th) and member the Democratic Socialists of America, said the vote shows Chicagoans want a say over what happens in their communities. 
"Logan Square is ground zero for gentrification and displacement in Chicago, and residents there and in the surrounding neighborhoods gave a resounding yes for rent control [Tuesday]," Osborne said. 

Tuesday was the second time this year a question on rent control has been on a ballot. In March, a question about repealing the state's ban was posed to voters in the 3rd, 4th, 5th, 7th, 12th, 22nd, 25th, 27nd, 33rd and 36th wards. After the votes were tallied, 75 percent of voters in those wards also said they were in favor of lifting the state's ban on rent control.

Ahead of the vote, Osborne said groups like Rogers Park Builders Group were working to convince people in the 49th ward to vote in favor of keeping the ban on rent control with a "intense campaign" ahead of Tuesday's vote.

The group was founded in 1993 by by real estate professionals, independent property owners and financial institutions "to help the community realize its potential," according to their website.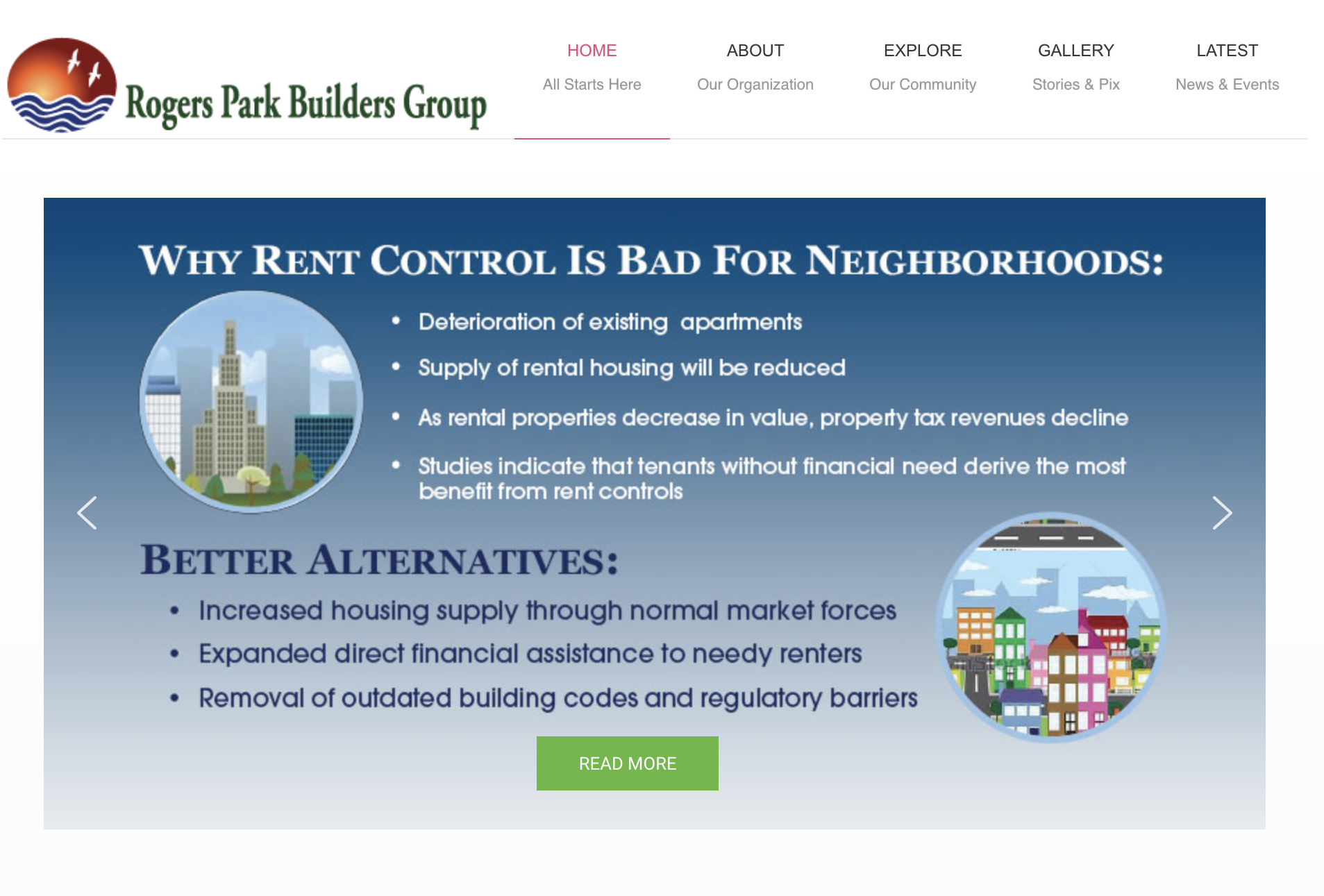 One of the resources the Rogers Park group has on its website is an article from the National Multifamily Housing Council, another development group, titled "The High Cost of Rent Control." This article argues rent control would reduce property tax revenues because investment capital would be driven "out of the rental market and into other more profitable markets" and that the cost of implementing rent control would "fall disproportionately on the poor."

And on Oct. 25, the group promoted a Rent Control and Affordable Housing Forum at Truman College, 1145 W. Wilson Ave., for "a discussion on the pros and cons of rent control, and to learn more about affordable housing" that included  State Sen. Heather Steans, State Rep. Kelly Cassidy and State Rep. Greg Harris.
On Wednesday, Mike Glasser, president of the Rogers Park Builders Group, said an advisory referenda like this one "is unprecedented for us."
"Over 70 percent of the residents in Rogers Park are renters, who naturally are receptive to the notion that their rent should be capped," he said. "But how many people had time and the willingness to probe deeper and truly understand the unintended consequences of rent control?"
"All that being said, we recognize there are substantial issues in Chicago with respect to housing affordability and that more and more people are rent burdened than in the past," Glasser added. 
Also on Tuesday, Chicago had 843,085 voters, or 56.08 percent, head to the polls, according to unofficial results from election commissioners. While vote by mail ballots still need to be tallied, commissioners said as of 8:33 p.m. on Tuesday Chicago had its best midterm turnout in 32 years.

Osborne said the group will now lobby state senators like State Senate President John Cullerton to approve SB3512, which would reverse the ban on rent control while also putting into place a County Rent Control Board in every county in the state. 

Do stories like this matter to you? Subscribe to Block Club Chicago. Every dime we make funds reporting from Chicago's neighborhoods.