CHICAGO —  Folks who can't hear what their Tinder date is saying over the blaring music at a burger bar can now whip out their iPhones and warn others to find a quieter place for a conversation.
SoundPrint, described as a "Yelp for noise levels," allows users to find and rate restaurants, bars and cafes based on noise levels.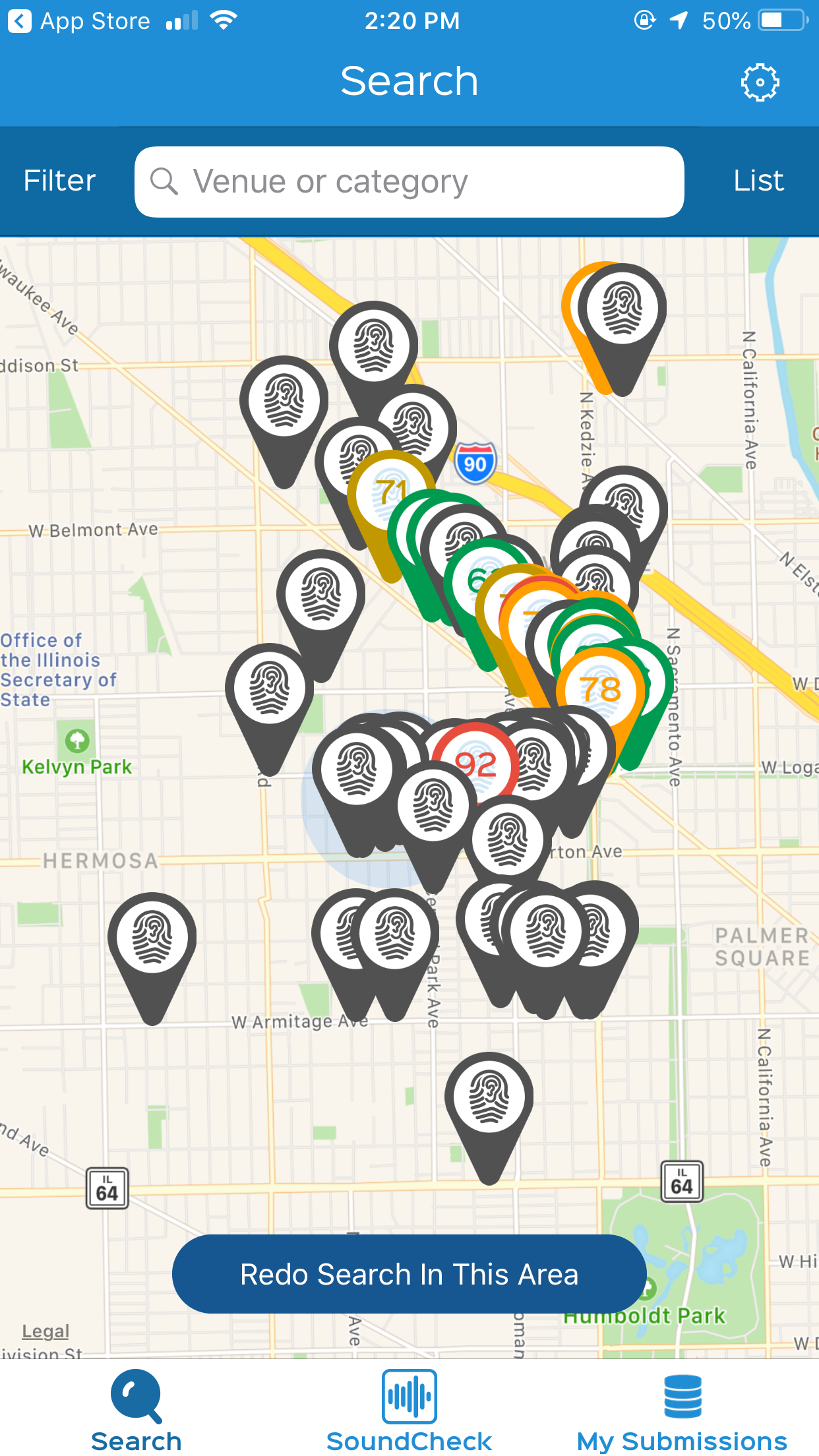 Founded by Gregory Scott, SoundPrint launched last year, initially just in New York City where he lives. In a Q&A on the app's website, Scott said the idea for SoundPrint came about as he was dating.
"As someone with hearing loss, finding a quieter venue is very important," Scott said. "And searching for quiet spots on Google, Yelp and other websites was not fruitful, as their ratings are subjective (whether the reviewer thinks the place is quiet or loud) and often unreliable. Many times I would go to a supposedly quieter venue and the place would be very loud, which often resulted in having trouble connecting with my date."
Scott began using decibel meters out of curiosity to measure various venues, and when he found a quiet spot, he would measure it. This resulted in a list of quiet venues that he shared with others, whether they had hearing loss or not.
Since so many other people were interested in Scott's New York City list, he decided to create the SoundPrint app and expand its reach. The crowdsourced database currently totals more than 30,000 noise level submissions in 12 cities and it recently expanded nationwide on iPhones (an Android version of the app is not available).
The SoundPrint app includes a built-in decibel meter, so users can measure the noise level of a venue and submit the results or "sound checks" to the SoundPrint database, as well as leave detailed comments about the venue.
The app rates sound levels within four categories: Quiet, Moderate, Loud and Very Loud.
Establishments in the Chicago area have garnered more than 550 submissions at more than 450 venues, according to a SoundPrint spokeswoman.
In Wicker Park, SoundPrint app users performed three sound checks at The Wormhole, 1562 N. Milwaukee Ave. The cafe averages 66 decibels of sound, earning it a "quiet" rating, while nearby Links Taproom, a beer bar at 1559 N. Milwaukee Ave., got a "very loud" label of 89 average decibels based on two sound checks.
According to SoundPrint, 81 decibels and above are considered "unsafe for hearing health + not conducive to conversation," while 70 decibels and lower are considered "safe for hearing health + conducive to conversation."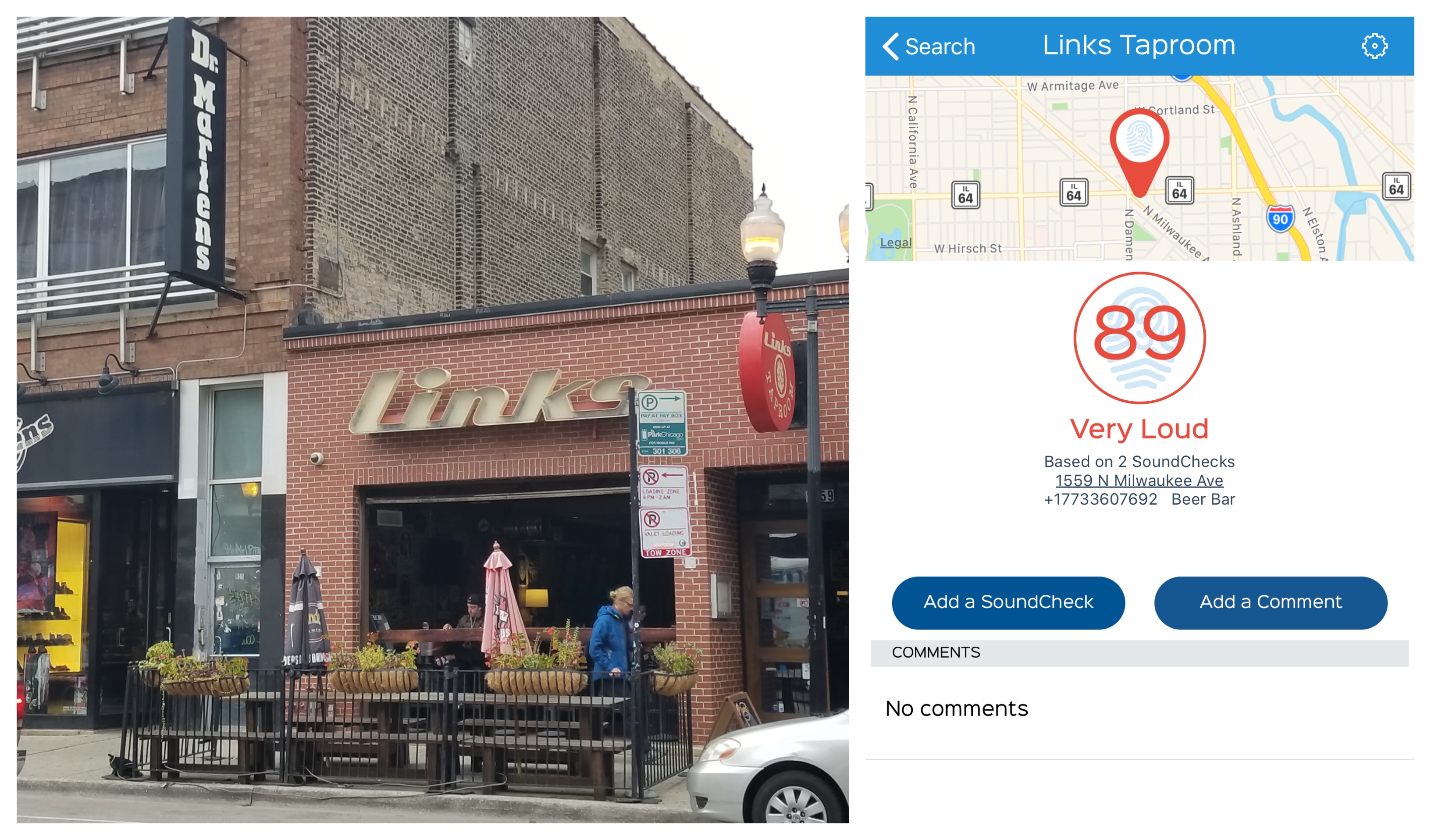 In Logan Square, Gaslight Coffee Roasters, 2385 N. Milwaukee Ave. was labeled the quietest spot in the neighborhood and Park & Field, a sports bar with a large patio at 3509 W. Fullerton Ave., was ranked the loudest, according to the app.
Anne Shirley, a barista at The Wormhole, was unaware of SoundPrint and said she thinks it's somewhat "curious" that the coffee shop is considered quiet.
"On weekends it's not quiet, it's very busy and full. In the mornings, it's chill and quiet though," Shirley said.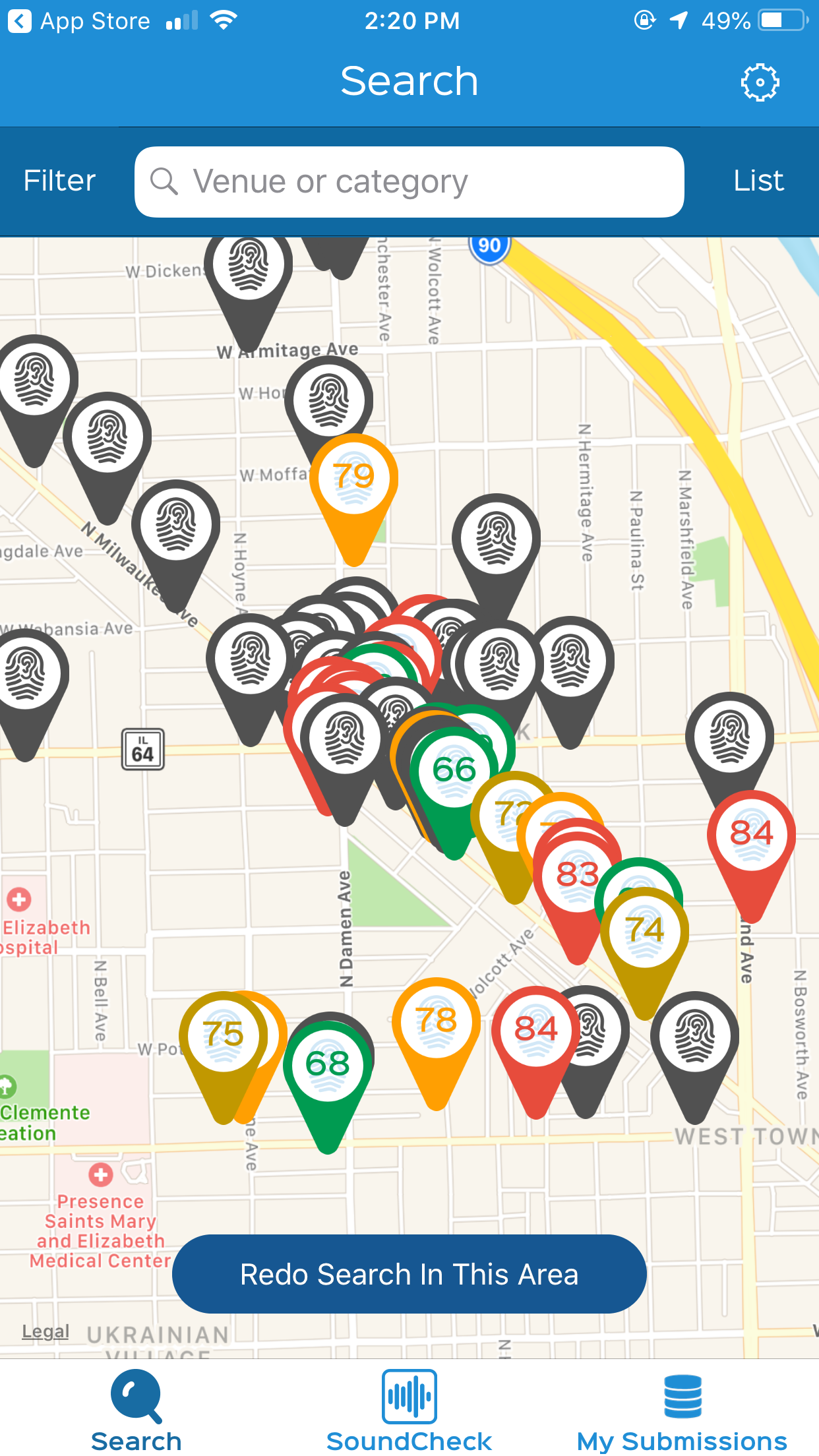 Benj Kanters, a sound engineer and associate professor at Columbia College, served as a consultant to Scott during the app's creation.
Kanters, who teaches recording, audio theory and hearing, encourages his students to try SoundPrint.
"I tell kids it's a great app to have on their phone, everyone needs to know about sound levels. To be able to make an average reading is an important way to understand risk [to hearing]," Kanters said.
Though he does not use the SoundPrint app actively, Kanters said he will on occasion use the app to see a restaurant's average volume to determine whether or not he will go.
"I love what SoundPrint is doing. At least 50 percent of people I talk with say they hate noisy restaurants," Kanters said. 
From the crowdsourced submissions so far in Chicago, a SoundPrint spokeswoman provided the following list of restaurants that were rated the most quiet based on average decibels. 

Most Quiet Restaurants Based on SoundPrint Users: 
Acanto wine bar (Wine bar, Italian, $$$, The Loop)
Amarit Thai (Thai, $$, Printer's Row)
Anatolia Turkish Kitchen (Turkish, $$, Lakeview)
Blue Door – Outside Area (American, $$, North Side)
Cafe Spiagga (Italian, Wine Bar, $$$, North Side)
Catch 35 (Back area is quieter) (Seafood, $$$, The Loop)
Everest (French, $$$$, The Loop)
Grandee Cuisine (Dim Sum, $$, Near North Side)
GreenTea Japanese (Japanese, $$, Lincoln Park)
Hema's Kitchen (Indian, $$, Lincoln Park)
Joys Noodle and Rice (Thai, $, Lakeview)
Krungthep Thai (Thai, $$, Lakeview)
Khyber Pass (Indian, $$, Boystown)
Les Nomades (French, $$$$, River East)
Markethouse (American, $$, River East)
Meli cafe (American, $$, Printer's Row)
Red Lion Pub (Pub, $$, Lincoln Park)
Spiagga (Italian, Wine Bar, $$$$, North Side)
Tanoshii Sushi Mike (Japanese, $$$, West Loop)
Trattoria No. 10(Italian, $$$, The Loop)