WICKER PARK — Chicago-based Belmont Bank & Trust plans to open a Wicker Park branch at the base of a new 3-story building at the Division and Damen intersection. 
"We are excited and think it's a great neighborhood. We are locally owned and operated and focus mainly on the city of Chicago," said William McCarty, president of Belmont Bank & Trust.
Construction on the bank branch's interior started late last week, McCarty said. If everything goes as planned, the branch will open by the end of this year at 1205 N. Damen Ave. and employ up to eight people.
The bank will rent a 2,500-square-foot corner section of the building. Its windows will face both Division and Damen.
McCarty said at least three other retailers will be joining the bank on the first floor of the building. A listing for the first floor of the building on LoopNet shows there are three available retail spaces offering up to 7,398 square foot. The listing bills the spaces as "an opportunity to claim the highly trafficked corner of Division and Damen."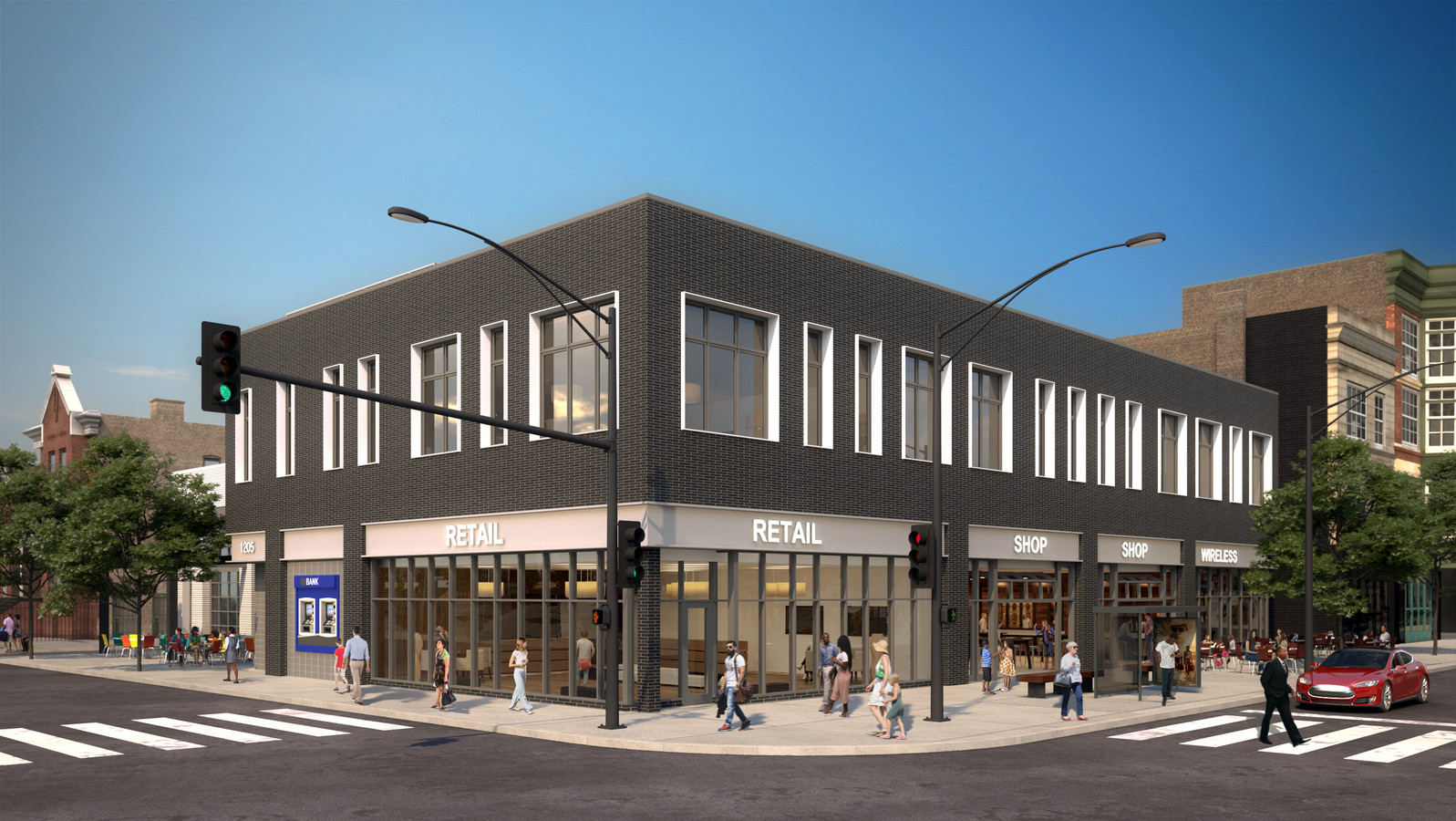 There will be two residential units above the shops, according to a new construction permit for the building issued in the fall. A revised permit issued in March to reduce the size of the units above the retail does not specify if the spaces will be condos or apartments. The owner of the building, Paul Utigard with Newgard Development, did not return a request for comment on Monday.
Launched in 2006, Belmont Bank & Trust was founded by a group of investors who wanted to establish a community bank that would create value for the businesses and neighborhoods for which it serves, according to its website.
"We focus on being conservative and are financially strong," McCarty said.
The bank puts a strong focus on small businesses and lends money to developers to finance multifamily buildings but it also offers products and services for individuals too, McCarty said.
There will be an ATM access on the exterior of the bank and a night drop for deposits.
Belmont Bank & Trust currently operates two other locations — its headquarters at 8250 W. Belmont Ave. in Dunning and a branch at 121 W. Wacker Drive in The Loop. Wicker Park will be home to its third branch.  
The new entry to the northeast corner of Damen and Division — at the site of a demolished Shell gas station — means that three of the four corners of the intersection will be anchored by banks when Belmont Bank & Trust opens.
The intersection is also home to branches for Byline Bank, at 2000 W. Division St., and Chase Bank, 1959 W. Division St.
Ald. Joe Moreno (1st) said he welcomes the new bank to the corner.
"Banks that are locally owned and operated should have our support," Moreno said on Monday.