PULLMAN — Nearly 200 volunteers — including former U.S. Education Secretary Arne Duncan — descended on a decaying Pullman playlot Friday to revive it for neighborhood kids.
And thanks to the work, people like Jestine Gardener of the 10400 block of South Corliss Avenue, will have a new place for her grandchildren to play.
The renovated playground at 10440-10444 S. Corliss Ave. is going to make the neighborhood a better place, she said.
"I'm just overwhelmed with the park," Gardener said.
The playground project's origin came when two neighborhood gangs decided to lay down their arms in an effort for lasting peace. 
In just half a day, a collaborative effort transformed the park. The Chicago White Sox; Chicago Park District; Chicago CRED (Create Real Economic Destiny), an organization whose mission is to provide at-risk young men with job opportunities in an effort to end violence; KaBOOM!, a national non-profit dedicated to giving kids safe places to play; and engineering firm F.H. Paschen teamed up to make the playground possible. 
It took us about a year to get buy-in from both sides who were having this dispute, said Curtis Toler, director of outreach for Chicago CRED, who emphasized all sides made a commitment to peace. The Tribune reported that the move forward began when a member of the Risky Road gang faction rang a neighbor's doorbell — who is a Chicago police detective — and said he was tired of the decades-long fight between his crew and the Maniac Fours faction.
"Some guys just came together and said they wanted change not just for themselves but for their sons and their kids and their brothers and sisters and also for the elderly people as well," Toler said.
Ald. Anthony Beale (9th) said the playground project was a "re-adopting" of a playground from years ago. 

"This is not new, we are just reinventing it, putting it back together, so the community can utilize it once again," Beale said.
Arne Duncan — the former U.S. Education secretary and CPS chief — called the gesture between the young men "beautiful." Duncan, who is managing partner at CRED, which he helped create in 2016, proposed transforming vacant lots across the city into playgrounds. 
"This is just a beautiful dream coming true and we're excited to give kids their childhoods back to just make it safe for kids to play again," Duncan said.
The more than 2,900-square-foot playground now has two slides, a clubhouse for 5 year olds, four swings and more.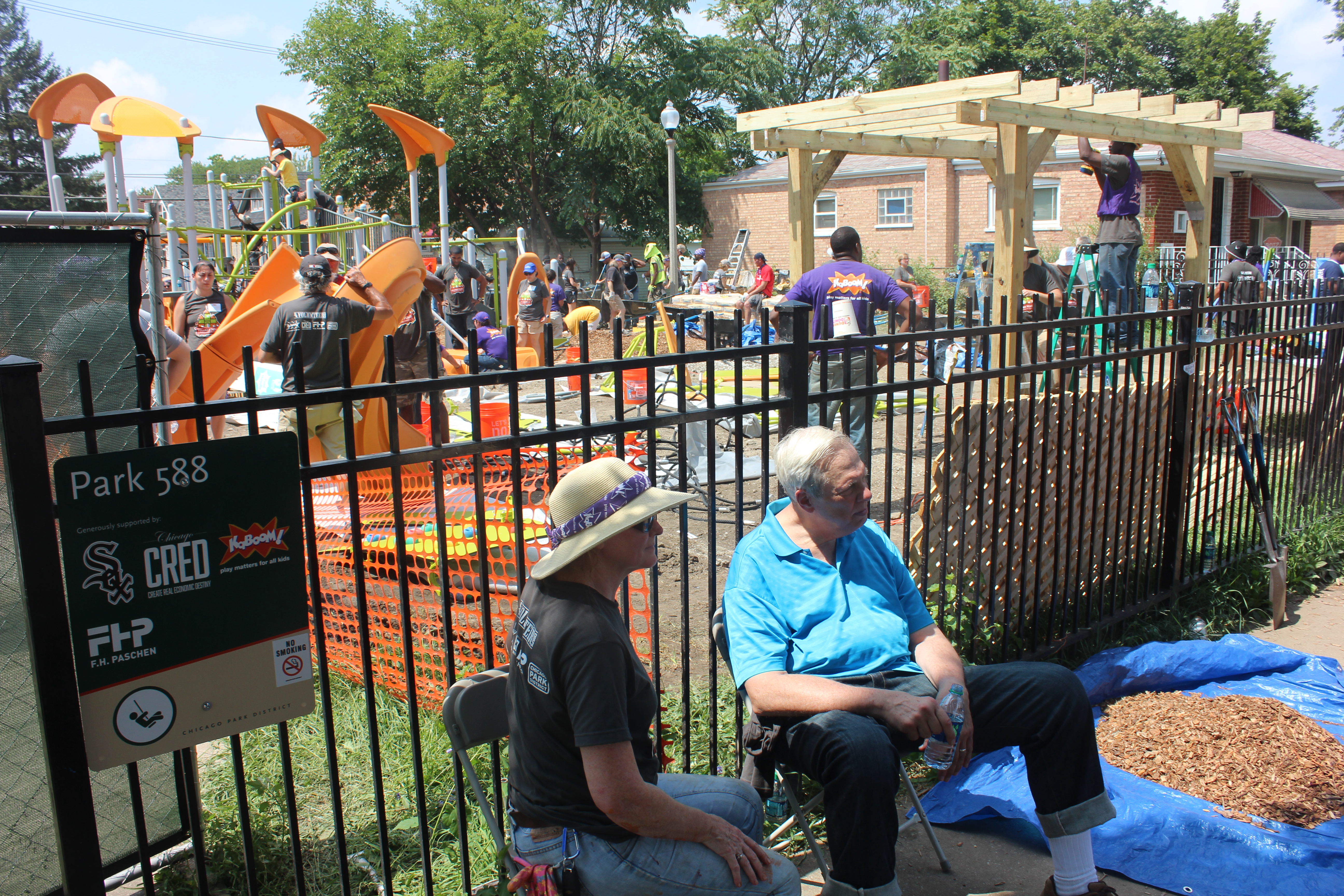 Derrick Dixon, an associate project manager at KaBOOM!, said community volunteers painted new signs, spread mulch and assembled playground equipment.
"We want to limit pockets of danger on some blocks so what we try to do is really get communities to buy into the playground," Dixon said. "So after we are gone, the community has put their heart, sweat and tears into something they really wanted to see and they will take that much more care of it."
Dixon estimated more than 400 neighborhood kids would benefit from the refurbishing of the playground.
This is the third playground that's been recently remodeled thanks to a partnership between the White Sox and KaBOOM!.
"We are honored to be a part of this project to help build the dream playground for the youth in Pullman, while also contributing to innovative solutions that help bring community members together and invest in Chicago communities that need it most," said Christine O'Reilly, White Sox vice president of community relations, in a statement. 
Roseland native Michael Reed, Jr., 22, is a labor apprentice of FH Paschen, the construction company working on the 95th Red Line terminal.
"Just to see so many organizations out here believing in the youth… they gave me a chance to do something positive so to have all of these people put you in a positive direction it's God, really, it feels good at the same time," Reed said.