MCKINLEY PARK — When Angie Robertson and her dog want to get some off-leash time with other dogs, they have to get in the car, leave McKinley Park and head Downtown or to the North Side.
And when Bobby Loncar's two dogs, Rudy and Dobby, needed to stretch their legs, they had to leave East Side for dog parks in Highland, Ind. or south suburban Tinley Park.
"We're tired of driving our dogs to get their exercise and play time," Robertson said. "It seemed  kind of unfair."
But Robertson and Loncar's long treks to dog parks could change soon. After years of fighting for an official dog park on the city's South Side, McKinley Park and Calumet Park will soon have dog parks. And last week, Mayor Rahm Emanuel sent a proposal for three new dog parks in Bronzeville to City Council.
With the action, the South Side's status as an official dog-park-free zone will come to an end after years of residents organizing and advocating for more dog-friendly amenities in the area. (A Jackson Park tennis court has unofficially operated as Jackson Bark for years, but the courts are slated to be razed to make way for a new golf course.)
Comparatively, the North Side has 22 dog-friendly areas and two also exist in the South Loop. 
"The South and West sides are sort of like dog park deserts," said Loncar, president of the Southeast Chicago Dog Park Committee. "We wanted to show there is demand here."
On July 18, the city broke ground on the South Side's first official dog park in Calumet Park. 
The 7,100-acre park will be paved and will feature trees and a water fountain. It will cost about $185,000, with money coming from Ald. Susan Sadlowski Garza's 10th Ward aldermanic menu funds and about $80,000 coming from a grant, Loncar said. If all goes well, the dog park could be finished by fall.  
In McKinley Park, a dog park in the neighborhood's namesake park was approved two years ago, and funding for the canine area was recently secured. The 12,000-square-foot-park with areas for small and big dogs will be funded by nearly $400,000 from two TIFs, one in McKinley Park and one in Bridgeport's 11th Ward, said Samie Martinez, chief of staff for Ald. George Cardenas (12th).
Construction of the McKinley Park dog-friendly area could start in early 2019, said Robertson, co-president of the McKinley Park Dog Committee.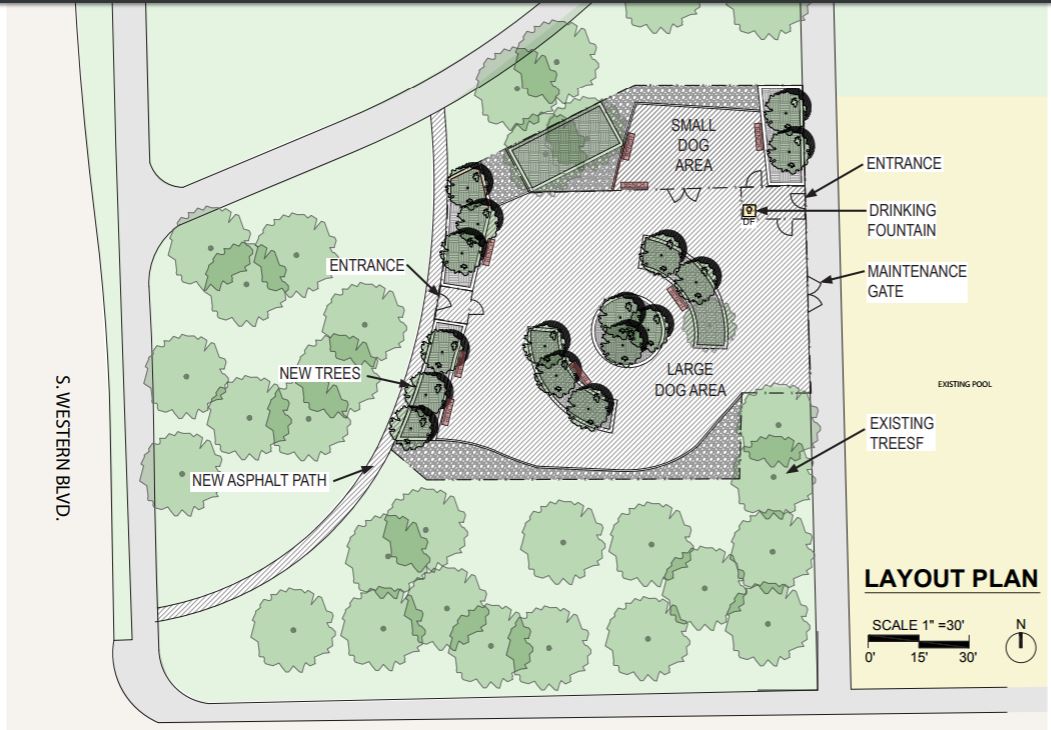 In the Bronzeville area, the city is moving forward with community proposals to turn three separate, non-park parcels into dog parks, with $1.8 million in TIF funds paying for synthetic turf, landscaping, lighting and water fountains, according to a city press release. The proposals are for: 3938-3940 S. Indiana Ave., 4149-4153 S. Vincennes Ave. and 3906 S. Lake Park Ave.
The new dog parks are the products of years of neighbors' hard work. Southeast Side residents organized about three years ago and went through three different proposals before settling on Calumet Park, Loncar said. McKinley Park neighbors organized in July 2014 and have worked diligently on their plans and fundraising.
Though the Bronzeville dog parks now have the support of Emanuel, the idea originated years ago with residents, who huddled with Ald. Sophia King (4th) in July 2017 to help move the projects forward.
The years of hard work are essentially required by the city. The Park District's manual on dog-friendly areas says that considerations of new dog parks must be driven by community members, but not before they jump through a number of hoops to do so.
A six-step process stipulates residents must form a committee, find a location that conforms to city guidelines, gather petitions, hold meetings, help configure a design and — most importantly — find 100 percent of the needed funds.
In each of these cases, that last requirement has proved challenging. All five of the proposed parks will be funded with TIF dollars and other public funds.
Loncar said he enjoyed organizing with his neighbors, but that the city's process for new dog parks makes it difficult for many communities to rally for one — and could be why the South Side has gone without them for so long.
"They sell you on, it's a grassroots effort, you got to do it through organizing, fundraising," he said. "We find out, the city is funding these things. This notion, it's a little disingenuous."
And while the journey was long and, at times, hard, it was worth it to bring much needed amenities for South Siders and their canine companions. 
"It's about bringing amenities that aren't here," Loncar said. "It's an amenity that is sort of taken for granted on the North Side and some suburbs."
Do stories like this matter to you? Subscribe to Block Club Chicago. Every dime we make funds reporting from Chicago's neighborhoods.