HUMBOLDT PARK — A 31-year-old health clinic owner is looking to trade her medical office for a seat in City Hall's council chambers.
Over the weekend, Theresa Siaw, director of OMNI Healthcare, 2720 W. Division St., formally announced she's running for 26th Ward alderman against Roberto Maldonado, who has held the seat since 2009.
Siaw, whose parents immigrated from Ghana to Chicago in the 1970s, said she wants the bring all of the residents of Humboldt Park together. For too long, the neighborhood has been divided between Puerto Rican residents and everyone else — and it's not working, she said.
Careful not to call out Maldonado out by name, Siaw said, "A lot of the politicians get caught up with their own agenda instead of really helping their own community."
"We do so much [of the work] already," she added.
Siaw is referring, at least partly, to her work at OMNI. Day-to-day, she oversees operations for the health clinic network, helping facilitate doctor visits for low-income patients, many of whom don't have insurance. But OMNI has become so much more than that over the years, she said.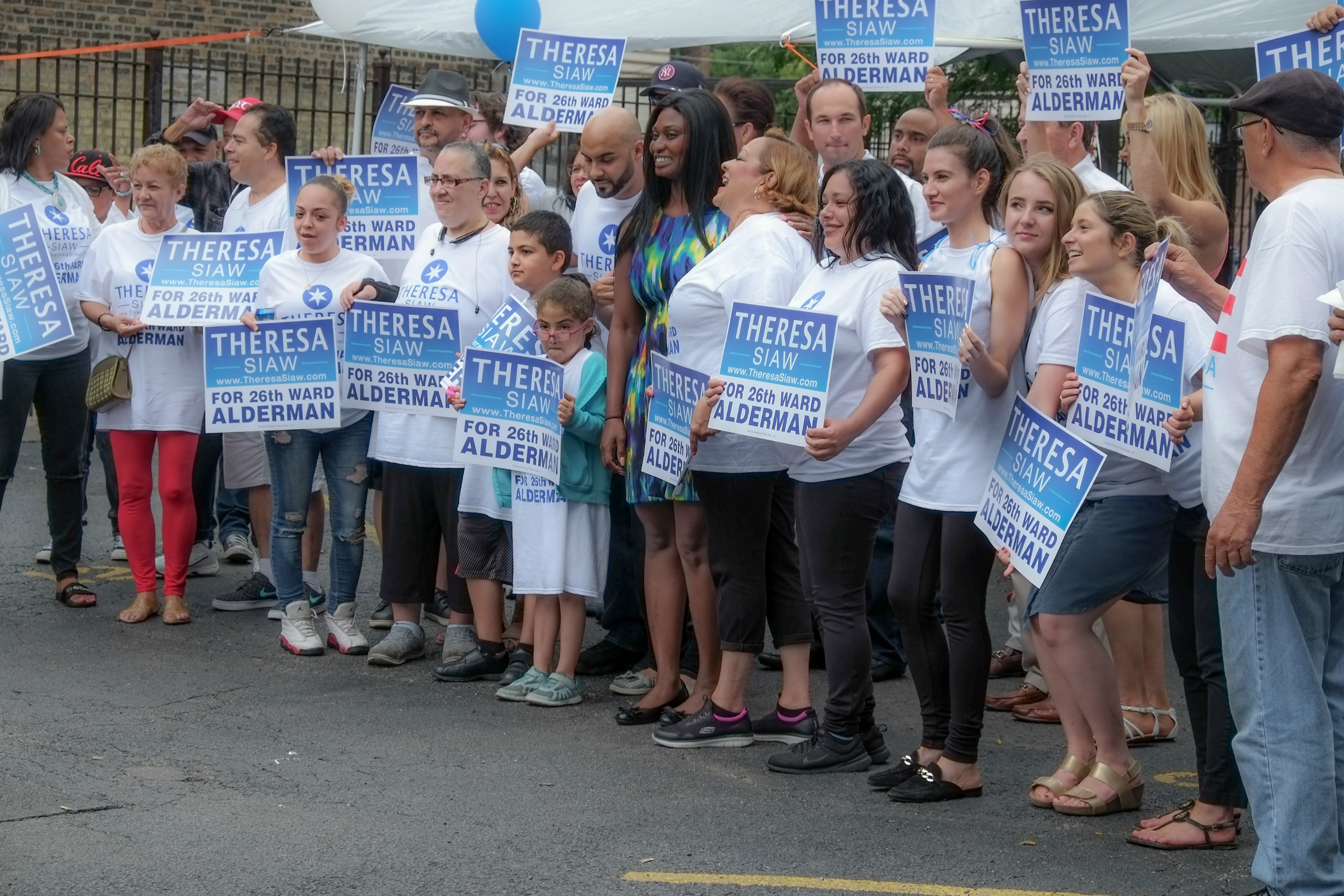 It's a place where low-income residents — whether they're patients or not — can get help filling out their Social Security documents or even finding an apartment. None of this is advertised, but it's the way Siaw's late boyfriend, Dr. Amer Rustum, did things before he died, and Siaw is committed to honoring his legacy.
"If you asked him for $50, he'd give you $100," Siaw said of Rustum, who drowned in Lake Michigan in 2014.
Before Rustum's death, the doctor was a fixture at Humboldt Park health clinics to the point where many patients still ask about him today; he ran one at 2641 W. Division St. for 20 years.
Siaw didn't have much experience in healthcare, having earned a marketing degree from DePaul University, but she took the reins of the business after Rustum died and opened OMNI. Today, OMNI runs 12 clinics and has several contracts with major hospitals.
"After [Rustum] passed away, I noticed that so many people depended on him because he gave so much. It turned my mindset around," Siaw said.
In recent years, Siaw has turned her attention to helping Humboldt Park residents outside of the clinic. She recently donated $34,000 from her personal bank account to Roberto Clemente High School, 1147 N. Western Ave. The money will fund a new six-week-long summer camp.
As part of the donation, Clemente is finally getting a lifeguard for its pool, which sat unused for a year and a half because the school couldn't afford a lifeguard, according to Siaw. A CPS spokeswoman didn't respond to a request for comment.
"It was ridiculous. They're touring me around the school, and I'm like, 'You can't use this?'" Siaw said of the pool.
"Sports was a way for me to relieve my stress. People in this neighborhood shoot without thinking. They react before thinking. It's a huge issue in this community. They're not taught certain skills," she added.
When she's not overseeing the health clinics or visiting local schools, Siaw is helping students who received training from medical schools in other countries prepare for residencies in the United States through an organization she created, OMNI Medical Student Training.
Siaw isn't a native Humboldt Parker; she grew up on the Southeast Side and spent the bulk of her teenage years in suburban Elgin and Hindsdale. But the activist said she has a deep understanding of the issues facing Humboldt Park, both because she's worked there for years and because she's personally experienced racial and cultural division.
"[People] burned down our garage down on the Southeast Side, they wrote the N-word on our garage. My family went through that. When we moved to Burr Ridge, we were the only black family in our neighborhood," she said.
Maldonado replaced Billy Ocasio as 26th Ward alderman in 2009. He was appointed by then-Mayor Richard M. Daley. Before becoming alderman, Maldonado served as a Cook County Board member. When he was younger, he worked as psychologist for Chicago Public Schools and ran a mortgage-banking firm.
Maldonado's campaign didn't immediately respond to a request for comment on Siaw's candidacy.