NOBLE SQUARE — Many residents in a standing-room only crowd of 500 at the first public meeting for Lincoln Yards on Wednesday said they would have liked the chance to speak publicly — or hear other people's comments on developer Sterling Bay's $5 billion plan to revitalize a huge swath of industrial land hugging the Chicago River in Lincoln Park and Bucktown.
"We've been bamboozled," Jeff Price, a Ranch Triangle resident, said after the meeting in Near North Montessori School, 1434 W. Division St.
Hosted by Ald. Brian Hopkins (2nd), Wednesday's meeting was the first unveiling of the developer's plans for about 53 acres of the 760 acre North branch corridor. To be located along the North Branch of the Chicago River between Lincoln Park and Bucktown, Lincoln Yards would be a new neighborhood enclave with as many as 4,500 residents, an arts and entertainment district, a 20,000-seat soccer stadium, restaurants, retail and an 800-foot-tall skyscraper. 
Price said he was surprised when Sterling Bay Director of Development Services Erin Cabonargi ended her presentation, and, instead of opening the floor to questions, encouraged people to individually visit one of five "breakout" stations focused on different elements of Lincoln Yards. The stations were staffed by subject matter experts, members of a small army of consultants working on the massive project.
Brad Rosset, a Bucktown resident, was also frustrated by the format of the meeting.
"You know how they say people have 30 seconds to make a good impression? Sterling Bay blew it. People clearly had a few questions. It could have been civil. They shut it down and they made enemies," Rosset said.
Watch the meeting, which was broadcast on Facebook live, HERE. 
Residents of Lincoln Park, Bucktown and Wicker Park would be most impacted by the proposed Lincoln Yards.
"I would have asked how many people really want a soccer stadium?" said Stacy Karel, a Bucktown resident, after the meeting, when Block Club Chicago floated around the room to gauge the public's reaction to the first formal presentation on Lincoln Yards.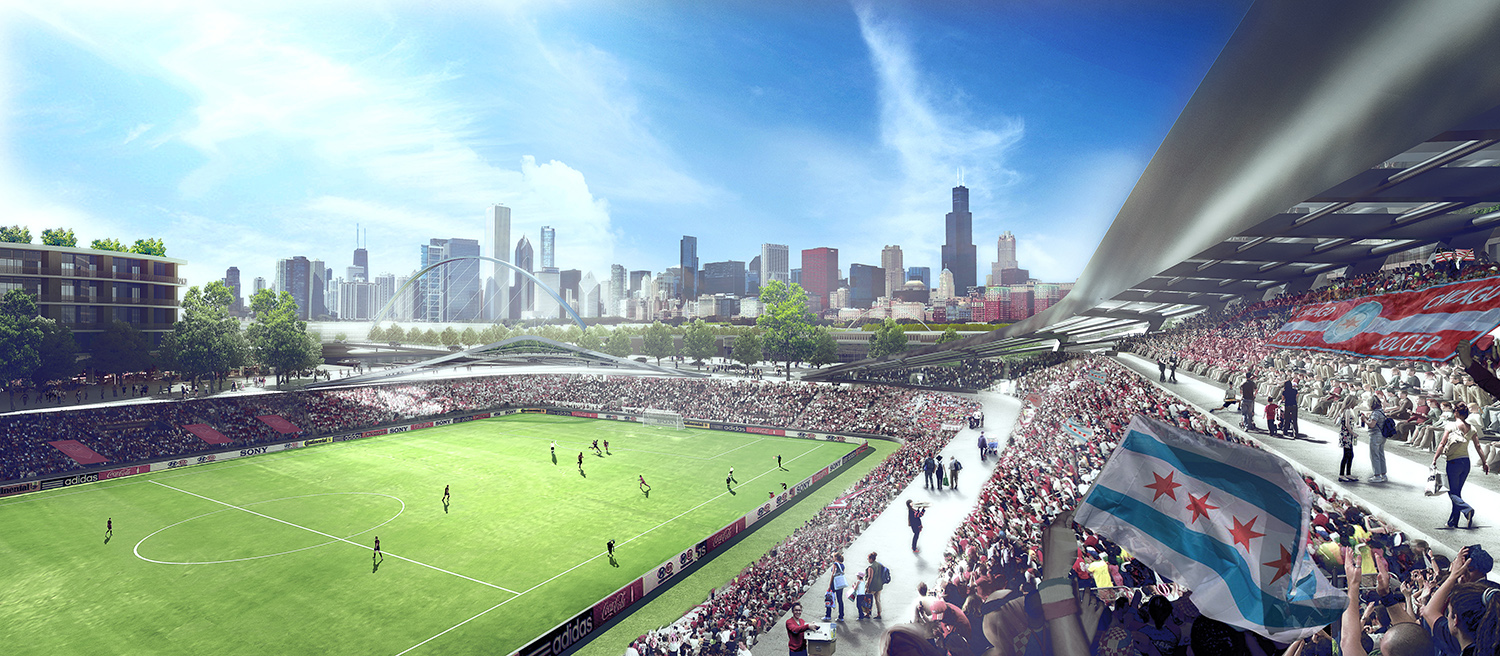 View the entire presentation delivered Wednesday HERE.
Lincoln Yards project spokeswoman with the PR firm Kivvit, Sarah Hamilton, said that since the project is so big, the post-presentation aspect of the meeting was designed to allow people to visit the breakout areas to talk more in-depth about the different facets, such as infrastructure, public spaces and economic impact.
Christian Ficara, Hopkins' chief of staff, defended the format of the first meeting.
"We think it was a way for people to have a more intimate conversation with folks, but at the end of the day there can be multiple meetings and multiple forums for us to not only have folks engage with Sterling Bay directly but have their questions asked. We look forward to multiple meetings with different kinds of formats," Ficara said.
Hopkins said the next to-be-announced meeting will have "an opportunity for people to address the general audience."
Hopkins assured the crowd at the start of the meeting: "It's as far from a done deal as you can possibly get." After the meeting, Hopkins said that while Sterling Bay filed its Planned Development application with the city this week, it does not mean the project will be put on any formal agendas in the city's planning department anytime soon.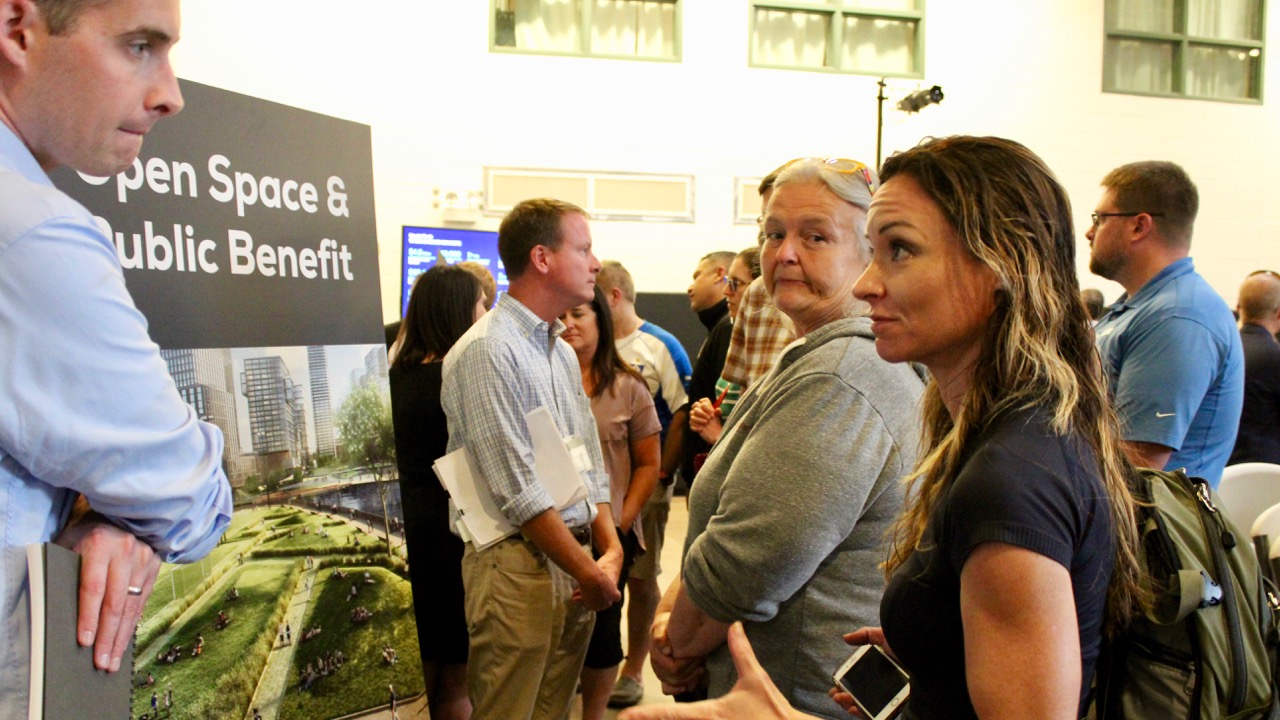 "It's not going to appear on any agenda until the community is satisfied with the changes that have been made and it's something that has support. Clearly we are not there yet, so that's the most important part of the process for me, not when a manila envelope lands on someone's desk in the bowels of City Hall. I have asked them not to file it because if they do, it doesn't matter anyway. What gets filed is a first draft; there will be many revisions going forward," Hopkins said.
Most controversial —  judging by the audible gasps and smaller murmurs that crackled in the crowd as  talked— was a 700- 800 foot tall building. (For reference, Downtown's Blue Cross Blue Shield tower is 744 feet tall).
It's unclear where in Lincoln Yards the skyscraper would be located. A Crain's report estimates the skyscraper would be 70 stories. 
Rosset said he would have asked Sterling Bay to confirm how many stories the 700-800 foot skyscraper would be, as well as an elaboration on how Sterling Bay is defining open and public spaces.
"They said 32 percent [of Lincoln Yards] is open space but they're counting grass and sidewalk as open spaces. Open space to me is green grass and being able to do something on it, not grass between buildings," Rosset said. 
Bounded by the Kennedy Expressway, Webster Avenue, Clybourn Avenue and North Avenues, the Lincoln Yards site spans the former A Finkl & Sons steel plant site and a former city fleet maintenance facility.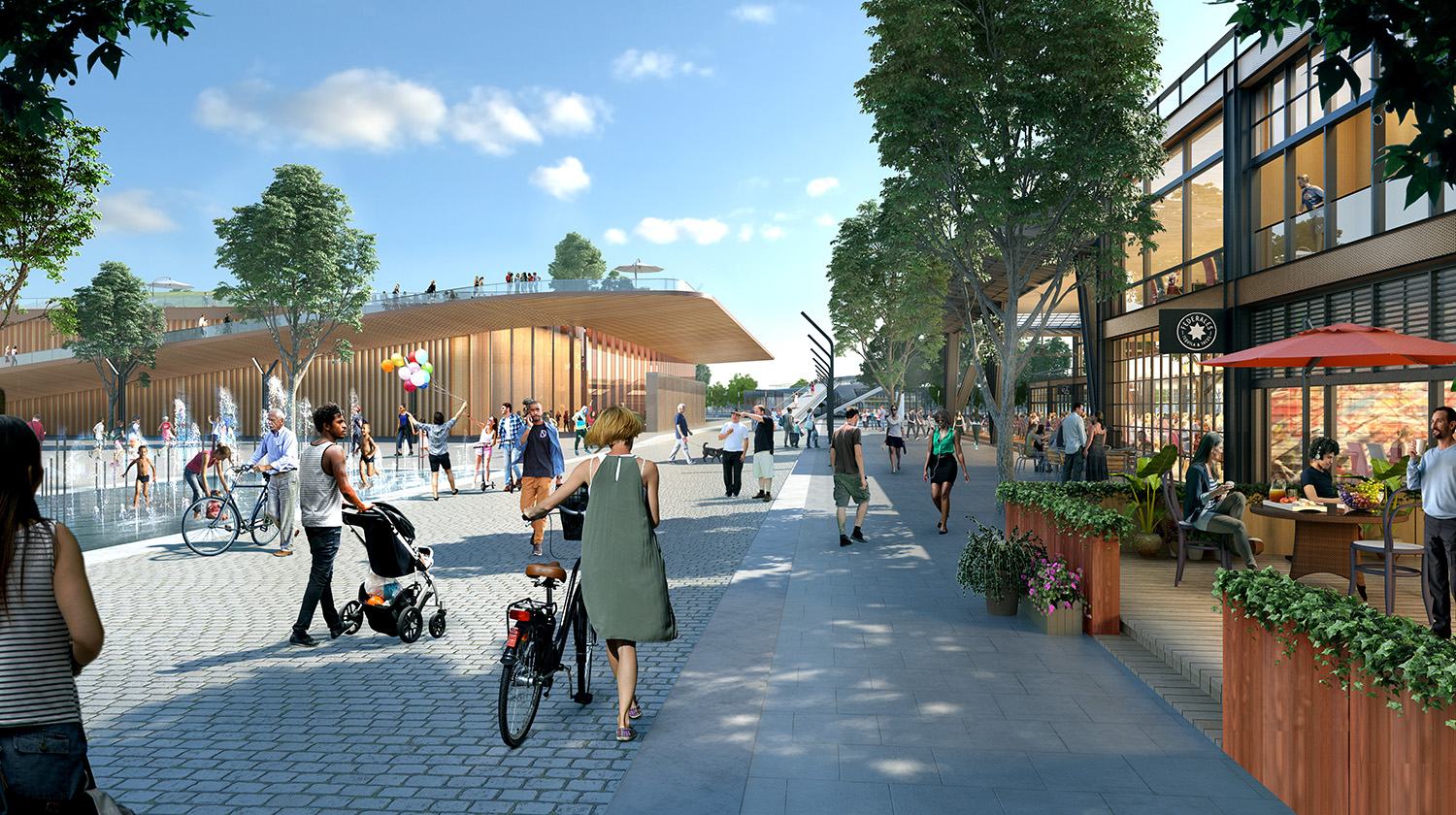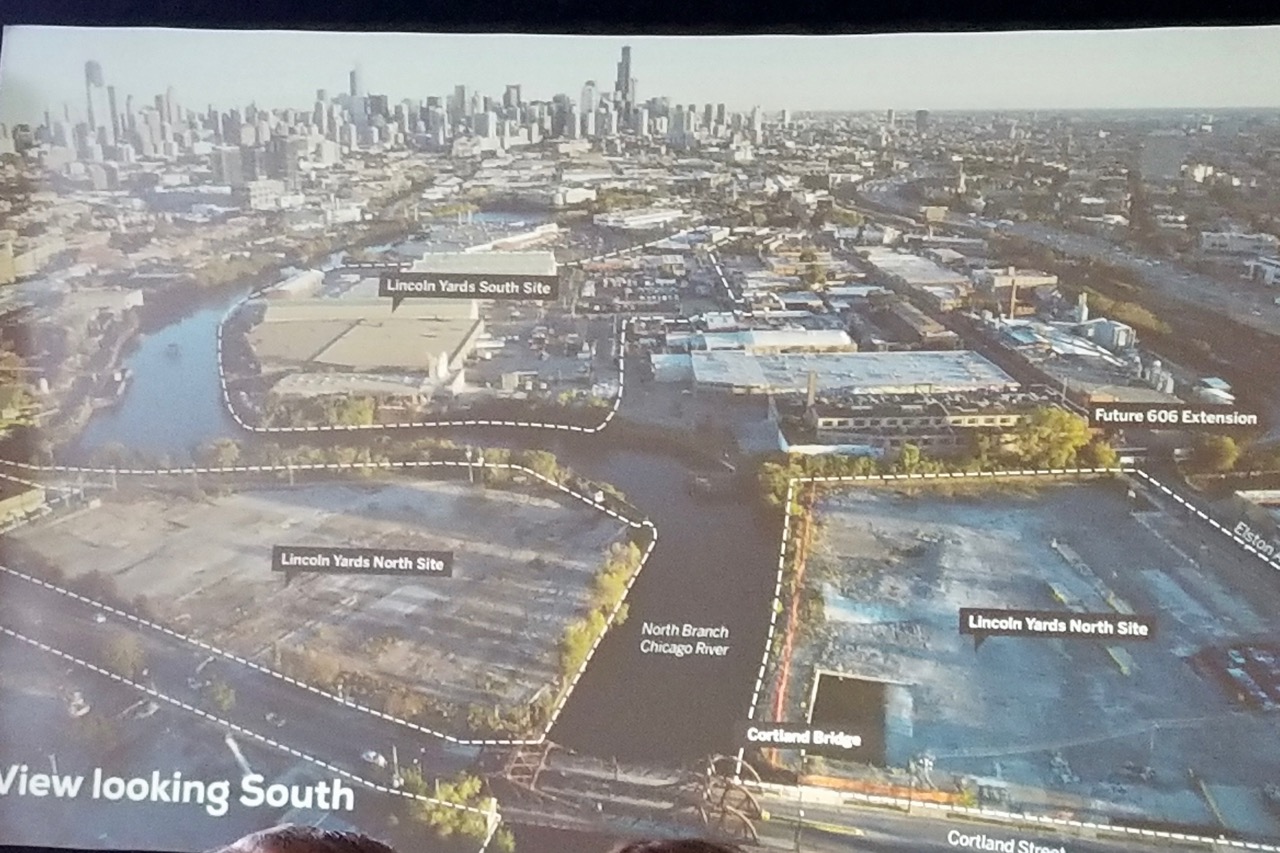 Cabonargi said the planned development's intention is to keep density and building height lower by the river.
"We want to engage the river, it's a critical asset. The historic industrial use of the river has kept people from enjoying the Riverfront, we intend to reverse that," Cabonargi said.
Embracing The Concept 
A video showcasing the project that kicked off the meeting earned lots of applause, indicating many are supportive of the plan.
Paula Tordella, a Bucktown resident, said she liked what she saw in the presentation, particularly the public spaces and parks, which would comprise about 13 of the 53 acres.
The plan also calls for extending The 606 elevated path and creating 1-mile of Riverwalk.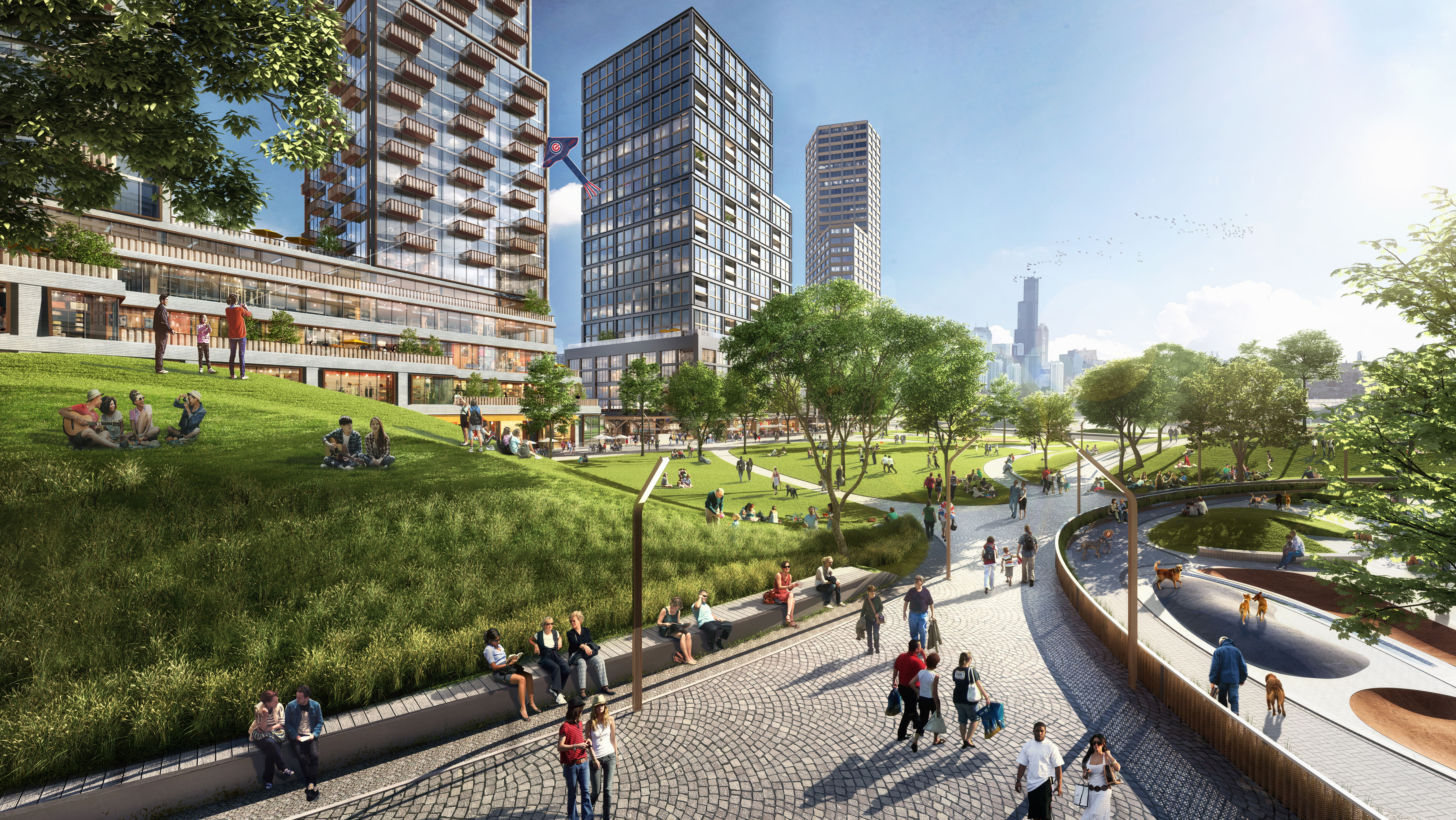 "I'm excited to see what happens. I love the public spaces and park aspect. I love that the developers live in the neighborhood and thought that was a great point," Tordella said, referring to when Andy Gloor, managing partner of Sterling Bay and a local resident, told the crowd he's not a developer from New York City "parachuting in" to create a development and then leave.
A resident of Lincoln Park, Gloor said he sits in the same traffic as the crowd does while trying to get across the river to get to the Kennedy Expressway to cheer on his son at lacrosse games in the suburbs.
The plan would also extend Dominick Street to create a new thoroughfare within Lincoln Yards, and build a bridge on Armitage to get over the river. Currently there are just two bridges — Cortland and Webster— for residents to get over the River and both can get very congested during rush hours.
Dan Meyer, a Wicker Park resident, said he liked what he saw in the presentation.
"I've lived in the area for 20 years and that area needs something.  If not this, than what? We all drive through there, I take the train in and out, I've got young kids. We were at the Trader Joe's on Clybourn and can just see the smoke coming out of General Iron, and it's just bizarre. I don't work in real estate or understand the zoning but it's exciting to think about what it could be and see a vision," Meyer said. 
Cabonargi said Lincoln Yards would connect Lincoln Park and Bucktown, which are divided by an intersecting highway, train lines and an industrial corridor.
Lincoln Yards would create 23,000 on-site jobs and another  2,500 construction jobs per year during the development's first decade. 
Bridget Montgomery, a Logan Square resident, was observed speaking with consultant Jeff Philips in a breakout area dedicated to talking about open spaces and public benefit in Lincoln Yards.
"They've painted a flashy picture, its a pretty dense development. It's 13 acres of public space that they're talking about combined with a 20,000 seat stadium and a 70-story building, so the 13 acres, I don't know if it's going as far as they say. They need to give back more. At the end of the day they're still a developer and they still need to be monitored and go through the community process," Montgomery said.