ASHBURN — Velderain Lyons would like it to be known that she isn't a doughnut person.

"Never have been," said the retired Ashburn resident.

So what's she doing hanging out at D&D's Place Donut Shop at 83rd Street and Kedzie on a weekday afternoon?

"These are the lightest doughnuts in the freaking world," said Lyons, who, defying her own taste buds, has grown addicted to D&D's apple fritter. (A fritter that, it should be pointed out, is roughly the size of a Little Leaguer's ball glove.) 

"I can't get enough. I say, 'I'm going to share [the fritter] with the family,' and they never get any," Lyons confessed.

It's about time the rest of the city caught up, say regular customers like Lyons, who sing the shop's praises with apostolic zeal.

After operating under the radar for the past five years, D&D's made a splash in its debut at Donut Fest Chicago in January, earning the coveted People's Choice fan favorite award over more fashionable contenders including Stan's and Firecakes.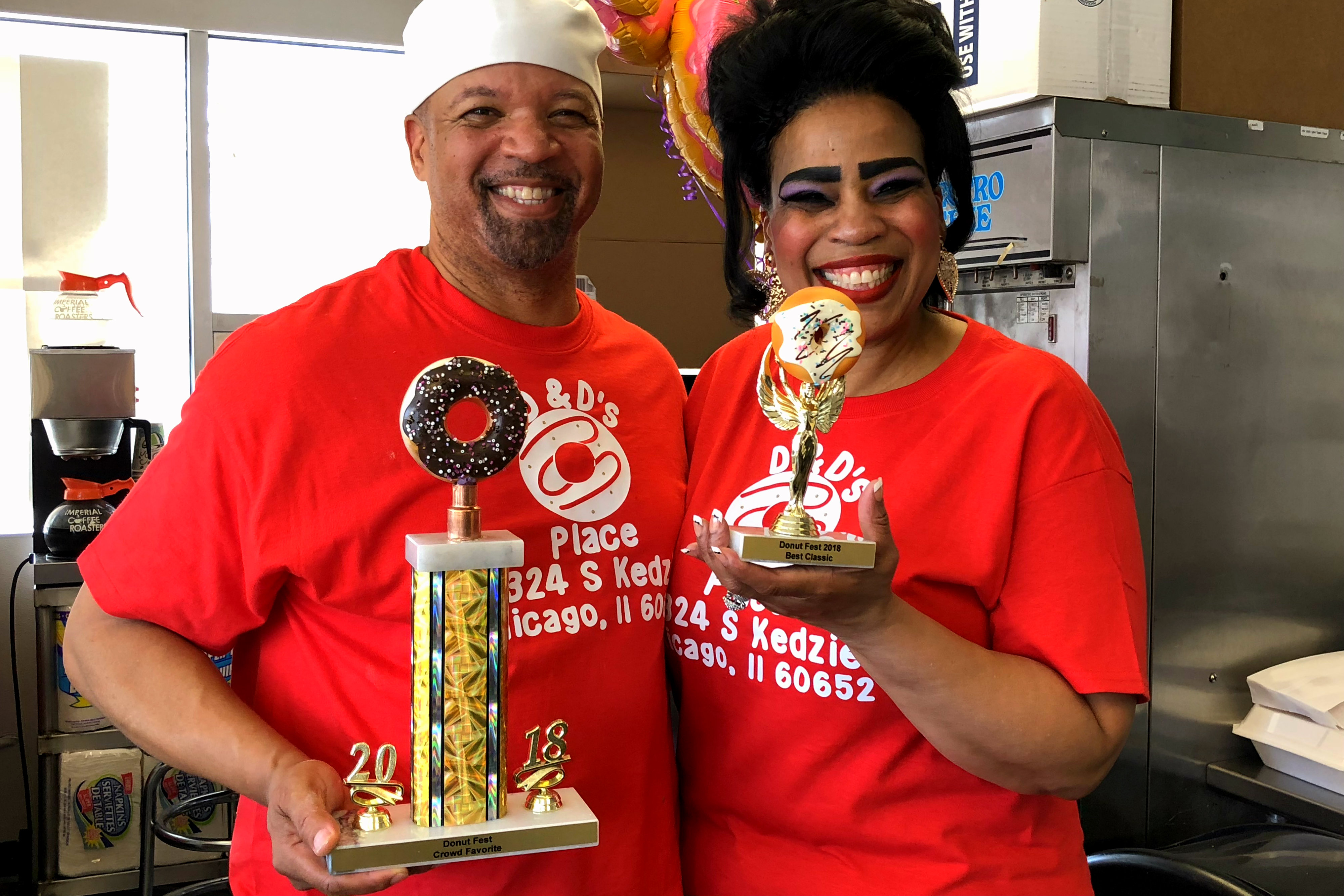 "I tried a million doughnuts in a million places — this takes the cake," said Eunice Rush.

"If you're riding past Dunkin' Donuts, keep going," chimed in Wykeeta Davis, a long-time Ashburn resident. "[D&D's] doughnuts are delicious; they are just heaven sent."

And by "heaven sent," Davis isn't speaking euphemistically.

Divine Inspiration
The way D&D's co-owner Devell Brittmon tells the story, divine inspiration led him to the doughnut business.

He and his wife Lolita were driving through Roseland when she had a hankering for a hamburger. Old Fashioned Donuts, where burgers are a lesser known menu option, came into view and Devell popped into the bakery to satisfy his wife's craving. He walked out with a doughnut – and a calling.

"I was just blown away," he recalled. "These are GOOD."

"The Lord just gave him the vision, 'I would like to do doughnuts,'" Lolita said.

Devell turned around, reentered the shop and introduced himself to owner Buritt Bullock, who ultimately took Brittmon on as an apprentice.

"He said he saw himself in me. He saw the light in me, the urge to really want to have something," Devell said. "I really thank God for allowing me to be in his life."

See how D&D's Place makes their award-winning doughnuts:
Under Bullock's tutelage, Brittmon mastered the doughnut making process in three short months, all while maintaining his regular job in transportation and snatching just four hours of sleep a night.

Having been taught by his mom how to cook at an early age, Brittmon quickly proved adept at everything from rolling and cutting the dough — it's all in the wrist, he says — to the fine points of frying, where fractions of a second or tenths of a degree can mean the difference between perfect pastries and a burnt batch of rejects (though an extra layer of icing glaze can camouflage minor flaws).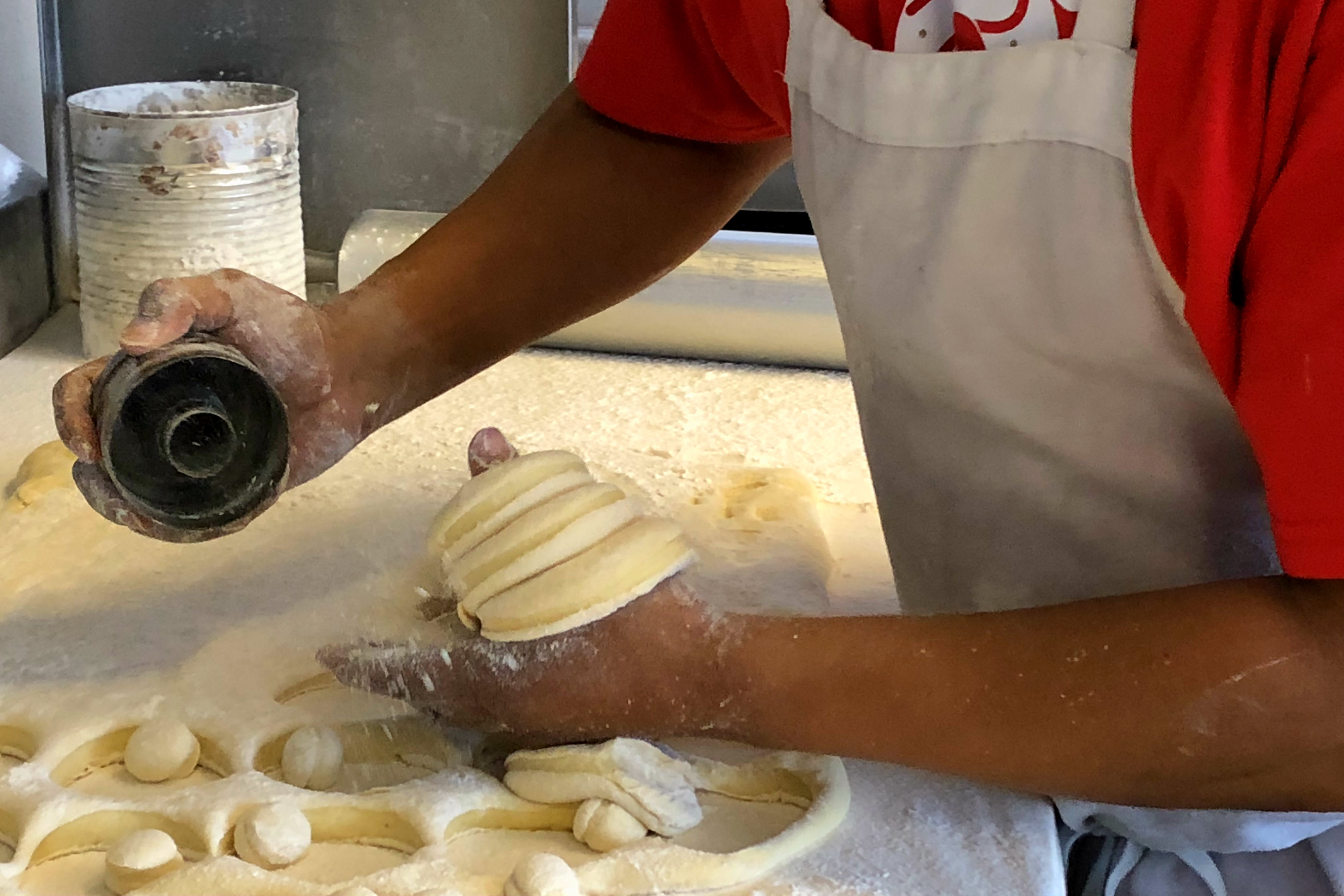 For D&D's, Devell has adapted Bullock's recipe to his own specifications — what he calls "the mix" — and created 22 flavors of yumminess with more in the works, including a honey doughnut and a Hawaiian-inspired pineapple-coconut.

At this point, Brittmon said he can tell by the dough's color or the way it feels under his fingertips whether he needs to make minor adjustments or start from scratch.

"If that mix is wrong, it's over," he said.

Brittmon won't give away his secrets, but customers think they've discovered the key ingredient that sets D&D's doughnuts apart from the rest.  

"It's the love," said Angie Randle. "You feel it when you bite the doughnut."

As syrupy as that sounds, it's also kind of true.  

Growing up near 54th Street and Union, the Brittmons orbited each other as children and teens but never collided. Cupid struck shortly after Devell graduated from Tilden High School, where Lolita was also a student.

On that fateful afternoon, Devell spotted Lolita crossing the street and Zing!, took an arrow straight to the heart.

"When I saw her, I said, 'Whoa!' What I saw in her, I saw the future and the future I saw was my wife. I saw the love in her for people in general. And the smile. I fell in love with that smile," he said.

Thirty-three years and three children later, the Brittmons, who now call LaGrange home, are still as smitten as newlyweds, despite working long hours together daily in close quarters.

"My wife is like a bubblegum machine — she's got every flavor I need," said Devell, who admitted to instigating the occasional minor quarrel just to have an excuse to make up (wink, wink).
Meet the owners behind the award-winning doughnuts:
Soul Food
In 1990, the couple dedicated their lives to the lord and they consider D&D's not just a business but an extension of their ministry.
"I know that he's led by God," Lolita said of her husband. "I'm his partner, I'm like the help meet."
If Devell's job is to bake love into D&D's doughnuts, Lolita's is to tend to the shop's customers like her flock, consoling, nurturing and uplifting.

"You go in for a doughnut, you leave out with a prayer. What we care about is your soul. We reach out to those that are hurting," Lolita said.

"People from all walks of life come here. You never know what life you might touch with a smile. I had a customer say, 'You don't even know me, and you felt my pain,'" she recalled.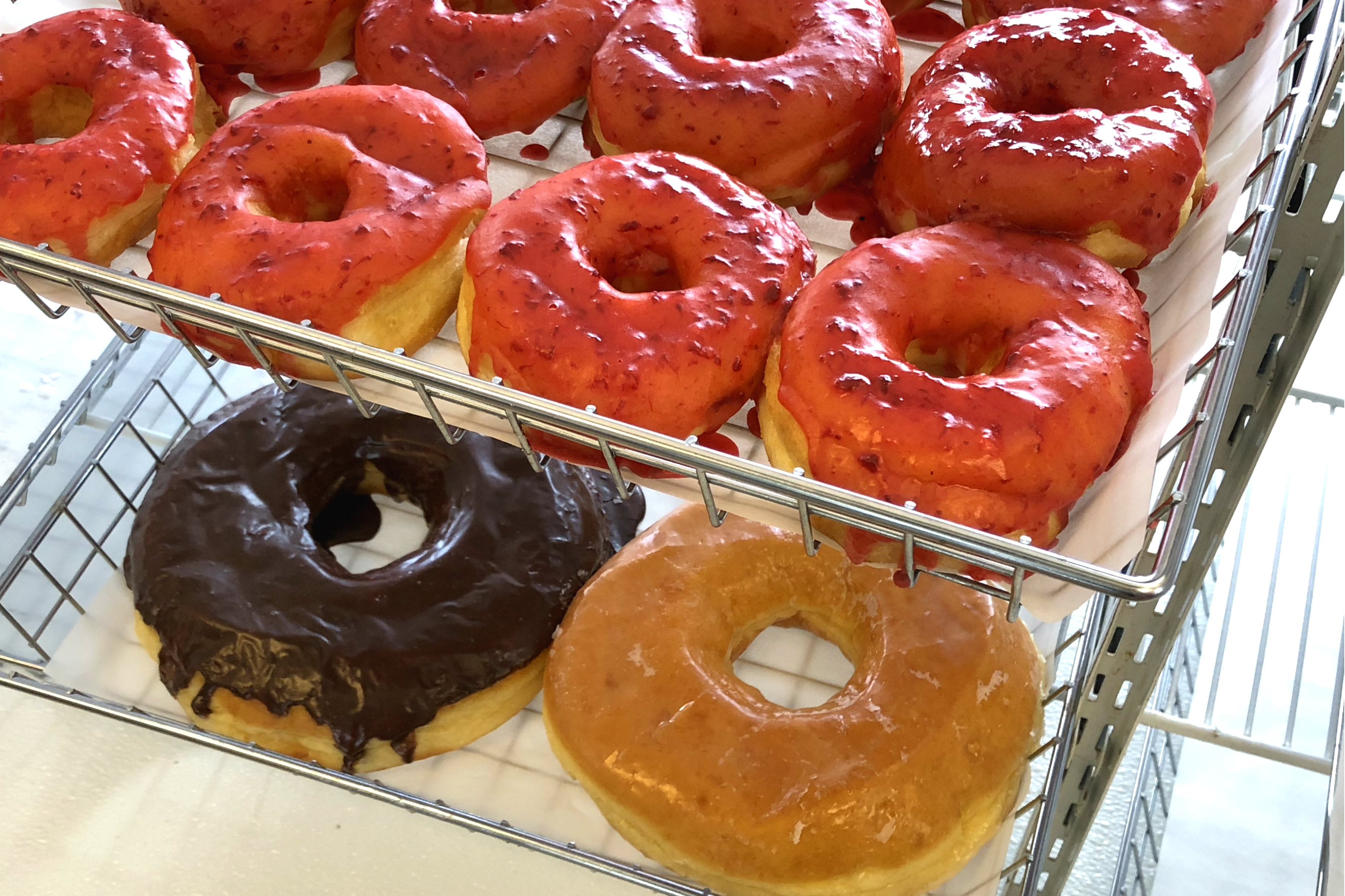 Each customer who walks into D&D's is welcomed by Lolita with a "Hey beautiful, how are you doing?"

She says it dozens of times a day, not mechanically or by rote, but sincerely and with meaning.

"I've seen a person come in looking mean as a bull and when she's done with them, they're smiling," Devell said.

Lolita's irresistible effervescence, the same quality that stopped Devell in his tracks all those years ago, shines on every patron, creating a "joy of the heart" that many customers referenced as a large part of why they keep coming back.

"Right now, one of the biggest problems in [customer] service is people don't seem to care, they just want your money," said D&D's regular Gerald Baker. "This place, they care about you. You feel like family."

That sense of family isn't limited to D&D's four walls. The Brittmons have reached out to the wider Ashburn community, offering students from the neighborhood a free Texas doughnut when they earn A's on their report card. (Texas-sized is to a regular doughnut what the Lone Star State is to Delaware.)

"We've had kids come in with C's. They have come back with A's to get their doughnut," Devell said.

Thanks to the win at Donut Fest and the publicity that followed, D&D's is now casting an ever wider net, reaching new converts.

"We want them to come from everywhere and taste God's goodness," Lolita said.

Goodness that, it turns out, tastes a lot like an apple fritter.

D&D's Place Donut Shop is located at 8324 S. Kedzie Ave. Hours are 6 a.m. to 5 p.m. daily.