BUCKTOWN — In the early 1900s, there were 27 tanneries in Chicago.
"Now, there's just us," says Arnold "Skip" Horween III.
Horween Leather Co., along the North Branch of the Chicago River at 2015 N. Elston Ave., proudly stands as a vestige of old-school leather making.
Leather tanned there can be found in more than 30 countries.
The privately-held, family-owned company has been in its current home since 1920 and employs 150 people.
Selling its leather by the foot, Horween brings in $25 million in revenue a year, serving some 300 active wholesale customers and thousands more through suppliers like Tannery Row and Maverick Leather in the U.S., A&A Crack in England, Martin Lamparter in Germany and Brizzi Agenzie in Italy.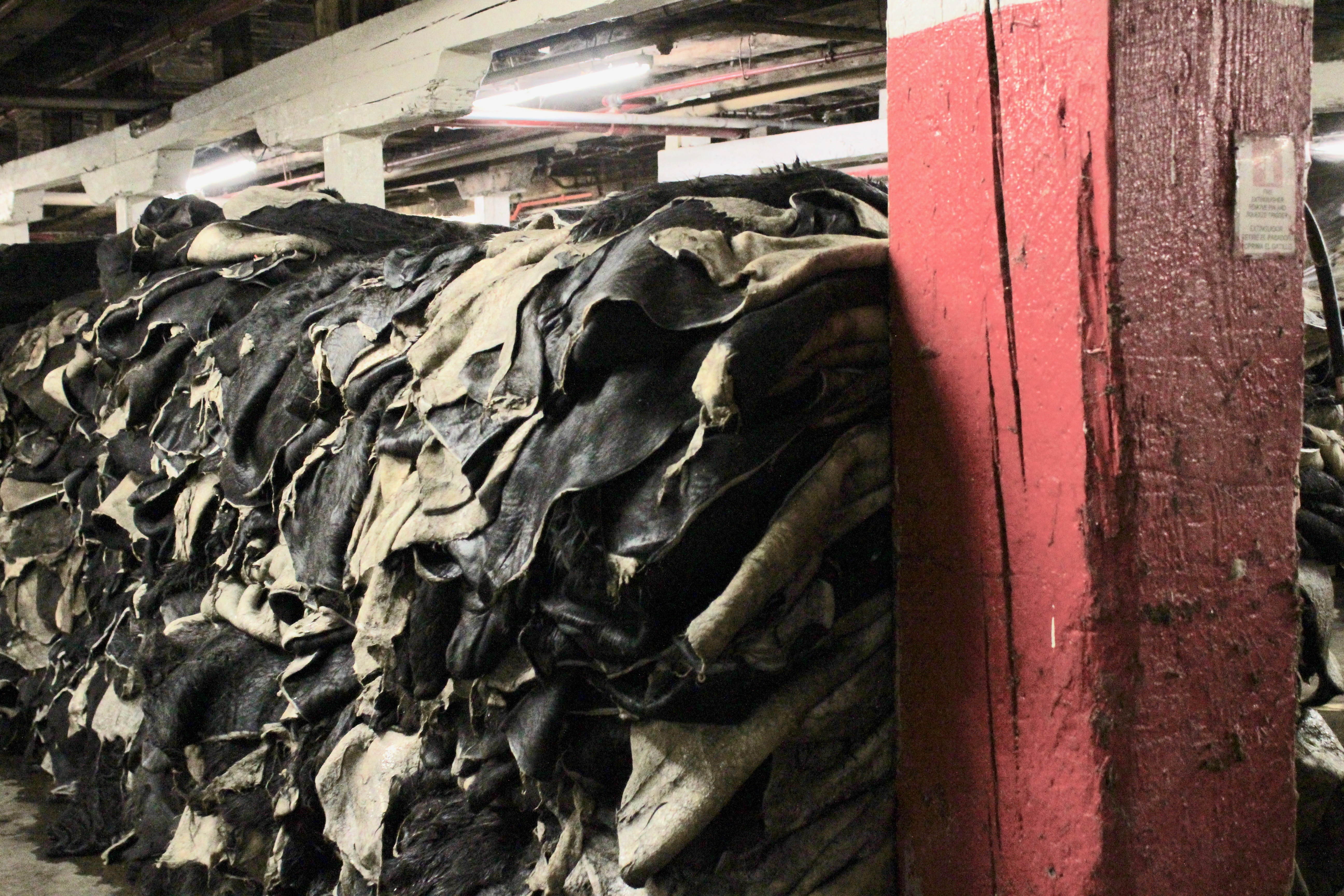 Skip Horween attributes Horween Leather Co.'s longevity and success to two things: being lucky with its formulas, such as the proprietary vegetable tree bark tonic that's roughly the same recipe Horween's great-grandfather Isadore Horween used in 1905 when he started the business on Division Street, and stubbornness.

"We've always taken the time to do things the best way it can be done. The stubborn part, as tempting as it may be to try to find a faster way, once we've got it we are not going to change how we do something, unless we can prove to ourselves and to our customers that it's better. I'm not saving 5 percent by skipping a step. Then I'm getting to be like everyone else," Horween said.

In 1978, Horween, then 22, joined the family business. His son Nick went full time in 2009. Daughter Natalie, who fields customer inquiries through Horween's website, came aboard five years ago.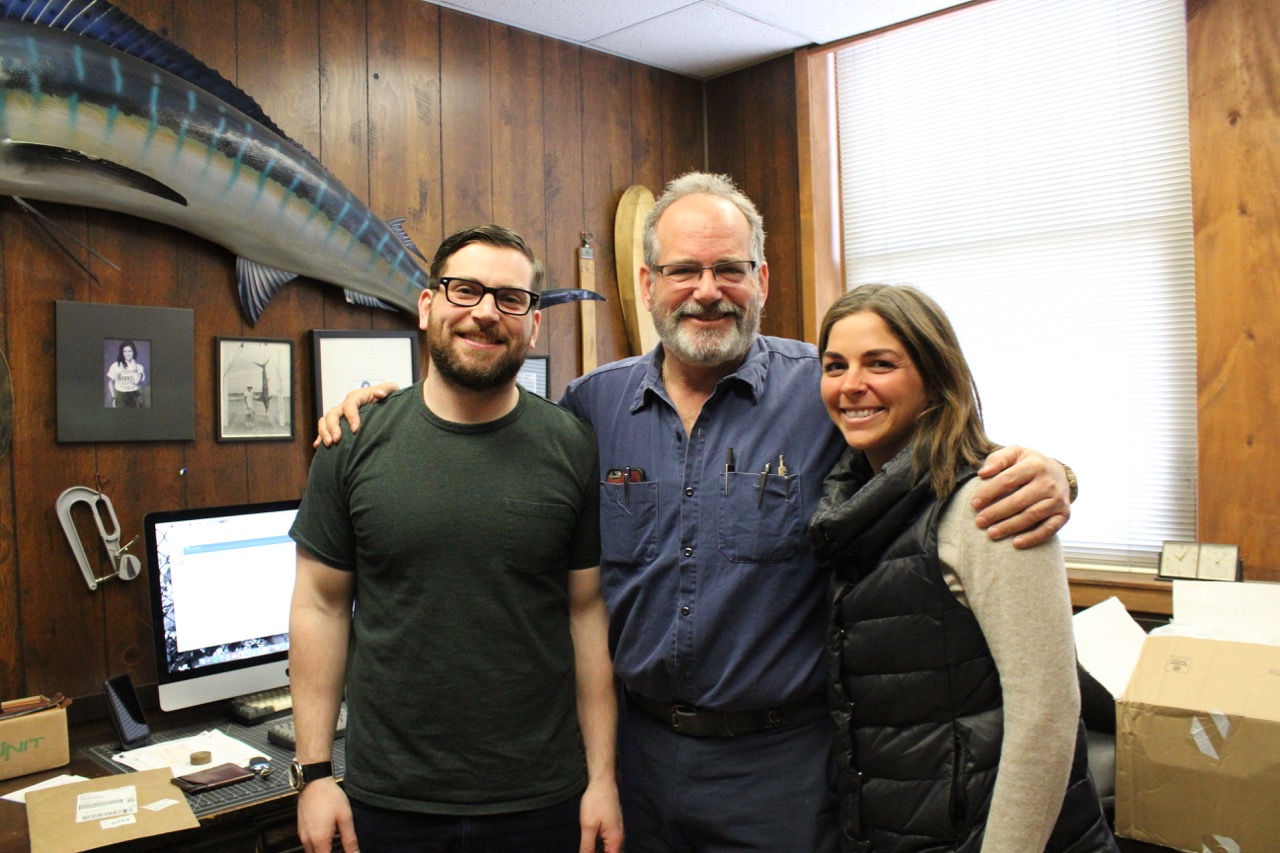 On average, Horween Leather Co. tans 4,500 cowhides, 1,000 horse hides and 500 bison sides a month in its block-long, 200,000 square-foot, 5-story factory.
It takes a laborious six-month process to create the company's renowned shell cordovan leather. 
Every hide Horween uses is a byproduct of a meat industry, whether it be a cowhide or horsehide (the latter available because residents of countries in Europe and French-speaking Canada still eat a fair amount of horse meat, Horween said).

"There isn't a hide that we tan where the animal is raised because of the hide. If you go to one of the packing house operations, they use everything. They waste nothing. They were way ahead of the rest of us in the world. If there is a part of the animal you can think of, it gets used somehow," Horween said.
Leather texture differs depending on the age, gender and weight of the animal. For instance, a female dairy cow hide is different than the hide of a male beef steer because the dairy cow, which might have birthed calves, would have areas of its skins repeatedly stretched, so that hide is more suitable for furniture and garments but wouldn't be used to make belts, sturdy shoes or footballs.

The process to create the leather for a NFL football, which Horween has been the exclusive provider of since the 1940s, requires around 75 steps. It takes about 25 working days from start to finish.

Decades ago the animal hides were transported by barge, with the Chicago River serving as a direct route from the stockyards.  

Horween and a cluster of six other now-gone neighboring tanneries were situated along or near the banks of the Chicago River so they could enjoy the efficiency of the waterway. One barge filled with animal hides from the stockyards would be equivalent to 35 semi-trailers of hides trucked in today.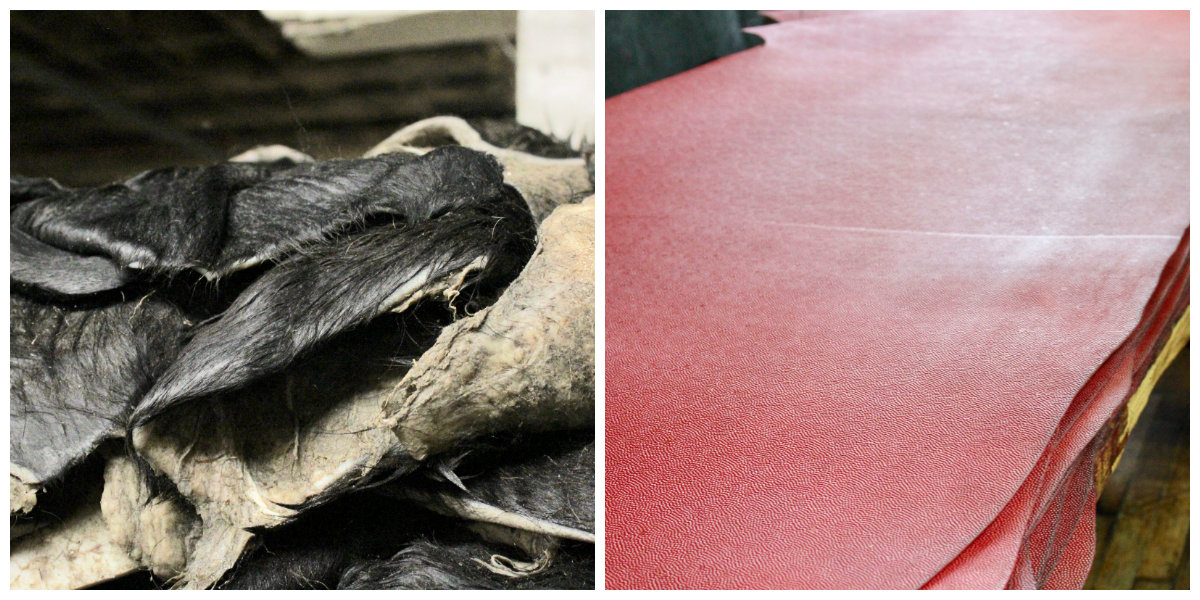 Industrial Bucktown Shedding Manufacturing Roots?

Just north of the tannery's  five acres, developer Sterling Bay has proposed the Lincoln Yards development along Elston Avenue on the east and west sides of the river. Sterling Bay's ambitious plans include extending The 606 over the highway and even relocating the Clybourn Metra station.

"Change is coming, that happens. I can't remember what book it was in, but it was talking about how money is always smart; it chases its best use. There is no reason to deny it. I understand what's happening and I don't see why we couldn't co-exist unless people have decided for some reason or another that we shouldn't be here," Horween says.

Before Horween was the last Chicago tannery proudly still standing, there was the neighboring Gutmann Tannery, which closed in 2006. That site is now home to C.H. Robinson's corporate headquarters.
When Horween joined the family business four decades ago, other local tanneries included Huck Tanney, where Supreme Picture Frame is now located; Superior Tanning, now McGrath Lexus; and Goose Island's AH Ross and William Greiner & Co tanneries.

Horween gets approached from developers eager to buy the prime riverside property the tannery sits on, even though it's what he calls "a funny shaped bit of rectangular land."

"Developers call every week," he says. 'They say, 'What do you want to do about your land? I say 'I'm going to make leather, I think, that's what we've always done,' " Horween said.  

There isn't an amount of money that would make Horween Leather Co. leave its longtime home.

"You get these guys trying to impress you. They say, 'Do you have any idea how much this is worth?' You're supposed to walk away all starry eyed. It doesn't matter, it's not for sale. If it's not for sale, it doesn't matter how much it's worth," Horween said.

In addition to calling Horween, developers have asked Ald. Scott Waguespack (32nd) too about redeveloping the storied site.

"The developers would come and say to us, 'You need to get rid of it.' I would say, 'We don't need to push them out just because you want the property,' " Waguespack said.

In recent years, other industrial parts of Bucktown and Wicker Park have been redeveloped for non-industrial use. A former Citgo gas station at Hermitage and North avenues is now a luxury condo building. A Gas station at 1551 W. North Ave. was demolished last month to make way for a hotel, to name a few examples.

Waguespack says he's turned away requests for redevelopment near Horween because he knows the smells could present challenges.
"We've had a lot of developers who wanted to build next to the [city] garbage dump and the aerator right by Webster bridge. They've tried to come in and build condos. Let's not let them build next to a garbage dump and by Horween Leather and then complain [about the smell]," Waguespack said.

Waguespack said he hears complaints about the smells from the factory on occasion.

"People say, 'Wow, it's really stinky!' and I say 'Yes, it is. It is a tannery in an industrial manufacturing zone and it is allowed to be there.' There has not been an issue with any violations, [Horween] has been a good neighbor the whole time I've been alderman and long before that," Waguespack said.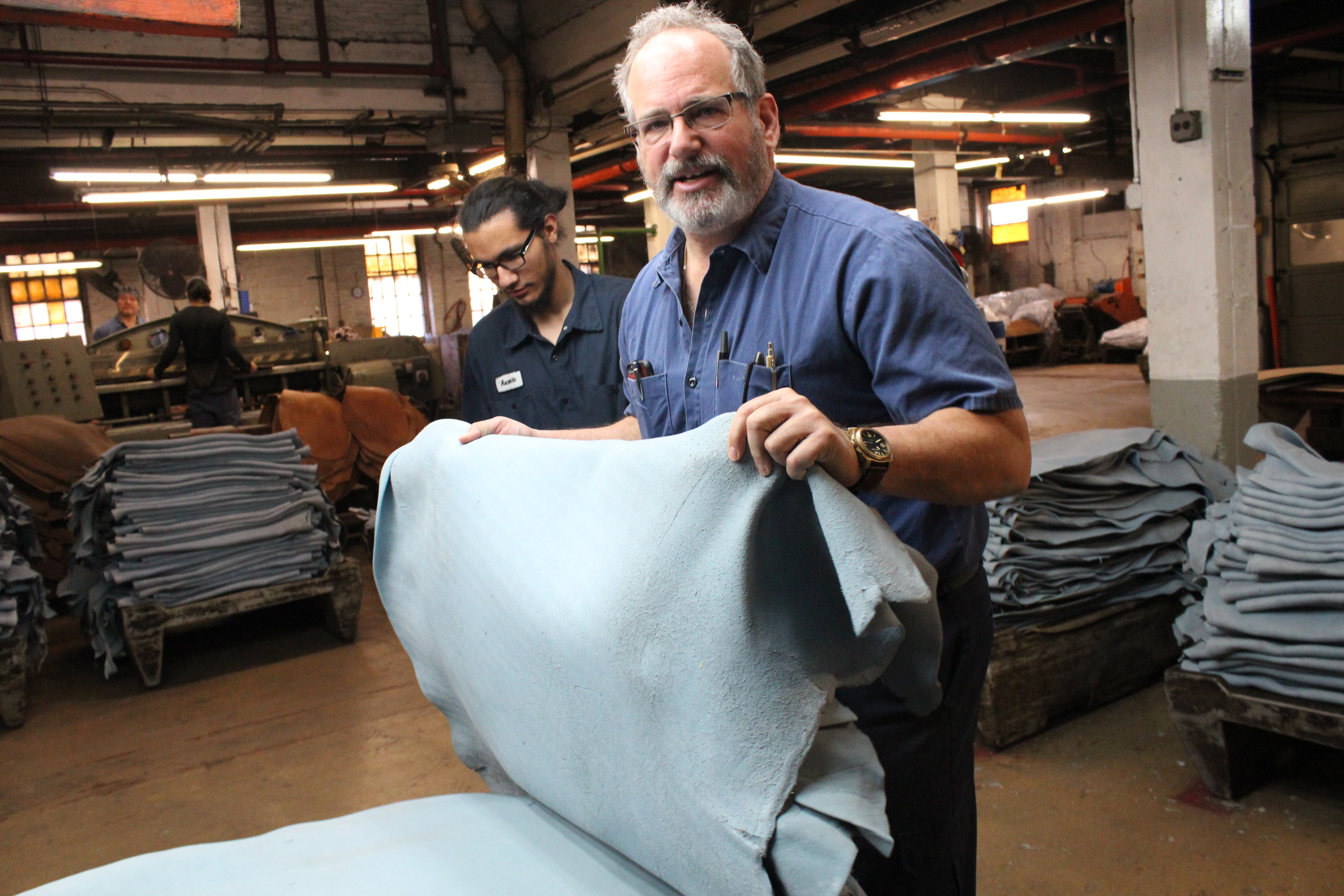 What Is That Smell?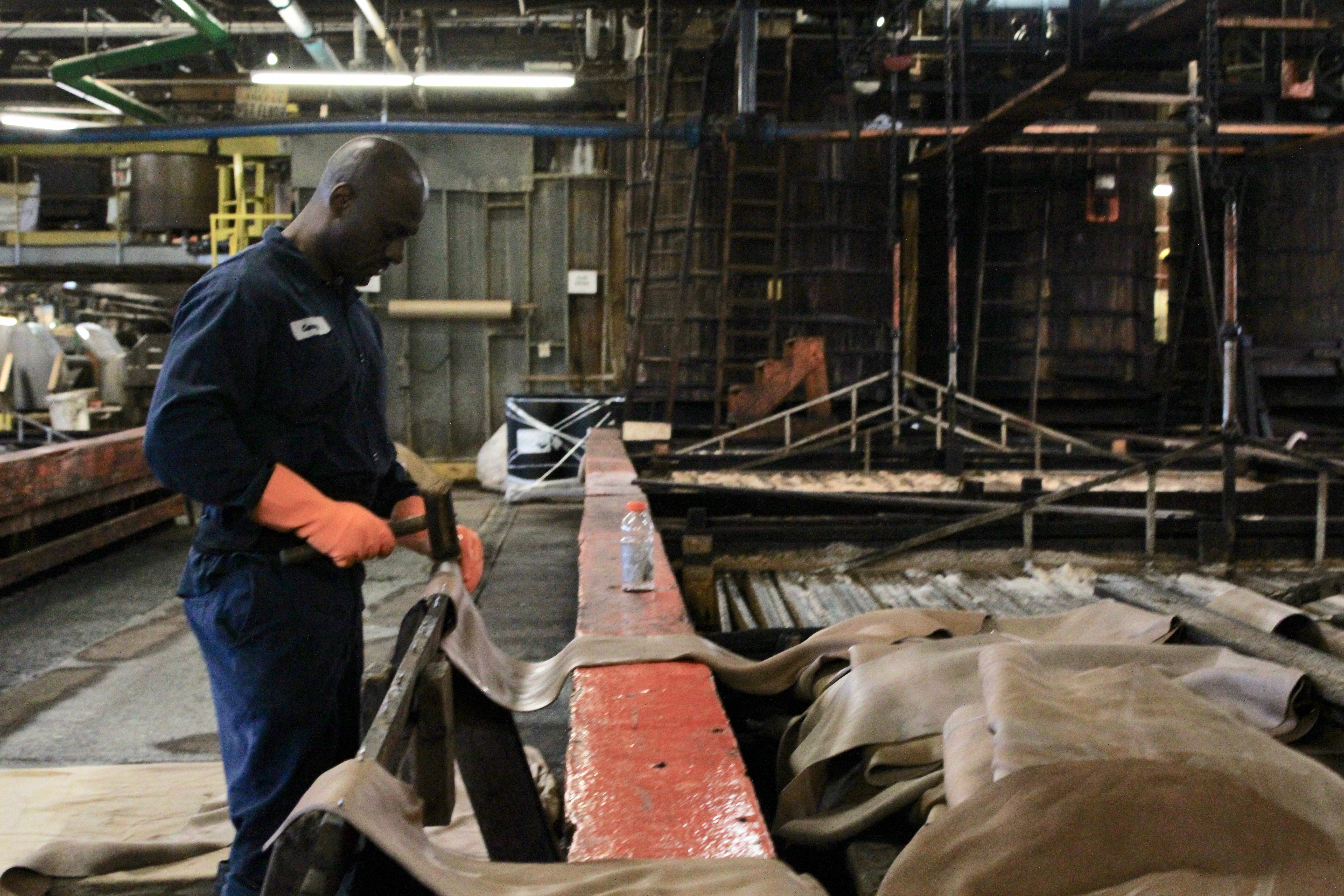 Leather tanning is not exactly a pleasant-smelling process, though the painstaking steps result in sought-after products. For proof, check out Horween's Instagram by Nick Horween, which has amassed more than 46,000 followers and showcases the labor that goes into tanning as well as the finished product, like a pair of burgundy longwing shoes recently featured on a "Throwback Thursday." 

A former Bucktown resident on a Forgotten Chicago message board said the tannery smells like  the "zombie apocalypse." In 2015, Chicago magazine declared the Elston-Ashland-Armitage Industrial Corridor, which Horween anchors, as one of the five smelliest spots in the city.

The odors emanating from Horween Leather Co. sometimes catch a breeze and drift to the parking lots of nearby Kohl's and Mariano's.
Horween said the smells are usually more prominent on warmer days and the odor is partly due to the animal hides stored in the tannery's basement.

"We try not to, to the extent that we can, hold that many hides in that [pre-tanning] state particularly when the weather is warm. Because things have changed, the neighborhood has continued to change, we are going to do our best to be a good neighbor. We have certain processes we have to do and there are some odors that go along with that," Horween says.

More smells derive from the tanning process.

"The tanning liquor, as we call it, has an aroma to it. I find it fairly pleasant, not everyone does," Horween says.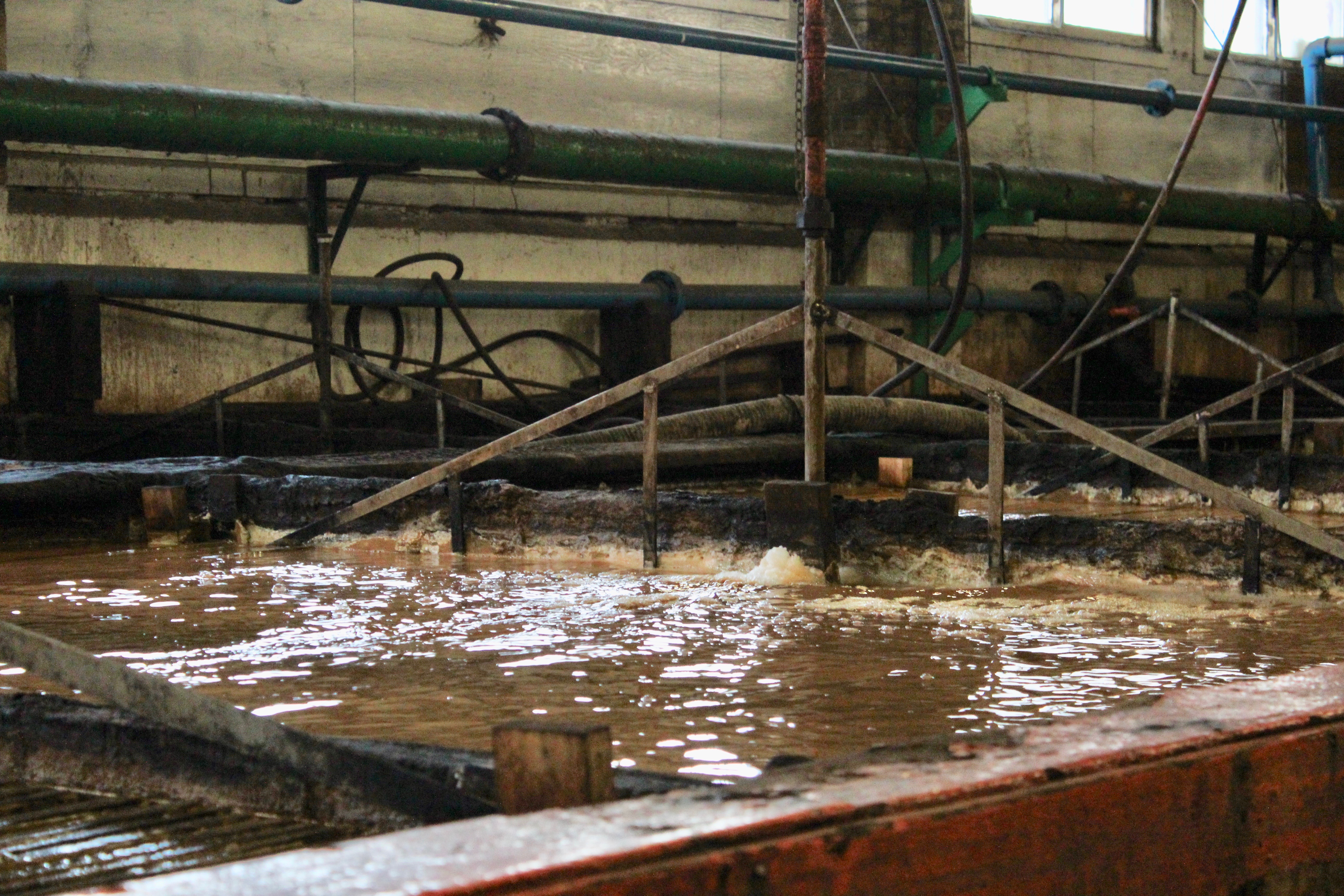 Horween said he's very comfortable saying that passersby are not getting exposure to anything other than, 'uh, what is that smell?' when they go past the factory.

"We have guys here who have been working on top of it for their entire careers and there have been no health problems, outside of the typical colds and flu people get," he added.

A group of Bucktown neighbors who inspired a recent tannery tour had taken to a private Facebook community discussion page to complain about the smelly odors wafting out of the factory.
The online chatter prompted Steve Jensen, vice president of the Bucktown Community Organization, to arrange the tour with Horween so locals could see the inner workings of Horween firsthand and learn exactly what that odor is rather than speculate on social media.

"As part of a neighborhood, there are multiple odor sources. We would never deny that some of what we do has an odor. We bring in cattle hides and horse hides that have been salted to preserve them in transit. Particularly in the warm days of summer, you will get a smell that is a little like a barnyard. It's a hide," Horween told tour-goers.

Horween said the factory adheres to international environmental laws regulating tanneries, which are more strict than the laws in the United States.

"We bought the plant in 1920. It was a tannery when we bought it. In the time we have been there, nothing has been put in the river, in the ground outside, because that's a one-way ticket to jail. That's a fight we are not going to have. You tell us what the rules are and we adhere to them," he said.

He also reminded the group that the city is "bubbling the river" or aerating it, creating some new smells near the Webster Street bridge. And there's also a garbage transfer facility near Horween.

After the tour, Bucktowner Shannon Behan, who told Horween she can smell the factory when she's standing in the parking lot at Mariano's, described the experience like "looking into a super interesting piece of Chicago history and stepping back in time."

Behan said she felt better knowing that there is "nothing toxic or harmful related to the smells."

"Skip [Horween] was forthright. It's an industrial process. I don't feel like they are pulling anything on anybody," Behan said.

Though he's a lifelong resident of Bucktown, prior to the tour Jensen said he'd never been inside Horween Leather Co.

"I learned there's nothing toxic being released into the air and that the smell we all recognize is from their vegetable oil tanning process. And, to be honest I didn't know they were so open to tours and I'm glad that I went because I learned a lot about an anchor business in our community," Jensen said.
Horween's Workers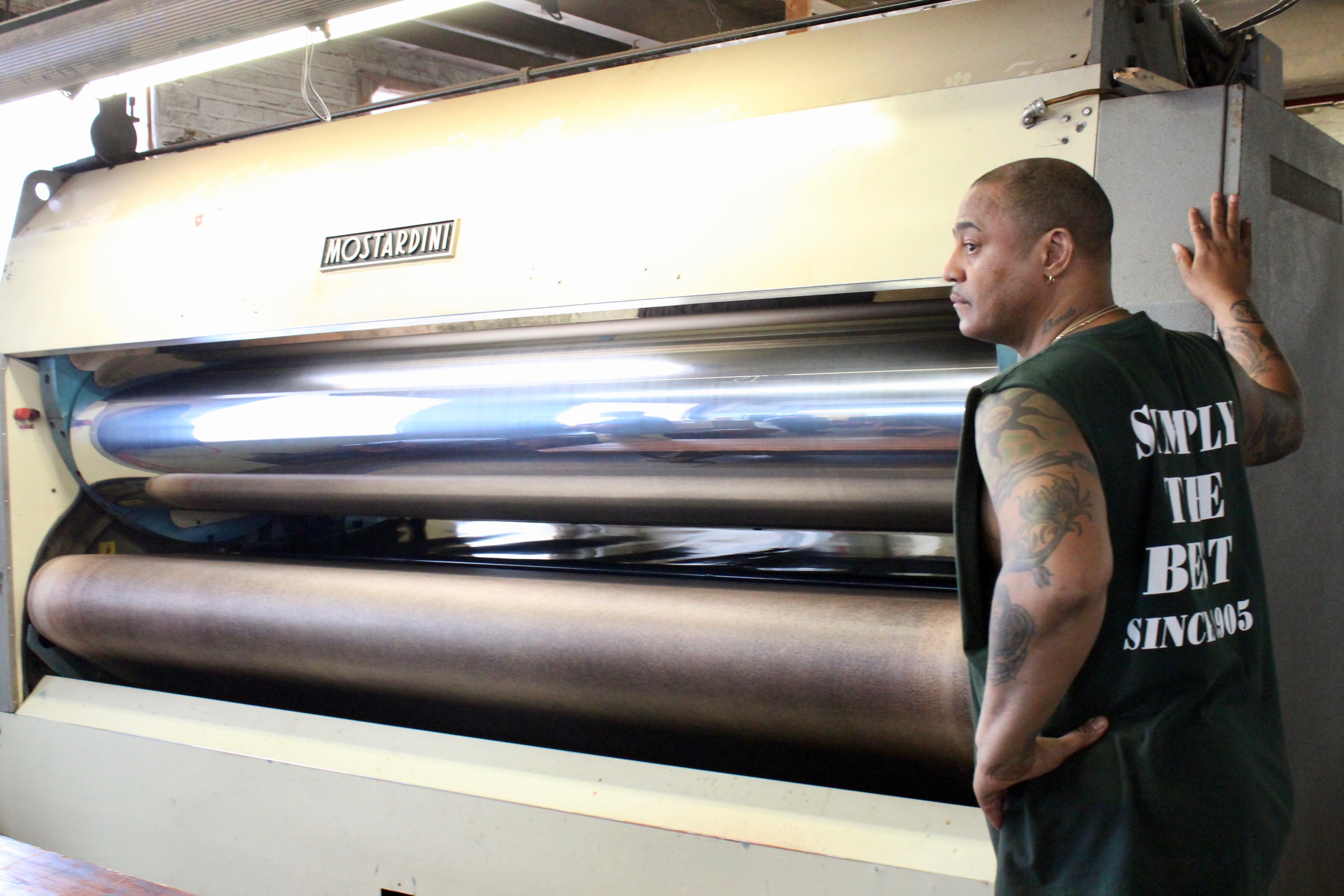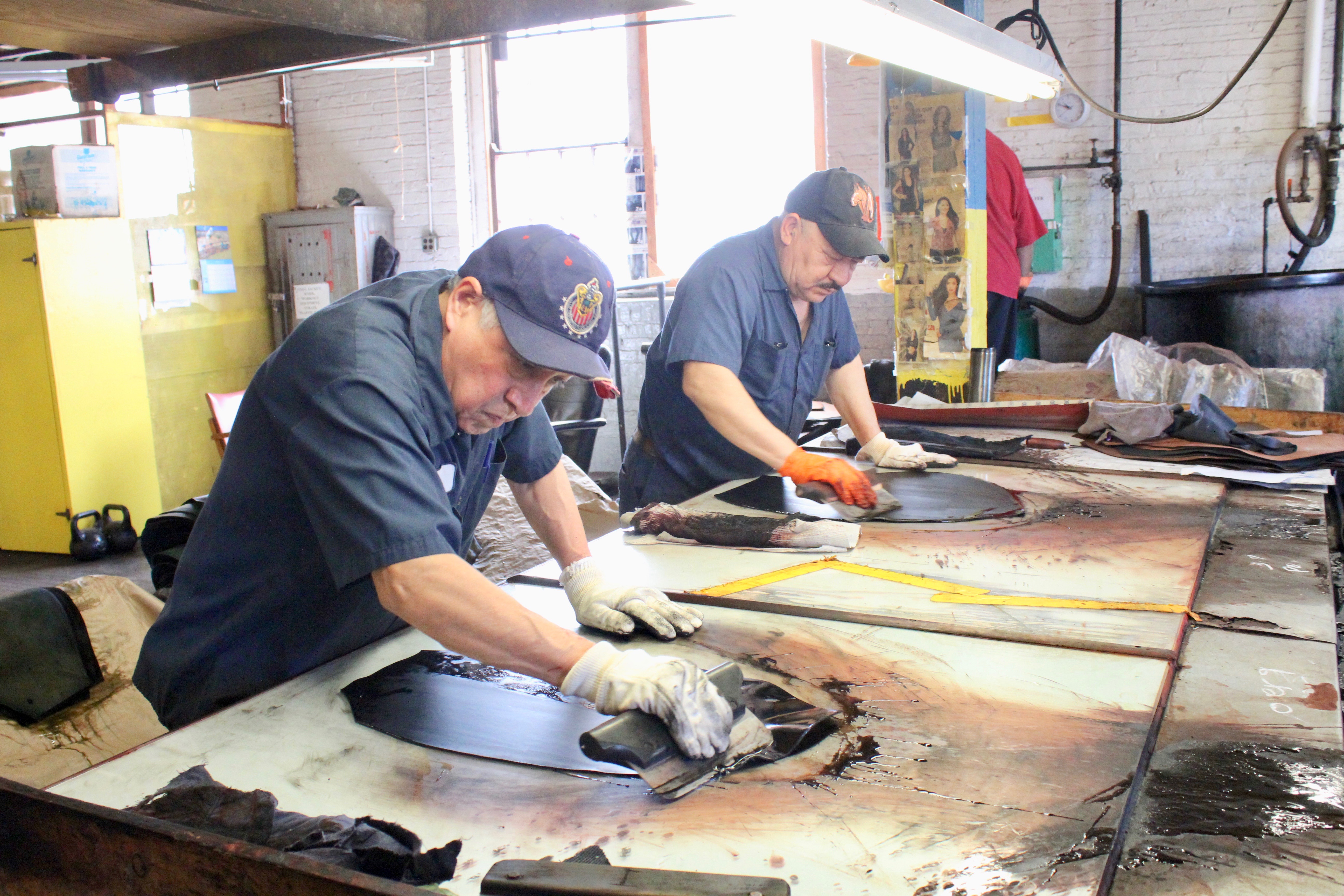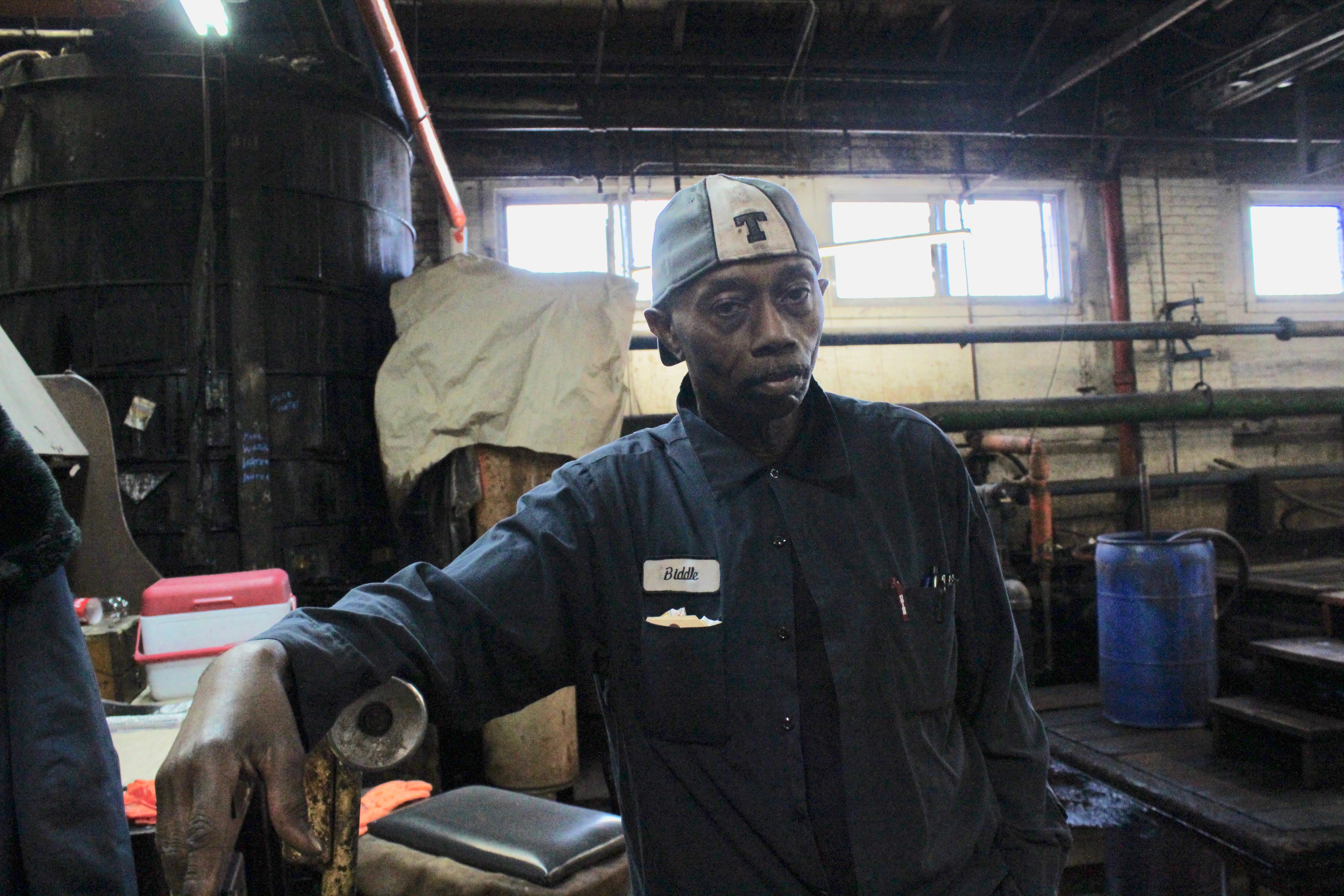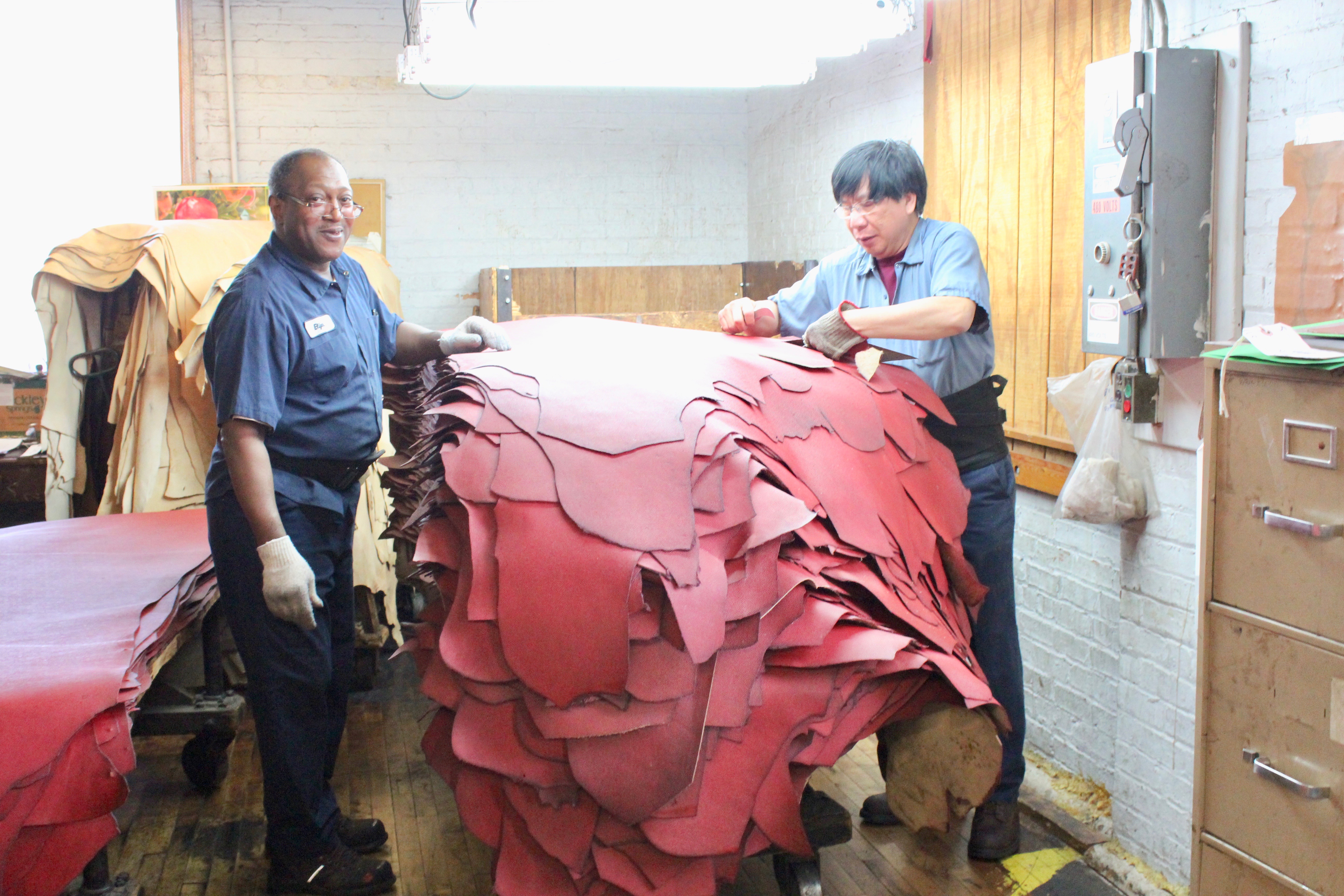 Horween says he feels a deep responsibility and commitment to the factory's workers, the majority men and a handful of whom are retiring this year after spending decades with the company.

"The big challenge is that it is hard work. You get people who enjoy being part of making something. It tends to not be a good first job because of the demands. I remember we had three guys who came to us who had worked on a commercial fishing vessel and they were the only three who ever said the work was easy and it didn't smell bad at all," Horween said.

Bernell Biddle, who is not retiring this year, joined Horween in 1972 and oversees the cordovan tanning or "liquor yard," where he is "the leather chef," as Horween puts it.

In the tanning yard, which is really a large section of the factory's subterranean basement, laborers hammer and nail the cleaned and pre-tanned hides to long wooden poles before submerging the hides into the tanning pits, which look like rows of square-shaped pools.

In each 6- to 8-foot-deep pit, up to 600 hides are tanned or "cooked" for varying lengths of time.

The liquid in the pits — dubbed "tree bark liqueur"— is the same tonic the factory has used for 113 years, using a proprietary mixture of tree bark and raw and emulsified oils.

"It's the old family recipe; we probably make over 100,000 gallons a year. Tanning, what you see downstairs in the pits, it's the opposite of making tea, so if you put a tea bag in the water you can see the tea come out, and if you put the leather in this tanning solution it's set up to absorb it. The longer it's in there, the stronger the absorption. Depending on the types and concentration, you can change the character of the leather," Horween said.

On another floor, after tanning and drying, workers use machines to trim the horsehide to get to the cordovan shell. Often considered the holy grail of leather and used in shoes, Horween's world renowned, highly-sought after shell cordovan is an equine leather made from the fibrous flat muscle — or "shell" — under the hide on the rump of a horse.

The durable shell cordovan leather tanned at Horween does not look exactly beautiful every step of the way. Its creation, like all of the hides trucked in as salted skins with the hair still on and shipped out as finished sheets of butter soft or durable or textured leather, is a long process played out over a series of months and shifts that starts at 1 a.m. and end in the early afternoon.

Horween says the transformation to get shell cordovan from the horsehide to the finished product is his favorite part of the multi-step factory.

"I am always taken by the fact we start out with what you saw in there [animal hides] and ended with what you see in the shipping room. The time and care it takes to expose the shell in shell cordovan is amazing; it restores your faith, like who figured that out? That's not obvious. There was some thought put into that."